The Chelsea Harbour Hotel is a 5-star all-suite luxury hotel in the affluent neighbourhood of Chelsea that is fresh, surprising and tailored to its harbourside location. The hotel offers superb accommodation, direct transport links and a high quality of service. Designed with ultimate relaxation in mind, The Chelsea Harbour Hotel's new Sprunch (Spa + Brunch) package is the perfect way to spend a weekend in the capital.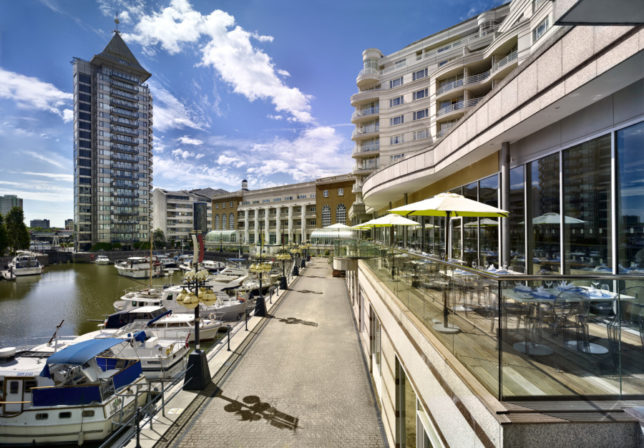 You begin your Sprunch experience by checking in to one of the five-star hotel's elegant suites before heading down to The Blue Harbour Spa where you can unwind with a 60-minute treatment for two. Some of the treatments available in spa include the Hot Oil Massage – a natural hot oil massage which cocoons the body and muscles in warmth while using powerful massage techniques to release tensions, relax and soothe the body; MONU Massage Candle Treatment – a holistic massage experience where the therapist will match a candle to your specific needs (available in 'Relaxing' or 'Reviving') and then melt the candle and massage the warm oils into the skin to relax tired muscles and MONU Aromatic Facial – a bespoke facial focusing on the face, neck and shoulders with products tailored to meet the individual's needs complete with mask therapy and exfoliation to promote radiance.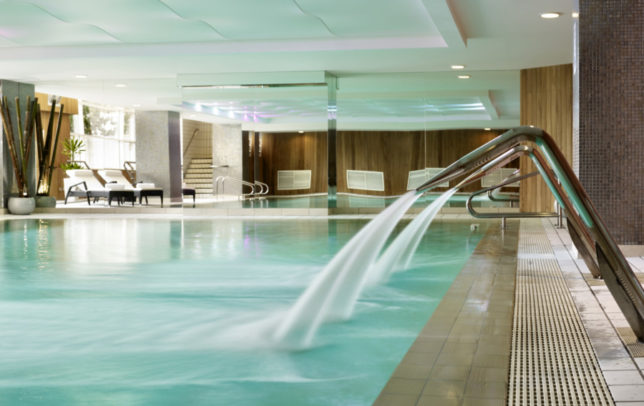 Although the hotel is all suites, there are a variety of room options to suit different budgets. For lighter budgets, the Chelsea Suite marries boutique charm with space and light in elegant surroundings with its plush king-size bed and personal Tassimo coffee machine. At the other end of the spectrum, the Kings Penthouse Suite takes British heritage to the heights of 5-star elegance. With plush velvets, luxuriant chenille and embroidered silks, this penthouse suite is quirky and vibrant offering a luscious sensory experience you won't forget. From the infinity spa bath, sauna or jacuzzi all available in-room and welcome drinks and Chef's choice of Canapé to the complimentary tray charges for room service and a complimentary mini-bar, you'll be living the the lap of luxury with a stay at the Kings Penthouse Suite.
Following a peaceful night's sleep, you can enjoy a slow start with a glass of Veuve Cliquot Champagne and weekend brunch at the hotel's riverside restaurant, Chelsea Riverside Brasserie, taking in the stunning views of the harbour and listening to live music.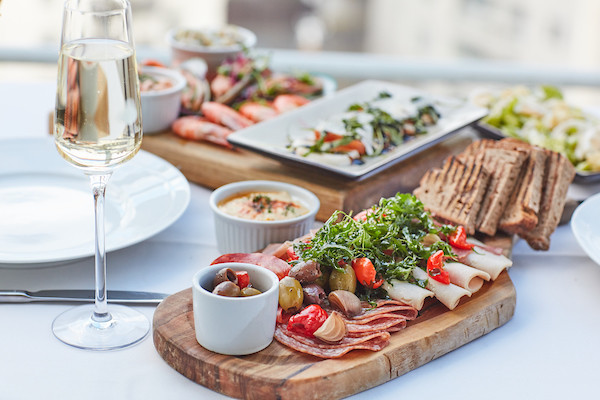 You can indulge in a delicious sharing board selection of 20 dishes including charcuterie, a smoked fish platter, roast meats with all the trimmings, smoked tofu with stir fried vegetables and Mediterranean crevettes to name a few, before tucking into desserts such as strawberry terrine, coffee & chocolate mousse cake and a cheese board with artisan biscuits and Damson jelly.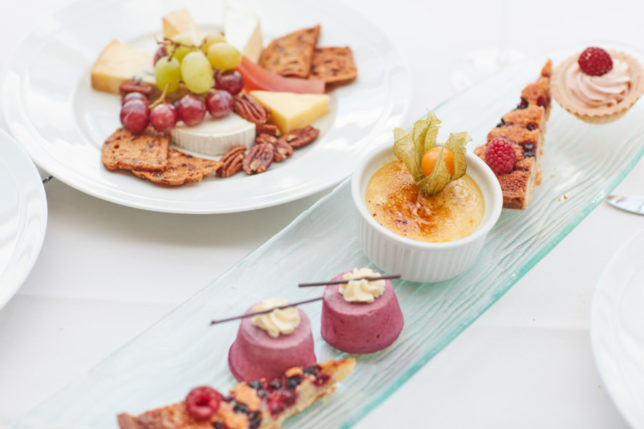 Chelsea Riverside Brasserie sits within the luxurious, five-star Chelsea Harbour Hotel with breathtaking views over Chelsea Harbour Marina. We made the most of the sunny weather and sat on the terrace to enjoy our brunch and the picturesque views of the marina.
The brunch, spread over three course, is a veritable feast and you definitely need to bring your appetite with you! The starter sharing board is laden with tasty treats starting with the seafood selection which includes smoked salmon, gravadlax, king prawns and smoked mackerel.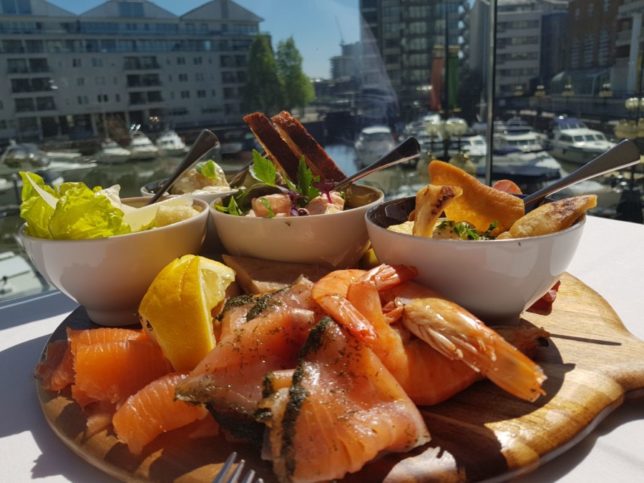 Potato salad and Caesar salad are just two of the delish dishes on the sharing board with plenty of choice and more than enough to share between two… maybe even three!
In addition to the salads and seafood there is also a fine selection of charcuterie including Parma ham and salami served with slices of a delicious raisin bread.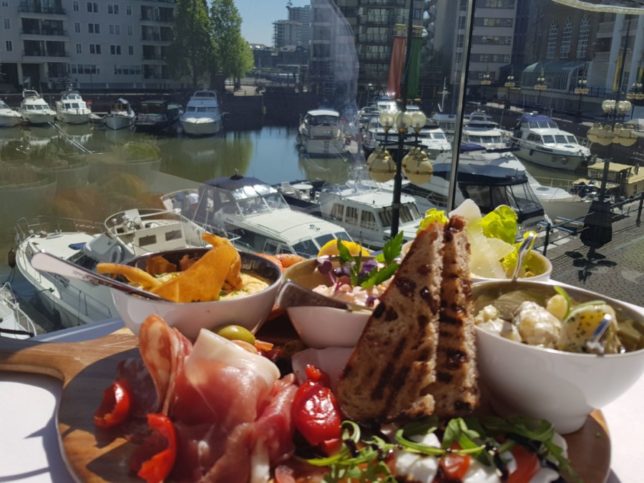 For the main course, the platter is heaving with roast meats and all the trimmings with plenty of roast beef and roast chicken in addition to a large Yorkshire pudding filled with roast potatoes, carrots, broccoli and cauliflower.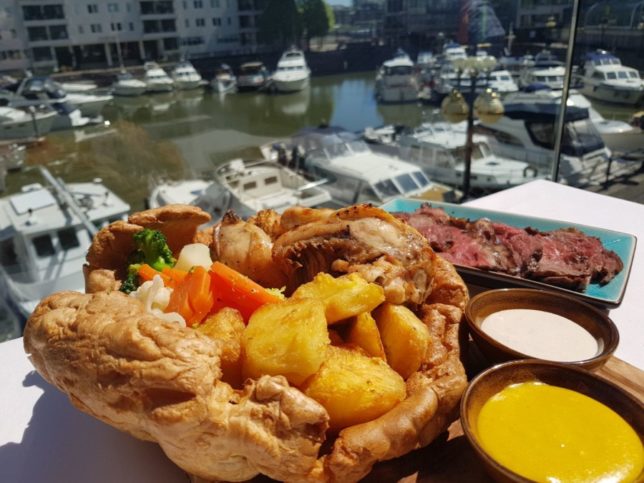 With so much to feast on it would be easy to end up without having room for dessert but we highly recommend you pace yourself as the dessert sharing platter is not to be missed. Sweet treats include lemon meringue pie, coffee & chocolate mousse cake and strawberry terrine. We loved the lemon meringue but none of the desserts failed to please!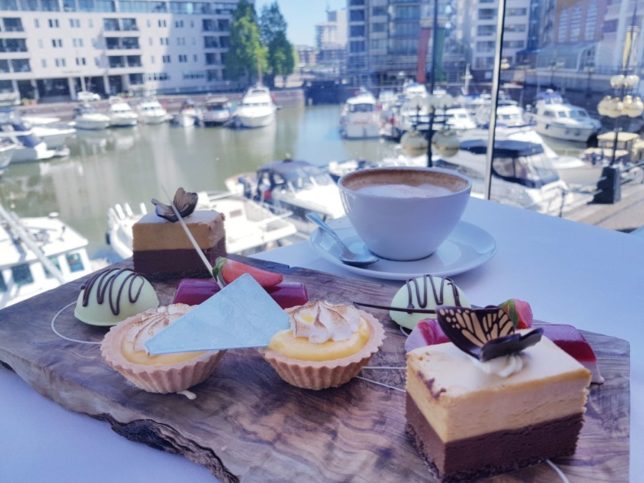 To finish a generous cheese board accompanies the sweets so every taste is catered for. The Stilton is excellent as is the other soft and hard cheeses all served with with artisan biscuits, fresh fruit and damson jelly.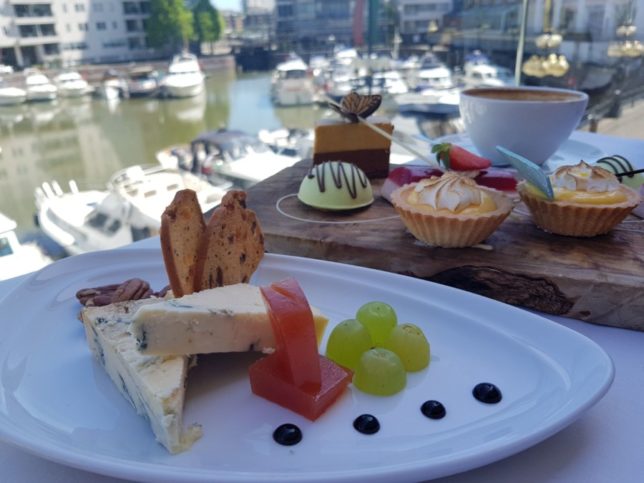 After such an indulgent feast, a walk around the marina to work off some of those calories is a good idea and a great chance to take in your relaxing surroundings. You might even bump into a celebrity life coach on the way! Sloan Sheridan-Williams went live from Chelsea Harbour Marina and here she is giving her daily advice on courage and confidence from the beautiful setting.
https://www.instagram.com/p/BirJECSnP12/
The Chelsea Harbour Hotel is part of Millennium Hotels and Resorts – a global hotel group that offers a unique range of properties around the world. Founded on the philosophy of genuine hospitality, the group takes pride in meeting and exceeding the needs of business and leisure travellers.
The Chelsea Harbour Hotel
Chelsea Harbour, London, SW10 0XG
www.millenniumhotels.com
@chelseaharbourhotel