As Chi Kitchen celebrates its first year anniversary at Debenhams flagship store on Oxford Street, it continues to bring fine dining restaurant quality pan Asian cuisine to the heart of London's busiest shopping district. Although visiting shoppers will always have a table ready, Chi Kitchen is not your usual department store restaurant to drop by for a quick stopover amidst retail therapy. Rather, Chi Kitchen is a departmental dining destination with a difference – beautifully presented sophisticated cuisine offering the best elements from Japan, China, Malaysia, Korea and Thailand – well worth taking your time to savour over this fine dining experience with loved ones or friends or even just on your own. Chi Kitchen pan Asian restaurant is part of the successful restaurant group owned by Malaysian restaurateur Eddie Lim and the menu has been designed by MasterChef Champion Ping Coombes.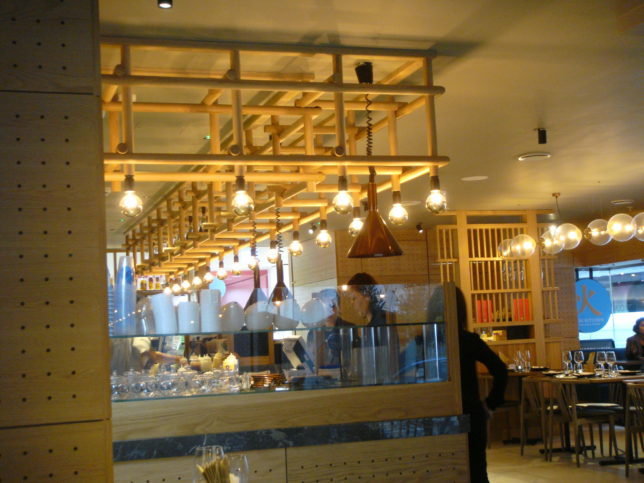 Our hosts for the evening were absolutely fabulous Edina and equally wonderful Nikki who both looked after us admirably, highlighting the popular and interesting dishes on the menu and explaining the ingredients and inspiration in response to our fascinated enquiries. Luckily for us, Nikki actually started at Chi Kitchen on the other side of the pass, working as a chef before moving to front-of-house, so she was perfectly placed to talk us through the exceptional delights on Ping's menu.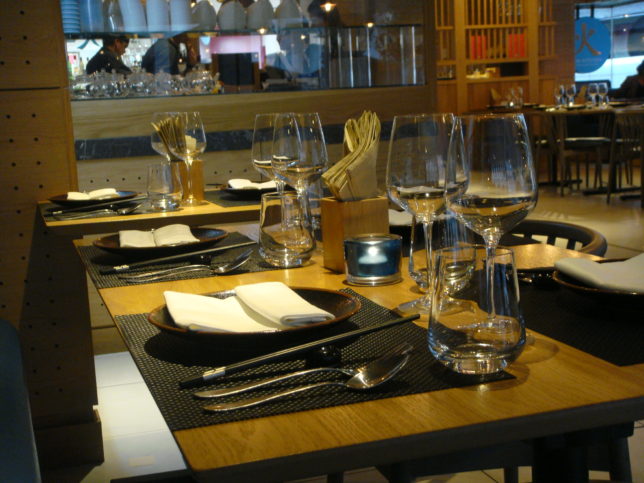 Knowing the reputation and quality of Eddie Lim's premium restaurants having previously reviewed Chai Wu and Mango Tree, we were more than happy to let our friendly host Edina (who has worked for the group a number of years) choose our dishes for us allowing Chi Kitchen to showcase Ping Coombes' excellent menu. We began our pan-Asian adventure with Popcorn Shrimp – deservedly one of the most popular dishes at Chi Kitchen. Jumbo shrimp is deep fried in tempura batter and served with wasabi mayonaisse studded with pomegranate seeds – a contemporary version of the traditional Prawn Cocktail that takes the popular popcorn style recipe to the next level.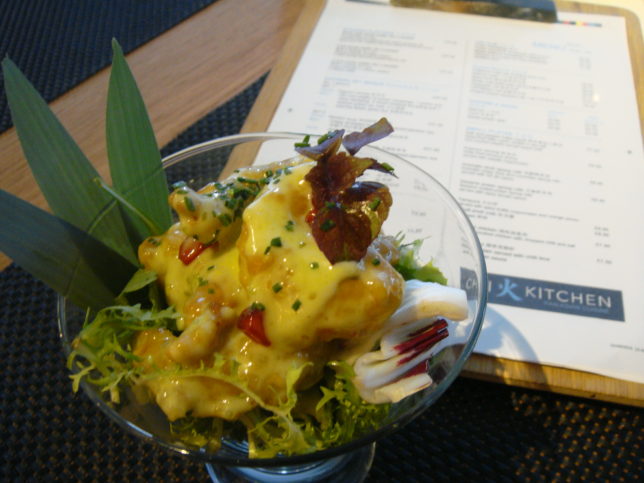 The crispy tempura shrimp was sweet, sticky and succulent with a spicy kick from the wasabi mayo balanced by the sweetness of the pomegranate bursting in the mouth. We have to agree with Edina that Chi Kitchen's Popcorn Shrimp is so moreish you could eat it all day every day!
Next up was Prawn Tempura… a more classic interpretation of the popular Japanese starter. Here the crispy batter had no trace of greasiness and the tempura was served with a spicy truffle mayonnaise and orange ponzu sauce.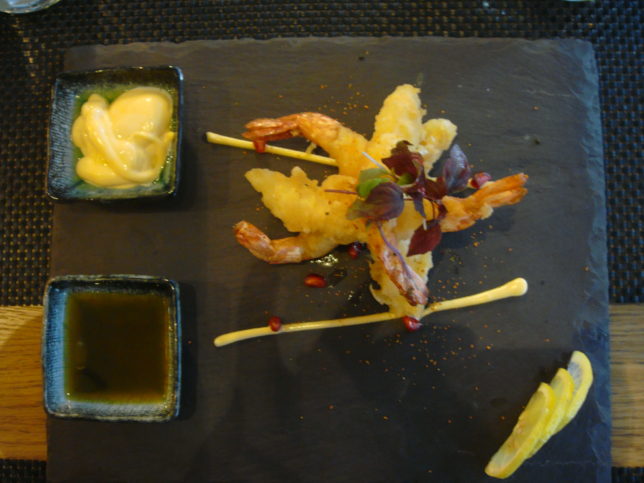 Again the combinations of flavours were moved up to fine dining levels with the use of ponzu and truffle in sauces that are anything but pedestrian. The earthiness from the truffle was balanced against the spicy kick in the mayonnaise complemented by the sweet citrus tang from the orange ponzu sauce. Let's go in for a closer look…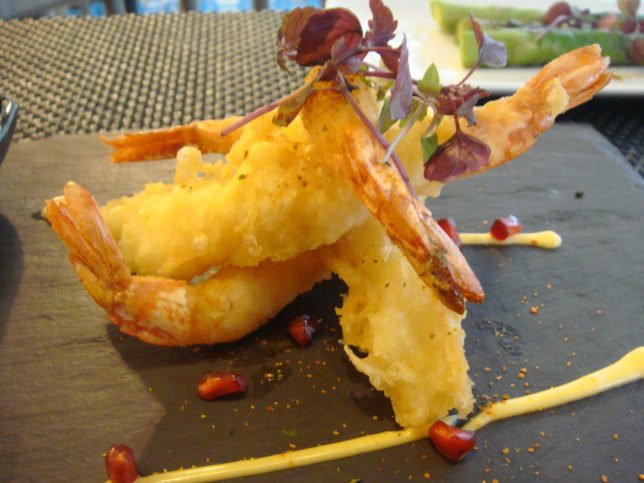 Moving on to a personal favourite of mine – Salt & Pepper Baby Squid. This expertly crafted dish impressed with its considered presentation in mini bamboo steamer baskets following the Asian principle of serving portions in threes not to mention the perfectly cooked baby squid which remained soft, tender and juicy even with its the deep fried crispy coating… a sign of true culinary expertise from the kitchen.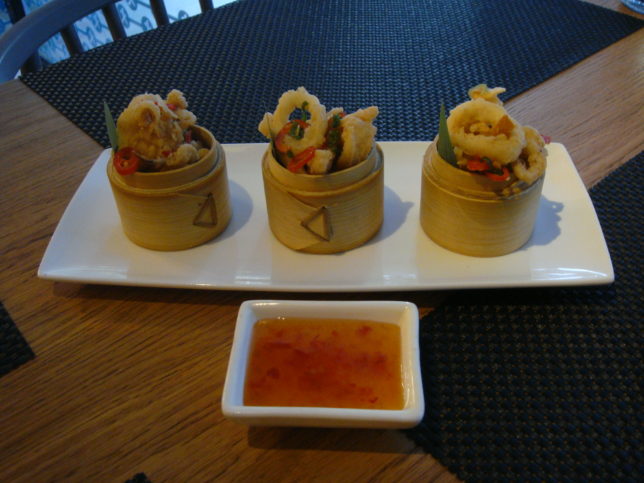 Let's zoom in on these baby beauties served with a sweet chilli sauce and note the fresh chopped red chilli and flakes of dried garlic adding further layers of complexity to the flavour profile of the dish.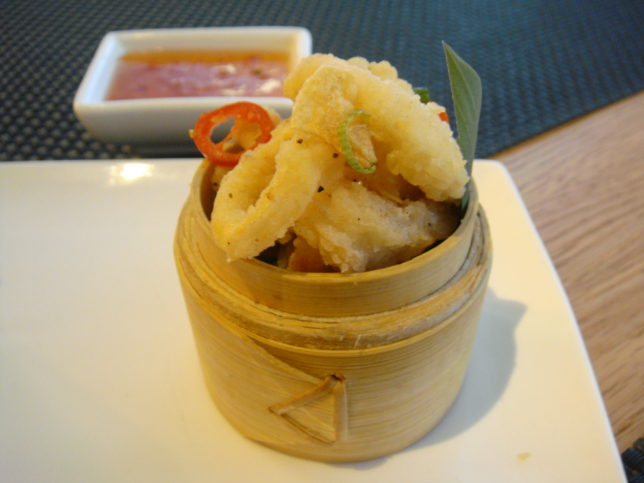 On to a signature show-stopping dish perfect for this time of year – the Chi Kitchen Roll which comes with its own theatrically presentation of dried ice to add some glam rock drama to the dinner table.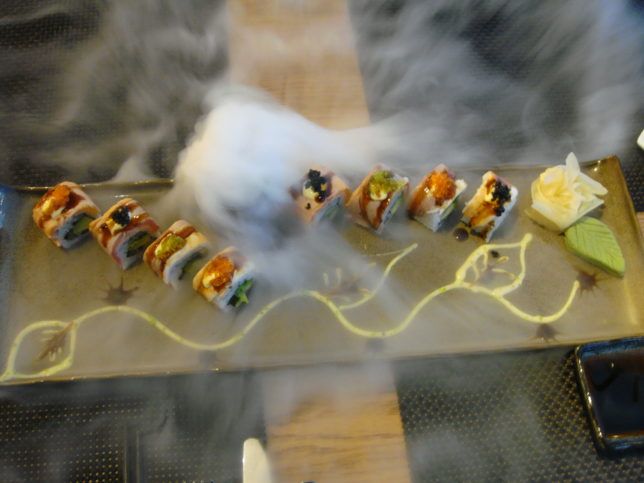 A great dish for those new to sushi, the Chi Kitchen Roll combines the three favourite flavours of salmon, tuna and prawn wrapped around a maki roll filled with avocado, cucumber and asparagus topped with colourful flying fish roe. Check out the foliage inspired presentation arranged by our host Nikki.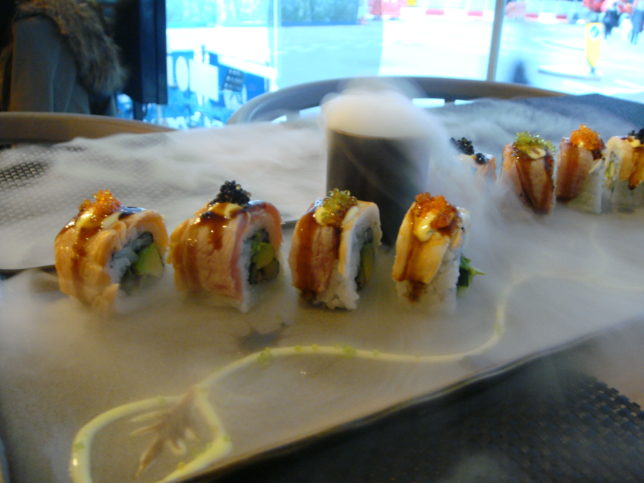 From the robata BBQ grill came Malaysian style Chicken Satay with succulent pieces of chargrilled chicken marinated in lemongrass and coriander served with a crunchy peanut sauce and scattered with more crushed peanuts. A satay lover's dream best served with a little jasmine rice to balance the flavours as recommended by Nikki.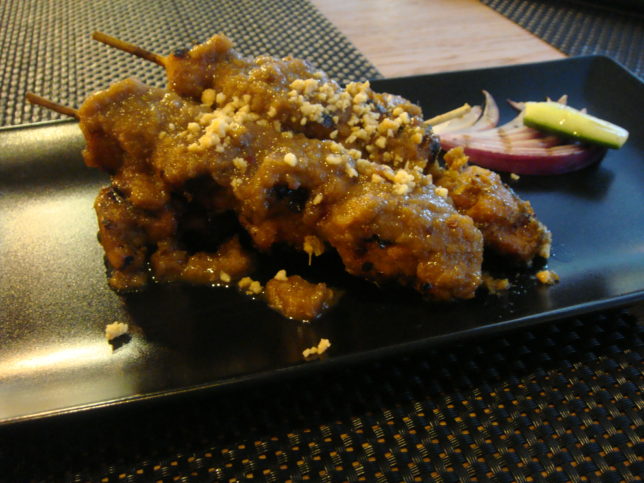 Moving on to the large plates, two of the most popular dishes at Chi Kitchen are the Thai Green Chicken Curry and the Korean Steak. Aromatic and spicy Thai green curry is served with slivers of tender chicken, aubergine cooked to melting perfection and bamboo shoots with just enough bite to balance the textures. Sweet basil leaves add deeper levels of flavour with fragrant steamed jasmine rice to soak up the delicious sauce.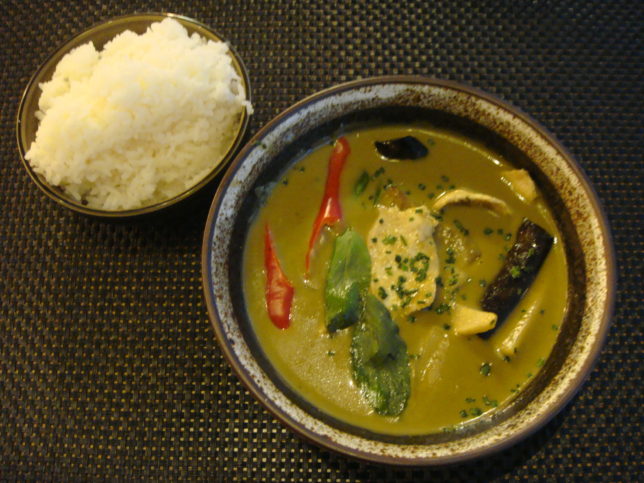 Korean Steak takes premium Wagyu beef steak that melts in the mouth with a smothering of Bulgogi Sauce – a traditional Korean sauce which is sweet and rich thanks to the use of soy beans, sugar syrup and beer. Texture and flavour again are balanced perfectly in this dish with the addition of straw mushrooms in the sauce and chives in the accompanying creamy mash.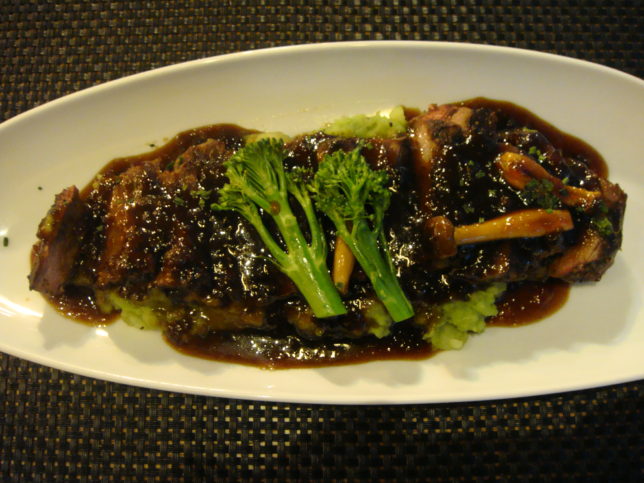 How does one end such a wonderful feast of flavours with a dessert that stands up to such high quality main courses? With more theatre of course! The culinary drama comes courtesy of the Chi Kitchen signature dessert simply called Chocolate Sphere. Brought to the table, this looks impressive enough with its perfect sphere, mini white chocolate buttons and striking chocolate straws. But wait a minute… Nikki begins to pour hot caramel sauce over the top of the dessert…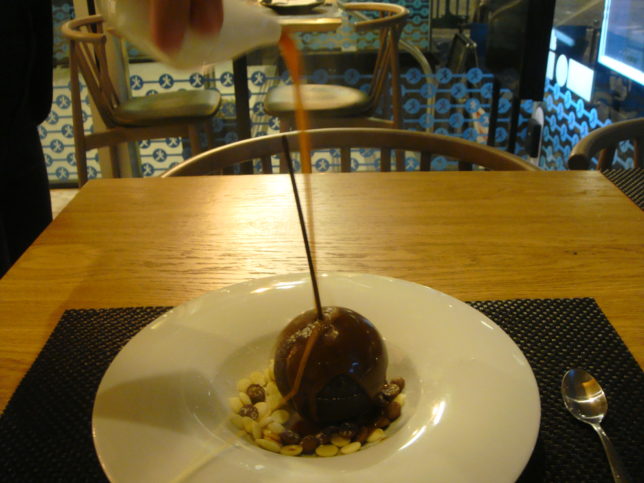 The spherical chocolate shell melts to reveal a chilled centre of ice cream and fresh berries. The bed of chocolate buttons melt to form a rich chocolate sauce with notes of toffee perfectly complementing the cool ice cream that can't help but melt into creamy delight as the flavours and textures all merge to become one… what divine decadence!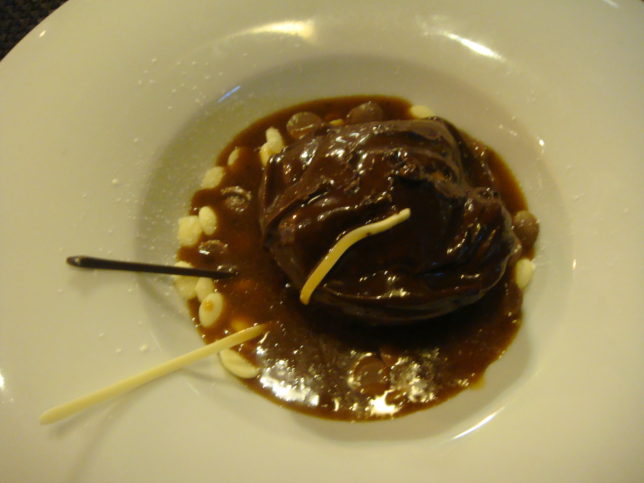 The spacious restaurant is comfortable and relaxed with leather banquettes, stylish wooden chairs, filament bulb lighting and Asian inspired design. Diners vary from solo professionals, romantic couples and groups of friends with regulars and new guests enjoying the wonderful menu and warm hospitality of the restaurant team. It's also worth mentioning that the entire menu is halal so those who follow strict religious dietary requirements can partake in the bounty of delicious dishes on offer.
With a crowd-pleasing drinks menu serving everything from champagne cocktails to bubble tea and every wine by the glass or bottle, Chi Kitchen certainly has something for everyone and as it celebrates its first year at Debenhams, we can guarantee that this calm relaxed dining destination will continue to go from strength to strength as it takes contemporary pan-Asian fine dining to an even higher level over the coming months supported by the attentive engaged hospitality of the exceptional restaurant team.
Chi Kitchen
Debenhams Ground Floor, 334-348 Oxford Street, London W1C 1JG
020 3841 6888
www.chikitchen.co.uk
@ChiKitchenFood