We've just seen the hottest June day for over 175 years so now seems the perfect time to turn up the heat and spice things up in the snack department for all your summer entertaining events be it a casual barbecue, relaxed dinner party with foodie friends or a more formal summer garden party for your wider social circle of extended family, friends and acquantainces.
We've long been fans of CHIKA's range of premium West African inspired snacks and the new Summer Collection of intensely flavoursome and incomparably crunchy snacks have us hooked and we think you will love them too. CHIKA's moreish morsels ranging from chickpea crisps to plaintain chips and nuts will give you and your loved ones the ultimate eating experience that's nothing less than the Holy Grail for the taste buds this summer.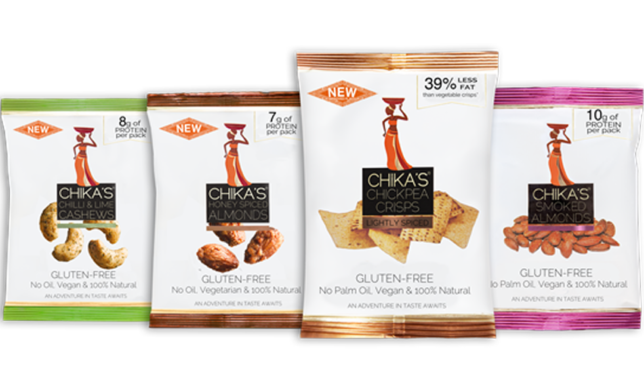 CHIKA's snacks is a leading premium snack brand inspired by their founder Chika Russell's West African heritage. An adventure in taste, CHIKA's offers a healthier natural alternative striking a balance between flavour and conscientious snacking.
Not just packed with flavour, CHIKA's snacks are also healthier than the average snack as they are baked not fried. They are also made with absolutely nothing artificial, gluten and GMO free and veggie, so you won't feel so bad when you devour the packet like we did. Why should any self-respecting health conscious foodie go without?
The CHIKA's snacks Summer Collection come in two new and two classic varieties. The new additions include Honey Spiced Almonds and Chilli and Lime Cashews.
Delightfully delectable CHIKA's honey spice almonds give the perfect balance of sweetness and spice and are insanely crunchy! Packed full of full of good, nutritious ingredients and flavour, inspired by the exotic tastes of West Africa these nuts will be sure to tantalise your taste buds this summer.
CHIKA's new cashews with a hint of chilli and lime for that delicious summer taste takes these nuts to the next flavour level. Baked and gluten-free, you won't be able to resist the whole pack – just be thankful they are high in protein!
The classic varieties include Smoked Almonds and Chickpea Crisps.
Enjoy almonds 'the West African way!' with CHIKA's ever-so-popular Smoked Almonds. Gluten-free, suitably small yet BIG on a superb smoky flavour, these delicious nuts have been seasoned with paprika (to add just the right level of piquancy). Prepared, cooked and served traditionally, these tasty almonds are worlds apart from your usual, boring, old almond experience. And with 10g of protein per pack, CHIKA's smoked almonds are also the perfect choice for protein rich diets.
Lower in salt than its other crisp counterparts but with lots of attitude, CHIKA's lightly spiced Chickpea Crisps are gluten free and are 39% lower in fat than your standard crisp but do not compromise on taste. These tasty morsels, made with only natural products are suitable for veggies and vegans too. With a sprinkle of cumin seeds, the gorgeous touches of cracked black pepper, onion, garlic and coriander you'll be serving (and eating!) no other crisp this summer.
Passionate about living and eating well, Chika Russell, founder of CHIKA's, followed her desire for food after leaving a career as a qualified accountant and investment banking. Inspired by the food of her childhood in Nigeria, Chika is leading the way in West African food and creating change in communities in which their aspiration was born.
CHIKA doesn't just taste good – they do good too. Each new subscription to CHIKA's flavour bursting and nutritious snack boxes supports SNACK FOR CHANGE – an initiative which enables children in Africa access an education. By purchasing a subscription via their website www.chikas.co.uk, you will be helping a child in Africa have the opportunity to attend school equipping them with knowledge, skills and ambition to change and become valued members of society.
CHIKA's snacks are available from major supermarkets and online at www.chikas.co.uk starting from £1.49