Dede Efueye is a senior midwife at Private Midwives, the leading provider of private midwifery care. Here she answers five common fears about childbirth from crowning to c-sections with reassuring advice about why mums-to-be don't need to dread delivery.
Mums-to-be can experience a huge range of emotions throughout their pregnancy, but it's important for women to acknowledge these emotions and understand that any fears are completely normal. If you have any worries, speak to your midwife or health care provider as they will be able to offer advice and support.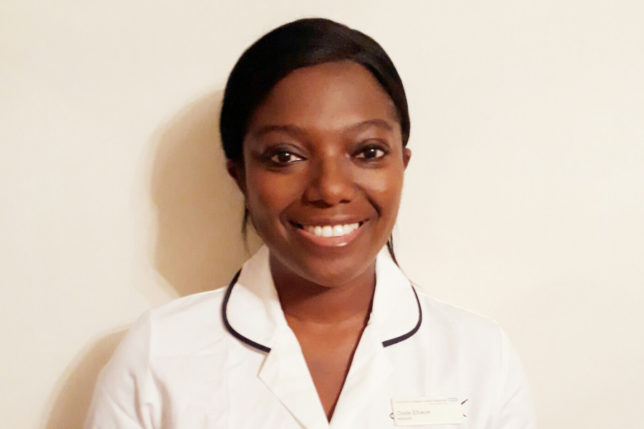 Childbirth Fears About NHS Hospitals
"I'm frightened that the hospital is going to be so busy on the day of my baby's birth that I get second rate care. You read horror stories and I don't want to be a statistic."
We all understand that the NHS is facing a difficult time at the moment due to the rise in birth rate and the shortage of midwives. However, all staff do an incredible job every day to provide the best care they can to every woman they care for. If you have concerns about your care, you can always escalate it to the midwife in charge or the midwifery manager on call within your local unit and they will go above and beyond to support you. Women in labour will always be a priority when it comes to receiving care to ensure the safety of women and their babies.
Childbirth Fears About Labour
"I live over an hour from my chosen hospital. I'm frightened that I might have a quick labour and not get there in time. What signs can I look out for or what measures can I put in place?"
It is important to be aware of how long it takes the contractions to build up. We expect that labour establishes when contractions are 2-3 minutes apart and lasting for 45-60 seconds over several hours. The build up to that regularity of contractions will give you an idea of when to make your way into the hospital. For some women that can take a couple of days or for others only a few hours, in which case you are likely to progress more quickly through the labour.
Don't be afraid to call your hospital's birth centre or triage to ask for advice if you are contracting. The midwives can quite accurately assess women over the phone and advise you when they feel it is the right time for you to make your way in. Good planning is vital, so have the taxi number somewhere very visible or make sure your partner ensures they're around at the time of your due date. Make sure there is always enough petrol in the car and your hospital bag is within easy reach.
Childbirth Fears About Epidurals
"I want a natural birth but I'm frightened of the pain and the horror stories I've heard about epidurals paralysing women. Is this true? How do I overcome my fear?"
Antenatal classes can help with dealing with the fear of labour. Sometimes the fear comes from not knowing or understanding the birth process and this information is usually covered in the classes. Hypnobirthing courses are a good way to become educated on the process of labour and the various coping mechanisms to deal with the intensity of birth. Birth is a beautiful and positive experience, so positive birth affirmations and language around the birth can greatly improve the way women cope through the labour. There are also lots of pain relief options in labour ranging from tablets, gas and air, injections, pool (if suitable) and also the epidural. Women have lots of options and with the support of their midwives, they will find the best option to suit them. The risk of paralysis from epidural is very low and the anaesthetists will always discuss these risks with you before proceeding so you can make an informed decision that is right for you.
Childbirth Fears About Caesarean Section
"I keep having a dream that I'm going to be rushed into an emergency c-section. Is it better to book an elective c-section to avoid this and what are the pros and cons of a c-section?"
It is quite normal to grow anxious as you get closer to your due date and women often have unusual dreams. Caesarean sections are major abdominal surgeries so it's important to discuss this birthing option thoroughly with a consultant obstetrician. Women who choose a c-section may do this for different reasons, such as being able to plan when to have their baby, fear of being able to cope with the pain involved with a vaginal birth or because they have had a birth trauma previously. However, it is important to note that caesarean sections can be associated with increased risk of haemorrhage, increased pain after the birth (compared to vaginal births), a longer recovery time and increased risk of respiratory distress in the new-born, to name a few. The pros and cons of all birthing options should be carefully explained and considered prior to opting for a c-section but for many women this is the right choice for them.
Childbirth Fears About Crowning
"My sister-in-law described the crowning and subsequent tearing as the most painful thing she experienced. How do I overcome my fear of this part of the birth as I don't want to be too frightened to push?"
Crowning happens towards the end of the birth when the widest part of the baby's head is being born. It is at this point that tears tend to occur. What can really help to reduce the risk of tearing is perineum massage which women can start from 34 weeks. This helps to improve the elasticity of the perineum and helps it to be able to stretch more easily and reduce the risk of tearing. It is also very important to listen to your midwife because she will encourage you to try and breathe the baby out at this point during the birth (not push). This allows for a more gentle birth of the head by giving the tissues more time to loosen up and stretch. Quick births can increase the risk of tears.
If you still have concerns about childbirth, a private midwifery service can put your mind at ease. Private Midwives offers care which is tailor-made to families' individual needs, wishes and circumstances, and clinical safety, good clinical outcomes, continuity of care and a women's right of choice are at the very heart of the service.
About the expert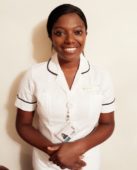 Dede Efueye is a senior midwife at Private Midwives, the leading provider of private midwifery care. Private Midwives is a Care Quality Commission registered and regulated service which connects women with their own personal midwife according to their health needs, choices, preferences and birthing philosophy, allowing antenatal, birth and postnatal care to be tailored specifically to them at times and locations that work best for parents-to-be.
Founded in 2012, the Cheshire-based business has a network of midwives across the UK and Ireland, who are available to provide treatment and advice during appointments arranged at a time to suit mothers-to-be. In-between scheduled appointments, expectant parents can also contact their 24 hours, 365 days per year for urgent advice.
All midwives are registered and regulated by either the Nursing and Midwifery Council (UK) or the Nursing and Midwifery Board for Ireland. For more information, visit www.privatemidwives.com