Mr Sheraz Daya, Ophthalmologist and Medical Director of Centre for Sight, shares his expert tips on choosing a Laser Eye Surgeon.
Having laser eye surgery is a big decision, it goes without saying that your eyes and vision are important to you and it is very important to firstly take no chances and secondly to get the very best possible care available. Mr Sheraz Daya who performed the first LASIK laser vision correction procedure in the UK shares 7 key pointers that should help you make an informed choice.
1. OPTICIAN OR GP RECOMMENDATIONS
Ask your optician whom they would choose to do their eyes? Word of mouth is a good one, as you will be getting information based on someone else's personal experience and outcome. Testimonials are good especially if they are on independent websites. Reviews and internet chat rooms are useful places to obtain recommendations, but no substitute to you doing your own due diligence. Leave no stone unturned!
2. REPUTATION
What is the surgeon's track record? How long have they been doing Laser eye surgery for and how are they viewed by their colleagues? As doctors are in the business, they will know who is good and very useful to know if the surgeon has treated other doctors or surgeons, particularly other eye surgeons! Choose someone who is a surgeon to other surgeons!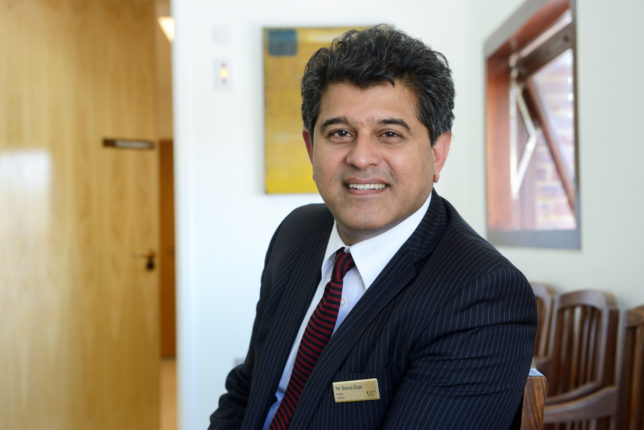 3. EXPERIENCE
How long has the surgeon been in practice and for how long have they been performing laser eye surgery? Additionally, find out if the surgeon being considered is a "trouble-shooter". Good surgeons often fix problems from other laser eye centres. They therefore not only know how to avoid problems, they have good knowledge and ability to remedy them – exactly what you want for your eyes.
4. TRAINING/QUALIFICATIONS
Has the surgeon had fellowship training in Cornea and Refractive Surgery? Refractive surgery is the speciality that deals with correcting shortsight, farsight, astigmatism and presbyopia (the need for readers). Laser eye surgery treats the cornea, so best to have someone with expertise and understanding on how the cornea behaves. Fellowship training is an optional period of time when eye surgeons immerse themselves in a speciality for a year or more and trained by a specialist in the area.
5. RESEARCH
Is the surgeon involved in research and have they published their work? Are they "Key Opinion or Thought Leaders" in the area of eye surgery and laser eye procedures? Do they speak on the podium – present at international meetings? Innovative surgeons usually get their ideas by doing a lot of surgery and getting intimately involved in the detail. A surgeon obsessed by detail is what you want for your eyes.
6. SURGEON-LED CARE
Make sure you will be having your consultation with your operating surgeon before your procedure. This is an important recommendation by the majority of major institutions overseeing eye care, including the Royal College of Ophthalmologists and makes a lot of sense (but sadly not practiced at a number of commercial high volume organizations).
7. INTEGRITY
This is a hard one to measure and evaluate. Often this goes along with some of the suggestions above like "Reputation" and "Recommendation". However there are some useful pointers. Is the surgeon involved in any civic activities, such as charitable work, teaching or performing surgery in areas where there is a need? Are they involved in caring for the community? Do they care about the environment? Are they willing to make a stand for what is right? You can find some material out from your research, however more often than not, you will get a sense from the surgeon when you meet them in consultation.
Your eyes are precious, do your research well and get educated. In your pursuit of finding a good surgeon, do not get distracted by inducements, offers and "deals". It is not about getting a good deal but getting the best care that sets you up for the rest of your life! You really want to meet the surgeon, figure out whether you trust them and want them to do your procedure.
You also want the surgeon to familiarise themselves with your eyes and take into consideration specifics about you, your optical system and your lifestyle and visual needs when figuring out their treatment plan. A good surgeon will examine you thoroughly and make sure there are no incidental eye problems that might preclude you from having the procedure. A good surgeon will also customise or tailor-make your care to suit you, your optical system and your needs and lifestyle.
About the expert
Mr Sheraz Daya MD FACP FACS FRCS (Ed) FRCOphth is an Ophthalmologist and Medical Director of Centre for Sight. In 1995 Mr Daya performed the first the LASIK laser vision correction procedure in the UK and became a well known trainer of the procedure. Dissatisfied with the limitations of eye care provision in private hospitals, Mr Daya founded Centre for Sight in 1996 and it now has a reputation for providing exemplary personalised medical and surgical eye care as well as setting exceptionally high standards for laser eye surgery. The Centre draws referrals from all over the world and the patients include Royalty, Presidents and Prime Ministers. For more information, please visit www.centreforsight.com