In Denby's report on The Art of Entertaining, the iconic pottery brand delves into our favourite time of year – Christmas, journeying through time to observe how festive celebrations and traditions have evolved. 
Food Historian Dr Annie Gray tell us about the history of seasonal traditions…
The origins of Christmas
Christmas in Britain has its origins in the medieval period. In its earliest form it was a mixture of religious observance and riotous celebration, a chance to let your hair down at a time of year when the harvest was in, and there was little to do but sit around in the dark and the cold. It was celebrated over the full twelve days, with each day named for a different Saint, and involving different types of foods and customs. However, by the 17th century it was seen as being licentious, rowdy, and having lost all its Christian virtue. Oliver Cromwell tried hard to reform it, though he largely failed, and in the 18th century it nearly dwindled away.
The Victorians modernised Christmas
In the 1840s, with a new Queen upon the throne, and the old debauched Georgians gone to their graves, time was ripe for reinventing the festival as a family-friendly, slightly more sober affair, with emphasis on good cheer and goodwill, some selective charitable giving, and a great deal of eating and making merry. The Victorians introduced the Christmas card, crackers, Christmas cake, and popularised the Christmas tree, renaming the age-old plum pudding as Christmas pudding along the way. By the end of the era the menu that we think of as traditional was well established.
A history of Christmas dinner
Beef was, however, still as much of Christmas meat as turkey (or goose or chicken), especially for the rich. Game was in season and so eaten widely (including game pie served as a cold snack), and poultry was at its best and most seasonal as well as Brawn or a stuffed pig's head. Vegetables were mainly seasonal, although the rich could – and did – easily flout the seasons, and we ate potatoes, Brussels sprouts (another Victorian introduction), and Jerusalem artichokes. The rich also ate asparagus and sea kale. Upper class meals were generally of seven or eight courses, while lower down the social scale only one course would be served, but of many different dishes. In the 20th century, as ngly focused around 'traditional' foods, and, with the influence of Thanksgiving, the turkey finally became the majority choice of dinner centrepiece.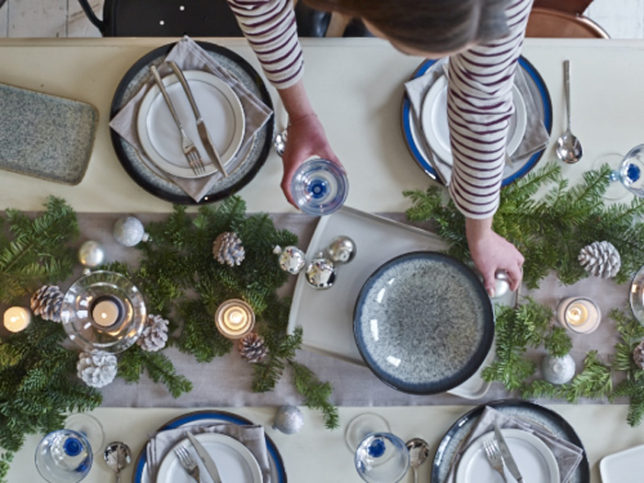 Iconic pottery brand, Denby offers unique and stylish tableware collections, perfect for gifts and beautiful table settings this Christmas. Handcrafted in England by skilled craftsmen, its premium stoneware ranges are carefully designed to stand the test of time and appeal to every style and taste. Denby's Imperial Blue is a design classic with a 27-year heritage. Vibrant cobalt blues and fresh crisp whites result in a bold and ageless feel. The distinctive, beautiful textured glaze is sure to make a sophisticated statement and is ideal for gifting. A worldwide best seller, Imperial Blue consists of everything needed to cater for a festive feast, including Tableware, Glassware, Accessories and Cast Iron Cookware.
For further information and tips and hints on how to throw a stylish seasonal get-together, visit denby.co.uk/theartentertaining
About Dr Annie Gray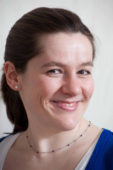 Dr Annie Gray is a historian, comeals got smaller in the wake of two world wars and a Great Depression, Christmas dinner became increasiok, lecturer, broadcaster, writer and consultant specialising in the history of food and dining in Britain from around 1600 to the present day. Annie is the curator of Denby's report on The Art of Entertaining