Danilo Cortellini, Head Chef of the Italian Embassy, has put together a selection of his favourite recipes inspired by traditional Italian Christmas dishes. He has shared his family's much-loved dishes, lovingly made by his mamma sometimes months ahead, and enjoyed by the family on Christmas Eve and Christmas Day, and also recipes bringing a real sense of home, which are served to His Excellency the Italian Ambassador and his family.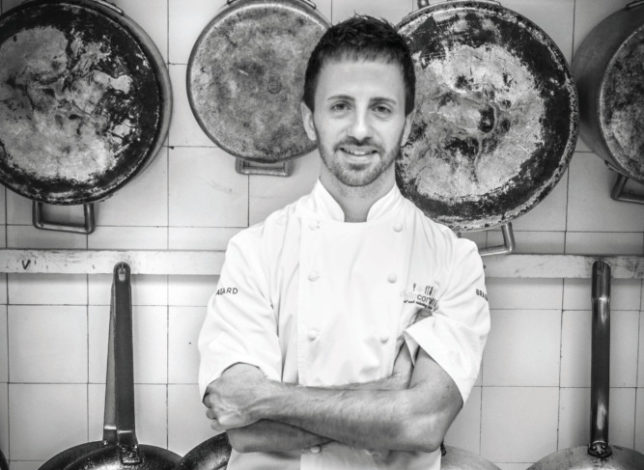 The Christmas Eve and the Christmas Day meals are so important to Italian families, and are a time to be spent enjoying delicious feasts with the family. Danilo's memories of Christmas with his family back in Abruzzo has led him to create modernised, refined versions of the recipes his mother and grandmother prepared for the family.
Danilo's typical Christmas Eve dinner is straight from the sea; in Italian culture, it is traditional to serve fish on Christmas Eve. Danilo often starts with a simple yet impressive spaghetti alle vongole (spaghetti with clams) and always follows this with sea bass in salt crust for main, which is served whole at the table.
Danilo's Christmas Day meal a pure taste of Abruzzo, beginning with Olive all'Ascolana (breaded olives stuffed with meat) and continuing with a rich Timballo alla teramana (a lasagne-style dish, made with lamb meatballs and Italian crepes instead of layers of pasta).
For dessert, Danilo's favourite is the unmissable calgionetti Abruzzese (decadent sweet pasta parcels filled with chestnuts, chocolate and almonds, which are deep fried then rolled in sugar).
The recipes do take time to prepare but make for a stunning meal when complete.
Every year at the Italian Embassy, the Christmas meals are particularly important, and Danilo takes great care in preparing traditional recipes for the Ambassador and his family. To give the Ambassador and his family a taste of their Neapolitan heritage, Danilo often serves struffoli for dessert, gnocchi-like dumplings which are made with orange zest and a touch of star anise liquor, making them aromatic and intense. These are then deep-fried and coated with honey to round off the meal.
Danilo says, "Christmas is a hugely important time of year to Italians. It's a time where we spend hours over a delicious feast of food. Exactly as my mother would do, I always prepare an Abruzzese Christmas Eve meal for my team at the Italian Embassy to enjoy after a few long days of hard work together inviting also some close friends to recreate my Abruzzese family celebration."
Calgionetti Abruzzesi
Makes: 50 | Preparation Time: 1 hour 30 minutes | Cooking Time: 40 minutes
Calgionetti Abruzzesi are sweet deep fried ravioli, made with egg-free pasta and filled with chestnuts, almonds and cocoa. Simply delicious. It is a great dairy-free alternative to most pastries. These are best to be made in chestnut season, from late October until Christmas; during the festive weeks these amazing treats are always on my table.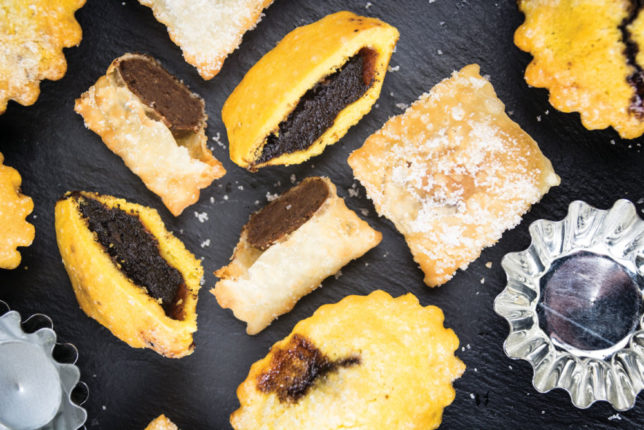 Ingredients
For the filling
500g chestnuts
20g coffee powder
50g cocoa powder
100ml Sambuca liquor
½ orange, zest
½ lemon, zest
40g honey
125g roasted almonds, chopped
50g dark chocolate, chopped
For the pasta
500g 00 flour
2 tbsp extra virgin olive oil
200ml dry white wine
1 litre vegetable oil, for frying
Sugar, for dusting
Instructions
Start with the filling. Roast the chestnuts in a pan on a high heat or in the oven at 220 until they are burnt all around the skin. Peel them and boil in water until soft. Remove from the boiling water and mash the chestnuts while still hot. Mash well and then combine with the coffee and cocoa powder, the Sambuca, the great orange and lemon zest, honey, roast almonds and chocolate. Knead well in a bowl until it creates a tough dough. If the dough is not wet enough, add a spoon of water.
Now, prepare the pasta by kneading the flour, olive oil and wine together. Make sure the dough is lump free to create a smooth and elastic pasta. If too wet, add flour.
Prepare the ravioli. Divide the filling into each ravioli, weighing approximately 15g each. Once the ravioli are filled, cover each one with another sheet of pasta.
Heat the vegetable oil and allow it to reach 170C. Fry the ravioli in the oil, a couple at a time. Turn them upside-down and as soon as they are golden all around, strain from the hot oil. Pat dry with kitchen paper and sprinkle right away with sugar.
Serve warm or store for a couple of days and serve at room temperature.
Branzino in Crosta Di Salt (Sea bass in salt crust)
Serves 4 | Preperation Time: 35 minutes | Cooking Time: 25 minutes
Salt crust cooking is a very ancient method with numerous benefits. In terms of flavour, it keeps the food nice and moist, enhancing its natural flavour without adding any fat or cooking liquid. It is also a great healthy alternative to poaching or steaming.
The most common Italian salt crust recipe is with spigola also known as branzino, which you'll find in many seaside restaurants across the peninsula. The use of whipped egg white in the crust is essential to avoid any breakages; this will help to retain all the fish's moisture.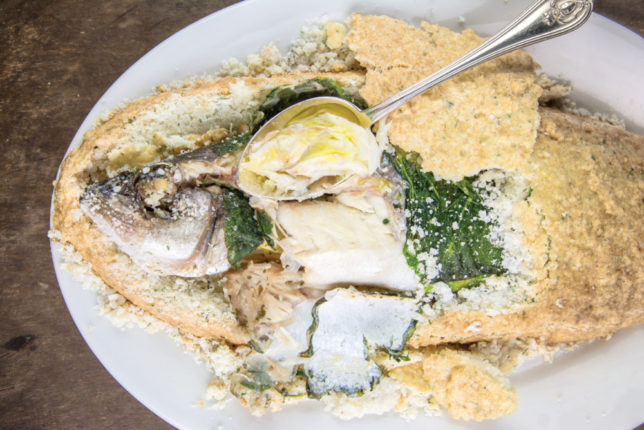 Ingredients
1 small bunch of thyme
1 small bunch of parsley
1 lemon
1 clove garlic
1 ½ kg sea bass
3 egg whites
1kg rock salt
1kg table salt
1 lettuce
2 tbsp extra virgin olive oil
Instructions
Finely chop and mix the thyme leaves, parseley and lemon zest. Scale and gut the sea bass and stuff the cavity of the fish with the herb mixture plus the smashed garlic clove.
Whip the egg whites and mix gently with both the rock salt and table salt until sticky. If necessary add some water.
Boil the lettuce leaves in water and pat them dry. Spread two-thirds of the mixture on the base of an oven-safe dish or skillet, brush the fish with olive oil and cover with the lettuce leaves to protect the fish. Lay the fish on the salt bed and cover it completely with the rest of the salt mixture. Press the crust firmly and make sure no spots are left without it.
Bake at 180C for 25 minutes.
Carefully break the salt crush, remove and place the fish meat onto a serving plate avoiding bones and fins. Season with a drizzle of extra virgin olive oil.