The Clos Maggiore website says: "Recently crowned London's 'Most Romantic Restaurant' in Harden's Restaurant Guide 2014, Clos Maggiore is an oasis of calm in the heart of Covent Garden, serving beautifully presented, contemporary French cuisine. Influenced by the stylish country inns of Provence and Tuscany its unique interior is an intimate setting for couples, groups of friends or business diners."
Located on King Street in Covent Garden, Clos Maggiore really is an oasis of calm as described on their website and after having a wonderful dining experience there recently with my partner, I have to say that it truly deserves it's status as London's Most Romantic Restaurant as awarded by Harden's Restaurant Guide 2014. The head chef is the wonderful Marcellin Marc, previously at the Michelin 2 star Le Clos de la Violette in Aix-en-Provence. Marc has transported his refined Mediterranean style of cooking to every dish at Clos Maggiore. From the first taste, one can tell that Marc uses only the best quality ingredients to produce dishes that are full of the warm flavours and sophisticated presentation of the chic South of France.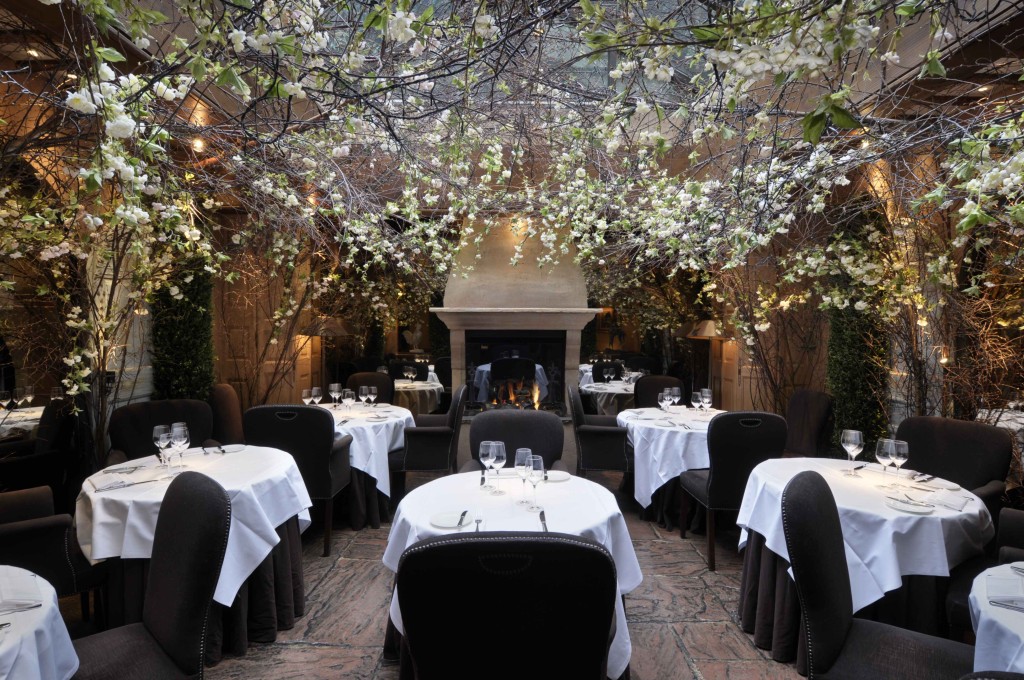 Upon arrival at the restaurant we were warmly greeted and shown straight to our table even though we were slightly early for our booking. The setting is stunning and our table was under a canopy of blossom in the conservatory which made the evening feel like it was taking place in a fairy tale. Dinner doesn't get more romantic as this.
It feels like there is one member of staff for each table as the attentiveness of the waiters is second to none and what really shines through is that one never feels crowded or pressured by their presence, it is as if they are there and not there all at the same time. This level of impeccable service meant that throughout the meal the needs of my partner and I were always met or even anticipated. Not only that but the staff have an upbeat attitude with one female in particular like a berath of sunshine every time she passed with the most delectable bread choices including a focaccia to beat all others. The attentiveness of the wait staff was the perfect balance, for example when we finished our wine and did not order a second bottle, the glasses were moved to the side of our table and then swiftly removed by one of the waiters yet we were given room to have private conversation without feeling intruded upon.
Starters
To start I ordered the  Fresh Maine Lobster, Scallop & King Prawn Tortellini served with Roasted Scottish Langoustine and a Warm Fragrant Piperade. These were generous portions and the freshness of the seafood really came through. The tortellini lay on a bed of sauce allowing you to have just the right amount of Piperade for your palate. A very well thought out starter.
My partner settled on the Hand Picked Scottish Crab, Brown Shrimp & Cocktail Sauce. They change the exact crab concoction dependent on seasonal fruit and it was served with apple and avocado in the perfect quantities to bring the freshness of the fruit to the surface without overpowering the crab.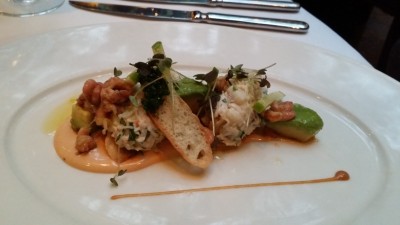 Mains
For the main course I chose the Honey Glazed Breast of Aylesbury Duck served with Roasted Red Plums & Endive Meunière and a Ruby Port Sauce. Presentation was perfect and the duck was cooked exactly to order and the plate looked like a work of art.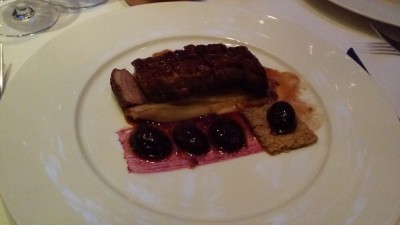 For his main, my partner chose the Oven Roasted Rack Of Welsh Lamb & Braised Shank Grémolata served with Grilled Ratte Potatoes, Black Olive & Goat's Cheese and a light Lamb Jus. The combinations chosen made this a heavier meal which is perfect for those who have skipped lunch.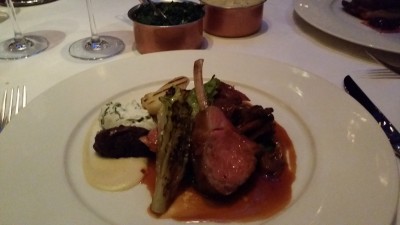 Throughout the portions are generous but manageable allowing you to romantically share a bite of food with your partner without wishing they had declined your offer of a sample!
Desserts
We were spoilt for choice with the dessert menu but in the end I decided to try the Warm Pistachio Pain De Gênes which was served with an English Raspberry Salad & Sorbet. What appeared in front of me was a work of pure culinary artistry. The dessert was decorated with gold leaf and intricate raspberry sugar art and the pistachio delight was wrapped in filo pastry and served in a cracker like shape making it easily manageable after such  beautiful previous courses.
My partner went for the Grand Cru Valrhona Milk Chocolate Mille Feuille served with Pecan Nut Ice Cream. The chocolate being famous for having the highest amount of cocoa in it did not disappoint, a must for chocoholics everywhere. Again Clos Maggorie has an attention to detail in its manner, ingredients and presentation that is second to none.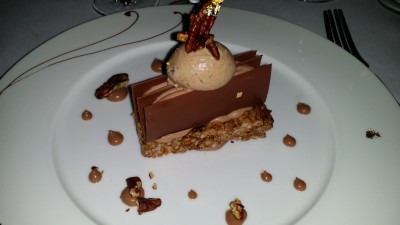 As a success coach who works with many businesses, I see the positive but also areas in which a business can improve be it on service or product, in y many years of coaching I would say that I am hard pushed to find areas of improvement for constructive criticism because the attention to every detail has been already observed and carried out. A true pleasure to review.
Wines
We decided to put the sommelier to the test by letting him choose our wines from one of the most extensive wine lists I have seen in quite some time. Not only did he know his wines effortlessly bringing the finer notes to the tip of his tongue on asking but he had a skill for pairing wines that complimented the flavours of the food to such a degree that the dining experience as yet again taken to the next level.
If you are not offay with wines you need not be overwhelmed, the non judgemental approach and explanation of wines was better than many wine tastings I have experienced. For those interested we were offered the following. Every wine was well worth a try and very reasonably priced. Those who wish to splash out on a particular favourite of wine will also not be disappointed.
Isabel Estate Chardonnay 2013, Marlborough, New Zealand
Pale straw in colour. A nose of apricot and honey with a hint of vanilla. The palate has flavours of citrus and nectarine balanced by subtle oak and butterscotch.
Château de l'Aumérade 2013, Côtes de Provence, France
A lovely pale pink in colour. A perfumed nose of strawberries and cream, nuanced by spicy notes. The palate is soft and dry.
Camin Larredya Jurançon Moelleux Au Capceu 2011, France
The refreshing acidity is balanced by the sweetness. Captivating aromas of orange peel, figs and white truffle with a honey finish.
Radikon "Slatnik" 2012, Venezia-Giulia, Italy
Amber in colour. Notes of caramel, peaches, pears and brine. Complex character with a clean dry finish.
Visciolata del Cardinale 2012, Tuscany, Italy
On the nose, ripe orchard fruits in addition to the fresh cherry aromas with a hint of sweet vermouth.