On is a Leading Swiss company who make running shoes that are changing the way people think about shoes and the support technology can lend to improving the way people look at running.
On has a range of running shoes designed by former top athlete Olivier Bernhard and his friends David Allemann and Caspar Coppetti. The On range has a shoe for everyone from amateur to professional bringing the fun back to running at every level. We at SLOAN! were given a pair of Cloudrunner shoes to test and the shoe did not disappoint.
As soon as we opened the box the shape of the Cloudrunner sets itself apart from other running shoes. The look of the trainer with its upper-enforcements that provide extra support and a snug fit to the high-profile cloud elements that provide superior cushioning and underfoot protection, it is easy to see why this Swiss technology makes running on concrete easy.
An enforced CloudTec® system with 15 high-profile Clouds absorbs heavy impact and provides the best stability and underfoot protection. The Cloudrunner is equipped with the Speedboard to unleash the natural energy of your feet and promote an efficient running gait. Win the battle beneath your feet and transform impact into a light, natural run. The Cloudrunner is designed for high-impact runs and long training sessions.
The shoe was a great fit and as soon as i started running I could feel the CloudTec system kick in. It really felt like i was walking on a cloud. With cushioning from beginning to end the adaptive rubber elements of the shoe cushioned both vertical and horizontal forces for a soft landing which certainly helped prevent old injuries flaming up. On the road the shoes gave me superior comfort and it felt like extra spring in my step. It was interesting to note that off road the shoes gave extra support without loosing the cushion of the CloudTec.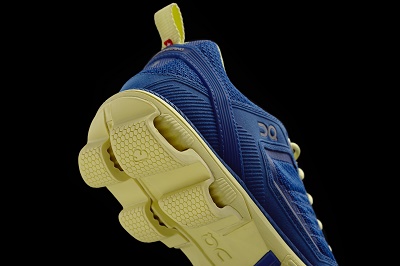 As my training went on the Cloudrunner was far superior to my other running shoes,they gave me better time averages over the miles and the feeling of comfort without my feet feeling sore and drained after a run. It was interesting to note that even when wet the support of the shoe was true and although running over damp ground the Cloudrunner maintained its light weight profile, keeping my feet in good condition and maintaining the spring in my step through out.
I would highly recommend this shoe for the following reasons:-
The comfort and durability
Support over the whole foot
Soft landing and light weight characteristics
Excellent shock absorbing