My father always said 'You need a pot boiler, what about those chickens you draw every Christmas' As is often the way, father's are usually right!
In 2010 we upped sticks and set off to Suffolk with our young family, leaving behind the buzz of Shepherds Bush, a job in publishing and many friends. It was for a change, rather than the good life, but four years later I find myself surrounded by an ménage of animals including our eleven chickens!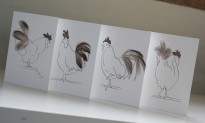 Cluck Cluck! was hatched that first Christmas after an initial trail at a local church fair with a selection of the hand finished prints. I found I enjoyed the experience and it actually gave me a chance to have some much missed interaction with other people. Not that I didn't appreciate and enjoy the company of my talkative 3 & 5 year old, but I was beginning to feel the need to stretch my wings.
On discovering a local screen prints I set to work with designs for tea towels. They were hugely supportive and let me come in to watch the printing and mix the colours. The first print run was so successful that I sold out before reaching the event they were intended for. The range now includes several different designs for tea towels from chickens, pheasants to turkeys as well as oven gloves and a cockerel apron.
I quickly realized the only way to make this business work was to produce everything on my doorstep, supporting local firms and being involved at every stage, whilst still being able to do the school run. I gradually developed the range from prints to cards, and then on to mugs, placemats and coasters too as local suppliers were found.
The drawings are the starting point with the birds sketched from life, then drawn in black Indian ink with very few lines. A print is made, to which feathers are delicately added giving a sense of texture and a little colour to the image. These feathers are carefully sourced using colours that compliment interiors schemes and pick up on the recent rise of taxidermy in contemporary art. The images have a humorous feel catching the bird's personalities rather than being a cartoon.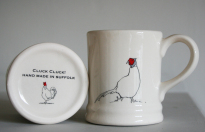 The designs are then printed as a single image for the home ware range, rather than a repeat pattern on a run of material. The result being the oven gloves and tea towels hang rather like a picture in your kitchen over the oven rail. The background is subtle cream with a black out line, red and a touch of slate grey for the pheasants, keep a clean fresh but warm feel to the series.
Having started with chickens, this grew to include pheasants as we chased them up the lanes on the school run. As interest continued to rise I looked to other birds to draw such as Owls after visiting a sanctuary close by. The children often suggest other birds to try, I am sure it is mostly so they get another visit to the zoo!
Cluck Cluck! designs are by Suffolk based artist Victoria Hall. Victoria studied painting at the University of Northumbria, followed by an M.A. at Chelsea College of Art & Design in London. She has been a practicing artist since graduating in 1995 and has exhibited nationally and internationally with work in several major collections. The range is available in a variety of stores across the UK and online www.cluckcluck.biz