This Coconut Potato Bowl with Lime and Ginger made with Jersey Royal new potatoes is a substantial vegan bowl packed with flavour, texture and colour. The recipe serves 2 people and takes 20 minutes to prepare plus 30 minutes cooking time.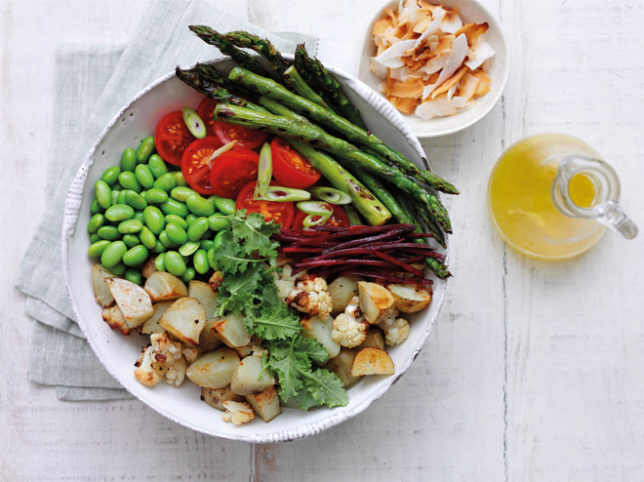 Ingredients
200g Jersey Royal potatoes, roughly chopped
150g cauliflower florets
2 tbsp coconut oil, melted
Sea salt and pepper
100g asparagus
½ tsp olive oil
75g soy beans, cooked
10 cherry tomatoes, halved
3 spring onions, sliced
100g superfood salad eg baby kale with beetroot
15g coconut flakes, toasted (see tip), to garnish
For the dressing
1 tbsp olive oil
Finely grated zest and juice 1 lime
2cm piece ginger, peeled and grated
Method
Preheat the oven to 200C/fan 180C/gas mark 6.
Place the potatoes and cauliflower florets in a roasting tray, drizzle over the coconut oil and toss to coat. Sprinkle with sea salt and pepper and roast for 30 minutes until tender and beginning to brown.
In the meantime, prepare everything else; brush the asparagus with ½ tsp olive oil, heat a griddle pan until hot and cook the stems until charred and tender. Set aside.
For the dressing, whisk together the olive oil and lime juice, then stir in the zest and ginger and season with some salt and pepper.
To assemble, arrange the potatoes and cauliflower to one side and place the other ingredients round the bowl (or how you prefer), drizzle with the dressing and scatter over the coconut flakes, or serve on the side.
Tip
Toasting coconut flakes accentuates their flavour – simply dry fry in a small pan for a few minutes until they are golden brown and aromatic. Be careful as they do catch and burn easily.
About Jersey Royals
Considered the 'Champagne of the potato world', Jersey Royal new potatoes are lovingly produced by the growers, from field to fork, in the warm climate of the Island of Jersey, and are the only root vegetable in the UK to carry Protected Designation of Origin Status (PDO). Jersey's unique climate and traditional farming techniques on the côtils, steep south facing slopes that benefit from maximum amount of sunshine, allow the distinct potatoes to flourish and develop an unrivalled taste treasured across the UK.
Jersey Royals are a fantastic source of complex carbohydrates, vitamin C, especially the skins (100g of Jersey Royal New Potatoes would provide you with 25% of the RDA for vitamin C), vitamin B and fibre.
Jersey Royals are available from all major supermarkets across the UK from April to June.