The Lebanese canteen, Comptoir Libanais, was founded in 2008 by Tony Kitous, Britain's most passionate provider of contemporary Lebanese and North African food. His restaurants were the first in London to merge traditional Arabic cooking with easy contemporary eating. Comptoir Libanais has 17 restaurants around the country, including 9 in central London.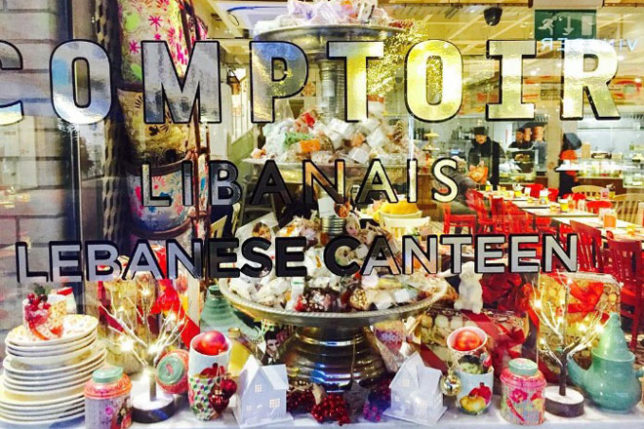 To the delight of the locals and office workers of SW7, Comptoir Libanais have just opened a new restaurant in London's Gloucester Road, offering the authentic everyday flavours of the Middle East to the local community in a relaxed souk style setting. It has a spacious terrace at the front of the restaurant under the bright awning which will be the perfect spot for al fresco eating and drinking when the weather warms up.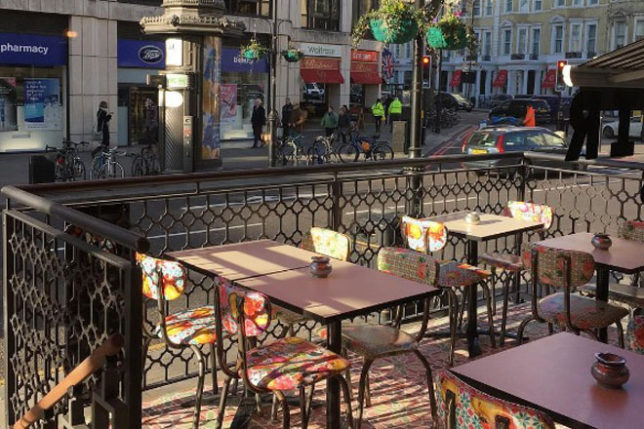 The décor is a mixture of exotic tiled walls, bold patterned tables and brightly coloured seating with vintage style film poster images of famous Lebanese actors adorning the walls… even in the restrooms!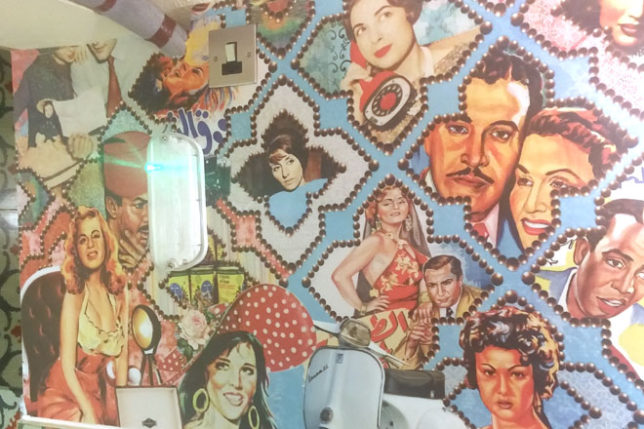 The authentic Moroccan tiles that form part of the interior design are shipped over especially for Comptoir and the pictures on the walls include the odd bit of irreverent humour such as a fez wearing Princess Diana!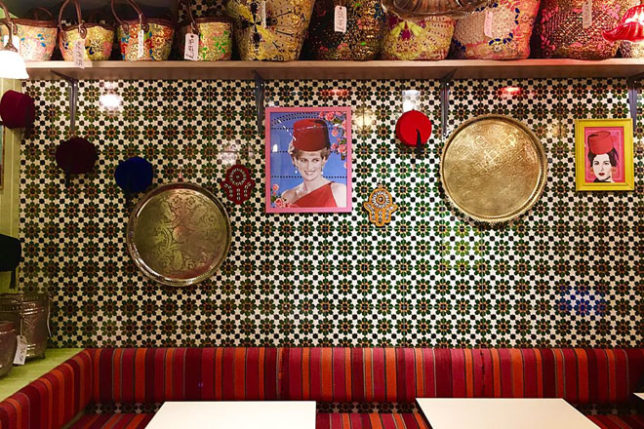 A souk runs right through the restaurant and guests can purchase Lebanese larder items, spices and sweets as well as traditional tagines and a selection of hand-crafted items including traditional Moroccan tea pots and brightly coloured bags. Everywhere you look you notice the smiling face of Arabic actress Sirine Jamal al Dine adorning the walls, menus and takeaway packaging as the glamorous beacon of the Comptoir brand.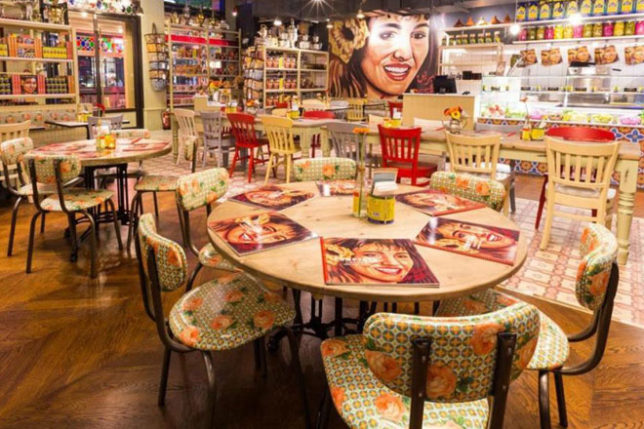 The cuisine is simple and honest created using authentic Middle Eastern ingredients found in most Lebanese larders and the menu offers all the typical dishes sold in Bazaars across the Middle East. Popular classics including Tagines, Falafel and Baklava are on offer alongside less familiar dishes such as Cheese Sambousek (flaky pastry pockets bursting with a Lebanese cheese filling) and Lamb Kibbeh (minced lamb wheat parcels with pine nuts and onion).
I started my Lebanese culinary journey with the popular Mezze Platter consisting of baba ghanuj, hommos, tabbouleh, falafel, lentil salad, Dead Sea pickles & pita bread.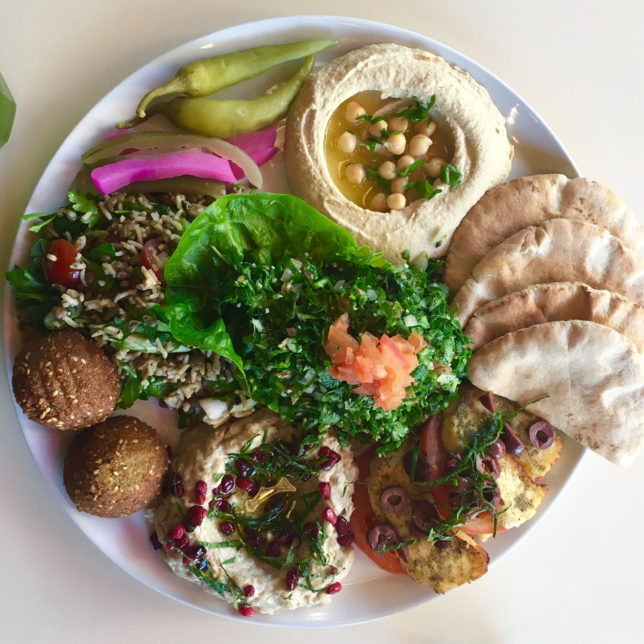 The baba ghanuj is as expected – a flavoursome smoked aubergine and tahini dip spiked with lemon juice and scattered with pomegranate seeds. The hommos is also a pleasing rich blend of chickpea purée with tahini & lemon juice. The falafel is crumbly but not dry with the herby flavours of coriander, parsley and garlic permeating through the legume mix of chickpeas and broad bean. The grilled halloumi marinated in wild thyme is also delicious and the garnish of olives & fresh mint and a hint of zaatar liven up the flavours.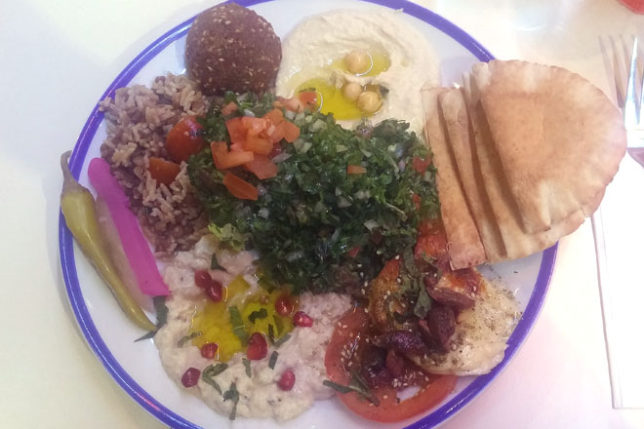 My host also very kindly ordered a portion of Jawaneh for me to try. These chargrilled marinated chicken wings are so tasty, fragrant in flavour and soft in texture. The accompanying sauces are deliciously dip-tastic…  a comfortable garlic sauce with no surprises and a more cautionary harissa sauce that will please chilli lovers.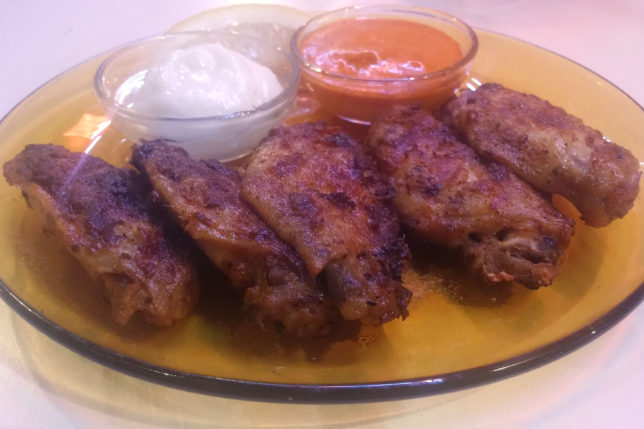 For the main, my host recommended the Mixed Grill to allow me to enjoy a selection of the different flavours on offer at Comptoir Libanais. The dish includes lamb kofta, chicken kofta, chicken shish taouk served with vermicelli rice, zaatar grilled tomato and a green chilli with more of the delicious harissa and garlic sauces. The meat was surprisingly much juicier than other grilled kabab meat we've tasted which can have a tendency to be a bit dense and chewy if overcooked.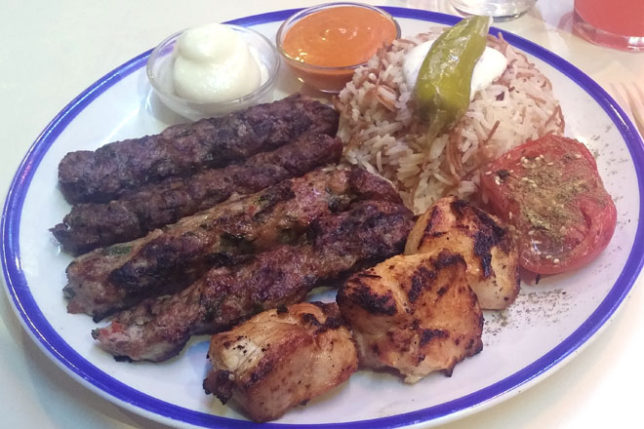 Even the pieces of Shish Taouk grilled chicken breast were extremely succulent and moist – a testament to both the many hours of marinating and the expertise of the Comptoir Libanais chefs at the grill. The flavours were so beautifully fragrant from the herbs and spices like zaatar, sumac, cumin and cinnamon. For those wanting more heat, the curiously addictive harrisa sauce is one hand to spice things up.
To finish I tried the Chocolate & Tahini Brownie recommend by my host. The texture is not as fudgey as an American style brownie but the addition of tahini to create a marbled effect with a new level of flavour is very interesting. It is also not as sweet as a traditional brownie so for those with a sweet tooth I suggest trying the Mouhalabia which is a Lebanese milk pudding laced with rose syrup.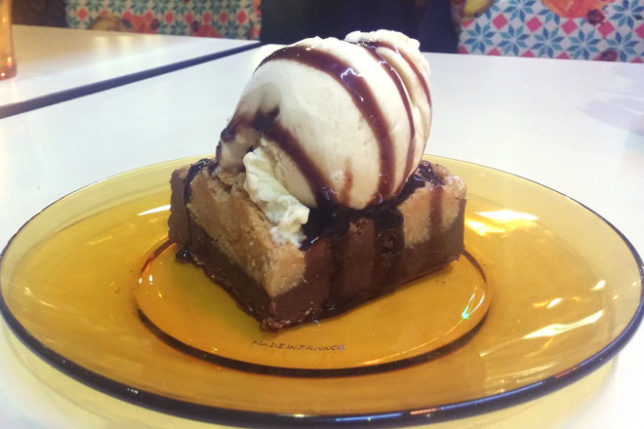 Comptoir Lebanais is open all day, every day offering guests a wide range of affordable breakfast, lunch, dinner and mezze options. Wholesome Lebanese style breakfasts include everything from Halloumi Cheese Tortillas and Shakshuka to Organic Yoghurt topped with pomegranate and orange blossom water. Lunches include a tempting array of wraps, Mana'esh (Lebanese flatbread) and a selection of light and healthy salads. For a sweet treat there is baklawa pastries and Lebanese cakes. For those wanting good, healthy food on the go, either at work or at home there's a full takeaway menu. Comptoir Libanais Gloucester Road is situated opposite the tube station and is open 8am-11pm Monday to Saturday and 9am-10pm on Sundays.
Comptoir Libanais
77a Gloucester Road, London SW7 4SS
0203 355 0856
www.comptoirlibanais.com
@ComptoirLibanai