Famed for its quirky and stylish afternoon teas, London Hilton on Park Lane continues to delight guests with its famous Confessions of a Chocoholic Afternoon Tea. For decades, London Hilton on Park Lane has upheld and evolved the English tradition of afternoon tea. What was once simply tea, scones and jam, is now a stylish experience of intricate and artistic chocolate fancies and pastries.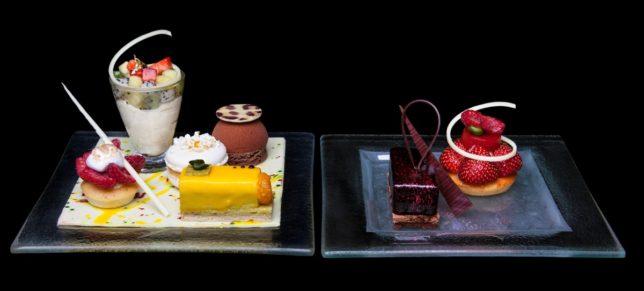 Starting with freshly prepared open sandwiches, you are presented with a tiered stand offering freshly baked chocolate chip scones served with chocolate praline spread, cupcakes and miniature chocolate fancies displayed on an edible chocolate plate. All delicacies are freshly made by talented pastry chefs with the finest quality ingredients, including delicious Valrhona chocolate.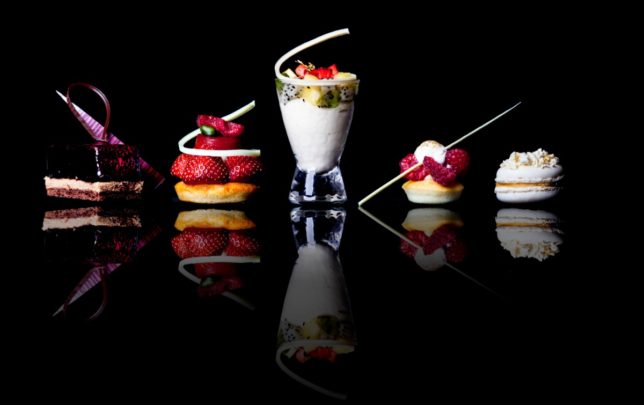 Teas from Twinings have been carefully chosen to accompany the afternoon tea treats, including a special blend of chocolate and hazelnut infused Assam tea.  Podium is a member of The Tea Guild. Founded in 1985, The Tea Guild recognises establishments that serve tea to a high standard.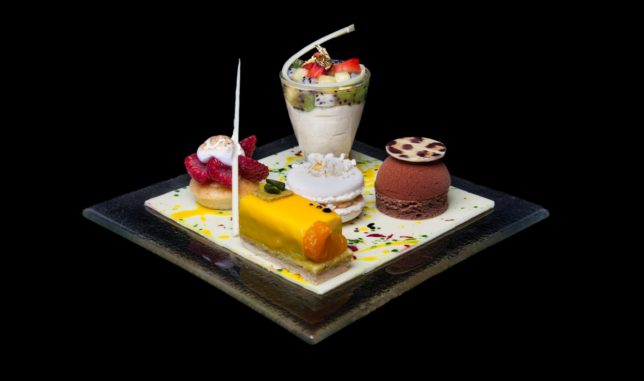 Since its original launch, The Confessions of a Chocoholic Afternoon Tea has been refined and adapted, keeping the popular chocolate theme, but incorporating it in a more diverse and subtle way. The current version is fun, colourful and full of a great variety of flavours. Sitting down we looked forward to the tempting afternoon tea that awaited us…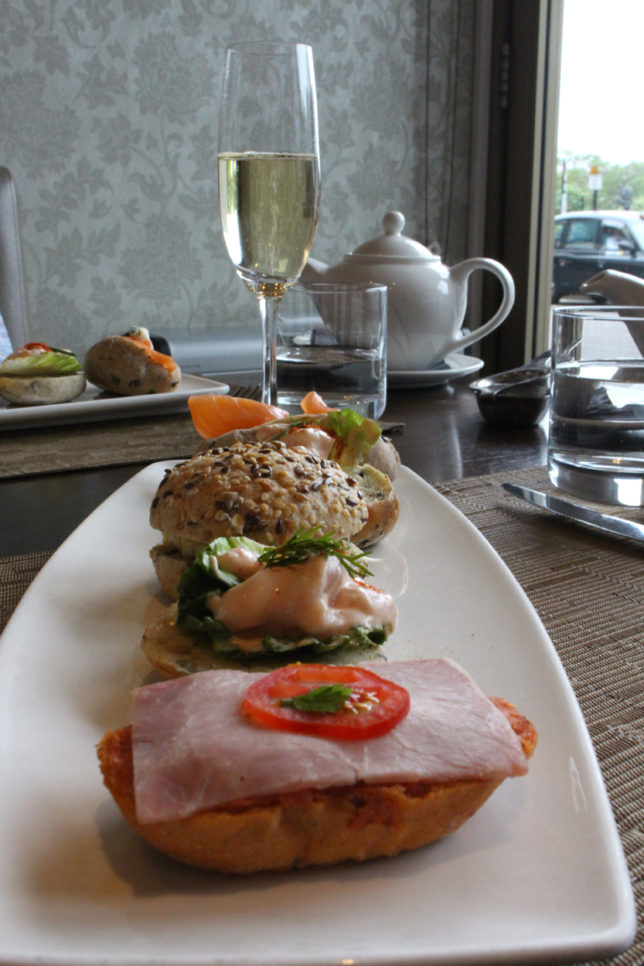 To start we were presented with a fabulous selection of open sandwiches. For those who love the savoury side of afternoon tea, the fact that sandwiches are unlimited will be music to your ears…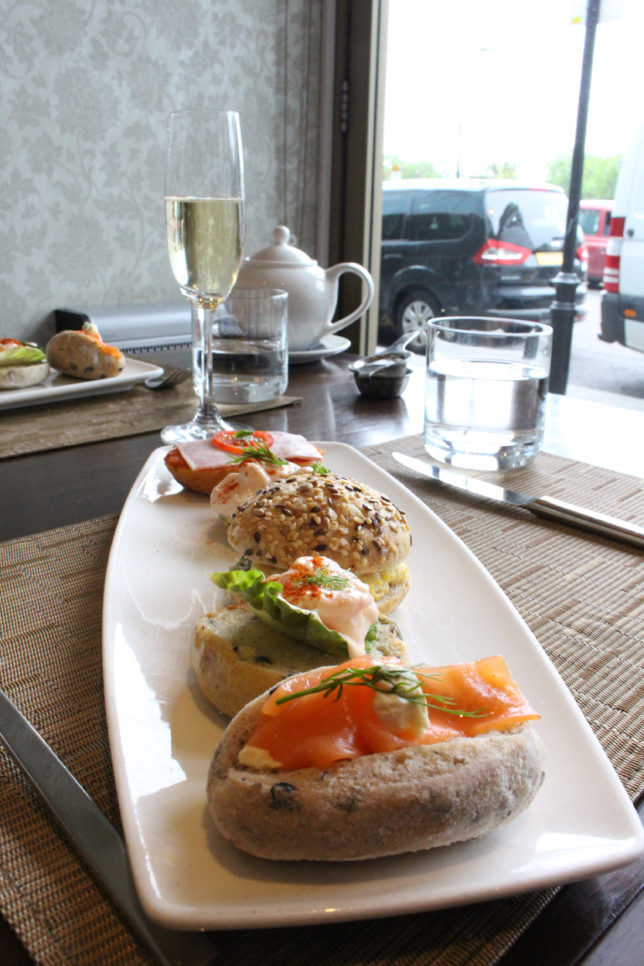 The open sandwiches consisted of such flavourful fillings as cucumber and cream cheese on lemon and thyme bread; ham and tomato with English mustard on tomato bread; egg and cress on a curry flavoured bread; prawn cocktail with lettuce on mint and garlic bread; and finally my personal favourite of smoked salmon and horseradish cream in a dainty roll flavoured with Nori seaweed.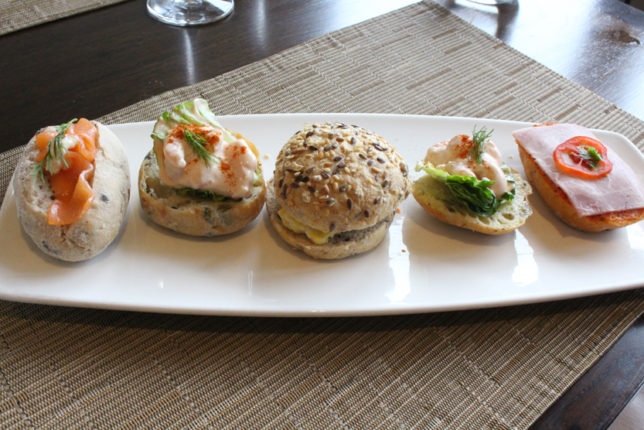 Moving on to the sweeter side of this delicious offering, our attention turned to the decadent sweet delicacies on the tiered stand before us…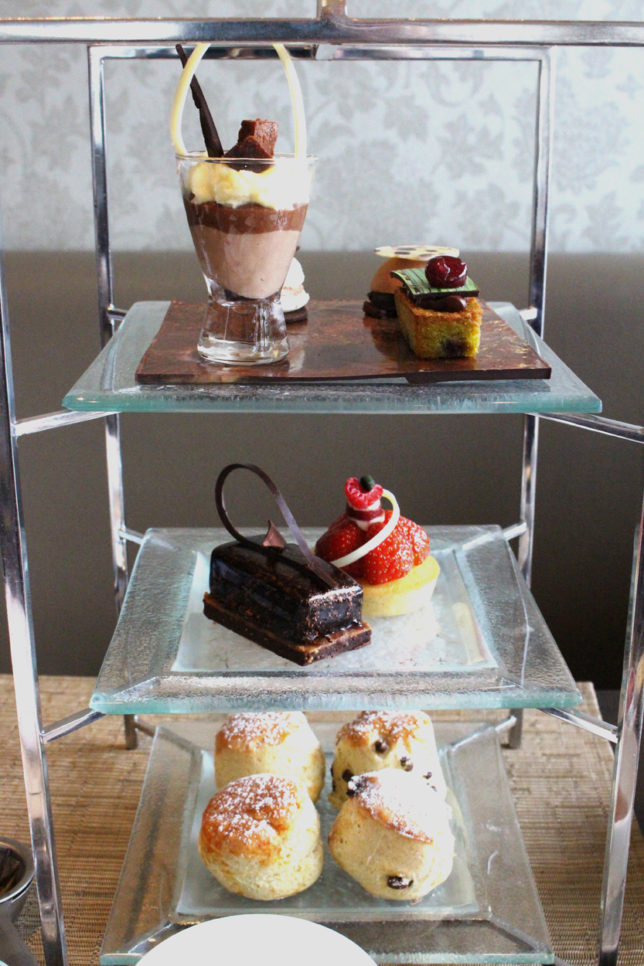 Not content with serving just plain scones, the Chef thoroughly spoils guests with a selection of freshly baked plain scones, raisin scones AND chocolate chip scones! How delightful!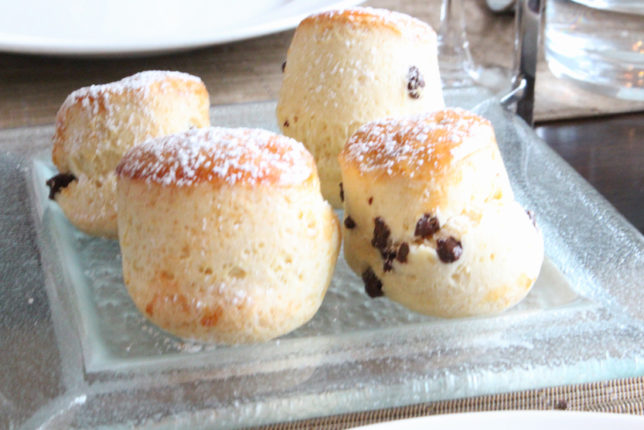 The accompaniments also take this tea to the next level with the traditional strawberry preserve and clotted cream supplemented with the addition of praline chocolate spread – who doesn't love Nutella!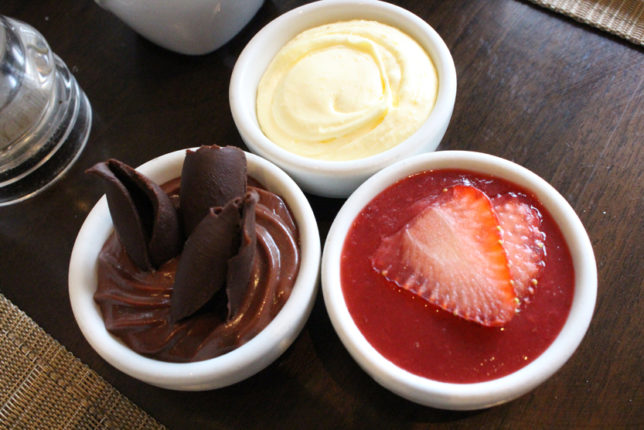 Joining the scones were pastries such as Dark chocolate & raspberry parfait… which tasted just as wonderful as it looked… the creative presentation and sophisticated flavours using Valrhona chocolate is precisely what one has come to expect from the London Hilton on Park Lane.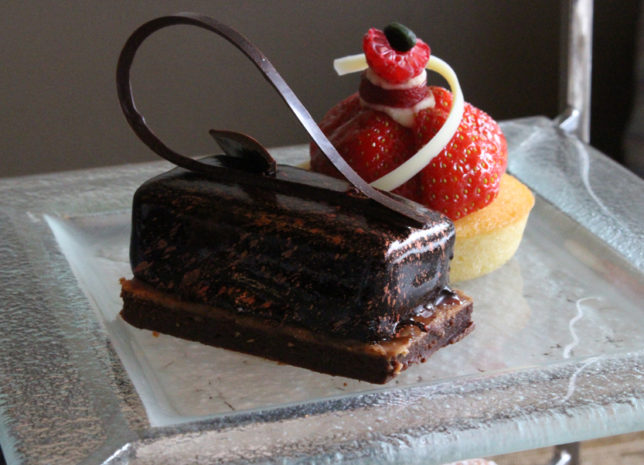 Sitting alongside was a delicious and Strawberry & almond cake… a celebration of the freshest British strawberries delivered with the Chef's keen eye for artistry on the plate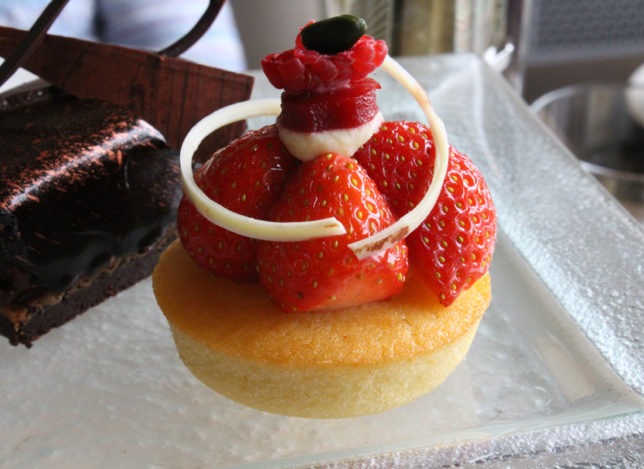 Miniature fancies were served on an edible chocolate platter flecked with gold. It was visually arresting and unusual – once again raising the bar of how Afternoon Tea should be served at this level of culinary excellence. The choices of fancies included Vanilla and chocolate creamy pannacotta style delicacy, Popcorn macaroon, Pistachio and Cherry financier and a delightful Chocolate dome.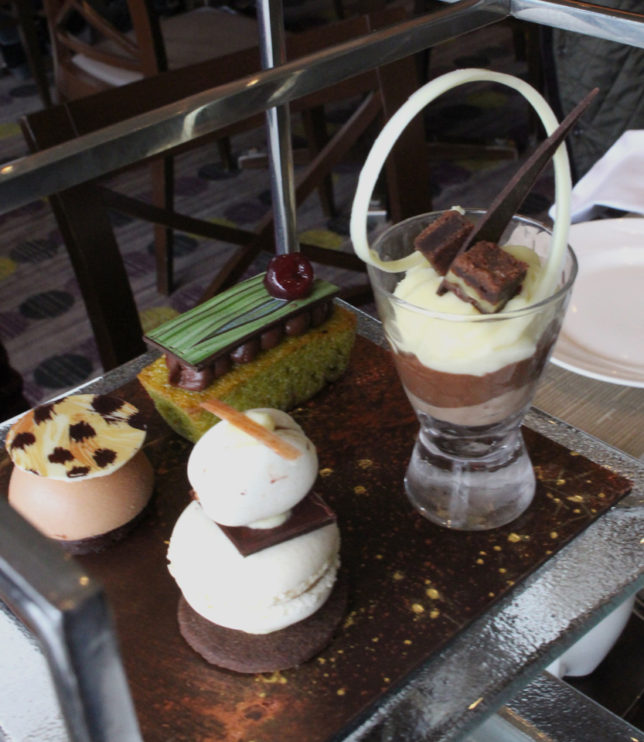 Let's take a closer look at the moist and fruity financier…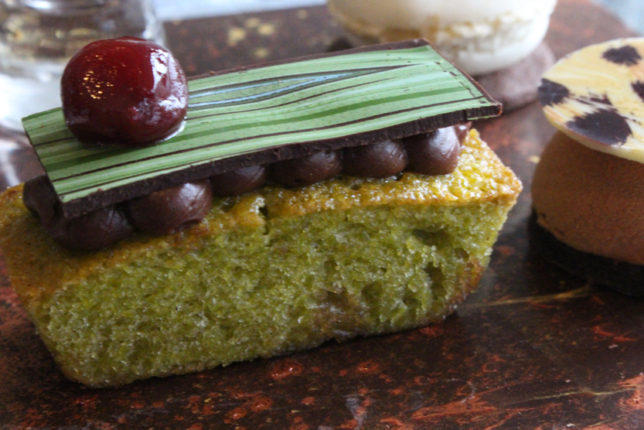 And who could resist this creamy sweet treat… beautiful layers of chocolate and vanilla topped with an artistic flourish of chocolate and mini bites… it was almost too good to share!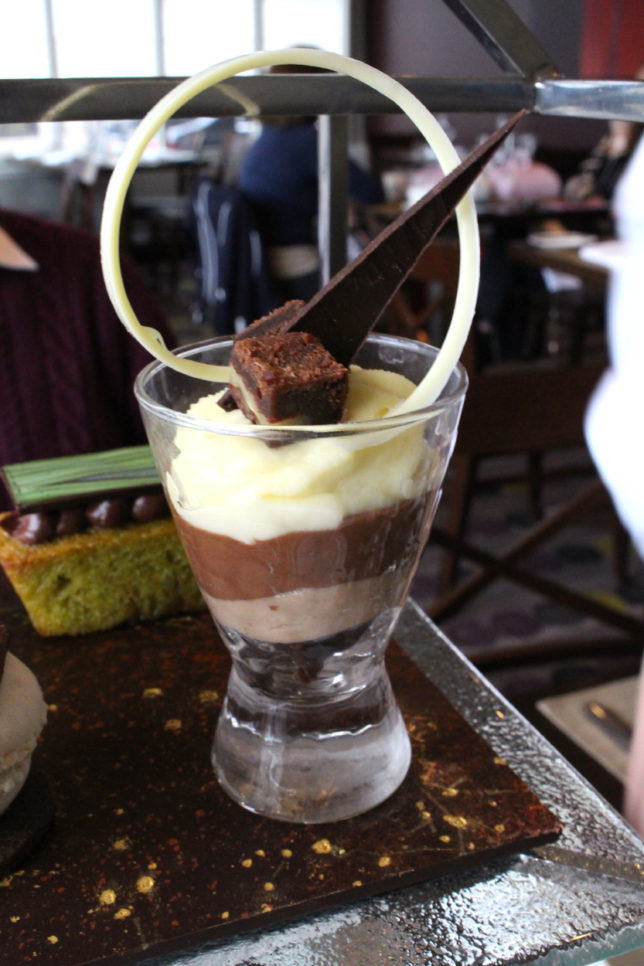 If like us,  your inner chocoholic manages to restrain itself then you'll have a few sweet treats left over. Fear not! The staff at Podium will box up any leftovers for you to take home and enjoy later. Even the takeaway boxes look elegant… would you expect anything less from the Hilton… this is Park Lane after all!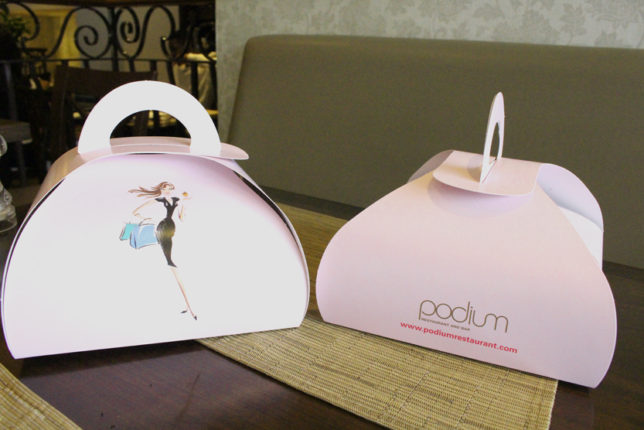 The Confessions of a Chocoholic Afternoon Tea is available in the Podium restaurant served daily on weekdays from 2 pm to 5 pm and on weekends from 12.30 pm to 5 pm. Priced at £36 per person, or £46 including a glass of Pommery Champagne. And for something a little different, a calendar of themed Chocolate Afternoon Teas will be available throughout the year… we can't wait to see what they do for Wimbledon this year… apparently last year the Chef served the miniature fancies on a chocolate tennis court!
Podium Restaurant & Bar
Hilton Park Lane
22 Park Lane, London W1K 1BE
0207 208 4022
www.podiumrestaurant.com
[mappress mapid="24″]