Tom Copas – director of Copas Traditional Turkeys – shares his ultimate guide to sourcing and cooking your Christmas turkey.
For me, Christmas would be incomplete without a big, juicy turkey taking up half the dining room table. Preparing your Christmas turkey shouldn't be a chore – so I've taken all the hard work out of selecting and cooking your turkey by sharing my tips below, so you can focus on celebrating the festive season with your loved ones.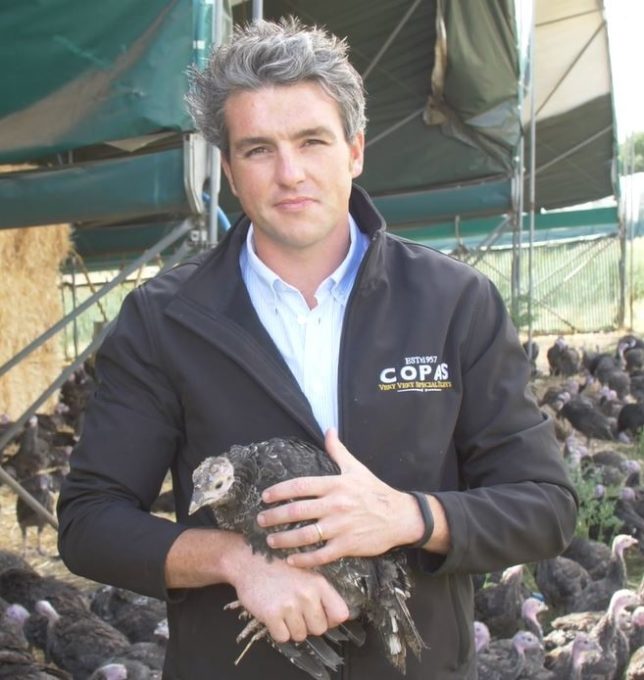 Tips for picking your turkey
We believe that the process of producing great tasting turkeys starts from the day the turkey is born. The lifespan and quality of life that a turkey experiences can make a great deal of difference to the way the turkey will taste and how succulent the meat will be.
This means that selecting the right turkey is just as important as knowing how to cook it right!
First, choose what type of bird you'll need:
A whole bird is ideal to feed the whole family. It's also a great option if you like to have leftovers for eating on boxing day.
A crown is suitable for families who prefer the white meat or for those who are time-poor, as it won't take as long to cook.
Pre-stuffed whole birds and breast roasts are a good option for those who don't want to make their own stuffing.
Breast roasts are perfect for the smaller households and are very easy to carve.
Then, make sure you're getting the best quality bird:
Make sure the bird is at least 22 weeks old. Birds matured to this age will have a lot more meat than a younger, same weight turkey because of the improved meat to bone ratio. This also means it will have a natural fat layer, making it easier to cook, with no need to baste.
Ensure the bird was truly free range – it should be kept outside for ¾ of its life.
Find out as much as you can about the farm that your bird was raised on. Ask questions about their welfare standards, production and supply chain. The more simple their supply chain is, the better.
Look for game hung birds:
Game hung birds have better flavour and texture.
Look for a bird that has been dry aged for at least seven days.
Look for an EC plant number on the label to ensure the turkey was produced in the UK and is FSA quality assured.
Check for the right accreditations and logos:
TFTA – Traditional Farmfresh Turkey Association gives a quality assurance of a traditionally reared turkey.
Organic Farmers & Growers or Soil Association – gives assurance for Organic products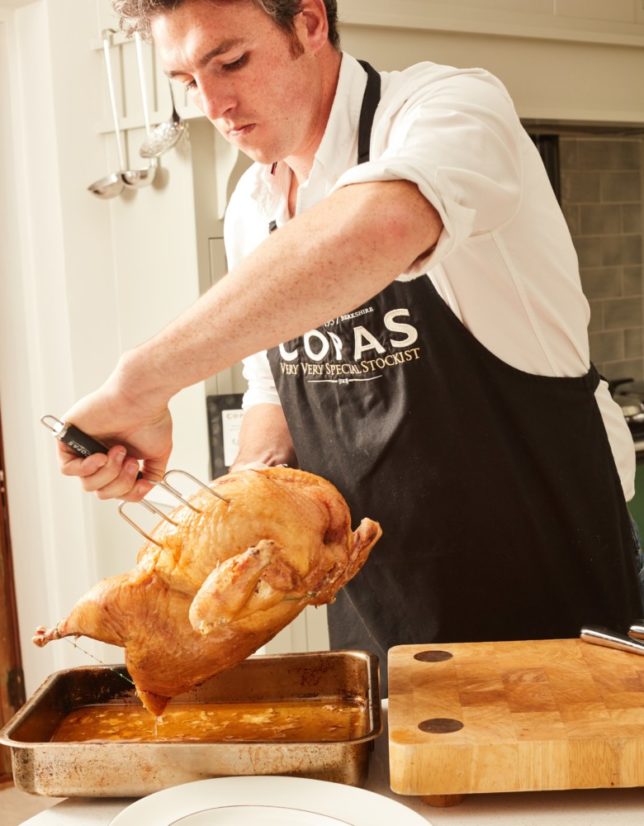 Cooking your turkey
Now that you've found your perfect turkey, it's time to start cooking! My first tip is to make sure you cook using a meat thermometer, as this will help you ensure its properly cooked.
Follow our step-by-step process below for a perfectly-cooked turkey:
Stuff the main cavity of the turkey with a cored apple, a whole onion and some rosemary.
Season your turkey with salt and pepper
If you have a pop-up timer, place this in the breast of the turkey -it will pop out when its fully cooked.
Place your turkey upside down (breast facing down) in a roasting tin and cover with tin foil
Cook at 230 degrees for the first 30 minutes, then lower the temperature to 190 degrees for the remaining cooking time
When there is 30 minutes of cooking time remaining, remove the turkey from the oven, flip it over so that it is breast-up, remove the tin foil and cook for the remaining 30 minutes. This will allow the breast to bronze.
Remove the turkey and let it rest for at least 30 minutes covered in tin foil and a tea towel. This is important to retain moisture and will make the turkey easier to carve.
Keep the juices! There will be a lot of juices in the roasting tray and you can use these to make your gravy.
If you want to test your turkey is cooked properly, pierce the deepest part of the thigh meat and when the juices run clear, it is done.
We recommend keeping the stuffing out of the turkey and cooking it in a separate dish. If you cook it inside the turkey, it prevents air flow in the bird and adds to the cooking time.
Making your Christmas even easier…
You can rest assured when you buy turkeys from Copas Traditional Turkeys that you'll be buying an ethically farmed, fully mature and happy turkey. Copas turkeys roam freely on acres of luscious Berkshire countryside under the protection of nine Peruvian Alpacas who act like fluffy security guards! Copas also use ethical farming practices that exceed all farm assurance schemes and welfare standards.
All Copas Turkeys come with a no-nonsense pop-up timer and cooking instructions, but you can also find more tips and recipes on the Copas website at www.copasturkeys.co.uk.
About the expert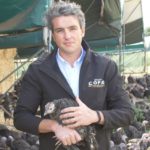 Tom Copas is a second-generation turkey farmer and director of Copas Traditional Turkeys, a business set up 61 years ago by his father, Tom Copas Snr. Rearing some 30,000 premium turkeys each year, Tom holds fast to the family's firm belief that a free-range flock, which lives a happy, healthy life, results in great tasting turkeys that he is proud to produce for his customers. Follow Copas Traditional Turkeys on Twitter @CopasTurkeys