The hugely successful Cottons Caribbean Restaurant and Salon de Rhum have just opened their brand new flagship restaurant in Notting Hill, a stone's throw from Notting Hill Gate Underground. Excited to sample the authentic flavours on the new menu, we headed down to the restaurant during their opening week.
Cottons Caribbean Restaurant and Salon de Rhum brings the exotic vibes of the Caribbean to Notting Hill in true tiki style. Sitting centrally on Notting Hill Gate, the sky-blue exterior and tropical statement planters mark the entrance to the restaurant. The floor-to-ceiling glass frontage reveals a colourful interior packed full of contagious Caribbean spirit.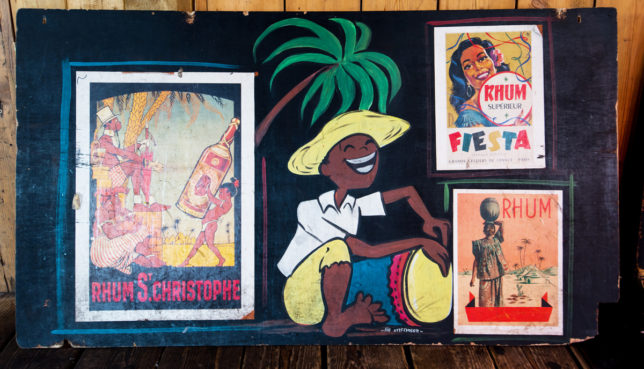 The original Cottons opened in Camden over 30 years' ago and is still thriving today, while the Street Food extraordinaire Boxpark Cottons in Shoreditch launched over three years ago. Cottons Notting Hill is the couture sister to the brand offering a more refined experience, but still keeping the colourful vibe and authentic Caribbean flavours for which Cottons is renowned complete with fantastic rum cocktails so to start we savoured a fruity rum punch and a classic mojito.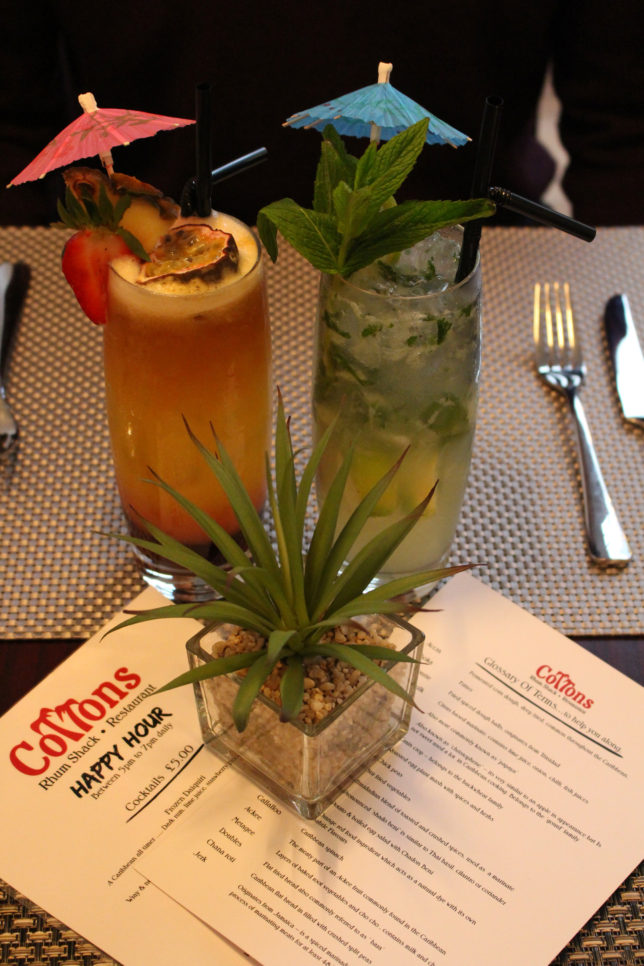 On the ground floor, seating is arranged around a central bar adorned with multicoloured bamboo. Behind the bar, the largest collection of rum in the UK stands proudly, with over 300 varieties available. Marinated exotic fruit-filled jars displayed on the wood shelving are a key ingredient in the renowned Cottons cocktails.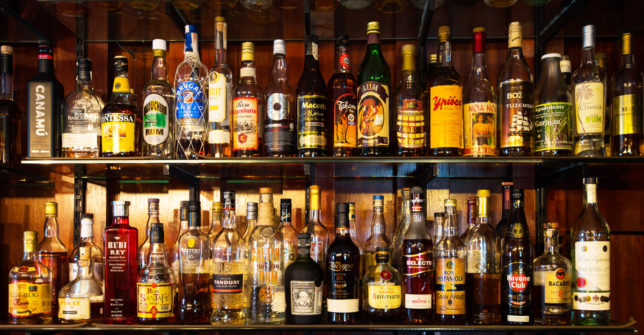 Suspended brass lighting with filament bulbs hang from the ceiling, creating a traditional tiki shack feel. In the bar area, diners can enjoy bar snacks and sharing plates such as Jerk pork ribs (£7), Oxtail & bean stew (£7.50), and Ackee & saltfish (£7.50). Opposite the bar, a hand painted floor-to-ceiling wall mural depicting a vibrant, tropical jungle scene spans the entire length of the wall.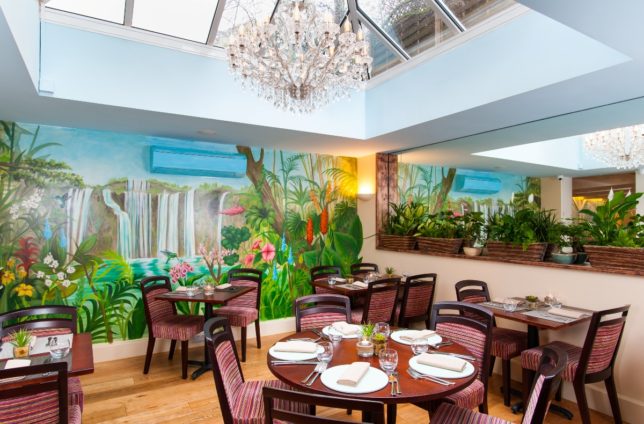 After a warm welcome as we entered Cottons, we were shown through to The Glass House main restaurant. The open plan room sits underneath a large skylight which allows natural light to shine through during the day and in the evening an antique chandelier illuminates the space under the night sky. As we looked around us, we admired the authentic décor with oak wood flooring, beamed ceilings and a scattering of bonsai plants completing the look. With such a vast selection of rums and a happy hour from 5-7pm who could resist trying some more of their fantastic cocktails. We chose the frozen strawberry daiquiri and a Long Island iced tea.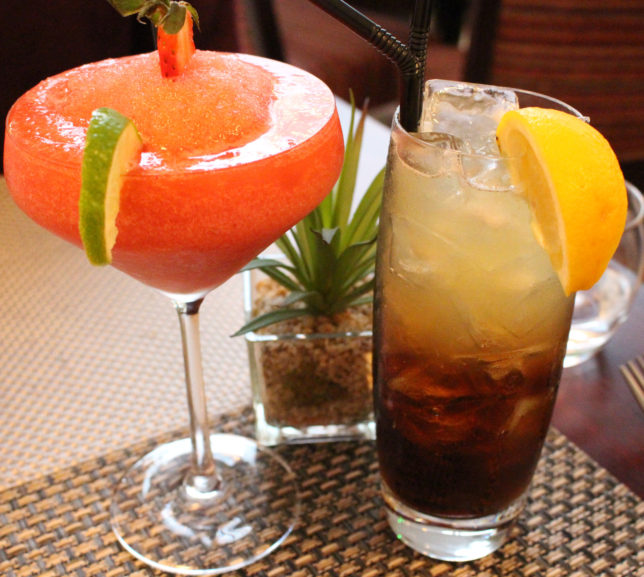 French Manager, Frederic Fawkes, was previously Restaurant Manager at Paradise at Kensal Green, and has also worked in Saint Martin in the Caribbean. In the kitchen, Jamaican born Head Chef, Nikki McLeod, leads the team having held the reins at Cottons Camden for 10 years. Nikki's menu features authentic Caribbean flavours and cooking styles such as Trinidadian steamed red mullet in Chadon beni garlic butter with provision salad. Authentic sides include Rice n peas and Fried plantain.
To start our Caribbean dining adventure we began with the Mezze platter which consists of accra, aubergine choka, creole shrimps and pholourie. For those new to Caribbean cusine, don't worry if some things on the menu sound unfamiliar as Cottons provides you with a glossary of terms in cheat sheet format. Accra is deep fried fermented corn dough – a common accompaniment throughout the Caribbean. Choka is a Caribbean term meaning fritter and pholourie are fried spiced dough balls originating from Trinidad… all of which create an explosion of textures and flavours on the palate!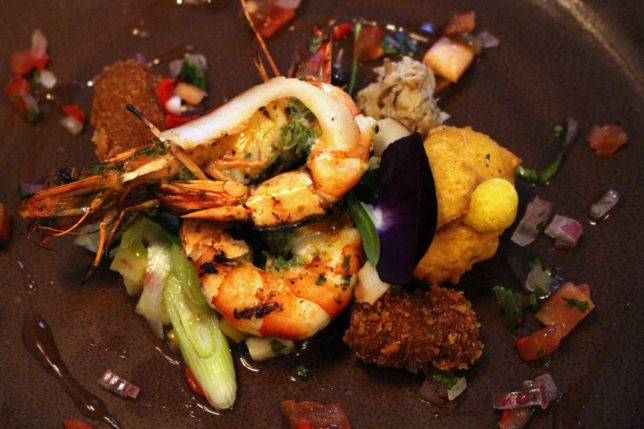 My dining companion chose to start with the barbecue glazed pork belly with rum & molasses served with pickled vegetables. The pork tasted as good as it looks – succulent and juicy with any fattiness balanced by the pickled veg.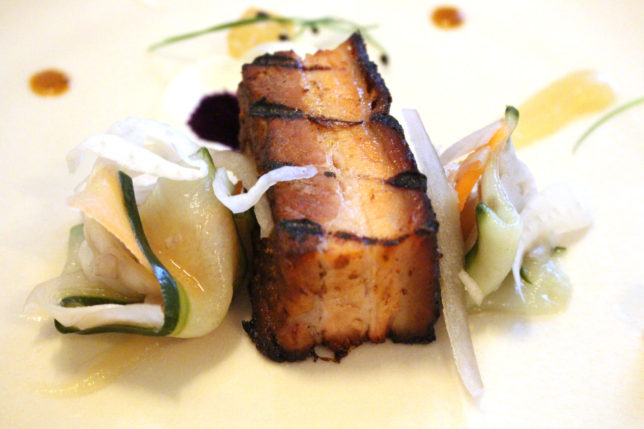 After such delicious starters, it was time for the mains. I went for Cottons Signature Fish & Seafood Platter and was presented with an array of fishy delights including Scallops, Clams, King Prawns, Squid, Monkfish tails and Lobster with plantain…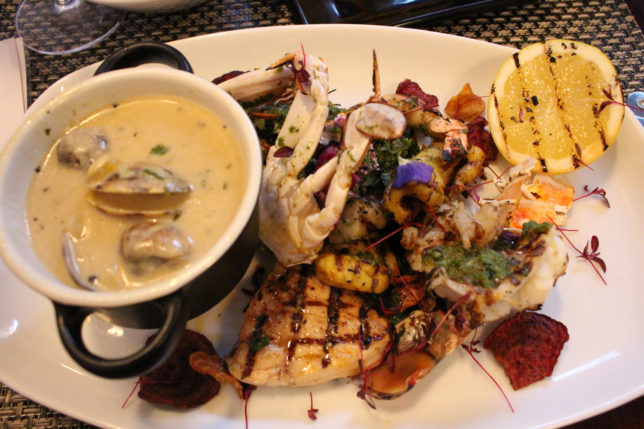 … with some Doubles on the side… for those of you who do not know what Doubles are they are a traditional double fried flat bread also commonly referred to as 'bara' in the Caribbean.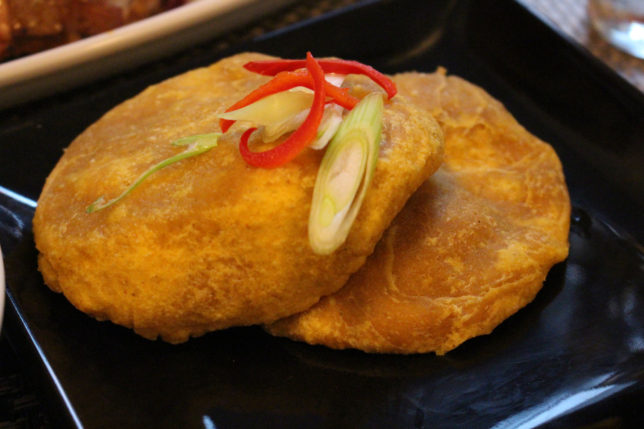 My dining companion ordered Cottons Signature Meat Platter which included jerk marinated & grilled pork ribs, lamb chop, and chicken pieces served with fried plantain. The Caribbean culinary term "jerk" originates from Jamaica and is a spiced marinade but it is also used to describe the process of marinating meats for at least 48 hours before baking and then grilling. If (unlike my dining companion) you like beef, this platter also comes with herb crusted salt beef.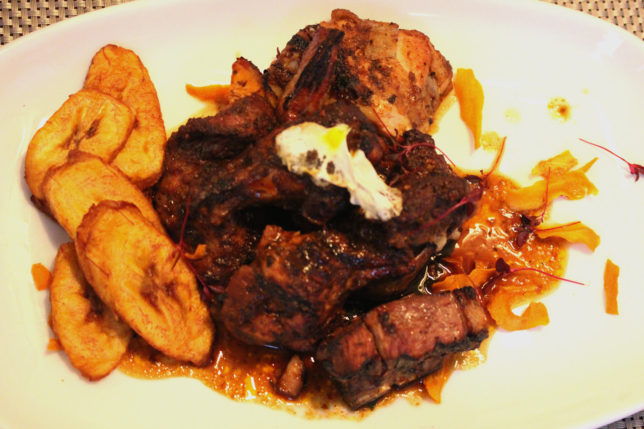 The meat platter paired well with a side dish of curly kale, walnuts and pumpkin seeds… a healthier choice than fried bread but still full of flavour!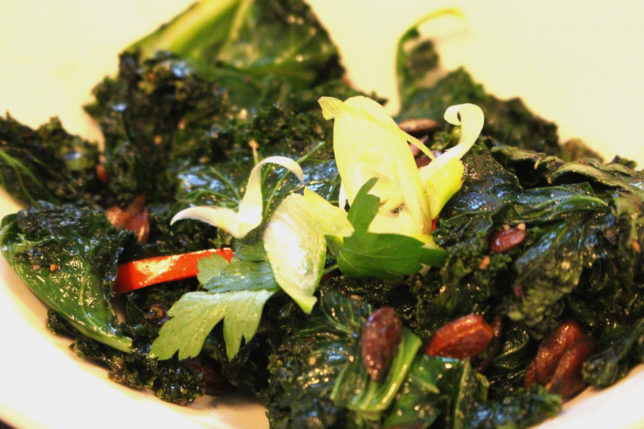 As our delicious Caribbean meal headed towards its conclusion, we moved on to desserts. There are four decadent sounding desserts to choose from but I couldn't resist the Chocolate Praline Bar which was chocolate cake with praline mousse served with a knob of lemon curd and a square of iced bubble gum marshmallow… it looked so pretty on the plate… and tasted divine!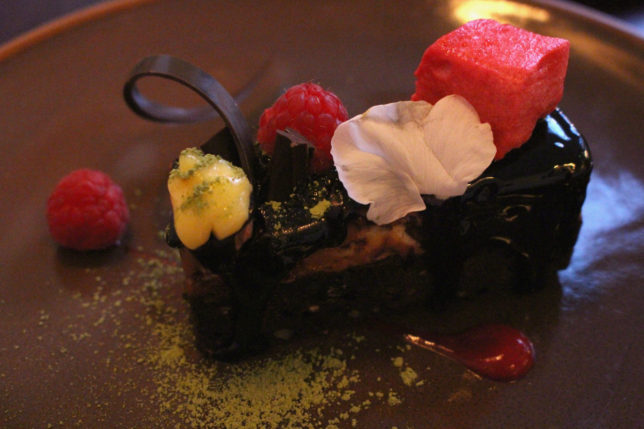 My dining companion sampled the Banana Napoleon… a Caribbean take on the classic restaurant worthy dessert of layers of filo pastry between a rich banana cream dusted with coconut snow and served with a scoop of zesty tropical fruit sorbet. What a wonderful way to end such a wonderful meal!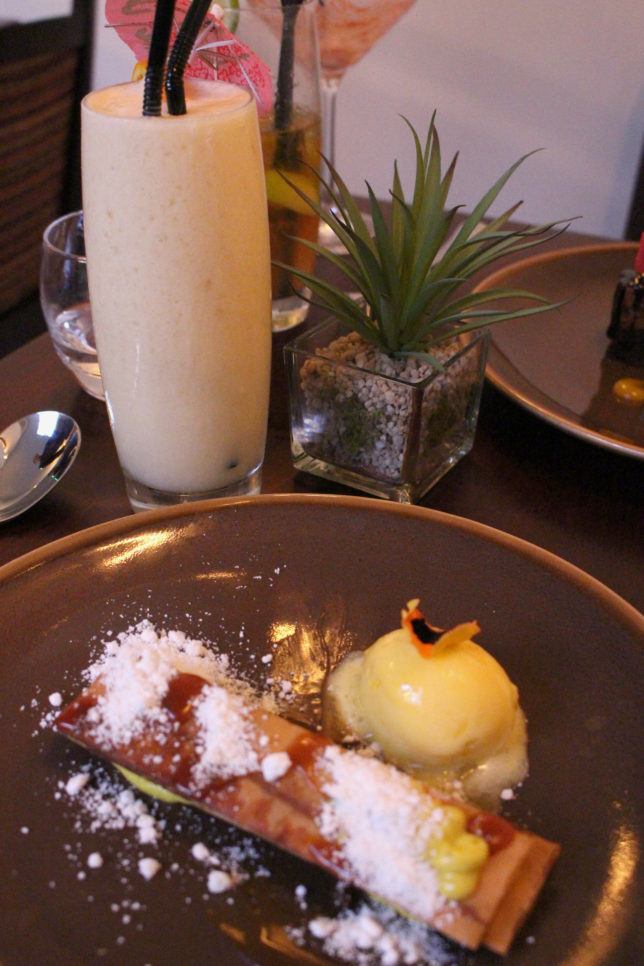 The restaurant also has a large self-contained party and private dining space. Folding wooden doors reveal another statement wall mural, this time depicting an enchanting beachside scene. The space is paved with terracotta tiles while a large antique golden mirror adorns the wall.
Cottons Caribbean Restaurant serves traditional Caribbean cuisine from Monday to Friday with lunch from Noon-3pm; afternoon tea from 3pm-6pm; and dinner 5pm-11pm. On Saturdays and Sundays, The Weekend Brunch is served from 10am until 3pm; with dinner from 4pm-11pm. Brunch features Avocado Benedict, Caribbean breakfast and Quinoa & smoked beetroot salad with pick me up smoothies with the optional addition of a spirit shot. Those with special dietary requirements will be pleased to note that vegan, gluten free and vegetarian platters are also available on the menu.
Cottons Caribbean Restaurant & Salon de Rhum
157-159 Notting Hill Gate, London W11 3LF
www.cottons-restaurant.co.uk
@CottonsLDN
[mappress mapid="7″]