Crab Tavern opened in July 2015 in London's latest dining hub, Broadgate Circle. The all-day seafood restaurant and bar merges New York style with a menu of classic dishes and launched itself as one of the liveliest dining and drinking destinations in the City. A first for the UK, Crab Tavern takes on the classic American surf and turf concept with a mouth-watering combination of grilled meat and seafood with crab leading the way.
The generous all-day menu showcases an abundance of hero crab dishes, in addition to USA style sandwiches and salads (Philly Steak, Shrimp mac "n" cheese and Caesar sub), as well as more refined dishes from the classic grill and seafood selection. Signature "house specials" include Sweet & savoury King crab brioche doughnuts, Crab mash and West coast "bucket boil" – a steamy mix of crab claws, mussels, lobster, ratte potatoes, Merguez sausage and sweetcorn, whilst Hawaiian Fishcakes offer the fresh taste of the Pacific, and Oyster Po Boys hail from the Deep South.
Dessert is an expectantly indulgent affair ranging from homemade fruit pies served with organic blueberry ice cream to the more adventurous Pecan, chilli & maple tart with lime tequila sorbet. Much-loved classics include Baked cheesecake, Sundae selector and a Brownie stack, which is sweetly reminiscent of a classic American diner.
Enticing a crowd from dawn, Crab Tavern's breakfast does not disappoint with Crab hashbrowns – served with poached egg and spinach, Elvis French toast –maple bacon, peanut butter, blueberry jam and banana, and Smokey Beans with slow roasted pork. At dusk, city slickers can unwind with boozy root beer "Tennessee" and "Missouri" floats, shakes and refashioned cocktails including the specialty Tavern Iced Teas – three spins on the well-known Long Island variety.
Crab Tavern is the first London restaurant to launch by restaurateur Igor Krayushkin, whose hospitality background spans two luxury restaurants and a nightclub in Russia, as well as La Residence restaurant in Dubai. Igor told SLOAN! magazine, "I'm delighted to be opening Crab Tavern which will bring some Stateside favourites to one of the culinary capitals of the world. Although just one element of the menu, crab is the American crustacean of choice and the underdog that has long been overlooked. Just as London is seeing a new wave of American food trends arriving, Crab Tavern will bring something new to the city – a modern approach to good old-fashioned American fun, food and service. I want Crab Tavern to feel familiar and to become a spot that Londoners are keen to return to time and time again."
Seating 150, Crab Tavern houses diner booths, high top counter spots – ideal for solo diners, a bar and terrace. Sleek, dark and alluring in its design, the new seafood restaurant and bar takes an urban-rustic approach, capturing an upscale, downtown vibe, with exposed brick walls, lighting accents and warm wooden features. From the design through to the slick, US-style service and the menu, Crab Tavern likes to provide something new and fresh to the established dining scene in the City of London.
The SLOAN! Review
After ducking and diving through the streets of London's Liverpool street we found our way to Broadgate Circle and discovered a new hidden gem Crab Tavern. We arrived to a warm welcome, and couldn't wait to check out the hugely appealing menu.
The candle light gave a romantic feel however being in the centre of town this is a great place to catch up with work colleges and share a lunch in the hustle and bustle of the busy city.
The first problem was to decide what to have from such a beautiful menu. Luckily we were recommended some cocktails to try whilst we decided on what delectable delights to sample. We choose the Mangotoga which included vanilla syrup, mango and lemon juice, with a kick of chilli not for the fainthearted!! We also had a virgin Mojito which tasted super fresh and minty and good choice for anyone not wanting to drink alcohol.
After looking at length at the menu we decided to go for sharing platters to enjoy the Crab Tavern sharing experience. The food arrived promptly and was super fresh with typical US size portions meaning diners would not be disappointed. The soft shell crab came beautifully crisp and accompanied the crab Caesar sub perfectly.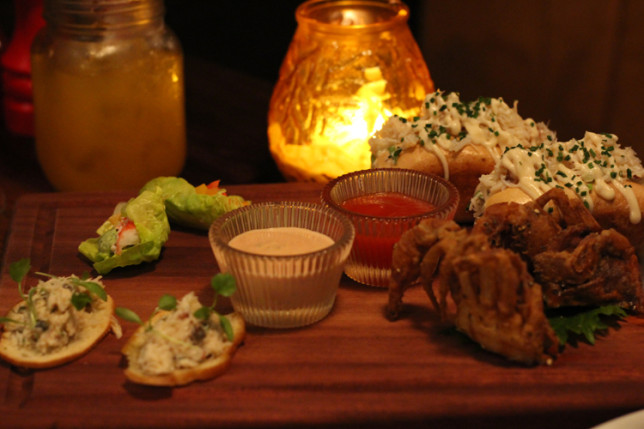 Crab Tavern has many good food offers, for our visit it was bottomless Cajun shrimp which is available on Monday only. As shrimp stuck out as a firm favourite we decided to sample a small bowl and it didn't disappoint, they might be small but they are really tasty.
The bottomless shrimp takes time to peel but the ever attentive staff are on hand with aprons and water dishes to wash your hands in preparation for the next course. We made the most of this with an order of sticky ribs and black pepper squid. The ribs just fell apart in the mouth and the sticky sauce was extremely moreish.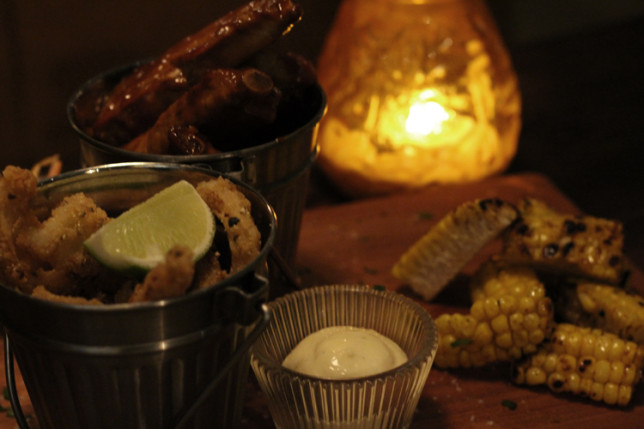 After all the beautiful food the tone had been set and left us eagerly awaiting the main event, but not before sampling a Crabtini to wash it down!! The Crabtini was an interesting choice of vodka, rhubarb syrup, lemon juice and violet liqueur.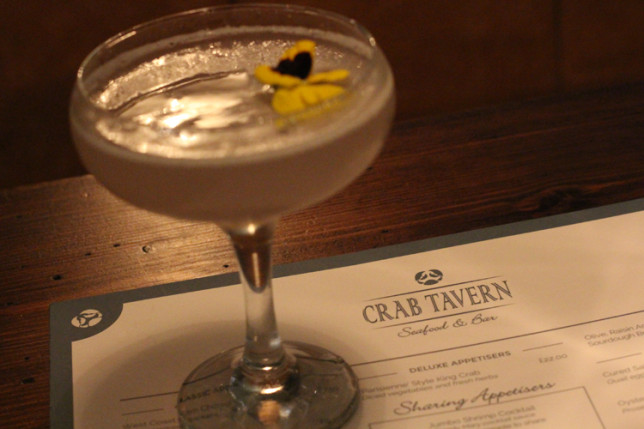 The wait for the main was so worthwhile. We choose the west coast bucket boil which included an array of seafood including lobster, crab and muscles. The seafood just jumped off the plate and was a testament to how well the chef had cooked the dish.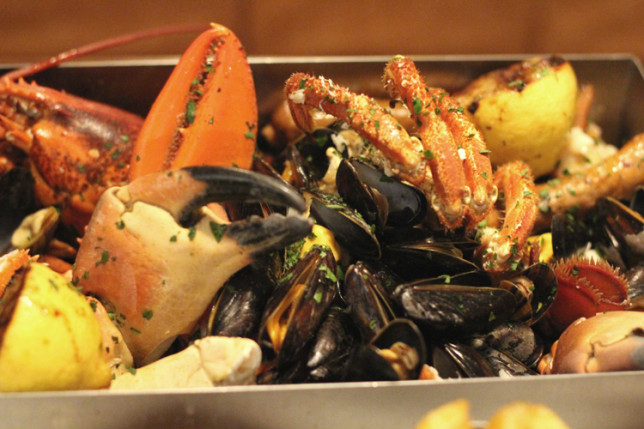 Lets squeeze a bit of lemon on the dish. Definitely a platter to share, and spoil yourself, a must for any seafood lover!!
After such beautiful meal we really didn't have much room left however Crab Tavern's dessert menu is something not to be missed!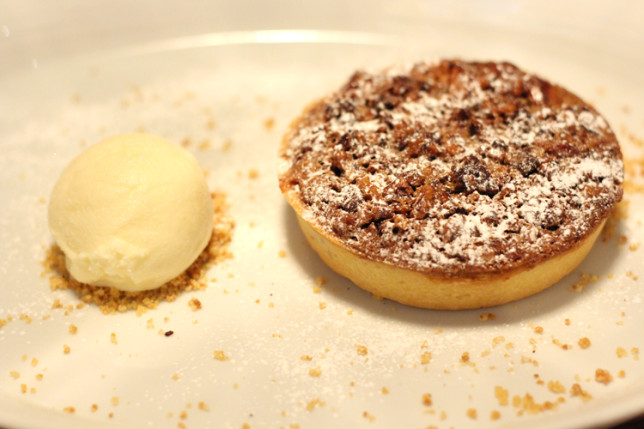 We choose the Pecan and Maple Tart, and the Brownie Stack. Both dishes were a cut above the rest with the pecan tart having a beautiful crust and the pecan nuts adding another dimension to the dish. The brownie stack was highly calorific however was worth every one of them!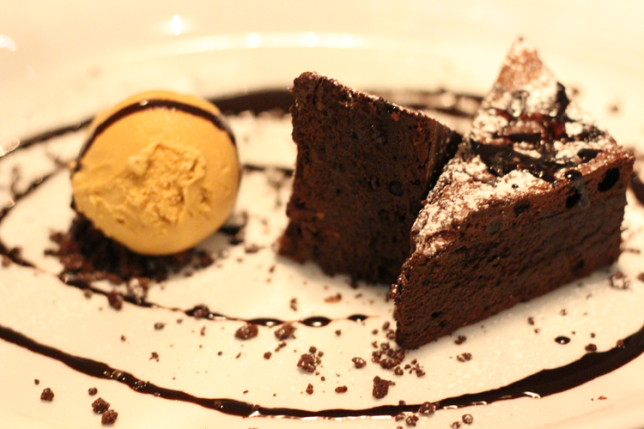 Crab Tavern
Unit 7 Broadgate Circus, London EC2M 2QS
020 7096 2044
www.crabtavern.co.uk