David Folkman, Co-Founder of Elderbrook, the "not squash" cordial brand, introduces 7 better-for-you foods for a healthier lifestyle.
On the eve of his 40th birthday, Rich Roll, father of four, feared the next would be his last. Two decades of abusing his body with drugs, alcohol and junk food had taken its toll. He realised he needed to change his life or die.   Fast forward six months and Rich was transformed. He's shed over 20kg and finished his first ultramarathon, an endurance race like no-other involving swimming, cycling and running huge distances. He went on to be named one of the world's fittest men by Men's Fitness Magazine and today, aged 49, still competes at the highest level.
How did he go from slob to ultra-endurance triathlete?
Rich puts his transformation down to eating right. To support his pursuit of extreme sports, Rich's diet favours function over flavour. His list of must-eats include Natto, a foul tasting fermented soybean, Elk Antler Velvet and Moringa, the leaf of  what has been dubbed the "miracle tree". Rich is testament to the health benefits of his diet, however, the idea of eating Antler, and rotten tasting food is a little extreme for most.
What we can learn from Rich is that eating well is the key to a healthier lifestyle. I believe in food that does you good but it has to taste good and readily available in the shops. (I can't remember the last time I saw Antler in Tesco.)
The Seven Superfoods
So if you'd like to move your lifestyle in a healthier direction without compromising on enjoying food, here are my top seven superfood recommendations.
1. Cruciferous vegetables contain vitamins, minerals, and fibre. They have anti-bacterial and anti-inflammatory effects, and studies have shown they help reduce the risk of cancer. Eat at least once a day, twice if possible.
2. Baobab tastes like a cross between a pineapple and a melon. It has twice as much calcium as milk, three times more vitamin C than an orange, and three times the Bs of the average word.
3. Lucuma is the most popular ice cream flavour in Peru. When it's not for pudding, it gives you fibre, vitamin B and minerals. And it releases energy slowly rather than in one big sugar-hit.
4. Cardamom isn't just for curries. In India (where it's grown), cardamom tea is a popular brew. It's a warm, sweet spice that helps your digestion and circulation. It's also a good way to freshen your breath.
5. Mulberries are dark, juicy and good for you. They help keep your bones, your eyes and your immune system healthy. And they top up your vitamin C and iron. (Not just arm candy, then.)
6. Maca is not a former Beatle. It is full of iron, potassium and calcium: a holy trinity that helps your skin, bones and blood do their thing.
7. Goldenberry from South America goes by a few different names, and they're all great: Inca berry, cape gooseberry and Peruvian ground cherry. It's proteins and vitamin A are good for your skin and immune system, and it's pretty low in sugar.
For more ways to maintain a healthier lifestyle visit www.elderbrookdrinks.co.uk
About David Folkman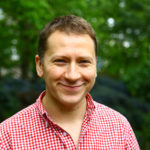 David is one of half of the brains behind Elderbrook. David was born in Manchester and studied Economics at Edinburgh University. Fresh from university, David delved into the world of investment banking at UBS Warburg. Unfortunately, banking was not for David and was fired after just six months on the job. The next few years were spent working in sales for a software company before landing a dream sales role at Mars. It was here that a career in food and drink began and over the coming years, David jumped ship to Nestle and eventually joined innocent where he met Craig and Elderbrook was born. When David isn't dreaming up cordial blends, the adrenalin junky can be found ski racing, running marathons for charity, scuba diving, mountaineering and even flying planes. David lives in Wimbledon with is wife Anna and two young children, Guy and Kiri.