New research has revealed that adopting a non-DOMS approach to exercise could save millions of Britons from muscle knots and stiffness, and help them maintain exercise momentum. DOMS – delayed onset muscle soreness – after exercise or a work-out is an issue for one in three (32%) adults, the survey for Mentholatum, makers of the tried-and-trusted Deep Heat range of muscle therapy products and the creators of new Deep Heat Muscle Massage Roll-on Lotion has discovered.
Three out of four (74%) are increasing their risk of injury by failing to warm-up before they work-out, so it's perhaps no surprise that one in three (33%) has suffered an exercise-induced injury.
Deep Heat Muscle Massage Roll-on Lotion has a pleasant herbal aroma and can be used pre-sport to loosen and soften muscles and post injury to help realign muscle fibres and break down adhesions and scar tissue. It can also be used to ease and release knots to create everyday comfort so it's a great product to have in a sports bag or desk drawer.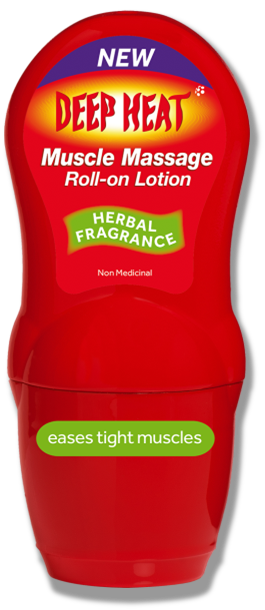 John Miles, Physiotherapist to the Cardiff Blues rugby club advises: "Muscular discomfort should never be a part of everyday exercise, but that's what you're asking for if you don't warm your muscles before putting them to work."
Fitness expert and personal trainer Zanna Van Dijk agrees it's essential and says: "I see a lot of women who have discovered sport and fitness in their twenties and thirties who end up with injuries because they have all the passion, but none of the preparation that protects them from injury."
The dual action of Deep Heat Muscle Massage Roll-on Lotion provides a quick and convenient pre-workout warm-up which can be used to gently target knotted muscles and loosen any trouble spots such as the sites of old injuries.
John says: "For many years thermal therapies and massage have played an important part in immediate post-injury treatment and longer-term rehabilitation. Anyone who has used a warming rub to relieve subsequent pain and stiffness knows how well they work.
"So it's surprising, when you think about it, that we didn't wake up to the benefits of using massage and warming agents as part of pre-exercise preparations years ago."
Benefits have also been confirmed in studies comparing self massage to static stretches — where you hold a position for a few seconds to try to elongate muscle. One trial, published in the International Journal of Sports Physical Therapy found that self-massage produced "significant improvement in force production".
While a study in the International Journal of Sports Physical Therapy found that just 10 seconds of massage using a roller similar to the Deep Heat applicator resulted in a 4.3% increase in range of movement. While another found that two short sets of self-massage using a roller massager produced a 10% increase in knee flexion.
One of the key ingredients in the new Deep Heat Muscle Massage Roll-on Lotion, works by activating the TRPV1 receptors in our skin which alert the brain to a sudden change in temperature at the site. Fitness trainer Zanna Van Dijk adds: "Massage helps realign muscle fibres and increases blood flow to any trouble-spots."
Deep Heat Muscle Massage Roll-on Lotion is available for £4.99 in Boots, Tesco, other grocery stores and pharmacies.
Deep Heat Muscle Massage Roll-on
Fast acting penetration
9.2/10
Soften and loosens muscles
9.2/10
Great aid post injury
9.2/10
Massage action to release muscle tension - Pleasant herbal aroma - Drug free - Increased blood-flow - Increased muscle-mobilisation - Targeted treatment for old injuries - Convenient fuss-free format - No sticky residue - Value for money