Doisy & Dam is the new kid on the chocolate-block, crafting a range of five handcrafted, 'superdelicious' varieties of organic dark chocolate, currently launching nationwide with Ocado.
With innovative flavours packed with nature's most delicious superfoods, including Coconut & Lucuma; Goji & Orange; Ginger, Chilli Flakes & Hemp Seed; Mulberries, Chia Seeds & Spirulina and (Great Taste Award-winning) Maca, Vanilla and Cacao Nibs, the rich dark chocolate can be enjoyed on-the-go in 40g bars or, for a longer-lasting option, in 100g packs. Each bar is handcrafted in Norfolk, using the optimum organic ingredients, carefully sourced from all over the world.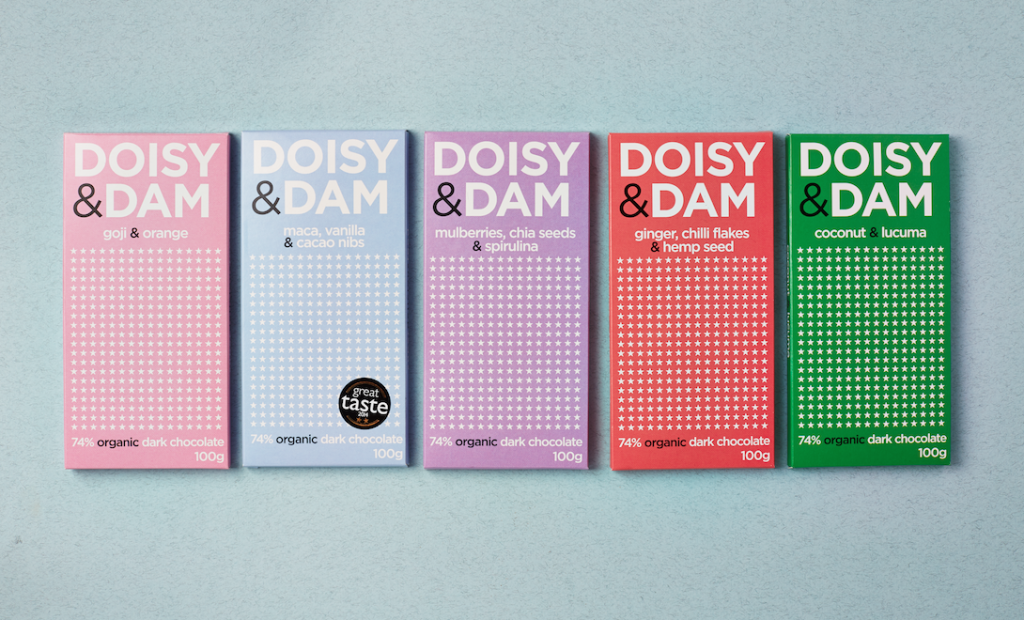 Not only does the inventive use of superfoods create interesting taste profiles and an enhanced nutritional profile, the textures of the berries, seeds and spices used in each bar lend a uniquely arresting texture. Every bar is also totally vegan and gluten free, as all highest quality dark chocolate should be.
When it comes to foods that are super for our bodies, dark chocolate comes top of the list, it can help lower blood pressure levels and is full of antioxidants to help fight free radicals. Doisy & Dam use organic chocolate because it guarantees that they are providing customers with the highest quality product they can get their hands on, whilst avoiding the nasties that exist in the pesticides used to treat non-organic foods.
Founders, Edward Smith and Richard Wilkinson set out to pack their chocolate with nature's superfoods to create a unique indulgence, providing the perfect balance between health and taste. Keeping it simple – nothing artificial, no hidden ingredients, just delicious, real food.
Ed comments, "Richard and I have been best friends since we were 5 and one of our aspirations was to start a business together. After working for a few years, we decided that no amount of experience could beat doing the real thing, so we decided to leave our jobs in finance and marketing and to start a business making a product that we believed in and most importantly, loved!
We've been foodies for a long time, superfoodies for a little less time, but we wanted to create a product that had the nutritional benefits of natural, good foods and the delicious taste of an indulgent product. We didn't believe in the idea that you have to sacrifice taste to create a natural and good food."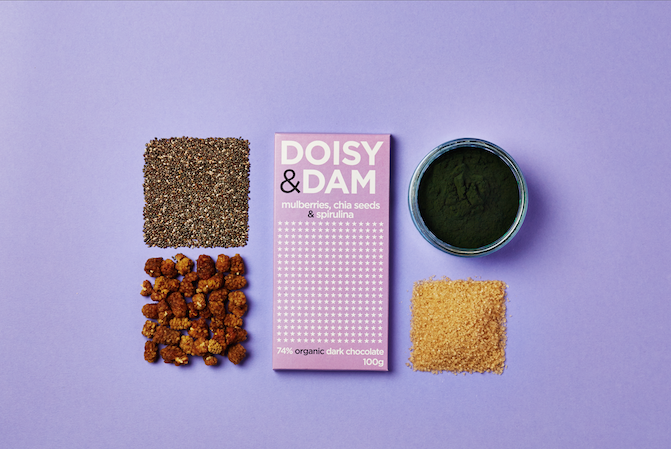 The brand launched into Ocado, Whole Foods, Planet Organic, Crusshand a raft of deli and health foods stores across the UK in 2014 and is currently lining up further national stockists and wholesalers, along with on-trade stockists from cafés to gyms.
The Doisy & Dam range comprises five flavours, every bar is made and hand packaged in the UK, each a little different and made for the individual!
Stockists include, Ocado, Whole Foods and Planet Organic. RRP £1.75, 40g bar and £3.50, 100g bar
For more information, please visit www.doisyanddam.com