A person's smile is the first thing that we notice when we initially meet someone.  This has been confirmed in a survey commissioned by Holland Park Dental Centre to launch a new Orthodontic service at the practice – Orthodontics @ Holland Park Dental Centre which is being headed up by the multi award-winning Orthodontic Specialist Dr Anthony Lam.
"At Holland Park we have been dedicated to maintaining and improving peoples' smiles for over 40 years. We have always known that individuals value their smiles but we wanted to get a deeper understanding of how smiles can affect people's lives" said Dr Reznek of Holland Park Dental Centre.
When it comes to how we feel about our own smiles, some surprising results were observed. 44% of people were not happy with their smiles, and this was true for both men and women (44% of men and 43% of women). 31% of people even reported that their smile affected their confidence. This dissatisfaction can have a negative impact on peoples' lives. 72% of women have been prevented from smiling in photographs due to unhappiness with their smiles. 14% of men reported that they had been prevented from going on a date, due to the fact they did not like their smile.
"I smile but I cover my teeth, I always look scared and uneasy"
But what can we do to improve our smiles? Treatments such as tooth whitening have been much publicised in the media, they are relatively quick to administer and generate results, but they don't actually "fix" your smile by making your teeth straight. For a treatment which will permanently transform your smile, orthodontics is required (in layman's terms, braces).
Traditionally, teenagers have been the group most associated with braces, but this attitude is slowly changing. Celebrities such as Tom Cruise, Gwen Stafani, Mylene Klass and even the Duchess of Cambridge have all worn braces in recent years may have helped to bring about this change of heart.
The Holland Park survey asked if you are ever too old to have braces fitted in order to correct your teeth?  Of those who said they would not consider braces, 64% said it was because of their age.
"We find a lot of our patients have concerns about wearing braces, even though they would love to have straight teeth. Many of them say it is because of their age, however, you are NEVER too old – my oldest patient was 72."
So says Dr Anthony Lam, the internationally recognised Specialist Orthodontist who has set up the new Orthodontics @ Holland Park Dental Centre service in the practice.50% of those surveyed aged 40 and over were unaware that you were never too old to have orthodontic treatment.
He added: "When we sit them down and run through all the contemporary and sophisticated treatments now available, including virtually invisible braces, we find their concerns diminish, and they are happy that they can correct their smiles completely unobtrusively so that they can continue to work or get on with their lives without anyone knowing they are having their teeth straightened".
Orthodontic treatments are available in many dental practices, but increasingly both patients and dentists are turning to Specialist Orthodontists to deliver a more specialised service.  This is because Orthodontists train for an additional three years after qualifying as a dentist, and have significant experience both with standard and more complex cases. Dr Phil Marsden of Holland Park Dental Centre explains why they are so excited that Dr Anthony Lam and his orthodontic expertise has added substantial value to the team.
"Anthony is highly regarded in the orthodontic field, a member of several key orthodontic societies, with a special interest in invisible cosmetic orthodontic braces. He has been able to bring his Harley Street expertise to the practice, and is an extremely valued new member of the team".
For more information on orthodontics and Holland Park Dental Centre visit www.hollandparkdental.co.uk
About the Expert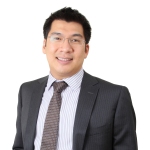 Dr. Anthony Lam is an internationally recognised Specialist Orthodontist. He is a clinical teacher in Orthodontics at Guy's Hospital, London, and a member of a number of local and international Orthodontic Societies. He qualified as a dentist at the University of Melbourne and then gained an MSc in Orthodontics at the University of London.
He is the recipient of the Professor Philip Walther Prize for outstanding performance as part of his MSc and obtained membership of The Royal College of Surgeons upon qualification. Since then, he has worked in private orthodontic practice in the South East region. He is also a Clinical Teacher in Orthodontics at Guy's Hospital. He is a Gold Invisalign provider and has been invited to treat the winner of the UK wide competition 'Invisalign Changed my Life'.

His main areas of interest are invisible cosmetic orthodontic braces including Invisible braces, SureSmile advanced brace technology, Incognito, Invisalign and Damon System appliances.