Whether you are a gastronome or a gourmand, determined vegan or Dairy Milk lover, looking for chocolate eggs for the little darlings or a chocolate treat for your darling granny, look no further than the SLOAN! Easter Gift Guide. We've been busy curating a list of our favourite Easter treats from vegan chocolate for your little boys to chocolate beer for your big boys and everything in between…
Pierre Marcolini
Pierre Marcolini is one of SLOAN! Magazine's favourite chocolatiers and his KAWAI Easter collection conjures up a world of mesmerizing tricks where Japanese dolls magically morph into Easter eggs, where hand fans are made of chocolate, and miniature eggs resemble shimmering pearls.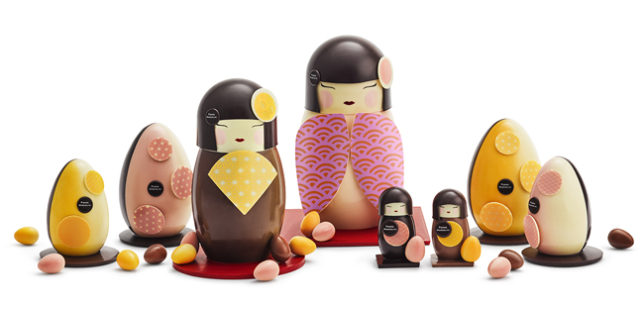 Ideal for sharing is the Pierre Marcolini Chocolate Egg Fondant (£50) made of several layers of fondant and chocolate egg filled with 22 miniature eggs and 6 bells and caramel animals. The mini eggs have delicious fillings such as pistachio praline, almond praline, nougat praline and our personal favourite –  hazelnut praline.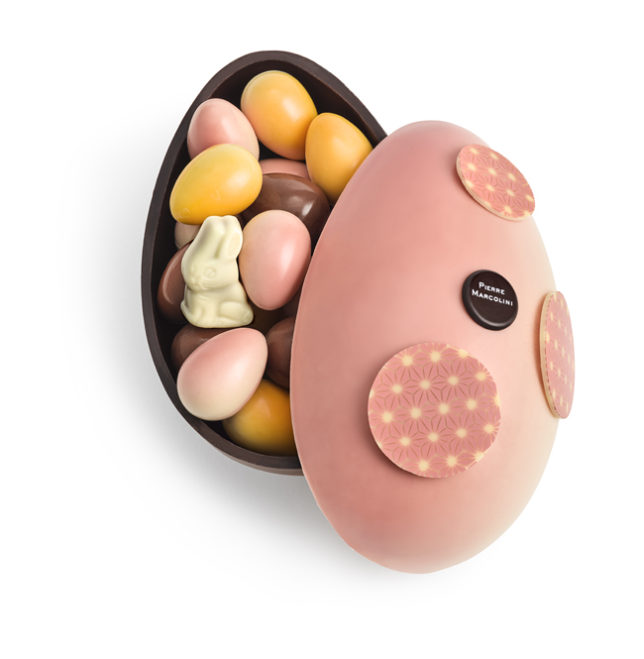 The 2 bells are made of creamy white chocolate and there are also 2 rabbits of white chocolate caramel and 2 cute ducks of dark chocolate. Available exclusively from the Pierre Marcolini boutique on Marylebone High Street and also in Harrods and Selfridges.
Forman & Field
For something a little different to the ubiquitous Easter Egg but equally as indulgent, why not order some luxury confectionery from Forman and Field, the family run business that prides itself in being one of the only luxury food services to deliver worldwide. All products and restaurant quality dishes are either made by the H. Forman & Son kitchen or sourced from artisan producers and family-run specialists which means they can be 100% certain that they are able to provide the very best of British Cuisine.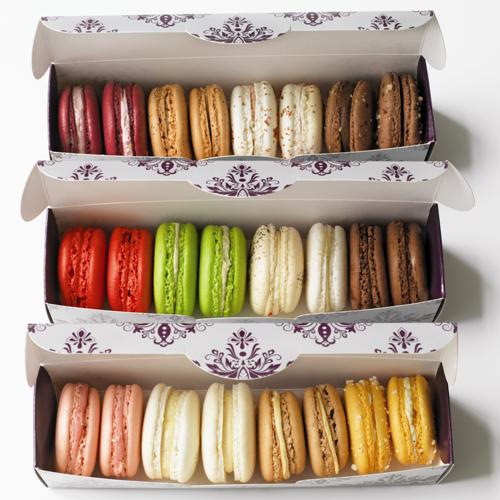 These wonderfully light macarons are made to order so they arrive super fresh. Choose from Royal Velvet (Red Velvet/Cappuccino/Kir Royal/Ferrero Rocher), Café Classics (Strawberry/Pistachio/Vanilla/Belgium Chocolate) and Vintage Brut (Strawberry Champagne/Crème Brûlée/Salted Caramel/Popcorn). £11.95 for each box of 8 or treat loved ones to all 3 boxes for £34.95 from www.formanandfield.com
We also love the Artisan du Chocolat Original Milk Chocolate Sea Salted Caramels available from Forman and Field's excellent website. Originally created for Gordon Ramsay at Claridge's, these have now become a cult product amongst gastronomes and epicureans.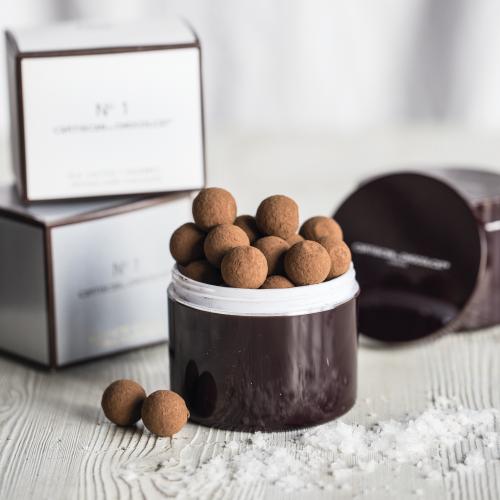 We have to say that they are seriously addictive!  The liquid caramel centre bursts in your mouth with an explosion of indulgent sweet, saline and mineral flavours. A fabulous gift presented in ultra-chic Chanel-style packaging. £14.95 for 130g from www.formanandfield.com
Prestat
Prestat, London's purveyors of handmade chocolate since 1902, launched their Easter collection with this brand new fruity and fragrant Hot Cross Bun Spiced Easter Egg (£17.50) which we think is truly scrumptious. The bronze foiled and ribboned hand-made spice enthused milk chocolate egg is filled with a handful of mini eggs and is beautifully presented in Prestat's delightfully collectable gift boxes.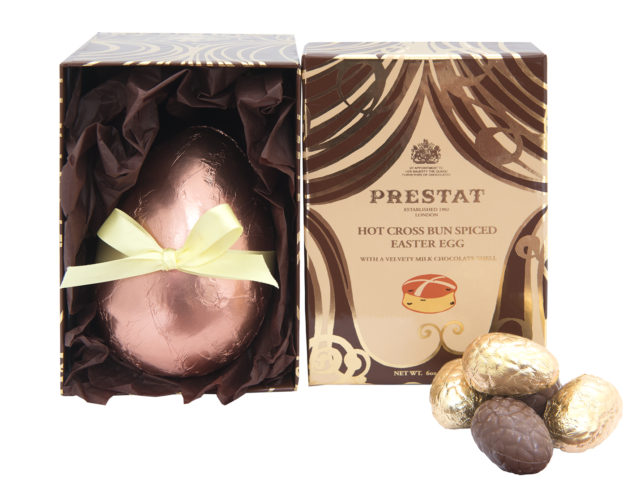 For something for grown-ups to enjoy, we can't help but love Prestat's London Gin Truffle Easter Egg (£17.50) made from the finest milk chocolate flavoured with lemon oil and filled with truffles made with ganache flavoured with gin and Mediterranean lemon oil covered in white chocolate.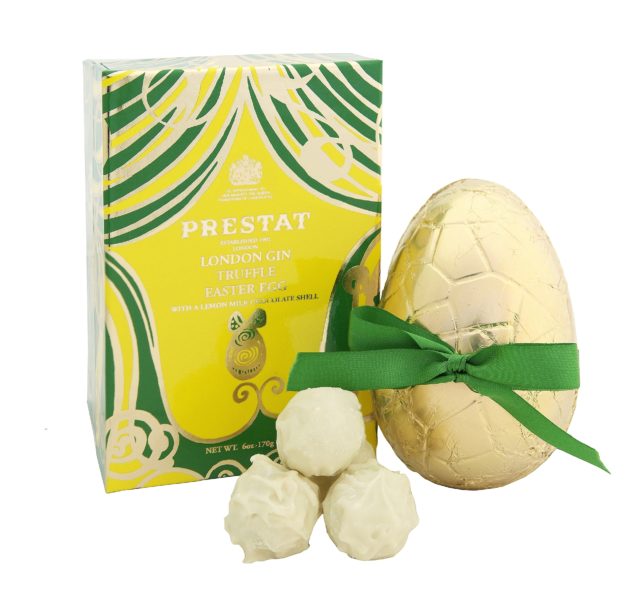 The truffles contains a fizzy surprise of popping candy in the coating that tingles on your tongue just like a G&T would for a quintessentially British indulgent experience. Both eggs are available from www.prestat.co.uk
Hotel Chocolat
New this year to the Hotel Chocolat Easter collection are the Easter Pen Pal characters including Woolliam (£6.50) – a hollow white chocolate lamb which comes with a pot of dinky caramel chocolate drops.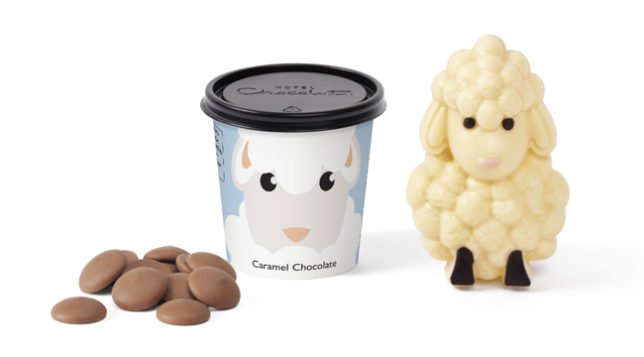 We also love the vegan-friendly dark chocolate Big City Bunny (£7.50) dressed to impress in a bow tie and waistcoat. The hollow rabbit is made of 70% dark chocolate.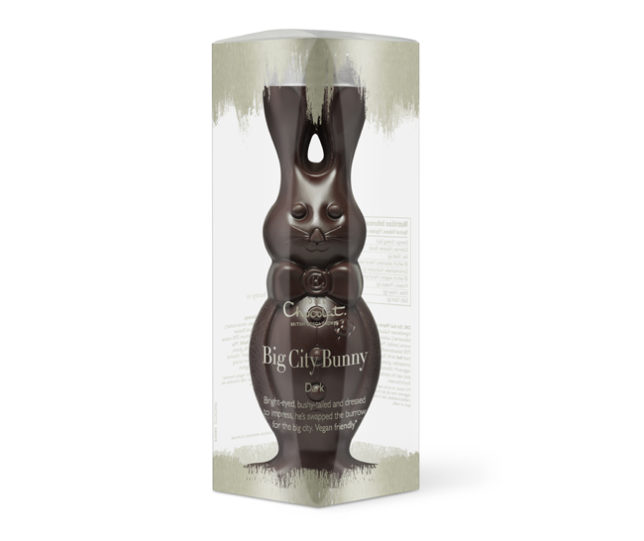 Our choice of traditional egg from the collection is the new 100% Dark Hard-Boiled Easter Egg (£15) made from Saint Lucian 100% dark chocolate studded with the finest Turkish raisins and unblanched roasted Californian almonds. This is the ideal Easter gift for cocoa purists and is also vegan-friendly.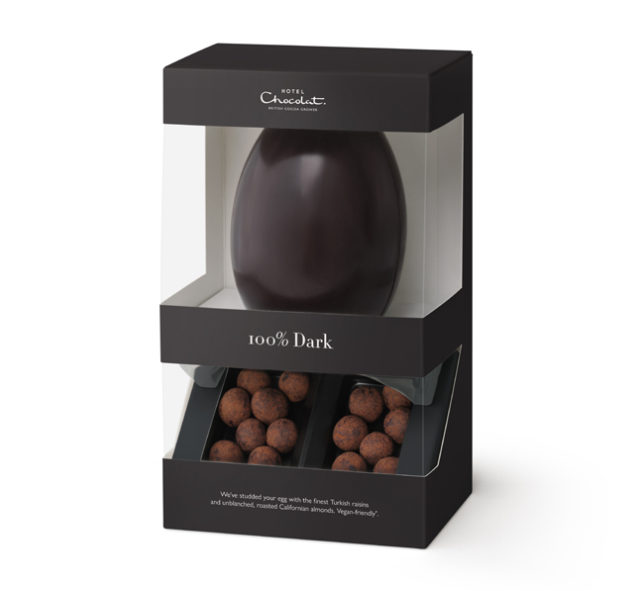 Booja-Booja
Following the tradition of giving painted eggs to loved ones at Easter, Booja-Booja has launched a collection of hand-painted Easter eggs made in Kashmir, India. The intricately patterned egg is hand-packed in Norfolk with 12 of Booja-Booja's award-winning Fine de Champagne chocolate truffles.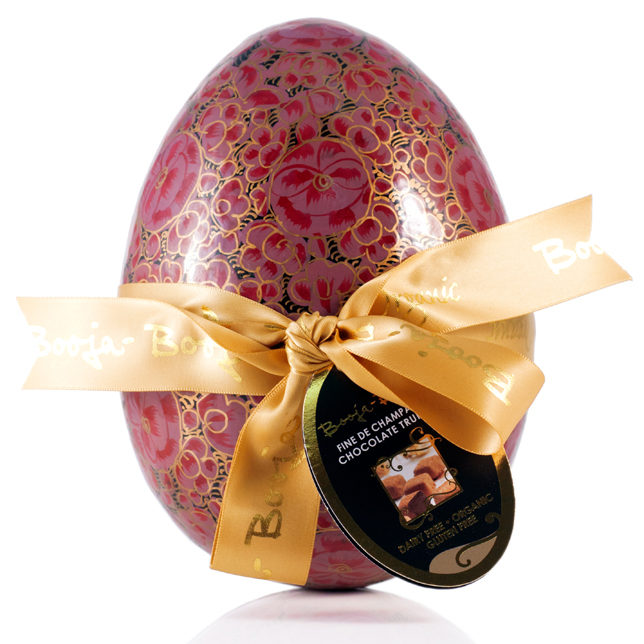 The organic champagne has been aged for a year and a half and the chocolates are not only organic and vegan but also free of gluten and soya. These melt in your mouth chocolates are made with cocoa beans from the Dominican Republic (one of our favourite holiday destinations!). The Large Fine de Champagne Easter Egg (£23.99) is available from www.healthysupplies.co.uk
Carluccio's
Carluccio's takes care of Easter entertaining in their own inimitable style. The new Easter gift collection comes packaged in spring-like colours using abstract images associated with the season and inspired by the iconic Italian brand, Fiorucci.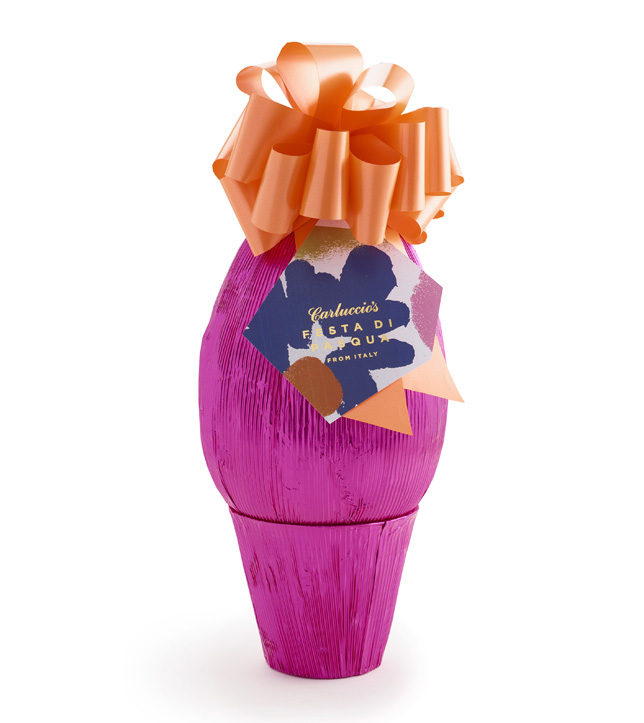 This show-stopping hollow milk chocolate egg comes with milk chocolate and hazelnut gianduiotti chocolates hidden inside. Milk Chocolate Egg with Gianduiotti Chocolates 480g at £19.95 is available now in Carluccio's food shops nationwide and online at carluccios.com
Paxton Chocolate
These delicious handmade champagne truffle eggs are a wonderfully decadent seasonal gift perfect as a gift for a host, parent, grandparent or just a treat to tuck into whilst the kids eat their Easter eggs. These champagne truffle eggs taste delicious and look so elegant.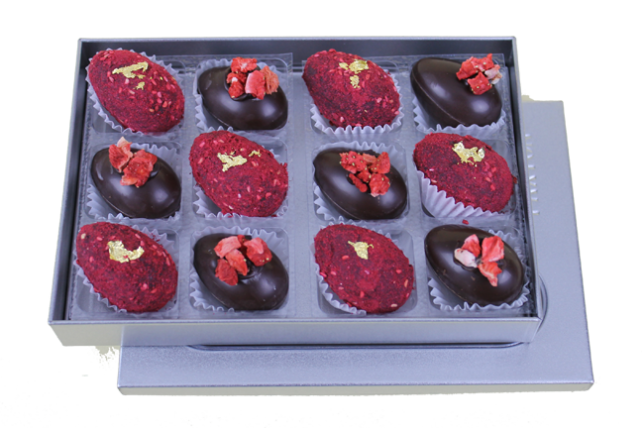 The selection of beautiful truffles come in a selection of six dark chocolate eggs filled with white chocolate Champagne ganache and topped with strawberry and six dark chocolate eggs filled with dark chocolate Champagne ganache and rolled in raspberry and topped with gold leaf. £18 for a box of 12 and £30 for a box of 24 from www.paxtonchocolate.com
Chococo
Chococo's new Madagascar MegaDark 85% dark chocolate luxury Easter egg (£16.95) complements their MegaMilk Egg and similarly features their trademark diamond facets across the shell of the egg. Made from single origin grand cru de sambirano beans from Madagascar, this RAISETRADE 85% cocoa solids dark chocolate has deep rich berry flavour notes with hints of honey and a long finish.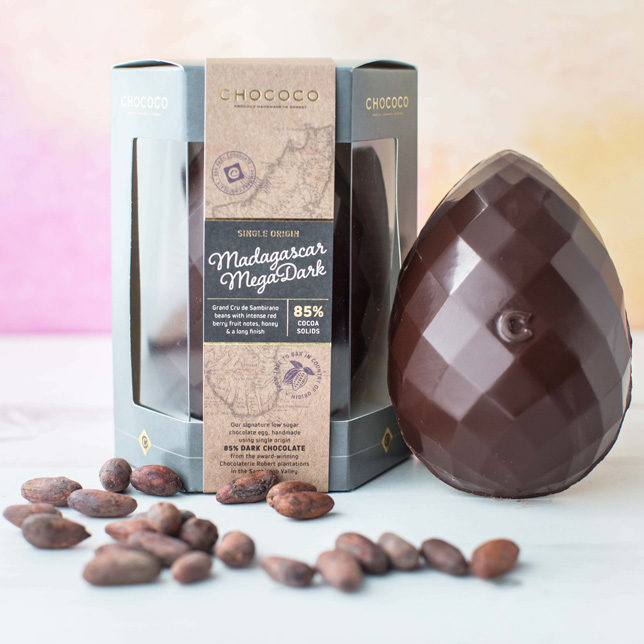 A delicious egg is naturally dairy-free so is suitable for vegans as well as being ideal for those who like exceptional, high quality, low sugar, dark chocolate. Chococo's Luxury Madagascar 85% MegaDark Egg is available from www.chococo.co.uk
Lily O'Brien's
The Crispy Heart Easter Basket (£18.49) is the perfect gift this Easter. This tasty little gift contains a Crispy Heart Pouch of 8 Milk Chocolate hearts filled with crispy honeycomb pieces, a delicious Milk Chocolate Easter Bunny, and a Lily O'Brien's scrumptious Milk Chocolate Egg.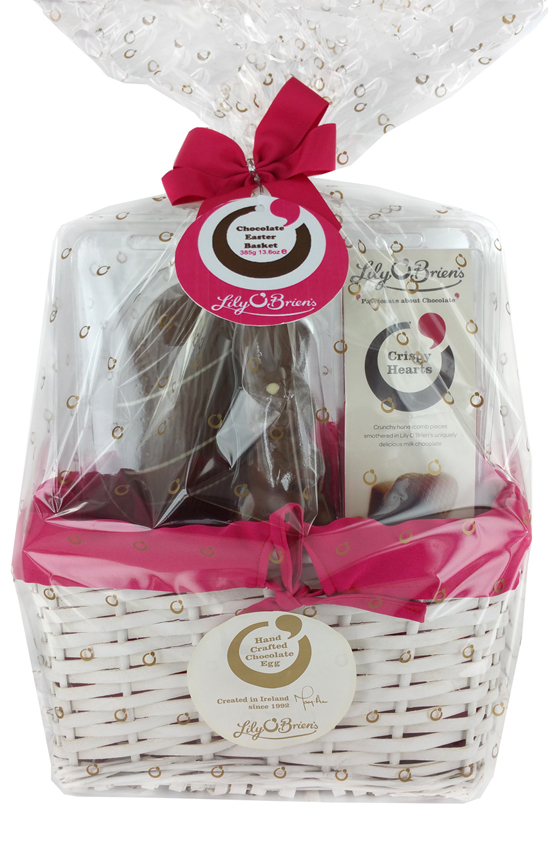 For something a little smaller but still as delicious, the Uglies Easter Egg (£10.00) is the perfect sweet treat. Lily O'Brien's beautifully handcrafted White Chocolate Egg filled with scrumptious cookie pieces and surrounded by individually wrapped delicious little Uglies.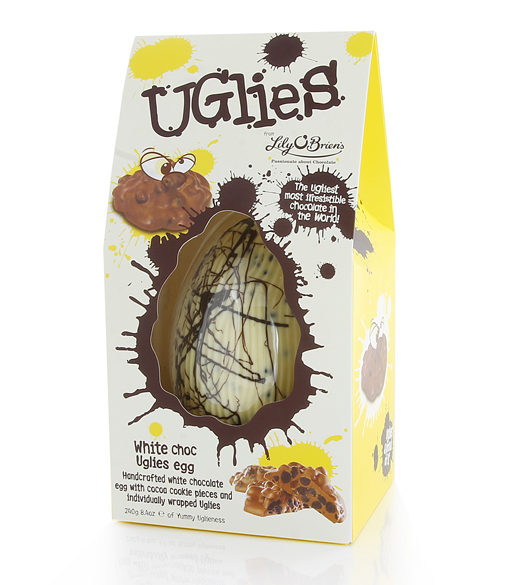 For more information on these and other chocolates and gifts, please visit www.lilyobriens.co.uk
Rococo Chocolates
These cute Easter chick and bunny eggs are made from Rococo's rich and creamy house blend of 40% cocoa solid milk chocolate which includes cocoa beans from their Grococo farm in northern Grenada.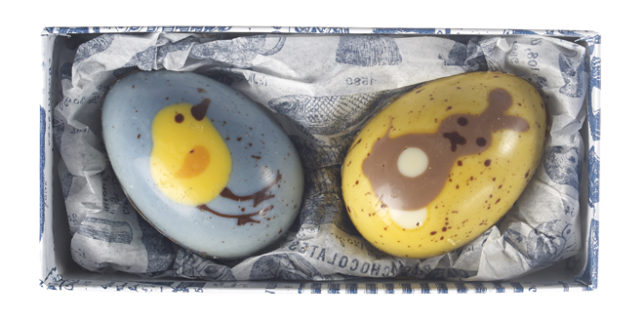 Each egg is covered with a thin layer of white chocolate, which is hand painted with the stunning design and presented in a Rococo print box with clear lid. Hand Painted Chick & Bunny Milk Chocolate Eggs, £16.50 from www.rococochocolates.com
Guylian
This show-stopping Easter treat from Guylian, the world's favourite Belgian chocolatiers, offers a delectable large chocolate egg complete with a full-sized box of Guylian's classic praline Sea Shell chocolates, made from roasted and caramelised Mediterranean hazelnuts.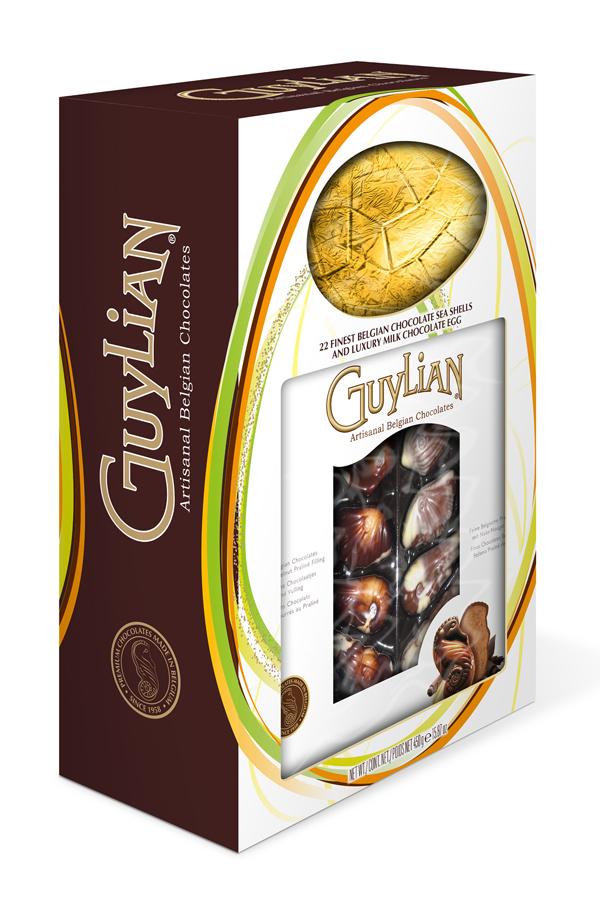 The Large Sea Shell Egg (£10) is available at all major supermarkets, selected independent stores nationwide and online via www.guylian.com
Montezuma's
Montezuma's best selling Easter Eggs return to the shelves this season dressed in their award winning and innovative eco-friendly packaging. This organic White Chocolate with Raspberry egg is a new flavour for Easter 2017 and the deliciously creamy white chocolate and raspberry egg is speckled with fine pieces of raspberry for a fabulously fruity sweet treat we know you'll love.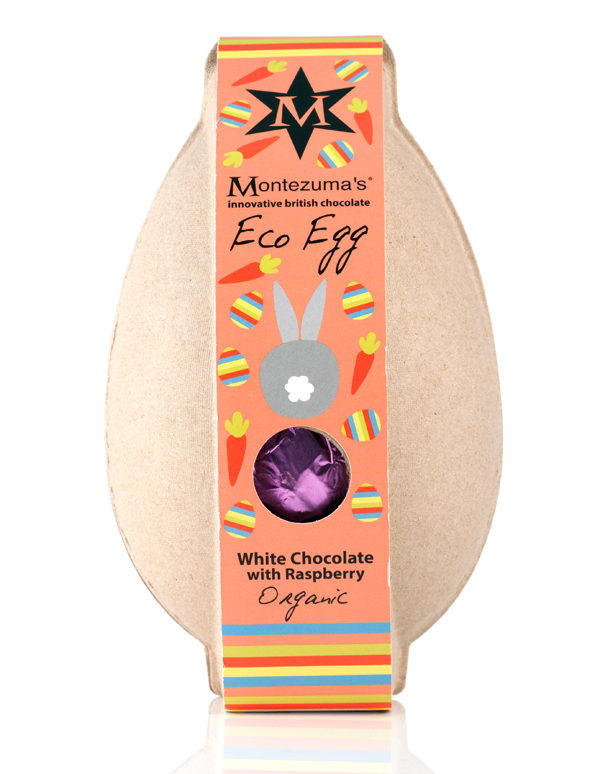 The White Chocolate with Raspberry Eco Egg (£7.99) is available from www.healthysupplies.co.uk
Moo Free
Moo Free has created an organic dairy free "milk" chocolate egg which cleverly uses rice milk powder to give the chocolate a delicious milky taste with the involvement of any cows. The chocolate is therefore vegan-friendly and as an added bonus is infused with crunchy piece of honeycomb toffee.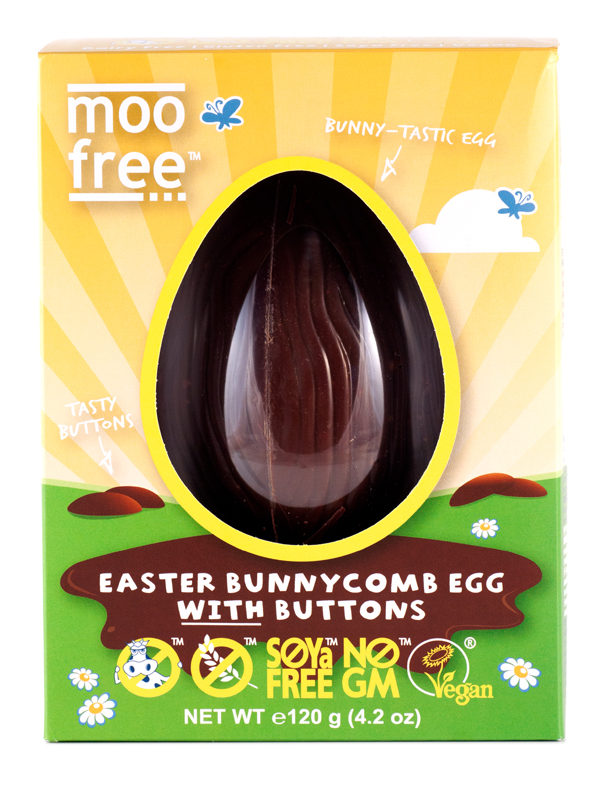 The award-winning recipe is perfect for children and is a little treat for adults too. Dairy Free Honeycomb Chocolate Easter Egg (£4.19) is available from www.healthysupplies.co.uk
Divine Chocolates
Perfect for gifts, Divine's smaller hollow eggs are made from the "best of the best" cocoa from Kuapa Kokoo, the cocoa growers co-operative in Ghana that produces Divine's delicious beans and co-own the company itself. The Fairtrade chocolate eggs come in rich dark, smooth milk or this gloriously creamy white chocolate.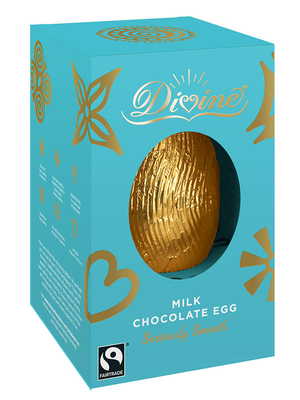 Reducing the environmental impact of packaging is important to Divine. Their egg boxes are all made with recycled cardboard which is suitable for recycling and do not include plastic packaging. Milk Chocolate Easter Egg (£3.49) is available from www.healthysupplies.co.uk
Meantime
Offering a different take on the Easter chocolate theme, Meantime's Chocolate Porter 6.5% ABV is a rich, dark beer brewed with four different roasted malts which give natural mocca flavours complemented by the addition of real Belgian chocolate during maturation.

Warm, complex and smooth, it has a long, clean finish and is ideal as a digestif and dessert beer. It is also a superb match for the traditional lamb and game dishes we will be indulging in on Easter Sunday. So if you've outgrown the chocolatey Easter egg, try this chocolatey beer for size! Available from www.meantimebrewing.com at £21.99 for a case of 12 x 330ml bottles.
Demijohn
Demijohn's liquid Chocolate Orange Ball (£24.60) is the closest you can get to a liquid Easter egg. Not too sweet and deliciously fresh this Devon-made cream liqueur contains a subtle blend of dark chocolate, rich Devonshire cream, Apple Brandy and the zest of an orange.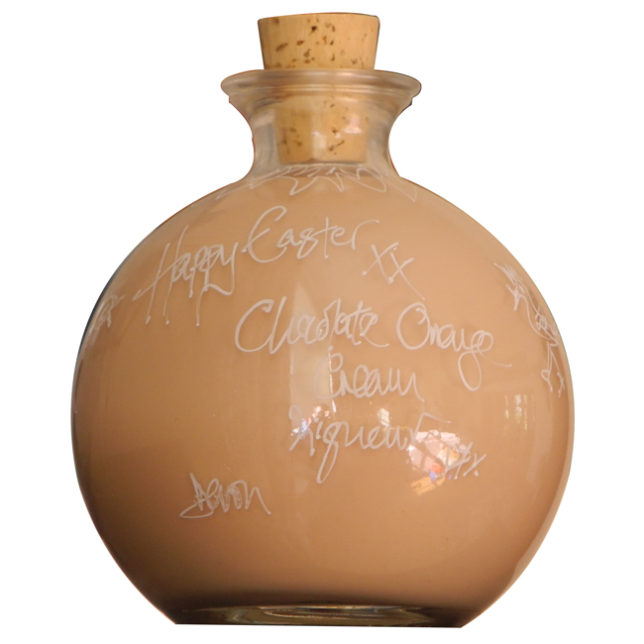 Demijohn have captured the essence of Easter in this spherical 500ml Strauss bottle which can even have a personalized message added for free. Available from Demijohn shops in Oxford, York, Glasgow and Edinburgh or online from www.demijohn.co.uk
We hope you enjoyed our round up of the very best Easter chocolates and alternative sweet treats for all the family from the the young to the young-at-heart. Let us know which are your favourites on Twitter and Instagram @sloanloves!