Looking for something extra special this Easter to gift to your friends and loved ones? Here is a selection of our favourite chocolatiers and their decidedly different Easter Eggs and foodie treats. Easter may fall on April Fool's Day this year but we're not fooling around with these recommendations!
Pierre Marcolini
Pierre Marcolini, the ever-creative chocolatier, has taken a surrealistic turn with the illusory delights of his trompe l'œil Mister Mystère Easter collection. Is it a rabbit? Or is it an egg? What has Pierre Marcolini hidden under the bowler hat?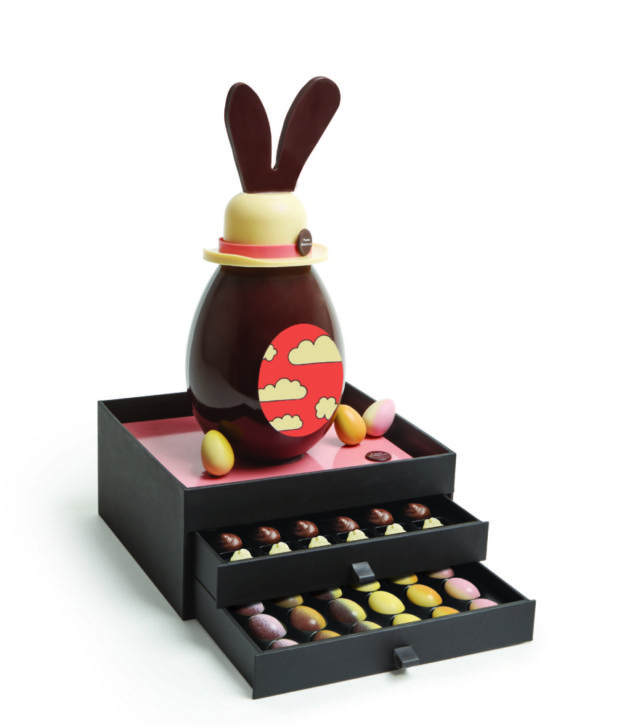 This stunning Egg Hat creation is the epitome of Pierre Marcolini's avantgarde approach. The perfect family Easter gift with plenty of choice for everyone, the eye-catching curiosity consists of a Maison dark chocolate egg topped with a big-eared white chocolate bowler hat and inside the drawers are 30 mini eggs in flavours like white chocolate pistachio praline and 30 caramel rabbits, ducks, snails and bells. £135 from the Pierre Marcolini store in Marylebone as well as from the concession in Harrods & Selfridges and from www.marcolini.com
Pierre Hermé Paris
Pierre Hermé combines art and taste with an Easter collection of sculptures inspired by François Pompon, visionary sculptor of the late 19th Century. Chocolate hens and rabbits boast sleek, full, rounded forms, paying tribute to the gentle power and movement of the sculptor's creations.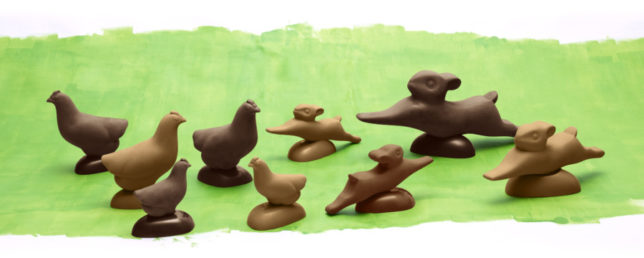 The traditional Easter egg has been reinvented, larger than life in a limited edition "Oeuf Infiniment Grand" and an Italian touch has been added to the collection with the Easter Dove, an interpretation for Easter of a traditional panettone, to be shared with all the family. The brioche dough with the first levain and flour imported from Italy is enriched with bits of Pure Origin Venezuelan Dark Chocolate, Grand Cru Araguani and candied orange.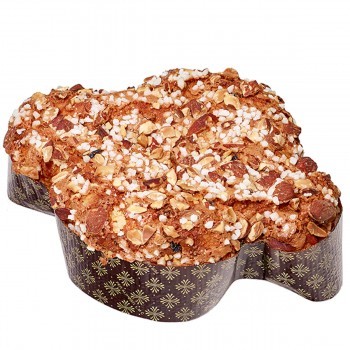 However our favourite from Pierre Hermé's Easter 2018 collection is his reinvention of the traditional Easter Egg with his Oeuf Fragments deconstructed version as a new ode to art and sculpture with a remarkable aesthetic. Under the apparent fragility of an artfully cracked shell, hides the pizzazz of a glittering egg. By eliminating the superfluous, Pierre Hermé has created a dynamic and striking egg with a polished surface, available in Milk, Dark and our personal favourite of Blond chocolate which has toasty notes of biscuit.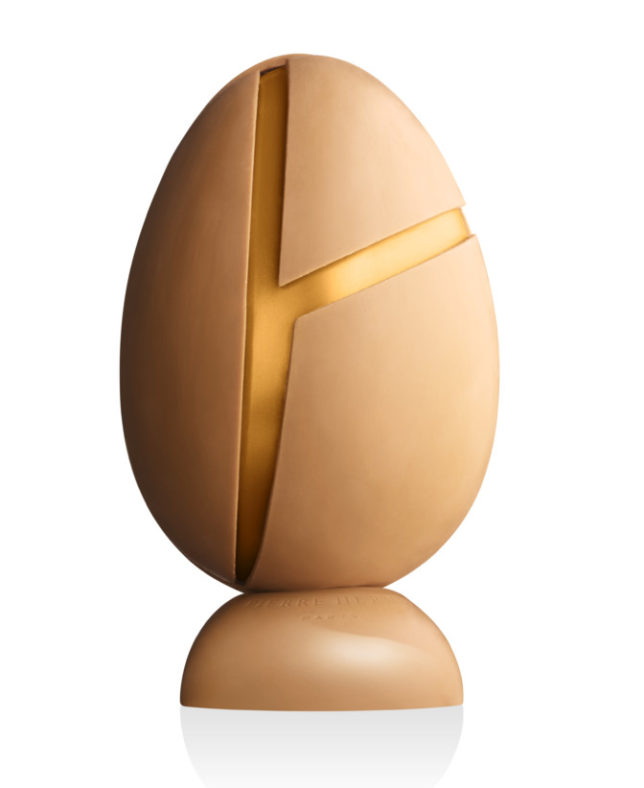 The Oeuf Fragments Blond Easter Egg 340g contains 50g of mini eggs for £45 available from either of the Pierre Hermé Paris boutiques in Covent Garden and Belgravia, as well as from the concession in Selfridges and from www.pierreherme.com
Hotel Chocolat
When Hotel Chocolat, the British chocolatier & cocoa grower, first started making Easter eggs over 15 years ago, the experts at th time advised them to make their Easter Eggs as thin as possible. Thankfully Angus an his team did the opposite, opting for lavishly thick shells that are the epitome of indulgence. Our pick of the Eggs this year is the White & Light Extra Thick white chocolate Easter egg filled with lusciously creamy recipes that pair high-cocoa white chocolate with fruit, nuts and more.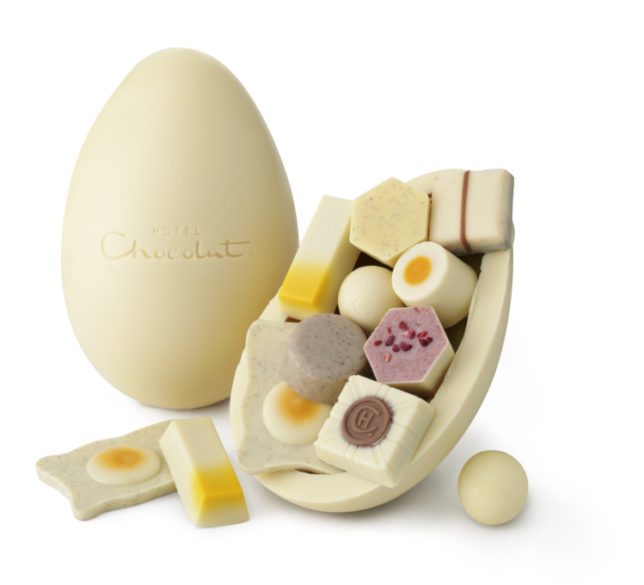 White & Light (£27) is all about the creamiest of Hotel Chocolat's recipes with two generously proportioned halves of opulent white chocolate wrapped in gold foil for a glint of anticipation when you untie the ribbon and lift the lid of the mini hat box. The egg is filled with a selection of the finest high-cocoa white chocolates wrapped in tissue paper for a little mystery.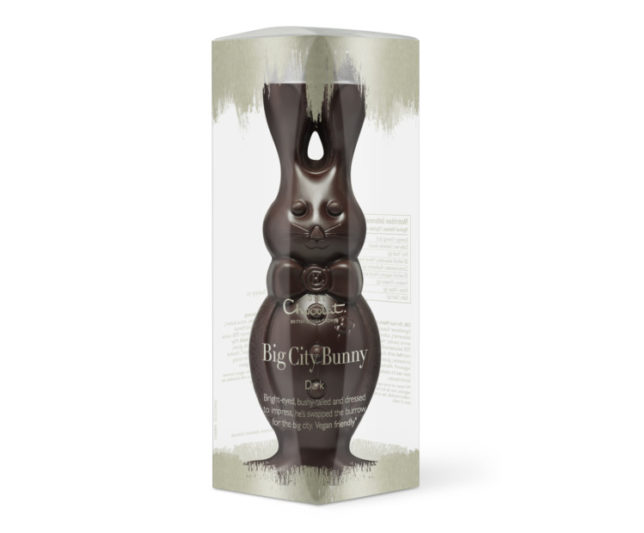 For a vegan-friendly treat this Easter, Hotel Chocolat is also the place to go to enjoy the Dark Chocolate City Bunny (£8). Bright-eyed, bushy-tailed and dressed to impress with his dapper bow-tie, this 70% dark chocolate bunny has swapped the burrow for the big city! Both are available from Hotel Chocolat stores nationwide and from www.hotelchocolat.com
Carluccio's
For a sense of the traditional with an Italian twist, head to Carluccio's Easter shop where you can find the ever popular Colomba di Pasqua cake that takes over 20 hours to make and delectable gianduja chocolate eggs produced in Piemonte. All food gifts are available in-store with selected products online at carluccios.com. We love the Sicilian Marzipan Lamb. Made in Sicily, the home of Italian marzipan, this traditional handmade lamb decorated with fondant icing makes a quirky Easter gift.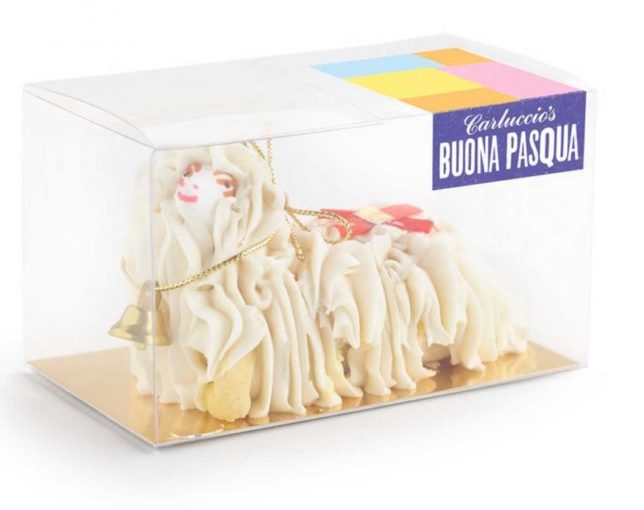 And for a truly showstopping family treat, the Il Piemontese Easter Egg (£23.95) is 500g of chocolatey goodness direct from Piemonte. This delicious milk chocolate egg is covered all over with crushed hazelnuts which this Italian region is so famous for. Inside the giant egg is a bag of mini gianduiotti chocolates for a surprise sweet treat for all to enjoy.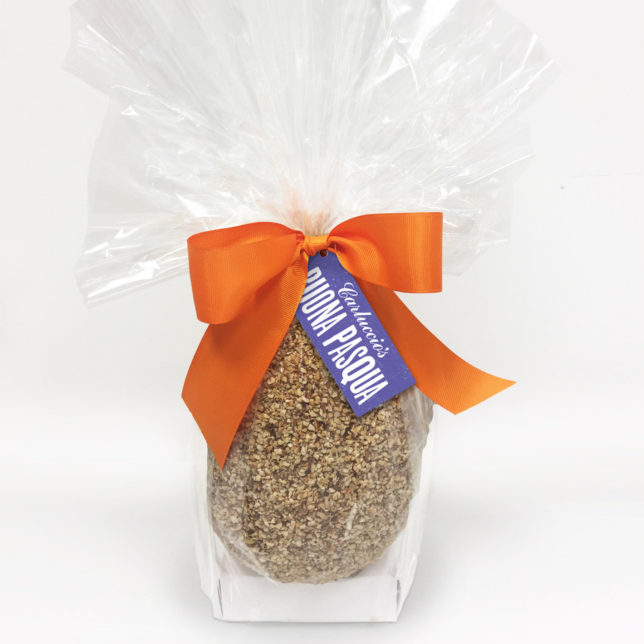 Bettys
This year, Bettys have outdone themselves by creating some of their most beautiful Easter eggs yet. We love the Limited Edition Spring Bloom Easter Egg (£30) which at 19cm high is a glorious egg made with an eau de nil coloured white chocolate and hand-decorated with royal icing flowers and a silver shimmer.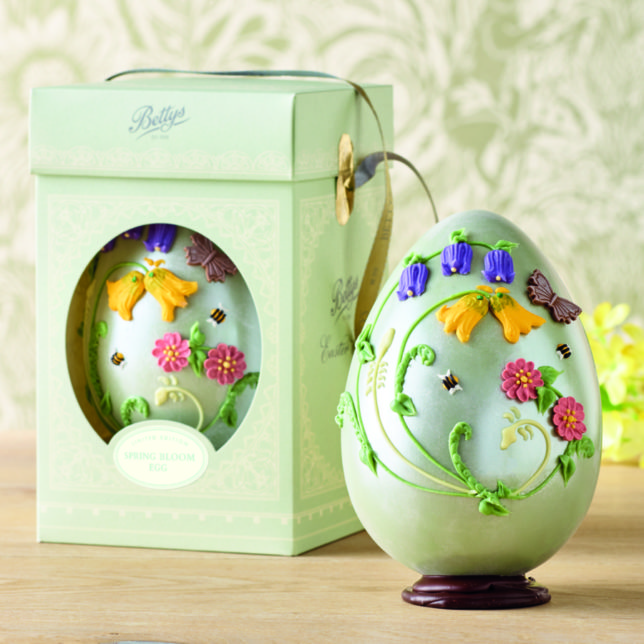 For a little novelty factor, we also can't help but love the White Chocolate Rabbit Egg (£10.50) Made from Bettys creamy Swiss white chocolate, the egg is stippled with milk chocolate and hand-decorated with an Easter rabbit and spring flowers. Totally adorable!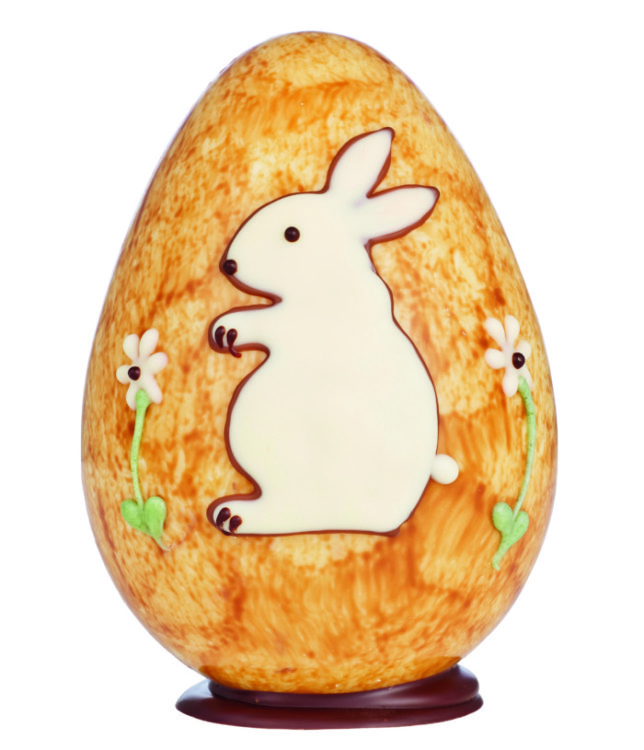 Lily O'Briens
For the best handcrafted Easter eggs from Ireland, award-winning Lily O'Briens is a favourite of ours and we know you'll love them too. Back by popular demand for all those passionate about chocolate, the Sea Salted Caramel Egg (£12) is a handcrafted milk chocolate shell, kissed with caramel-infused white chocolate swirls, and finished with a pinch of salt. This luxury egg comes with an assortment of milk and dark chocolate salted caramels – perfect for those with a slightly more sophisticated palate.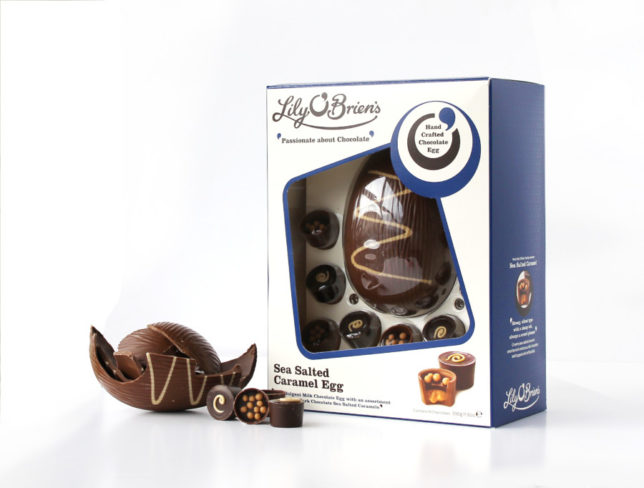 If you've had enough salted caramel for one year, how about returning to the traditional taste of honeycomb chocolate with Lily O'Briens Honeycomb Egg (£9). This is an indulgent handcrafted milk chocolate egg with honeycomb pieces throughout. This flame wrapped egg with its honeycomb crunch is sure to be a showstopper this Easter! Both eggs are available from www.lilyobriens.co.uk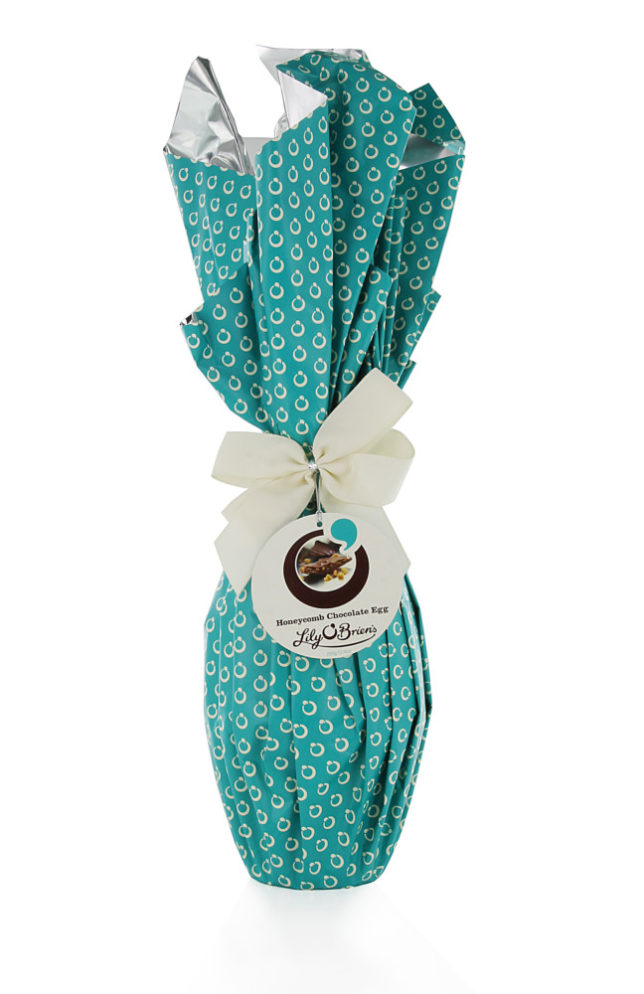 Green & Black's
Organic chocolate experts at Green & Black's have created another crowd-pleasing offering this Easter with their deliciously intense Milk Chocolate Egg made from the same organic milk chocolate they use in their popular bars. Speaking of which, this indulgent organic treat comes with two large Green & Black's milk chocolate bars in Butterscotch and Anglesey Sea Salt varieties. £10.99 available nationwide and from www.greenandblacks.co.uk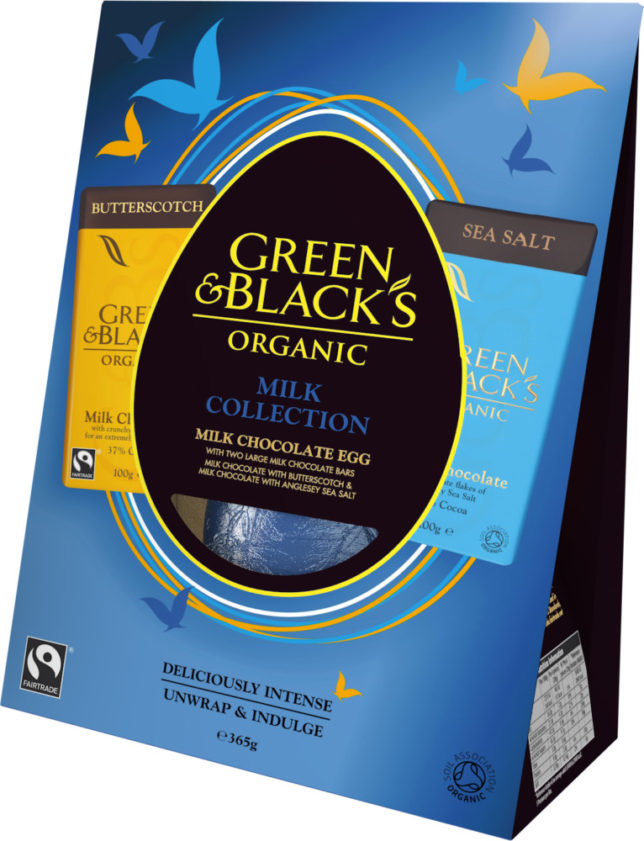 The Grown Up Chocolate Company
Three Little Easter Treasures from The Grown Up Chocolate Company are a small but perfectly formed gift to surprise a work colleague or share with your children's little friends at school. Inside the box are three delicious eggs –  Crispy Toffee Caramel Egg is filled with gooey salted caramel enveloped in crunchy crispy rice popper praline, Salted Peanut Caramel Egg has a salted caramel yolk surrounded in a crunchy peanut praline and milk chocolate shell and Passion Fruit Caramel Egg is enveloped with a white custard ganache in a milk chocolate shell. £4.85 from thegrownupchocolatecompany.co.uk