Look at someone who loves the world and the world of travel and invariable they will be wearing bracelets or bands around their wrists, often made of natural materials and always meaningful. The El Camino bracelet is a stylish bracelet designed to appeal to both men and women that allows you to collect a series of simple yet elegant metal beads called Steps… like steps on your journey of wanderlust… each one representing a country, place or experience that has come to mean something special to you.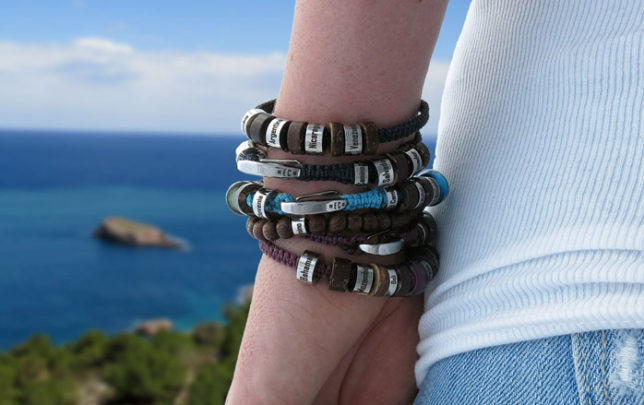 It's a simple idea that allows you to create an individual item of jewellery that represents your entire life experience travelling the world that you can look back on and cherish. El Camino have a easy to use website with lots of images giving you a clear idea of what you're buying and the bracelet looks even better in person than online.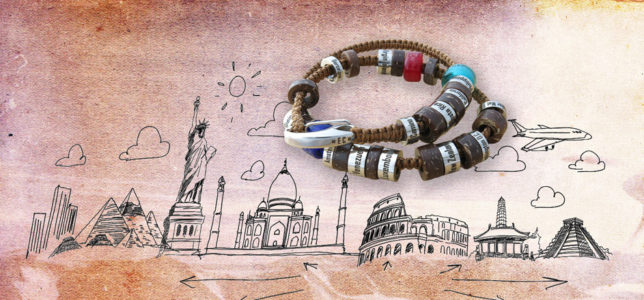 The bracelets are all handmade in England and come in a range of colours that allow you to choose a bracelet that will always look stylish on your wrist. The bracelet will last you a lifetime as it has been thoughtfully constructed from 4 woven cords, each with a breaking strain of over 34kgs. El Camino has a choice of seven universally appealing colours of bracelet – Black, Chestnut Brown, Forest Green, Purple, Steel Blue and Turquoise. I love the colour choice but chose classic black for my El Camino.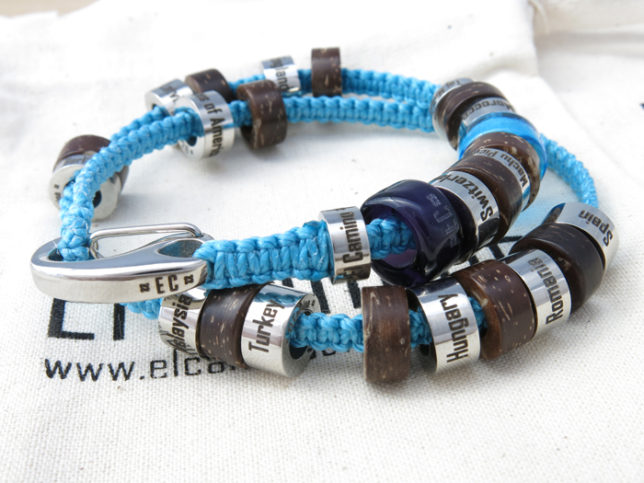 The band is hand made in England to a very high standard and comes in a single bracelet (£21.99) or double bracelet (£31.99 to £36.99) – the double cord is simply wrapped twice around the wrist and allows you to wear the most beads at one time but also looks stylish with just a few beads on it as they rattle around quite pleasantly. Unlike fiddly charm bracelets from a jewellers, the El Camino bracelet has a sturdy polished steel clasp that is ever so easy to use allowing you to take your bracelet on and off as you wish simply with one hand. This is really important for anyone who wants to keep the bracelet looking pristine and avoiding it getting wet. Saying that, the bracelets are made to withstand the elements making them perfect for adventurous travellers who don't mind a bit of ageing on the bracelet.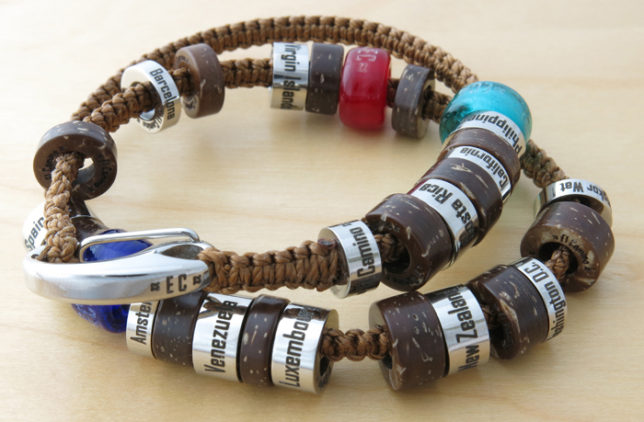 Each bead or Step as El Camino call it is made from the finest surgical grade stainless steel, laser engraved and hand polished. One spacer comes with each Step and is cut from real coconut and engraved with the El Camino logo. The spacers help differentiate each Step and create a pleasing alternating look of polished shiny steel and natural brown rings.  The El Camino bracelet is built to withstand everything you come across during your travels. El Camino will be a permanent reminder to you of those one-in-a-lifetime experiences and special moments you've had along the way.
Each Step is discretely laser engraved with a name. Country Steps (£8.99) have the name of one of 240 different countries so you're pretty sure to be able to find the country you're looking for from Afganisthan to Zimbabwe and everywhere in between. Countries are conveniently sorted into small groups in alphabetical order on the El Camino website, perfect for the globe trotting adventurer providing a quick and easy to go through what would otherwise be a very long list.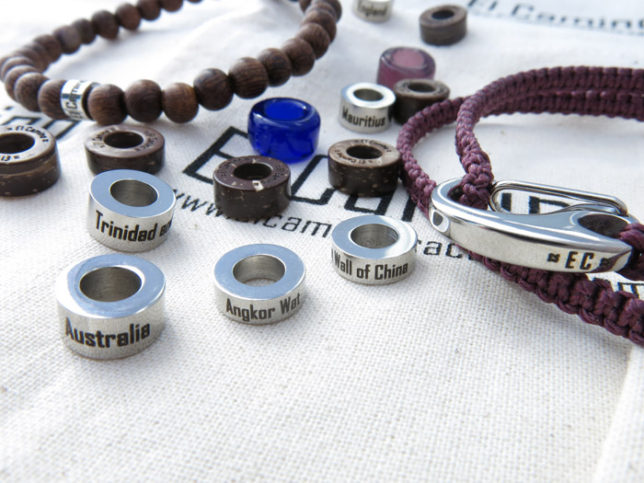 As well as Country Steps there are also Small Steps (£8.49) which represent popular destinations which aren't countries such as cities like Amsterdam, Paris, New York; islands like Bali, places like Anghor Wat and the Great Wall of China. Small Steps are slightly narrower than Country Steps.
However if you can't find what you're looking for or want to create a Step that's unique and special to you, El Camino allow you to order your own bespoke Country or Small Step (£20.49 & £19.99). It can say anything you like up to 29 characters for a Country Step and 32 characters or less on a Small Step – this allows you to be fully creative and individual and covers just about anything you want to say from names of places to events to special messages and even people's names!
Also available for the ultimate globe trotter are special Region Steps (£10.99) handmade from glass in England and available in different colours. These are not engraved but each colour represents a different region such as Africa, Caribbean, Europe and Scandinavia – 12 regions in all. Whether you just purchase one or strive to own all 12, a Region Step will be a beautiful reminder of your travel memories to a particular special part of the world for you.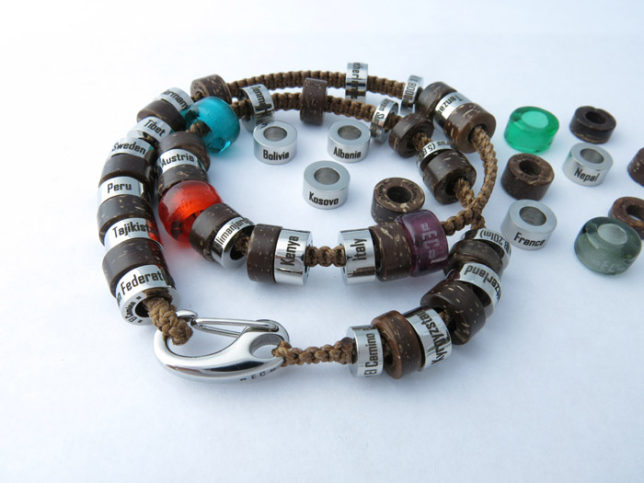 As someone who has travelled to many wonderful places in the world, I am really inspired by El Camino. They have created an item of jewellery that allows you to celebrate your love of travel and individual journeys and experiences in a totally customisable and meaningful way. If you're anything like me you will understand that travel is more than just a holiday. It is an opportunity to create memories and grow as a human being and this stays with you long after the holiday ends. In the same way El Camino allows you to build a permanent reminder of these opportunities and what I love about El Camino is that it grows with you allowing you to add more and more memories to it as you continue to travel the world and travel through life, making the places you've visited and the memories you've created more permanent for you, your friends and anyone else you run into in the El Camino family.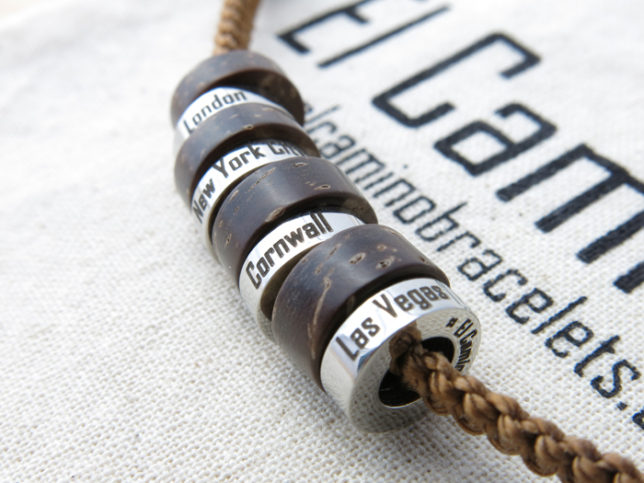 Your El Camino bracelet will be full of stories and memories which will never leave your side. It can create a unique talking point when meeting new people – great for breaking the ice and perfect to start of an interesting conversation when meeting people for the first time.
If you're looking for something meaningful as a gift to your globe trotting friend or something to inspire you to continue travelling the world broadening your horizons, we recommend looking at El Camino – the travel bracelet designed by people who love travel for people who love travel.
For more information and to see the full collection, please visit elcaminobracelets.com