Having previously enjoyed a delightful dim sum lunch at Royal China, we were looking forward to sampling the wider evening menu and booked a table for a romantic meal for two at our local branch in Fulham which happens to be the smallest and most intimate restaurant in the group.
Royal China Fulham is just one of the six popular and prestigious London restaurants that form part of the Royal China Group including the critically-acclaimed Royal China Club. Thanks to their central locations in prime areas of the Capital, you are guaranteed to be never too far away from traditional Hong Kong Chinese cuisine served in sophisticated interiors where rich golden accents contrast elegantly with striking red and black features. In Royal China Fulham their signature lacquered murals depicting an ornate Chinese illustration covers one wall of the restaurant creating a focal point that draws the attention away from the expansive menu for a moment of artistic contemplation. Textured gold walls run along the other wall balancing the decor.
As those who have already seen our Dim Sum review last time, Royal China is renowned for these delicacies which are served daily from Noon until 5pm with each restaurant employing a dedicated Dim Sum Chef who is a true master in the art of preparing and cooking these bitesize delights.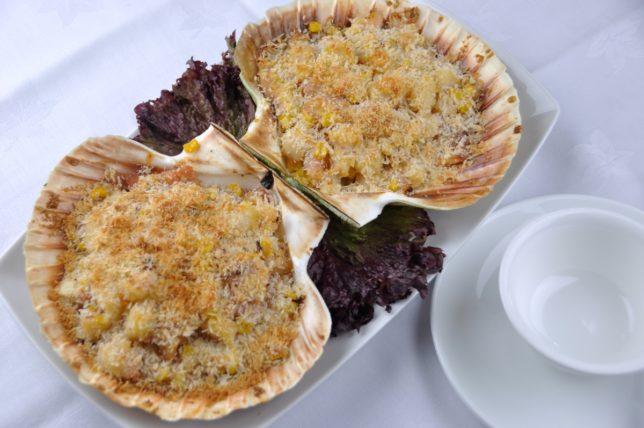 However on this occasion it was the à la carte menu we were interested in and the unique signature dishes created by the Fulham restaurant's Head Chef. These special dishes are changed frequently, while the seasonal dishes are changed four times a year. For those looking for an even greater dining experience, a set seven-course tasting menu is also available.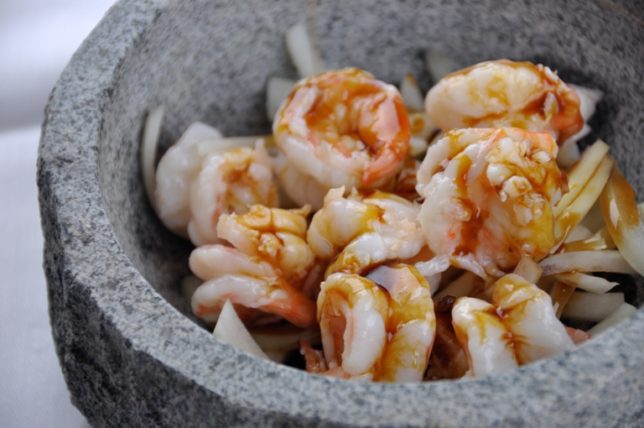 Before we ordered we relaxed over drinks served with skin on peanuts and little cubes of crunchy pickled vegetables… the perfect accompaniments to the refreshing beverages…
In my humble opinion, eating out at a Chinese restaurant is not a complete dining experience without at least a quarter Crispy Duck… served with sweet sticky Hoisin Plum Sauce and Shredded Cucumber & Spring Onion… don't stand on ceremony, dig in! Just save me a pancake!
Another SLOAN! favourite is Deep Fried Soft Shell Crab – a little bit like Marmite… no, not the taste! It's one of those dishes you either love or love to hate. We love it and at Royal China they serve it perfectly with enough pieces to share between two.
Come in for a closer look at the deliciously crispy crumb coating…
What's this? Stuffed cabbage? No… it's Royal China's signature Lotus Leaf Rice…
Peeling back the steamed lotus leaf wrapping reveals an interior of yummy glutinous rice… beautifully fragrant aromas wafted up to whet our appetites…
Digging in, you can really appreciate the specially prepared rice cooked with delectable pieces of tender duck and prawn filling…
You can't come to Royal China Fulham without trying the seafood… fresh and tasty… such as the yummy prawns and squid in this dish served with bamboo shoots and quirky carrot pieces cut into intricate Chinese motifs…
Another king prawn dish was definitely in order… we love the succulent prawns at Royal China Fulham… the chefs didn't let us down with this next dish… again check out the beautiful presentation with a delicate spun construction beside the juicy prawns… a pleasure for the eyes as well as the palate!
After such a sumptuous feast, we didn't really have room for dessert so decided to share one small starter plate of perfectly cooked squid seasoned with chilli and garnished with finely chopped spring onions…a light dish but still oh so moreish! And the perfect way for these seafood lovers to end another delicious dining experience at Royal China Fulham!
With Royal China Fulham on our doorstep you don't have to travel far to experience genuine Hong Kong Chinese cuisine in comfortable surroundings with the distinctive black and gold lacquered wall depicting the characteristi mural… unique to each restaurant in the Group.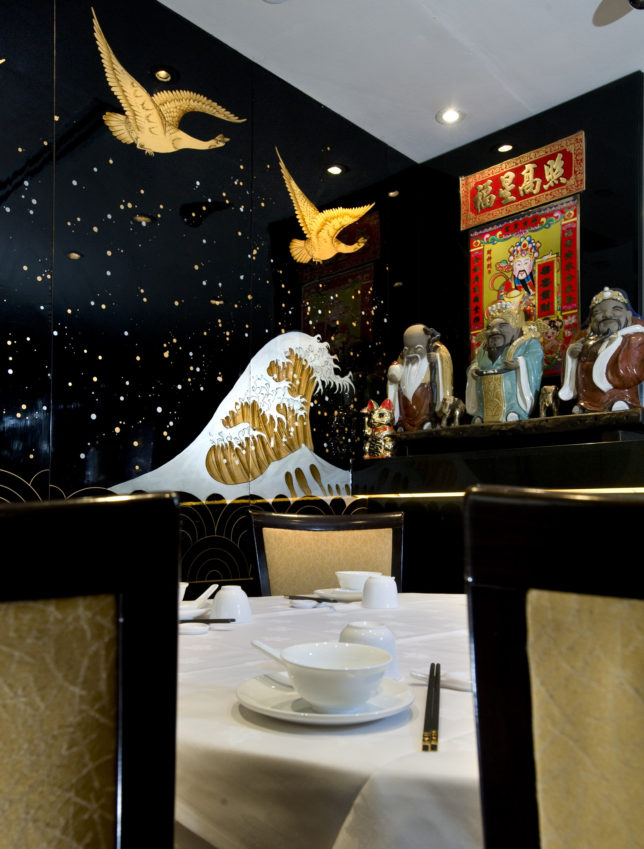 Royal China raised the bar for quality Chinese cuisine in London when the first opened and Royal China Fulham continues this tradition of sophisticated flavoursome dishes that are authentic and beautifully presented… some even say better than Chinatown! I'm not sure the owner of our favourite Chinatown restaurant would want to know our opinion… and we're not going to tell him if you don't!
Royal China Fulham
805 Fulham Road, London SW6 5HE
020 7731 0081
www.rcguk.co.uk
@RoyalChinaGroup