My Face Matters facial took place in the calming surroundings of Unlisted London on Cheyne Walk. I had been told that Face Matters is a small collection of just five products which all contain organic silicon which apparently stimulates the production of collagen and elastin. After iron and zinc, silicon is the third most abundant trace element in the human body and is extremely prevalent in connective tissues, especially the skin. Extensive international research confirms that organic silicon increases epidermal thickness and skin elasticity.
We often hear about creams and serums which claim to use collagen to help restore youthful skin, however as any beauty expert knows, collagen cream caanot be applied with the expectation that it will penetrate deep enough into the skin to work because the molecule itself is too big. Face Matters has cleverly eliminated this problem by adapting the organic silicon in each Face Matters product. In scientific terms, the hydroxide group of molecules is replaced by a methyl group. This provides the silicon molecule with properties that allow it to be deeply absorbed into skin cells which naturally stimulates the production of collagen and elastin resulting in younger looking skin after just 4 weeks.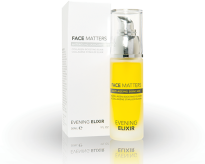 I was very lucky to have Sally Curson do the facial. Sally is the founder of Face Matters Skincare and has spent two decades in the beauty industry working as a senior therapist with many different top brands. Sally has always been interested in skincare products and the ingredients they contain and this was the starting point to developing her own skincare range by creating pure blend of high levels of organic silicon and super active botanical oils specially chosen for their anti-ageing properties. Sally used the Face Matters range during the facial. The products felt great on my skin and absorbed quickly without leaving any sticky residue. My skin looked visible brighter and felt softer immediately. The range consists of 5 products: Daily Moisturiser, All Day Spritz, 24/7 Balm, Anytime Foaming Cleanser, and the hero product – Evening Elixir.
Sometimes with products during the R&D stage they don't make it through due to stability of a product, what it looks like on the shelf and ease of use. Sally did not want to compromise, a sign of all extraordinary people, and knowing her product worked she privately funded its production explaining rather than altering the structure of an elixir that all one had to do was simply shake the bottle before use. The elixir is therefore exactly as she wished it to be and the amazing effects it has makes it one to snap up quickly. In addition Sally's attention to detail means the scents are true to life, the natural rose scent smells like being in an English country garden and there is no whiff of synthetic rose anywhere. It is such love and care that has gone in to her products that absolutely shines through in the quality of what she provides.
Sally Curson is a truly inspirational woman as is evident from our conversation about her life and the challenges she has faced. She has not only overcome adversity but has come through her troubles with an unshakeable belief in her own self worth and a determined mission to create an anti-ageing skincare that harnesses nature to hold back time. Sally has transformed the bad times in her past into a source of good by donating a percentage of all profits from all sales of the entire Face Matters range to the women's charity Refuge. Sally is committed to provide this donation on an ongoing basis which really makes Face Matters stand out amongst other skincare brands. They also support Refuge in all Face Matters promotional events to help raise awareness and funds for the charity. Her products are truly beautiful, with the added but subtle charity angle using her products allows one to be beautiful inside and out.
In 2014, Face Matters plan to roll out to department stores and beauty stores/websites and I wish Sally all the success she truly deserves.
See the review score for more on the Face Matters experience.