This month at SLOAN! we received so many great beauty products in the office that we found it really hard to choose one outstanding product from the wonderful selection we've been reviewing, so we've specially chosen five of our favourite products that we recommend to our readers as fabulous beauty buys of the moment.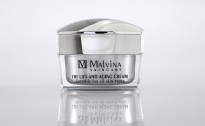 1. Malvina Fraser Tri-Lift Anti-Ageing Cream
This anti-ageing cream from Malvina Fraser tops the list as an amazing product that produces noticeable results when used twice a day. The active ingredients which include plant stem cell technology, Idealift and Matrixyl 3000 all help fight the elementary signs of ageing to lift, firm and plump the skin. We loved this product that we have booked in a Malvina Fraser facial at one of London's top spas to be reviewed shortly so keep a look out for it.
2. Dr Lipp's Original Nipple Balm for Lips
This 100% natural lip balm is a cult beauty staple made from medical grade lanolin which sheep naturally produce to keep their fleece soft and protected from the elements. Used by celebrity make-up artists as well as top celebrities themselves, we love Dr Lipp's Original Nipple Balm for Lips because it's completely natural and uses shorn wool which doesn't harm the lovely Australian sheep. It keeps lips kissably soft and can be used for a myriad of other uses, our favourite is keep eyebrows neat and tidy.
We were sent a range of cosmetics from Beauty UK. They were all fantastic but we just had to talk about their sensational CC Cream which not only hydrates and illuminates the skin but is also an impressive SPF 30 which is much better than the usual SPF 15 creams on the market. It gives excellent coverage which last much longer than some of the more expensive CC creams wehave tried in the past.
Dielle is a premium quality & non-toxic nail lacquer providing exquisite & professional colour collections for the sophisticated woman so we think it's a perfect nail colour to recommend to our discerning SLOAN! readers. There are a wide range of gorgeous colours to choose from and we tested the durability of the nail lacquer in our busy office an are pleased to say it lasted for three days of serious typing, texting and tweeting!
5. Aromatherapy Apothecary Healing Mineral Bath Soak
Gemma Clare, one of London's leading holistic therapists, sent SLOAN! a tailormade hand-blended sample of her Healing Mineral Bath Soakcontaining aromatherapy essential oils based on our favourite fragrance YSL's Yvresse. The essential oils, Himalayan crystal salts and other gorgeous ingredients work to cleanse, soften and detoxify the skin. This bath soak smells divine and was so relaxing that we had a fight on our hands between the girls in the office about who got to use it next!