Paying tribute to a timeless book published in London in 1855, the eponymous Flora Indica on Old Brompton Road celebrates the subcontinent voyage by Scottish Botanists of exotic plant discovery.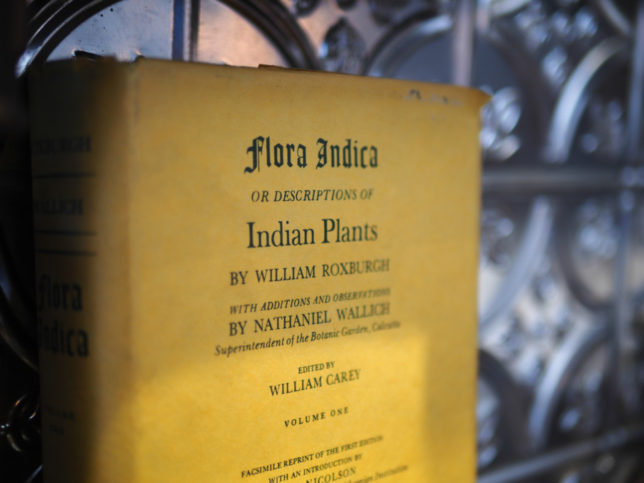 A social, modern-Indian dining and meeting experience awaits you at Flora Indica. From the moment you walk through the door, eclectic interiors transport you through a historical journey.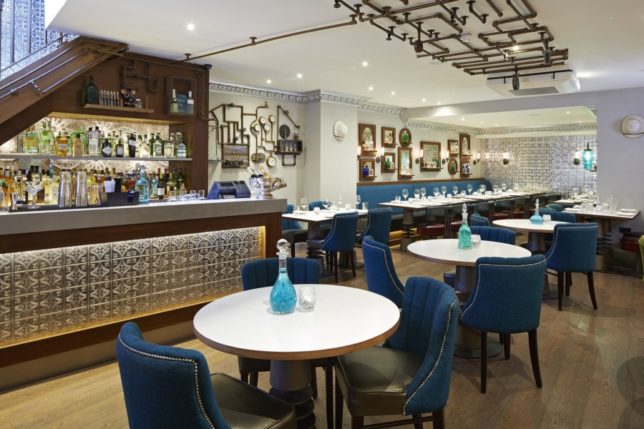 Striking silver tiling is punctuated by neo-Victorian exposed steampunk-style antique distillery piping and traditional Scottish Harris Tweed banquettes reflect its heritage. Quirky detailing in the form of a 'time-travelling' royal blue phone-box, vintage trinkets and explorer's walking sticks are intriguing back-drops.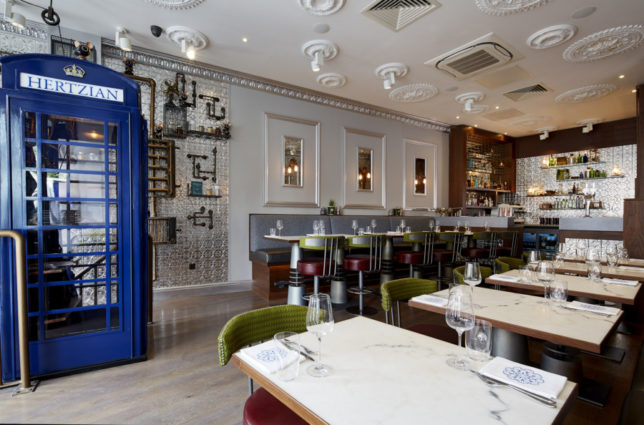 Flora Indica's extensive botanical gin selection features in their exquisite signature cocktail range beautifully spiced to complement the dishes. Gandhi's Gimlet made from Tanqueray Rangpur, Kaffir Lime Leaves and Lime, Citrus Juice and Cucumber Bitters is a great option, whilst the Flora Eden with Havana Rum with Flambé Fresh Sage and Rosemary in Green Chartreuse, are also distinctive mixes.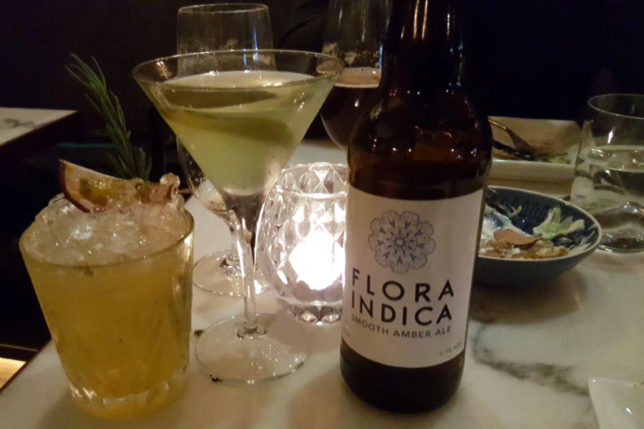 Alongside a selection of wines and champagne available, Flora Indica has brewed its very own Amber Ale bottled beer in association with Portobello Brewing Company. A floral bitter craft, it has aromas of nuts and winter berries combined with dark roasted barley that creates a deliciously complex coffee finish.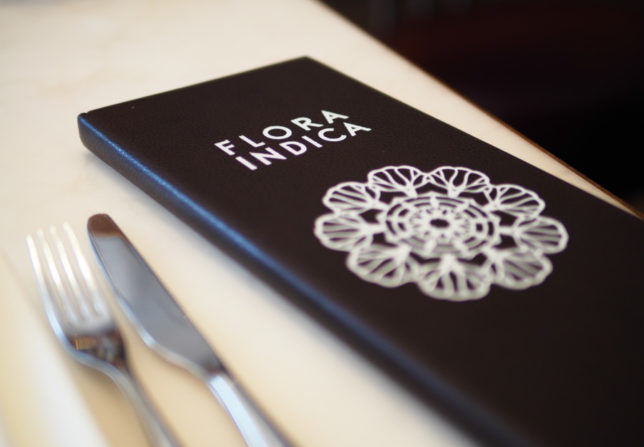 With a delectable menu of small plates, adapted traditional curries, creative cocktails and a botanical gin selection, Flora Indica showcases the distinguished flavour combinations originating from the botanical foundation. To being your culinary journey, a Buddha's Hand Lemon Pickle holding mini Cassava Chilli Pappad is bound to be a crowd-pleaser, whilst the moreish Kurmure Okra Fries are a must-order whilst you peruse the menu.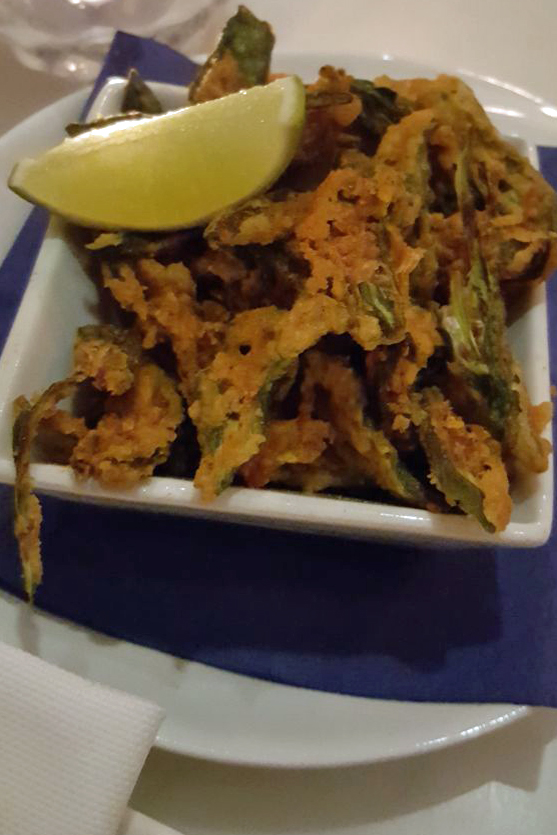 Small plates are exciting and include Venison Gilafi Sheek served with a coriander chilli sauce and spiced fig and Till Wali Yellowfin Tuna with Baby Leek, Chilli Caviar and Compressed Kalonji Cucumber.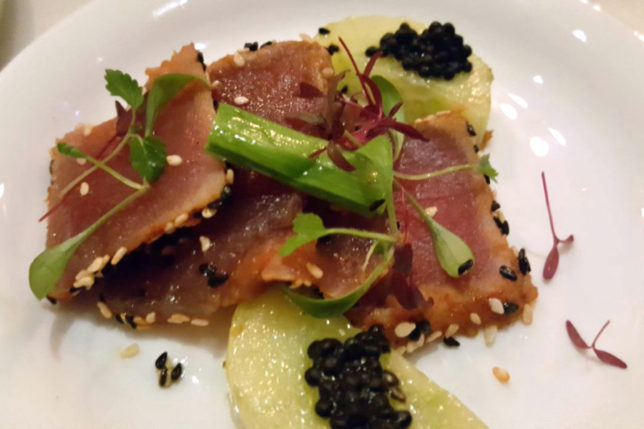 We also enjoyed the Amritsari soft shell crab with tadka mayonnaise and tamarind King Edward potato.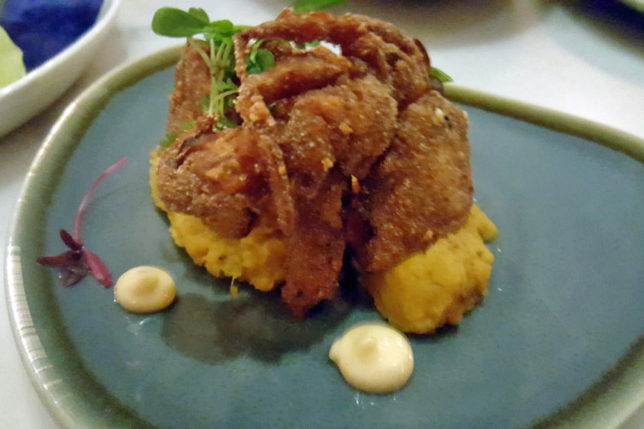 Other small plates include Suffolk Lamb Chop with Tandoori Garam Masala and a minty yoghurt sauce.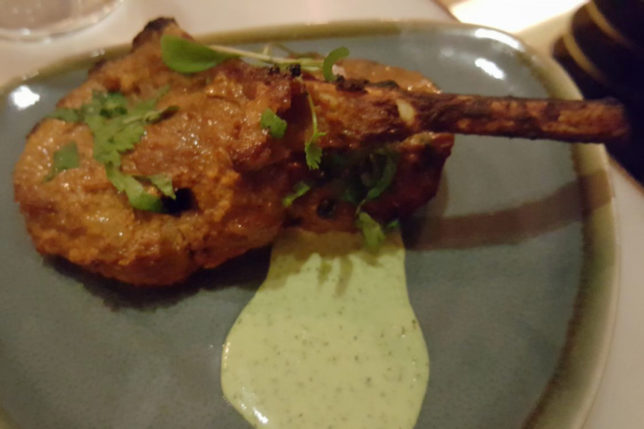 We also enjoyed the satisfyingly sweet Jerusalem Artichoke Papdi Chaat.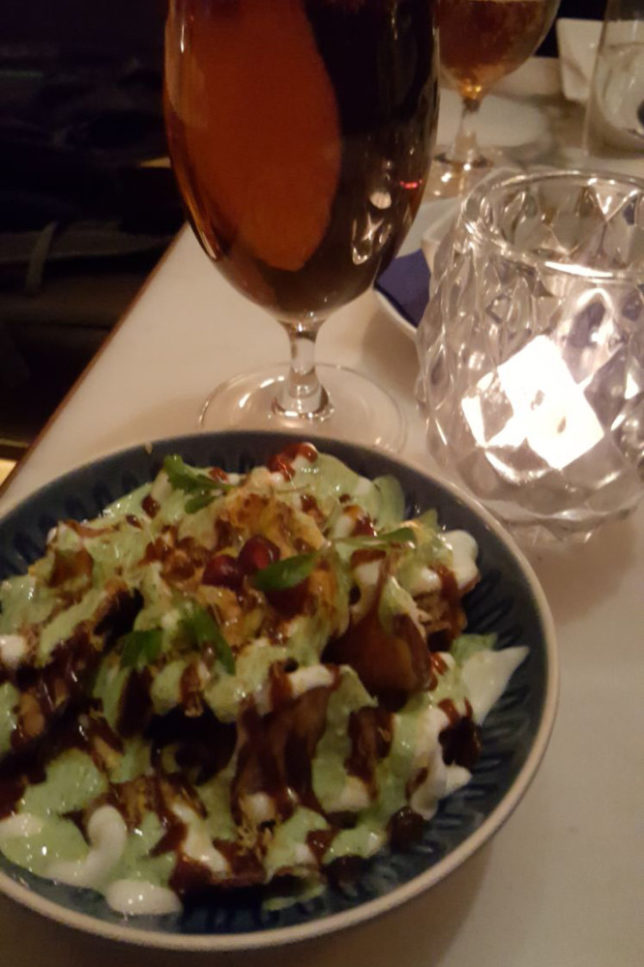 Served alongside Pulled Kerala Spiced Gressingham Duck Leg with a Bengal gram flour cheela and coconut. We enjoyed the Slow Cooked Duck Leg on Bone with Sally Potato and Coconut Sauce.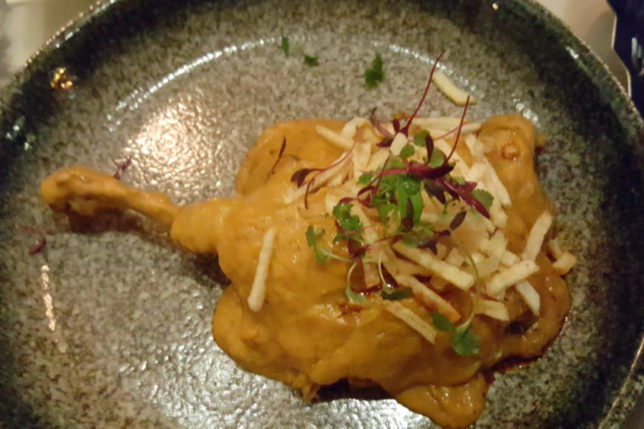 Curries include a Corn-Fed Bergamot Lemon Chicken Tikka with Makhani Sauce; a Rogan Josh slowbraised Suffolk lamb shoulder and a Paneer Kofta with baby spinach.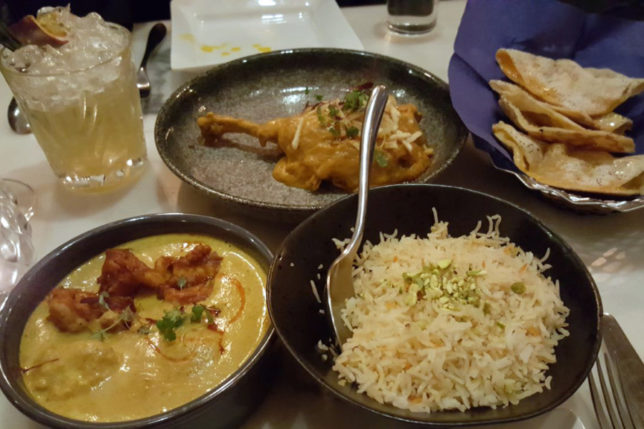 We enjoyed the fragrant aromas and creamy texture of the Monkfish & King Prawn Bengali Malai Curry with Coconut.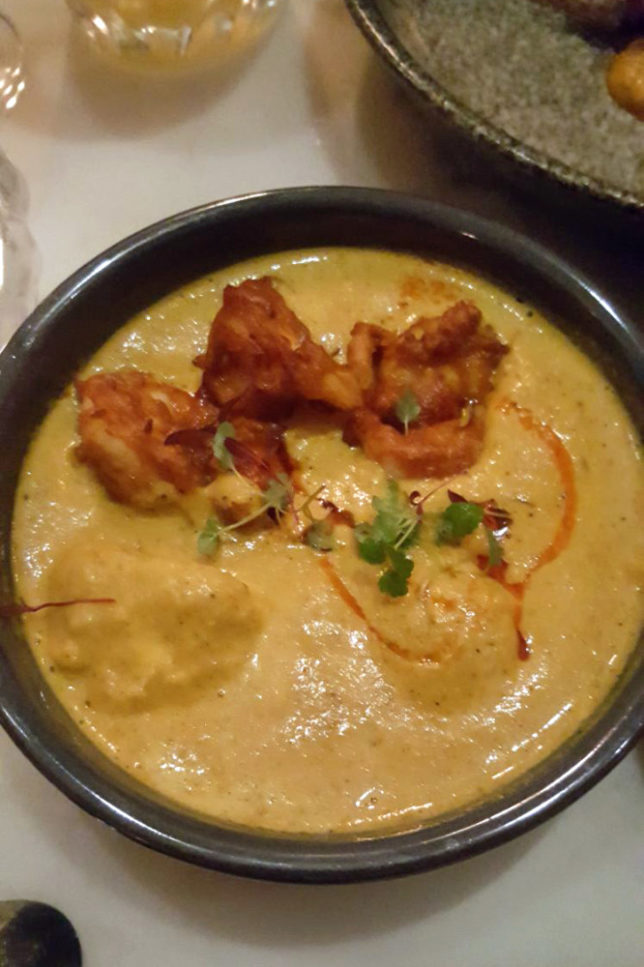 Kaffir Lime Leaf Flavoured Basmati Rice and Poppy Seed and Red Leicester Crusted Naan make perfect accompaniments.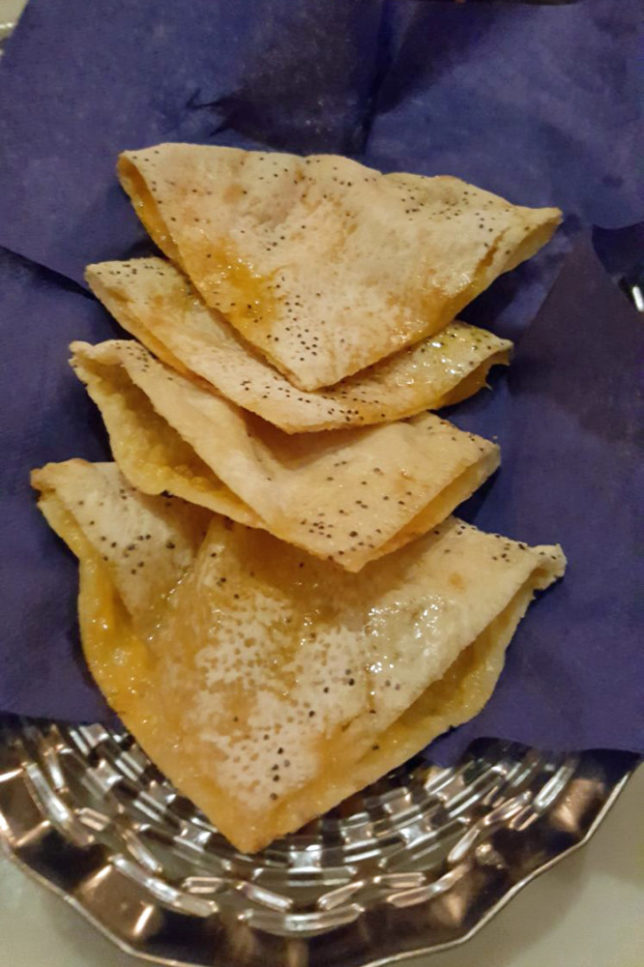 To finish, we savoured the Kulfi Semi Freddo served with Falooda Noodles and Clove Spiced Chocolate Sauce.
We also enjoyed Shahi Brioche Tukda with Tandoori Pineapple, Pistachio Crumb and Saffron Milk Cream.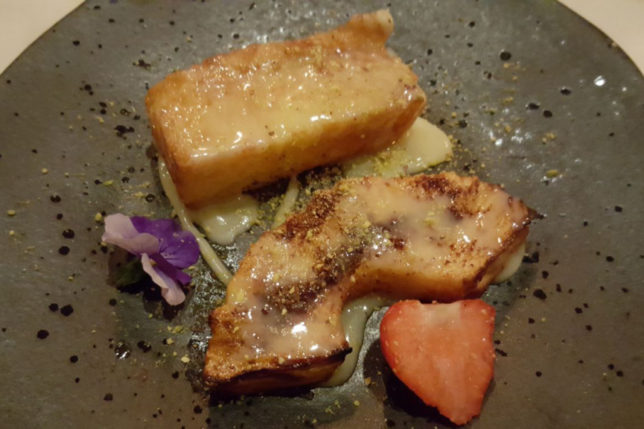 Other popular choices for dessert include Warm Candy Beetroot Halwa Amarkhand with seasonal berries and a Compressed Seasonal Fruit Chaat with sweet tamarind chutney and honey yoghurt.
With the excellent food and exceptional service to be found at Flora Indica, this quirky Modern Indian restaurant in South Kensington is well worth a visit and we will definitely be joining the ranks of loyal returning fans of Flora Indica!
Flora Indica
242 Old Brompton Road, London SW5 0DE
www.flora-indica.com
@Flora_Indica