SLOAN! asked leading food writer Stephanie Brookes for her expert tips and suggestions for festive drinks and their healthy snack accompaniments for social gatherings during the Party Season that won't leave you pooped or in need of emergency detox after the weeks of merriment. 
Christmas is a time of culinary celebration, and preparing and enjoying delicious food and drink is such an integral part of creating happy, and above all, tasty memories of the season.
It's also the time of culinary indulgence, and after the four-week long celebrations we are often eager to detox from our previous month of merriment. I think, however, that with a few little adjustments to our Christmas routine, we can make our food and drink celebrations more in-line with our usual eating habits, so all the good work throughout the year is still intact come January 1st. On that note, here are my tips for a healthy, merry, Christmas!
Naughty Shots and Nice Smoothies
A little bit of what you fancy, mixed with what we know to be healthy, is a great way of having fun while still remaining a little smug in the process. If friends are coming over for a Christmas party, having your own smoothie bar set up, accompanied by vodka shots, combine the best of both worlds. I suggest making two pitchers of different smoothies with your favourite flavour combinations. I also think the addition of a spice such as cinnamon, nutmeg or star anise can give the smoothie that little festive twist. The vodka shots can be handed to guests to accompany their smoothie, as a fun way to kick off the festivities. This is also a great way of including friends who may have given up alcohol for the festive season or who don't drink at all.
The Perfect Snack Accompaniment – Roasted Vegetable Frittata bites are a protein-packed delicious snack which are great to serve with drinks. The thing about frittata is that it is best served at room temperature, so you can make it in advance to save time and effort when entertaining guests. My favourite frittata fillings include sweet potato, aubergine, broccoli and heritage carrots. The roasted vegetables work really well with the addition of either Goat's cheese or Feta. If you want to keep it super healthy, however, you don't have to add the cheese, but it is a tasty method of bringing in some additional flavour.
Fresh Fruit Puree Instead of Syrup
Using fresh fruit rather than store bought syrups is a way to keep the calories down and also ensures your cocktails have a fresh taste from seasonal fruit. The syrups used in cocktail making contain a lot of sugar so instead of fruit-flavoured syrups a healthy alternative is to make your own fresh fruit purees. For the classic Bellini, simply blend fresh peaches to a smooth consistency, you can always add a little fresh lemon juice to loosen the mixture, if needed. Spoon a generous amount into a glass flute, and top with your favourite Prosecco. It's a little extra work preparing the fruit but the taste more than makes up for it. You can also try different fruit combinations – peach mixed with raspberry, for instance, works very well.
The Perfect Snack Accompaniment – Chicken and Avocado Lettuce Cups are a healthy yet moreish snack to enjoy with this cocktail. They are so easy to put together and yet look so appetizing served on a platter, either for a tasty treat for yourself or when laid out for guests. Small butter lettuce leaves act as a lovely cup to hold all manner of tasty fillings. Chicken and avocado make for a protein-rich filling, and with the addition of cherry tomatoes, adds a little natural sweetness. You can make a light dressing to coat the filling and it also helps to bind the ingredients together. I use a light mayonnaise, a good squeeze of fresh lemon juice and salt and pepper to season.
Griddled Slice & Ice
You don't need to go out of your way to make your festive drinks looks extra special – sometimes less is more. A classic gin and tonic can be given a twist by adding a beautiful slice of fresh fruit which has been griddled. I use pink grapefruit, cut into thick slices, then carefully placed onto a hot pan until each side has a slightly charred appearance. You then leave to cool, and your drinks preparation is done! By the time friends arrive, I add a grapefruit slice to their vodka tonics or gin and tonic – it definitely looks more impressive than the usual sliced lemon, and shows you've made the extra effort.
The Perfect Snack Accompaniment – Smoked Salmon and Cucumber Bites make for a healthier take on the classic Smoked Salmon Blini. The clean, crisp taste of the gin and tonic cuts through the richness of the oily fish, and the two tastes complement each other well. Simply slice a cucumber at a centimetre thickness, layer a generous curl of smoked salmon on top, add a teaspoon of light crème fraiche and finally a sprinkling of either chopped dill or chives. If you want a change from the traditional smoked salmon, smoked trout also works very well, too.
About Stephanie Brookes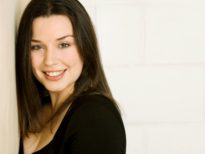 London based leading food writer and presenter, Stephanie Brookes, is considered the go-to contact for all things food and drinks. Stephanie's fresh approach sees her celebrating food, whether it is discovering the hottest street food, dining at Michelin-starred restaurants, or seeking out up and coming trends or the newest food markets around. For more on Stephanie, visit her official website www.stephaniebrookes.com or you can follow her on Twitter at @stephbrookes