Whether you call him Pater, Papa, Dad, Daddy or something else, this Father's Day treat him to a foodie gift that shows you care. We've selected some of our favourite food & drink gift ideas for the old man on Sunday 18th June.
Kalamata Premium Organic Extra Virgin Olive Oil Gift Set
Kalamata Premium Organic Extra Virgin Olive Oil makes the perfect gift this Father's Day for food connoisseurs. The oil is available as an individual 500ml bottle (£25) or in a wooden presentation box (£40). The stunning wine-style bottle design lends itself to being on display and is one of the world's finest extra virgin olive oils that was been enjoyed since biblical times. Available from www.kalamatapremiumoliveoil.com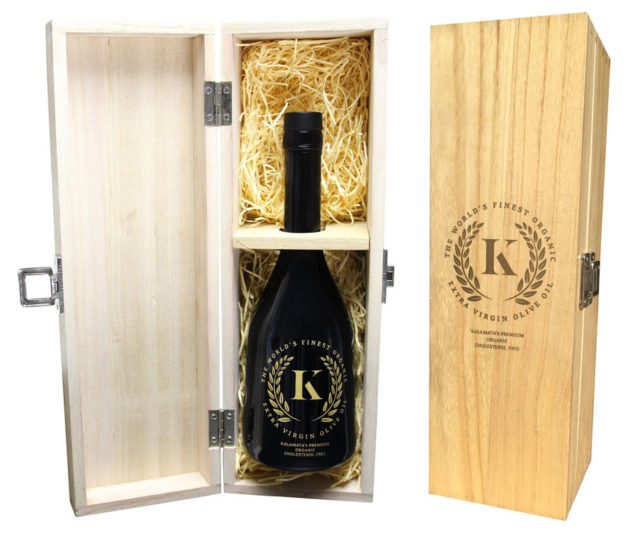 Quadrapan Professional
The QuadraPan is divided into four specially designed cooking zones allowing you to use just one pan to cook up to four different foods, saving time and effort both cooking and washing up. The Griddle Zone for meats is perfect for searing steaks with restaurant style griddle marks while the special Fish Zone has raised pods for succulent fish with no sticking. The Egg Zone has recessed circles for the most satisfying fried eggs ever and the Flat Zone can be used for beautifully fried or roasted vegetables. It also has a tempered glass vented lid to allow for steaming and poaching. The ideal gift for dads who are master chefs in the kitchen. Available from www.highstreettv.com for £49.99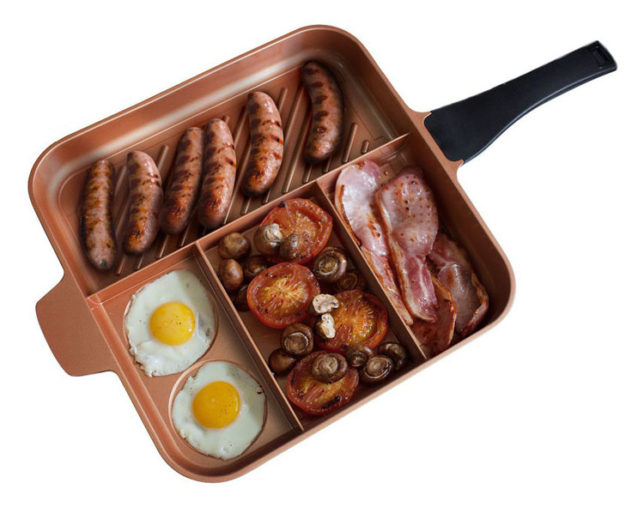 ZECA Cachaça
This fine artisan cachaça with hints of dark wood, spice and exotic botanicals hails from the lush green mountains of Brazil's hidden Zona Da Mata. Available in Harvey Nichols and Selfridges this June marking the celebratory International Cachaca Month and just in time for Father's Day priced at £36. For more information go to www.zecadematos.com

Pierre Marcolini – The Cœurs
Pierre Marcolini iconic heart-shaped raspberry chocolate ganache with five flavours and emotions: lemon Frisson, passion fruit Passion, pistachio praline Plaisir, nougat praline Tendresse and salted caramel Douceur. The Coeurs – collection of 18 or 36 (£19 / £35) available from the Marylebone boutique, Harrods and Selfridges counters and online at www.uk.marcolini.com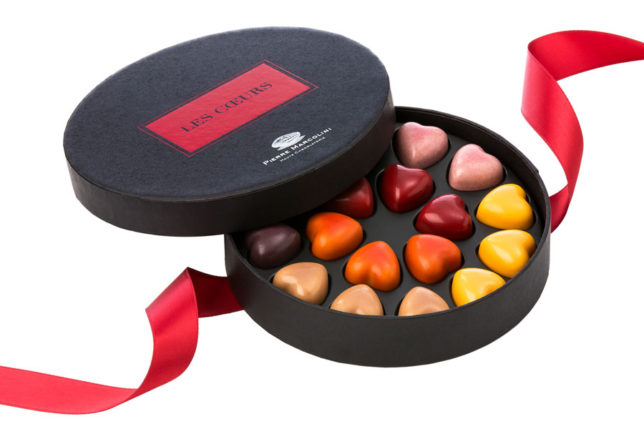 La Maison Maille – Limited Edition White Truffle Mustard
La Maison Maille has launched a unique, limited edition White Truffle mustard, bringing the exquisite taste of white truffle to lighter dishes this summer making it perfect for foodie fathers looking for a new ingredient to brighten up their culinary creations.  The freshly pumped mustard combines white truffle from Alba and a light Chardonnay from Burgundy together with Maille's signature creamy Dijon mustard.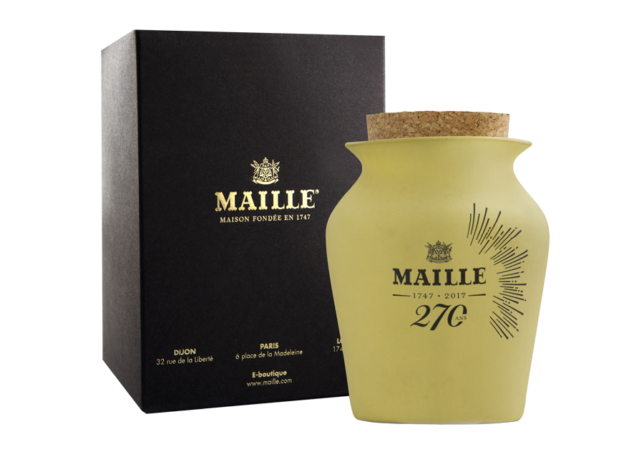 It has a zingy, fresh flavour ideal for Dad's dressings, marinades for BBQs or simply enjoy with freshly baked, artisan bread. Available until September exclusively at the Maille Boutique in London's Piccadilly or online at maille.com from £33 (available in 125g, 150g, 500g) with re-fill from £18.
Choc on Choc – Chocolate Cheeseboard
This cheeseboard is made entirely from the finest milk, dark and white Belgian chocolate but looks so realistic we can almost smell the blue cheese from here. Lovingly made by hand, each set contains an engraved cheese board, a crumbly chunk of chocolate Stilton, a meltingly tasty slice of Brie, a beautifully detailed mini Camembert, a sleek hunk of Emmental, and even a little bunch of grapes – all made from chocolate. The ideal gift for fathers who love their cheese but also love their chocolate. Available from www.choconchoc.co.uk for £30.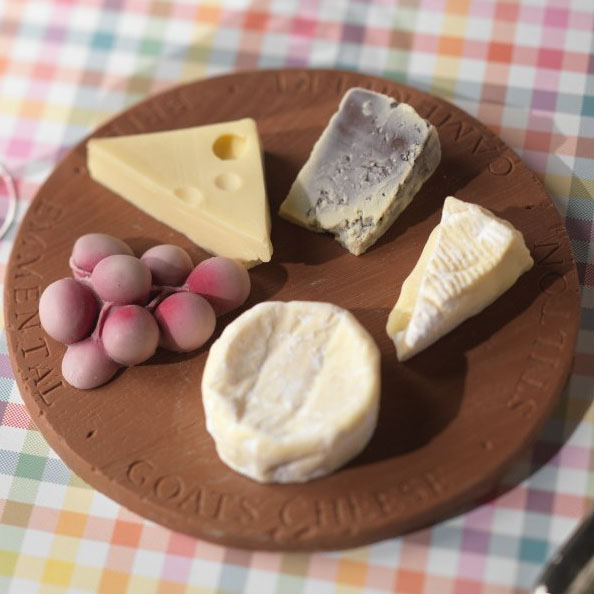 R Chocolate London – Truffle Assortment Box
R Chocolate London is a brand new luxury chocolatier and patisserie in the heart of Belgravia founded by Sir Evelyn de Rothschild and Ben Elliot (Co-Founder of Quintessentially). Their hand made luxury chocolate truffles come in a variety of flavours including House Dark, House Milk, Pistachio, Raspberry and Whisky and are available in assortment boxes of 4 (£7), 8 (£12.50), 16 (£25.00), 24 (£37.50) and 36 (£50) from R Chocolate's iconic Belgravia store and online at www.rchocolatelondon.co.uk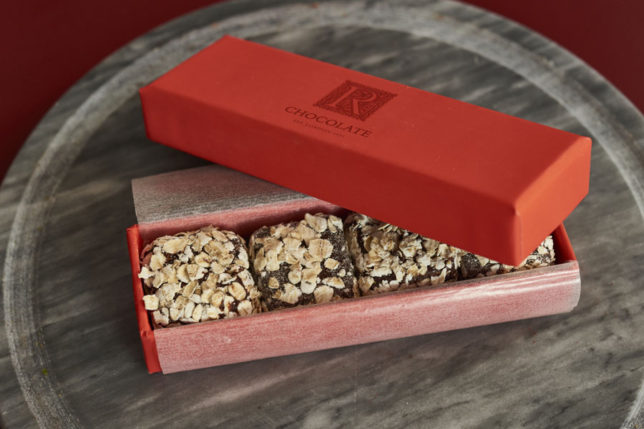 Haig Club – Clubman Single Grain Scotch Whisky
Haig Club Clubman is the latest variant from House of Haig. Matured exclusively in American ex-bourbon casks, Haig Club Clubman is a wonderfully smooth, sweet and enjoyable whisky. Delicious straight-up, or on the rocks, although the perfect way to enjoy this Scotch Whisky is with cola. The perfect gift of style and great taste for Father's Day. Available nationwide including Sainsbury's, Tesco, Waitrose and Asda for £25/70cl.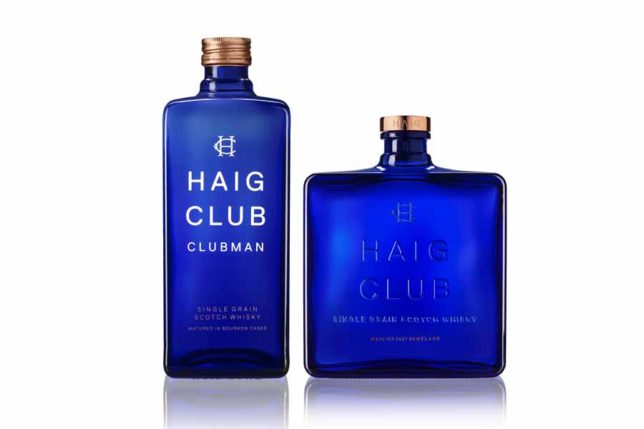 Hotel Chocolat – Father's Day Sleekster
Put a smile on your father's face on Sunday 18 June with a special gift from Hotel Chocolat – one of our favourite British chocolatiers on the High Street who grow all their own cocoa. The Father's Day Sleekster contains 27 of their finest recipes in milk, dark, white and caramel chocolate, from Champagne Truffle to Eton Mess and Peanut Praline to Carrot Cake. £22.50 available from www.hotelchocolat.com and Hotel Chocolate stores nationwide.

Beer Hawk – Top Dad Selection Box
Beer Hawk, the UK's leading online craft and speciality beer retailer, have launched their new Top Dad craft beer selection box curated by their in-house beer experts to make it the perfect gift for beer loving dads this Father's Day. The box contains 5 craft beers: Goose Island 312 Urban Wheat Ale, BrewDog Punk IPA, Magic Rock Dark Arts, Stone Berlin Cali-belgique and Bad Co. Comfortably Numb; a packet of Snaffling Pig Salt & Vinegar Pork Crackling and a Beer Hawk Aviero glass. £20 available exclusively from www.beerhawk.co.uk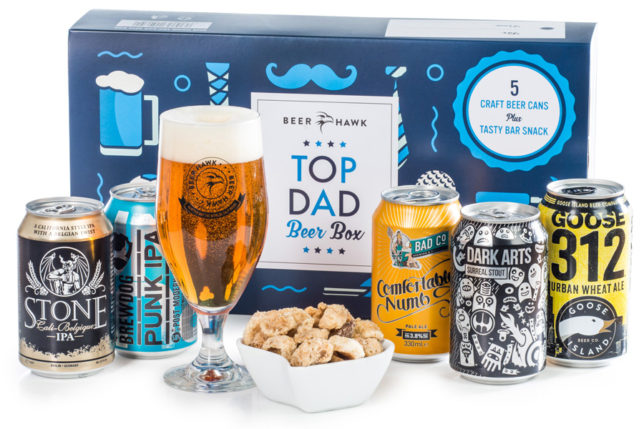 Paxton & Whitfield – Cheddar Lover's Gift Box
Artisan cheesemonger Paxton & Whitfield has created the Cheddar Lover's Gift Box – a great gift for fathers who love Cheddar. The set contains a Hundred Dram Cheddar PDO* (200g); West Country Farmhouse Cheddar & Mustard Cheese Squares (85g); and No 93 Ale Chutney (198g). £15.00 available from www.paxtonandwhitfield.co.uk and their four shops in Jermyn Street, Cale Street, Bath and Stratford upon Avon.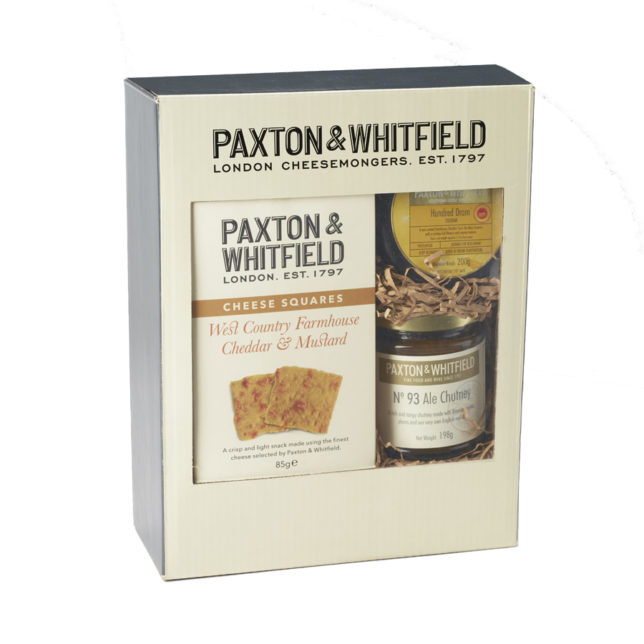 The Snaffling Pig Co. – Maple Gifting Jar
The Snaffling Pig Co., makers of the award-winning crackling, pride themselves on using only the finest ingredients, cooking their unique crackling at high temperatures to produce a softer product that keeps its bite. The crackling comes in a range of bold flavours including our personal favourite, the delicious Maple flavour. A 300g Gifting Jar is £15.99 available from www.snaffling pig.co.uk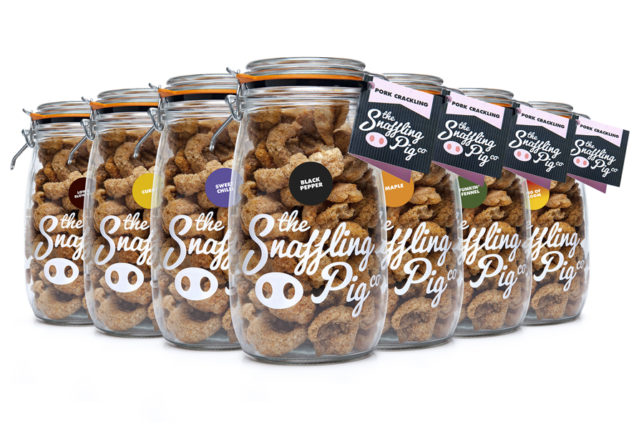 Rosebud Preserves – A Little Tipple Gift Set
This stylish gift box from award-winning Rosebud Preserves makes a special present for Dads who love their food. Made in England, this beautiful mottled grey box, embossed in matte black foil, perfectly complements the branded preserves. A Little Tipple contains three preserves that use alcohol to create unique flavours. Contains – Beer Fruit Chutney; Red Onion & Port Marmalade; and Blackberry & Sloe Gin Jam. Available from www.rosebudpreserves.co.uk for £13.60 for three jars in a gift box.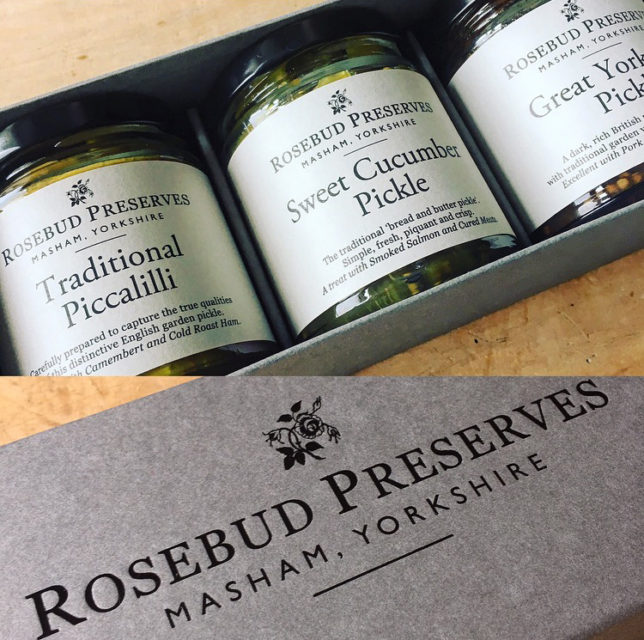 Fudge Kitchen – Mixology Confection
Fudge Kitchen's new Mixology Confection is a beautifully boxed selection of nine booze-infused, hand made premium fudge sqaures, partnering with micro-distilleries, wineries and artisanal producers of spirits including Anna gin, Rubis wines, Nip from the Hip vodkas and Biddeneden Vineyard Special Reserve cider. Our favourites are the Chocolate Wine & Cherry and Rum & Raisin. The box is £10 available from www.fudgekitchen.co.uk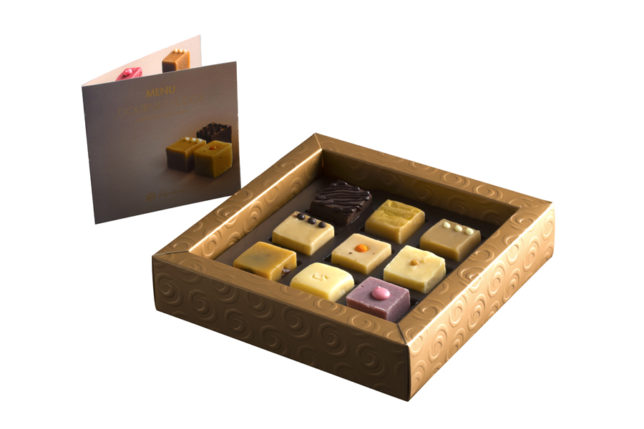 Chococo – Father's Day Gin Chocolates Selection Box
Award-winning artisan chocolatier Chococo has come up with a new box of three different flavoured gin chocolates which makes the perfect gift for the dad who likes his chocolate and his gin. The chocolates come in three flavours: Salcombe Gin & Pink Grapefruit, Conker Dorset Dry Gin & Gorseflower, and Totally Twisted Nose Gin & Watercress – each decorated with the colour representing the pairing. £9.95 for nine chocolates, available from www.chococo.co.uk and Chococo's three Chocolate Houses in Swanage, Winchester and Exeter.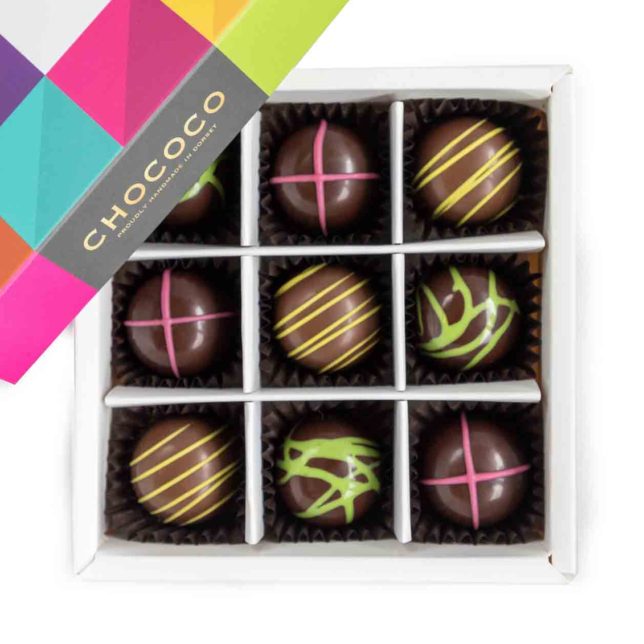 Imperial War Museums Shop – Aromatic Chocolate Truffle Cigar
For the cultural dad and secret history buff, enjoy one of Winston Churchill's favourite pastimes in a sweet chocolate treat from Imperial War Museums Shop. Churchill was known as a cigar aficionado, so this chocolate cigar is an ideal gift for a Churchill enthusiast or for someone who wishes to enjoy a novelty sweet. The Aromatic Chocolate Truffle Cigar is £8 available from www.iwmshop.org.uk

SASSY Cidre
Originating from Normandy, SASSY Cidre provides a range of three cidres including original, pear and rosé, bringing hand-crafted refinement and an injection of elegance and youth to cider drinking dads. From the carefully selected varieties of apples and pears to the bottling process itself, everything is 100% natural and locally sourced. Available to purchase in-store at Selfridges priced at £2.99/33cl.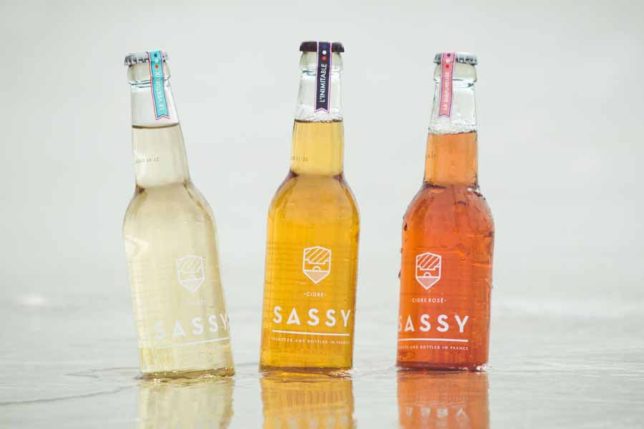 Duvel Tripel Hop Citra
Belgium's iconic bottle conditioned strong golden ale brand Duvel has just launched Duvel Tripel Hop Citra – an intense and appealing ale with real definition of flavour, which makes it a great aperitif and a fascinating match for many foods. Citra is an American hop from the Yakima Valley in Washington, used for its aromatic, grapefruit and tropical fruit notes. Duvel Tripel Hop Citra is £2.79/33cl available in select Booths stores, specialty beer shops and premium pubs and bars nationwide.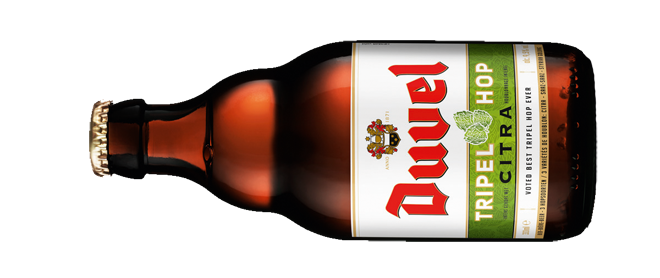 Encona Carolina Reaper Hot Sauce
For fathers who love their food spicy, hot sauce is a cupboard staple – but taking it a step beyond the kick of more traditional hot sauces, Encona has created the champion of them all – The Carolina Reaper limited edition hot sauce.

Featuring the world's hottest chilli, The Carolina Reaper is more than 22 times hotter than the piri piri chilli and even matches weapons-grade pepper spray! £1.49 available in supermarkets nationwide.