The Four Sisters Townhouse sees the return of Dickensian elegance to the heart of the city of London. Hidden away down the narrow cobbled streets behind St. Paul's Cathedral, this second outing by the people behind The Four Sisters in Islington is reminiscent of a secretive Victorian gentleman's club. Upon entering this mysterious hideaway, modern day cares are left at the door and more indulgent adventures can begin. In elegantly dark surroundings and surrounded by plush furnishings, the Four Sisters team deliver weekly-changing cocktails, unusual spirits and delicious beer, wine and food which captures the essence of a bygone era of Victorian London (but thankfully without the child labour or sanitation problems!).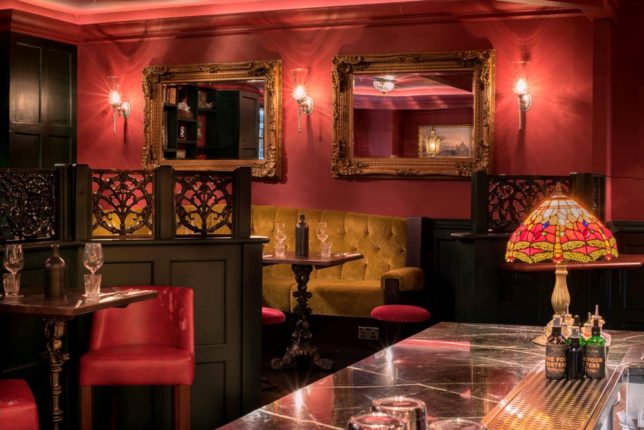 Finding this gateway into Dickensian decadence is worth your while and is not as hard to find as others would have you believe. Simply turn off Cheapside and wander down Bow Lane. Look out for the Jigsaw store and opposite you will find the entrance to Groveland Court – a tiny ancient street which interestingly was the rather cramped refuge of the homeless Mayor of London after the Great Fire of London. Walking down passed an uninspiring pub on the left, we find our way to the entrance of The Four Sisters Townhouse. The bar is cosy but large enough to entertain the city workers that habitually descend here every Thursday and Friday night.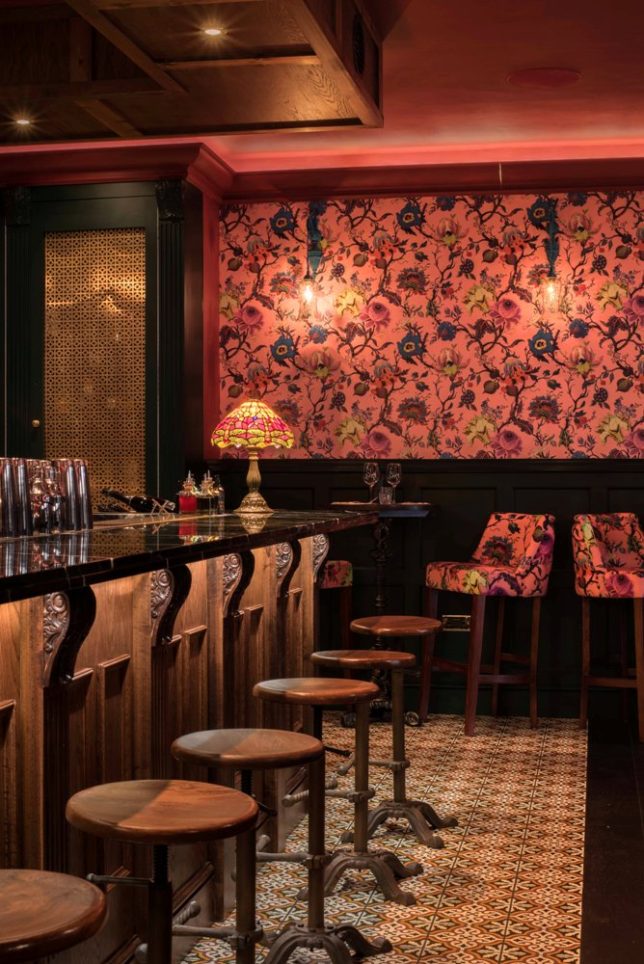 It's a Monday night so we pretty much have the place to ourselves. As our friendly Romanian bartender told us, back in his homeland they have a saying… "Only the grass grows on a Monday". That said, the quiet bar allows the opportunity to admire the richly decorated interior which features gilt-framed mirrors, beautiful Victorian floor tiles, ceilings adorned with gargoyle heads, dark oak paneling, flashes of boldly patterned wallpaper and original Victorian cast iron detailing.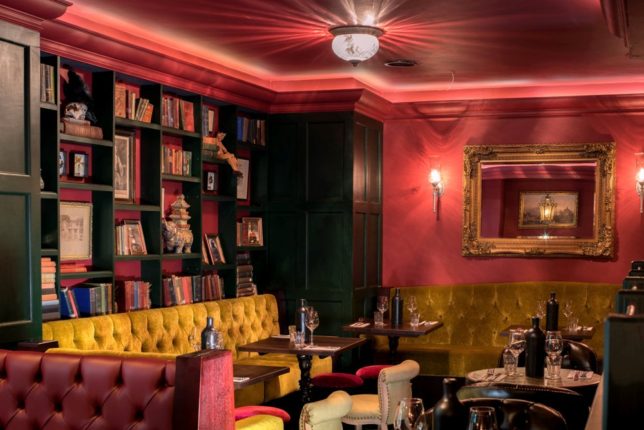 The atmosphere is further enhanced by walls filled with eclectic curiosities that feed the imagination and start conversations There is a collection of vintage books, some printed as long ago as 1931…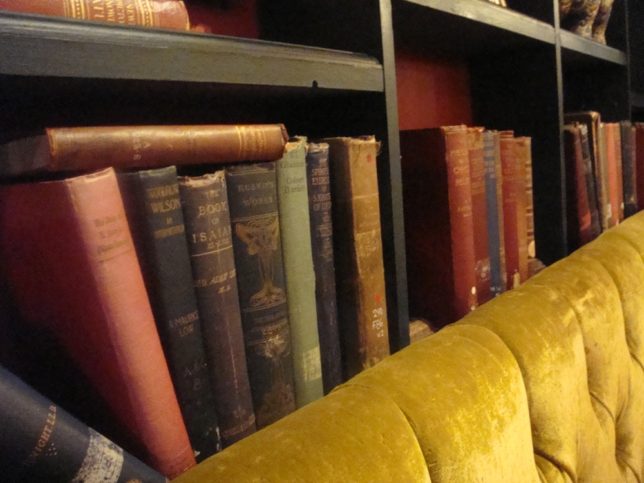 With vintage paintings alongside pinned beetles and butterflies in frames together with reclaimed tobacco tins from brands sadly long forgotten… whatever happened to St Julien Tobacco?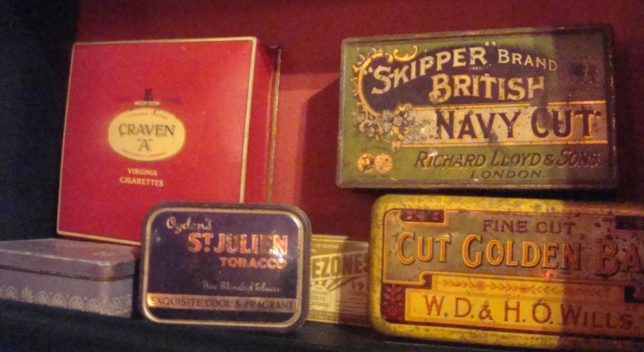 We also spy a stuffed raven sitting atop a skull adding to the atmospheric Dickensian mood.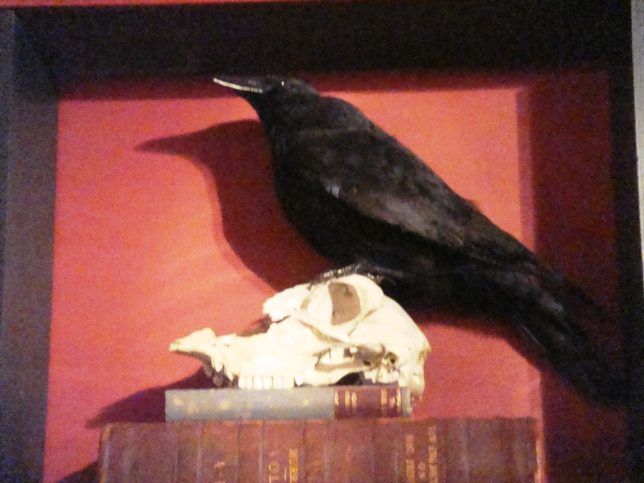 Bar manager Andrei Marian offers a weekly-changing drinks menu using seasonal local produce as part of his 'market-to-glass' concept. Classic options sit comfortably alongside contemporary signatures that mix delicious and surprising elements to create truly unique libations.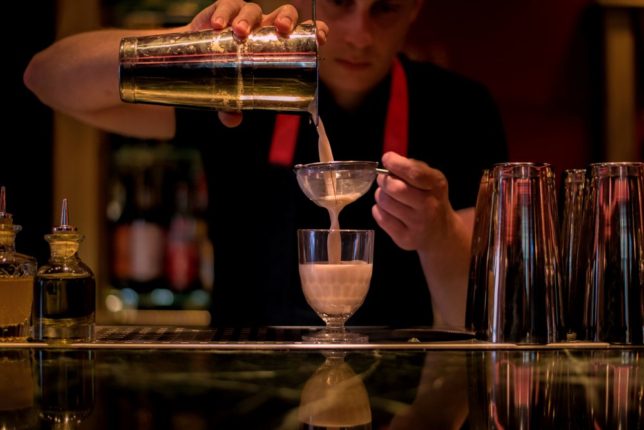 Behind the stunning green marble bar, shelves brim with handmade bitters, tinctures, curds, foams, syrups, sodas and cordials to complement the unusual spirits on offer, including a global range of Italian Amari not seen anywhere else and even one of The Four Sisters very own Amaros blend. The first cocktail of the evening did not contain Amari but still looked resplendent with its crown of dill and dehydrated orange with the right level of sharp sourness to make the perfect aperitif.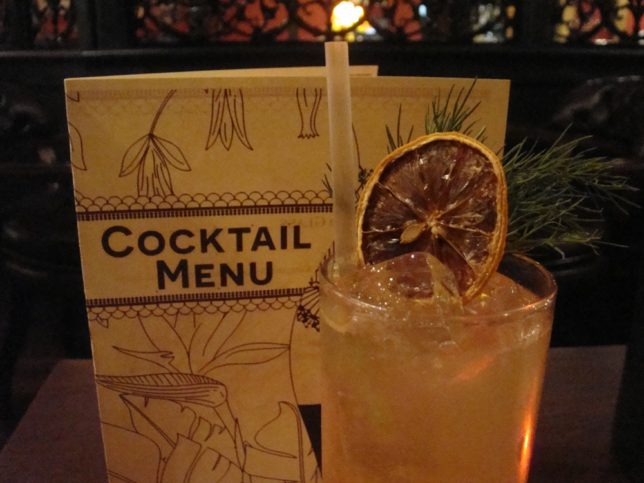 Providing sustenance to the city executives at lunch is a daytime menu filled with light bites, artisan sandwiches, bar snacks, sharing dishes, grazing boards and more substantial mains. Lunchtime starters include Morecambe Bay Brown Shrimps and Gressingham Duck Liver Parfait with mains including 28 day aged Rump Steak, Spelt Grain Risotto and Slow Roasted Suffolk Pork Belly. As well as artisanal sandwiches and the usual sides there are two desserts to choose from – Bitter Chocolate Cake with Lemon Sable Biscuits and Fresh Lemon Curd or the more boozy Rhubarb Campari Syllabub served with Ginger Thins.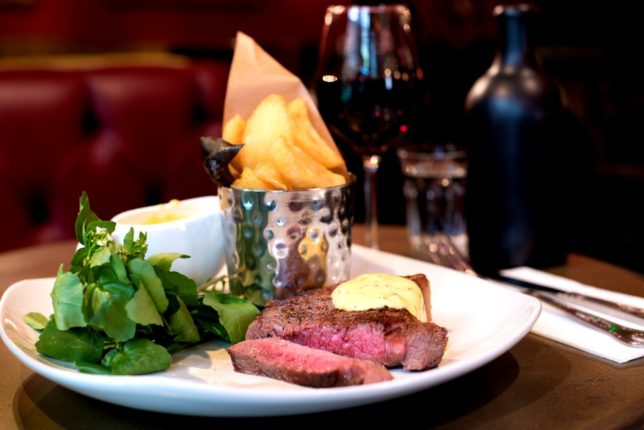 After 3pm, the menu shifts focus to nibbles and sharing plates. Smaller plates include nuts, mixed olives, the Londoner Scotch Egg and Pork Pie with a pot of mustard. As for the sharing boards, there are three to choose from. The artisan English cheese board is available for one to four to share, with fig and coffee chutney, biscuits and pear jelly…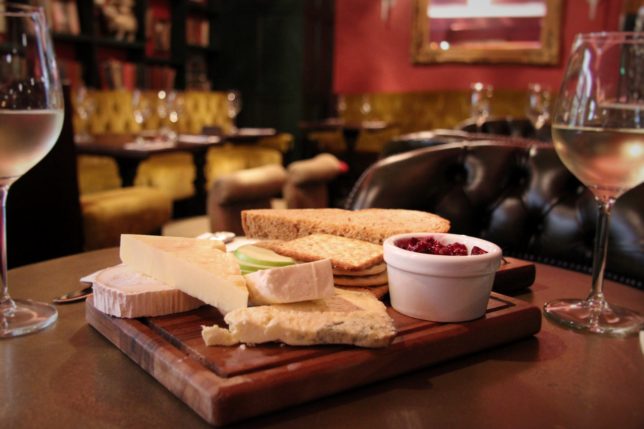 The Butcher's charcuterie platter provides a hearty selection of cold meats, olives, pickles and watercress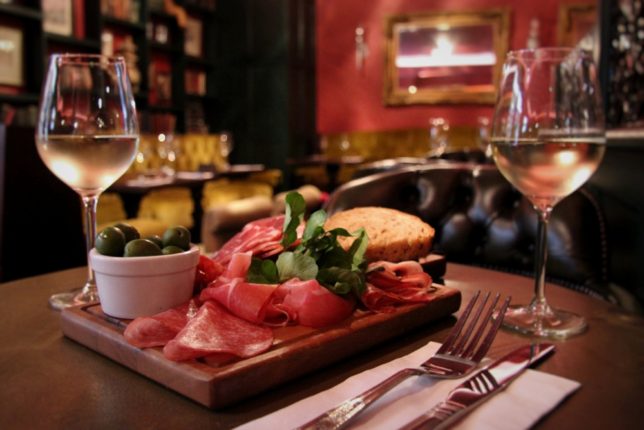 However, for a little bit of everything, we suggest sampling The Townhouse Grazing Platter which we tucked into alongside some very inventive concoctions shaken up by our friendly Romanian bartender including this little number containing pineapple syrup, lemon juice, vanilla syrup and ginger beer topped with angostura bitters and a couple of minty springs.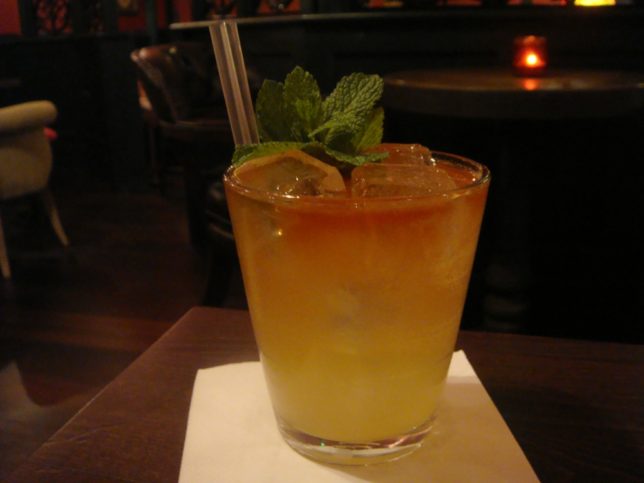 The The Townhouse Grazing Platter includes salami, cured meats, smoked salmon, potted shrimps, olives, chorizo and two types of cheese. Plenty for two people and perfect for soaking up those cocktails.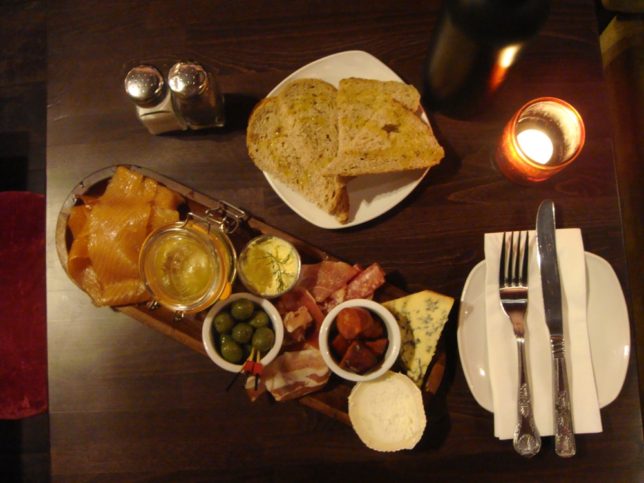 The limited food options in the evening are not surprising as The Four Sisters are really known more for their amazing homemade ingredients and inventive cocktail creations as opposed to being a dining destination. That said the food we sampled was delicious and satisfying as were the cocktails which were served with flair and style.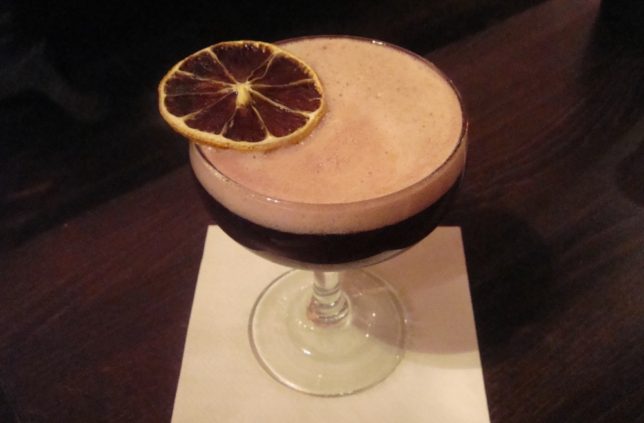 Purely by chance, our final cocktail of the evening had a port character to it even though it only containing maraschino, passion fruit syrup, lemonade and black pepper tincture yet it perfectly complemented the last of the cheese. Don't forget to ask for crackers if you've run out of bread.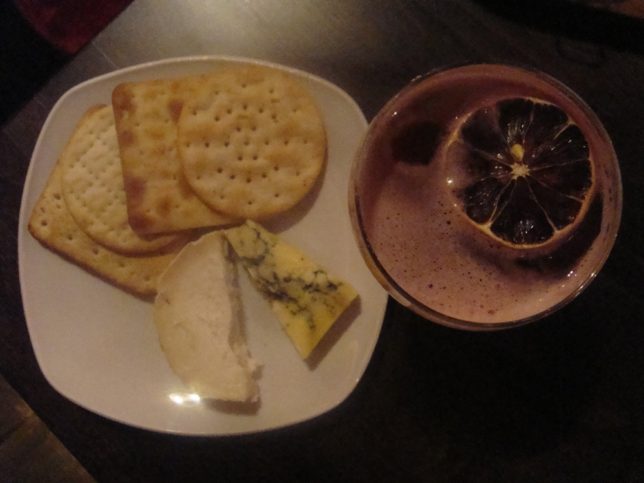 The Four Sisters Townhouse is closed to the public on weekends when it is available exclusively for private hire. Although Monday & Tuesday evenings can be quiet, this is the perfect time to bring the object of your affection for a night of cocktails and romantic sharing platters. And if first date conversations stumble, you can always discuss what the stuffed raven sitting on a skull actually means!
The Four Sisters Townhouse
5 Groveland Court, Bow Lane, London EC4M 9EH
020 7248 5551
www.thefoursistersbar.co.uk
@FourSistersBar