Liquid nitrogen ice cream specialists Four Winters continue to innovate, proving that ice cream isn't just for summer, with a brand new Autumn menu. Celebrating warm, sumptuous flavours, the menu is brimming with seasonal ingredients including pumpkin, cinnamon, apple and sweet potato.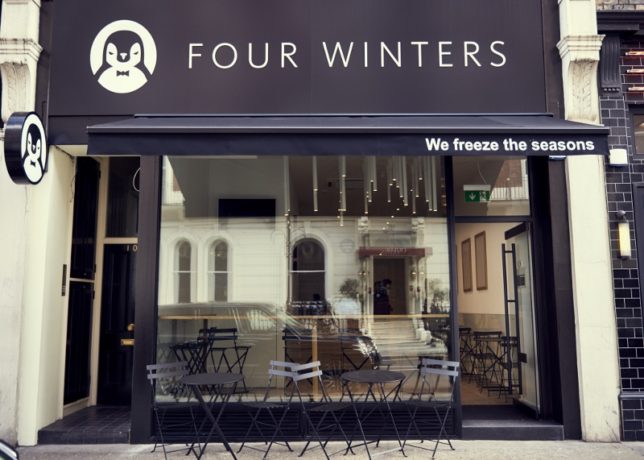 Founded in 2014 with the aim of bringing fun and creativity back to ice cream, Four Winters has specially designed its parlours with an open kitchen so customers can enjoy watching their ice cream being made in front of them. The store in Gloucester Road is the first entry into the UK market for Four Winters, who already has two stores in Jordan following the overnight success of its first parlour, with plans to open more across Europe and the Middle East over the next few years.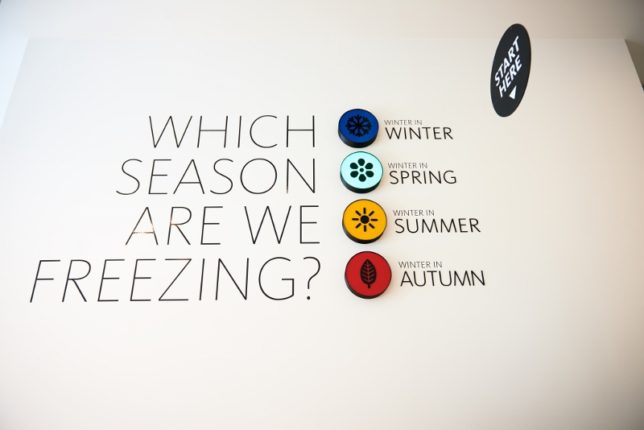 Harnessing the power of liquid nitrogen, Four Winters is able to flash freeze its ice cream within seconds. The result is not just a wow to watch, but creates super-smooth gastronomic quality ice cream that captures the exact taste of the ingredients for a superior serve. Perfect for foodies and families alike, the futuristic parlour offers fresh ice cream and shakes packed full of flavour using only the freshest of ingredients.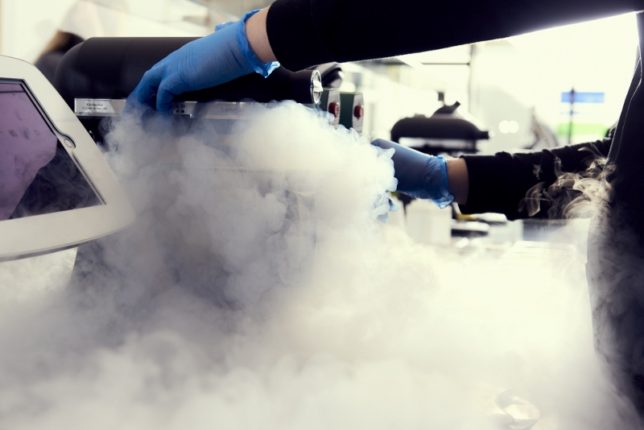 The SLOAN! team – including Puppy Gizmo – were invited to try out the new autumn additions and find out more about this exciting concept bringing molecular gastronomy to the masses. Puppy Gizmo supervised the special tasting experience as we got our taste buds tingling trying the new four flavours.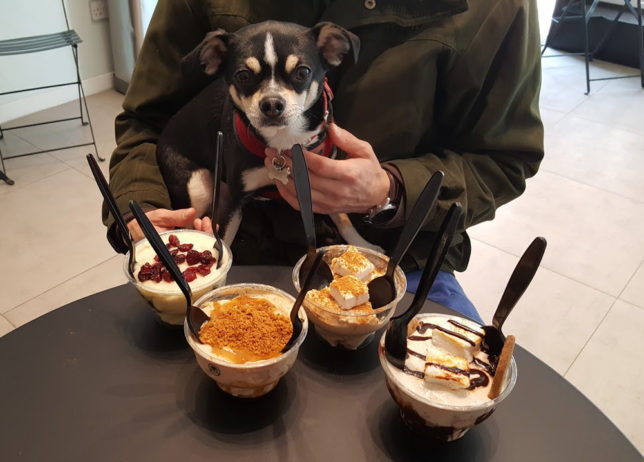 Pumpkin Harvest sees buttery and sweet pumpkin is paired with brown sugar and spice to create the base for this flavour. A drizzle of maple syrup brings extra sweetness, while the topping of lotus caramelised biscuits adds crunch.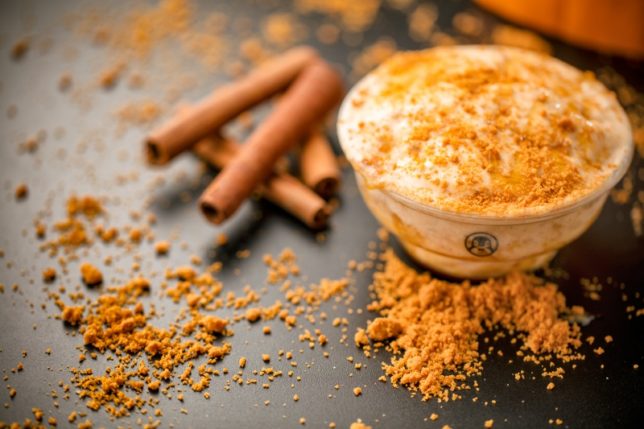 S'more is already proving to be the most popular new addition with fans raving about the delicious pick-me-up flavour! The S'more ice cream features a brown sugar and cinnamon base blended with roasted marshmallows hot from the Four Winters kitchen and topped with digestive biscuits or graham crackers.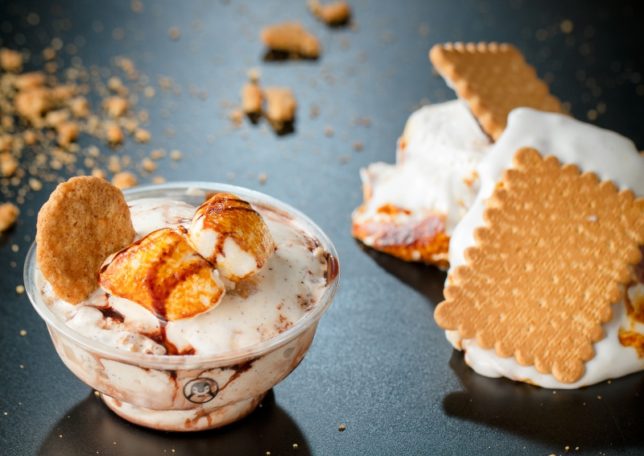 Candied Sweet Potato is one of our favourites. With its autumnal blend of cinnamon and sugar, the brand new creation makes sweet potato taste like it never has before. The unique mixture is finished off with roasted homemade marshmallows and a sprinkle of cinnamon-sugar.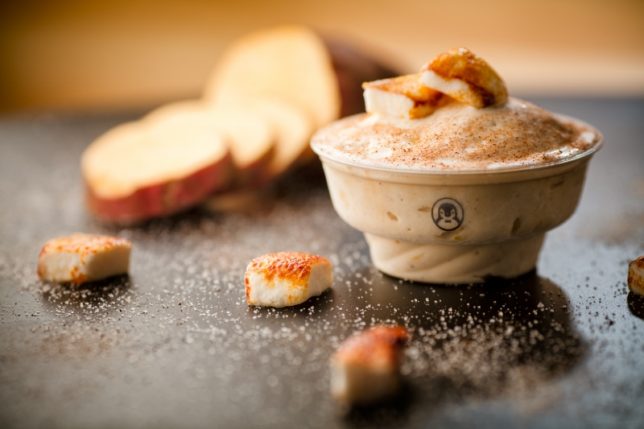 Green Apple-Pear Sorbet is ideal for dairy intolerants and anyone looking for a lighter dessert choice. A delicious combination of green apples and pears creates the perfect balance for a tangy, fruity, and slightly sweet treat. A sprinkling of dried cranberries adds a tangy chewy seasonal touch to top off this delightful sorbet.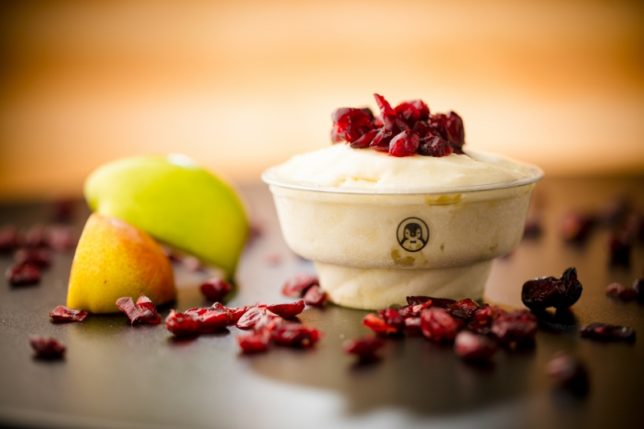 We loved the new flavours and know you will too. Liquid nitrogen ice cream is usually the preserve of fine dining in Michelin starred restaurants so it's wonderful that Four Winters is bringing molecular gastronomy techniques to a wider audience in the ice cream parlour market.
The taste and texture of Four Winters ice cream is completely superior to the mass produced stuff you can buy in supermarkets and even stands up to the Italian homemade gelato now available in London. You only have to taste the clean fresh flavours of Four Winters strawberry ice cream to realise there is no comparison to this premium product with what's currently available on the retail market. We also love to unique texture created from mixing ingredients of each made-to-order ice cream in stand mixers rather than churning in traditional ice cream machines as this creates a distinct mouth-feel with each spoonful re-igniting the taste buds without the homogenised uniform flavour one gets from other ice cream makers.
In December 2016, Four Winters opened their second London ice cream parlour in Soho. The Brewers Street parlour launched with a special collaboration with The Meringue Girls selling new seasonal flavour Mince Pice Cream with chunks of mince pie in a smooth ice cream topped with a mince pie flavoured meringue and sprinkled with gold dust. Very festive!
For more information, follow Four Winters on Instagram & Twitter @FourWintersUK
Four Winters
103 Gloucester Road, London SW6
020 7835 0766
www.fourwinters.co.uk