Fu Manchu is a new Late Night Dim Sum and Cocktail Bar, which opened in Clapham North in April 2015. Hidden under railway arches, Fu Manchu is as enigmatic and mysterious as its moustachioed, villainous namesake. We were invited to sample their authentic dim sum creations and expertly mixed exotic cocktails for SLOAN! Magazine.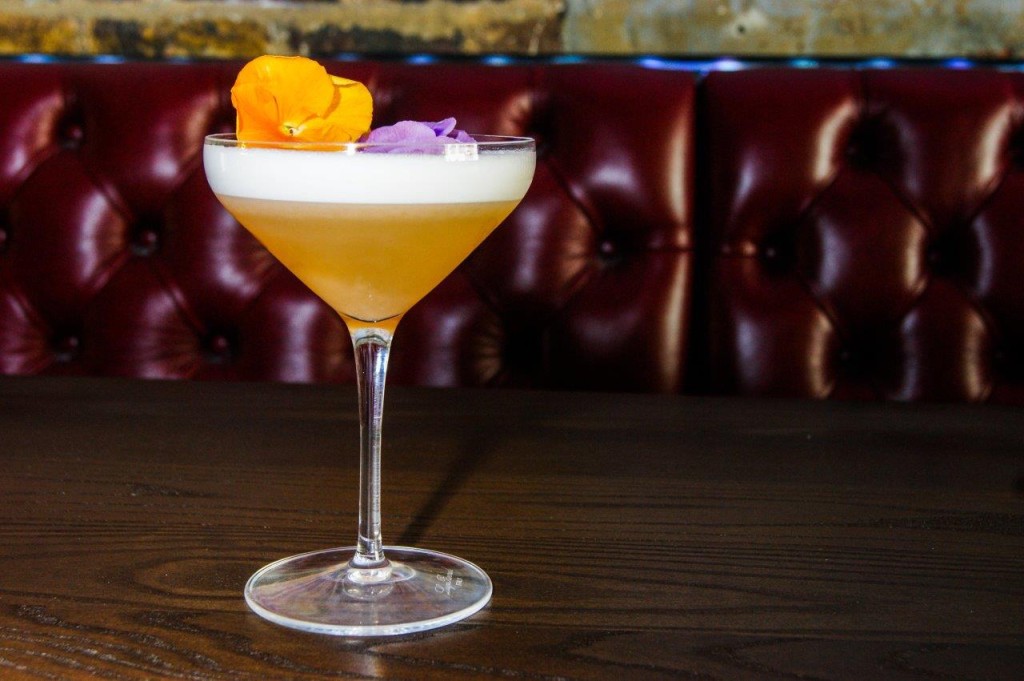 Taking its inspiration from the Chinese master criminal introduced by Sax Rohmer in his early 20th Century cult novels, and subsequent films, Fu Manchu combines Victorian Opium Den with a modern graphic edge. Occupying an old railway arch, the venue's décor is dramatic and visually stunning, setting off raw brickwork with striking light installations created by Lighting Designer Louisa Smurthwaite, who has worked with the likes of Kylie, Pulp and Grace Jones. Featuring raised seating areas framed by a long bar, the space is airy and open, but full of hidden corners.
The cocktails, inspired by Fu Manchu's shady associates and elaborate criminal plots, feature drinks such as The Kiss Of Death and Mancho's Mind Control. Made from Chinese tea infusions, Asian spices and exotic flavours, the drinks are inventive, eye-­catching creations.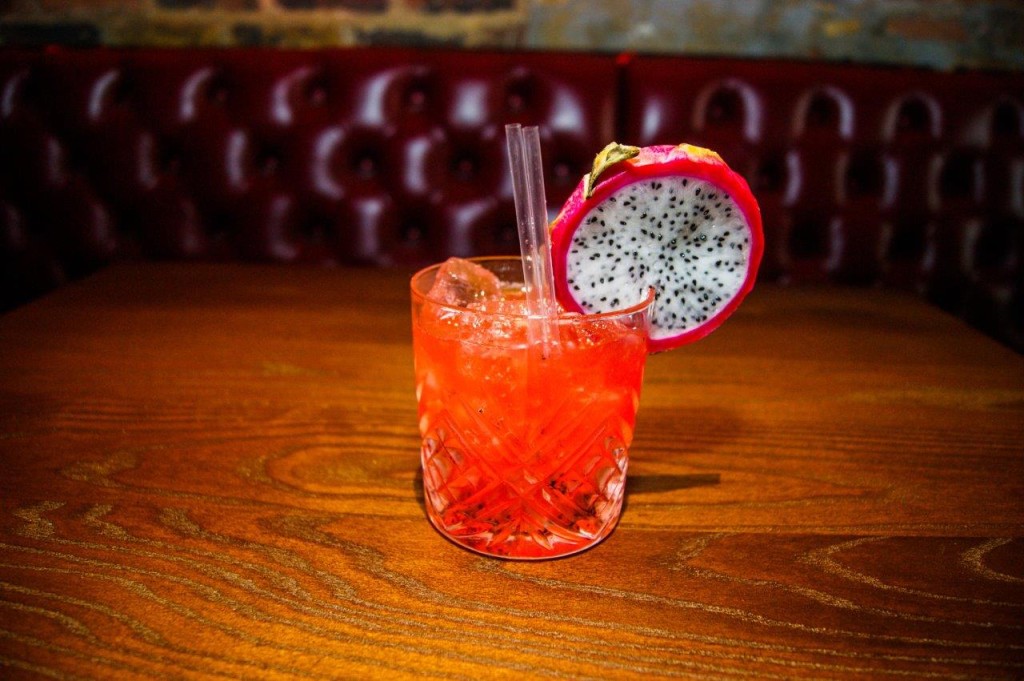 The food menu at Fu Manchu centres on a range of delicate and fragrant authentic dim sum, steamed to perfection. Served in combinations and served from beautiful wicker baskets, the dumpling menu is ideal for sharing. The delicious dim sum are so authentic that they are created by a Cantonese chef direct from Hong Kong who has a translator on hand. We were privileged enough to be given a behind-the-scenes tour of the kitchens and were told that hundreds of dim sum are created from scratch every day specifically to the chef's exacting high standards.
If you're looking for a great deal (food-wise AND money-wise), on Sundays there is an All You Can Eat Dim Sum dining option between 12pm and 10pm for £19.50 per person for a minimum of two people. Maximum stay is 1.5 hours and advance booking is required.
Our table ordered a selection of delectable dim sum which are shown below.
Yung Rou Su – These sweet spiced mutton puffs are a fabulous twist on the traditional honey BBQ pork puff. The spicy shredded lamb exploded with a sweetness combined with a full flavour of mutton, wrapped in a light pastry, topped with sesame seeds and garnished with spring onion and chilli for added crunch and heat. Definitely a dish to order again and again!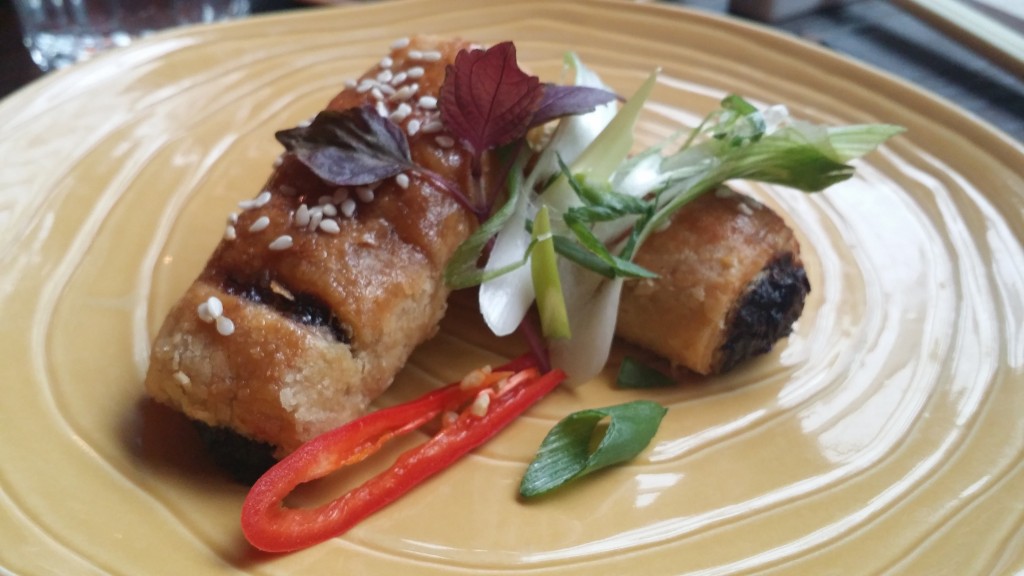 Cha Sui Su – For those who are less adventurous and are not a fan of a distinctive lamb taste the Honey BBQ pork puff is a must. The light and fluffy texture gives this dish a comforting homely feel.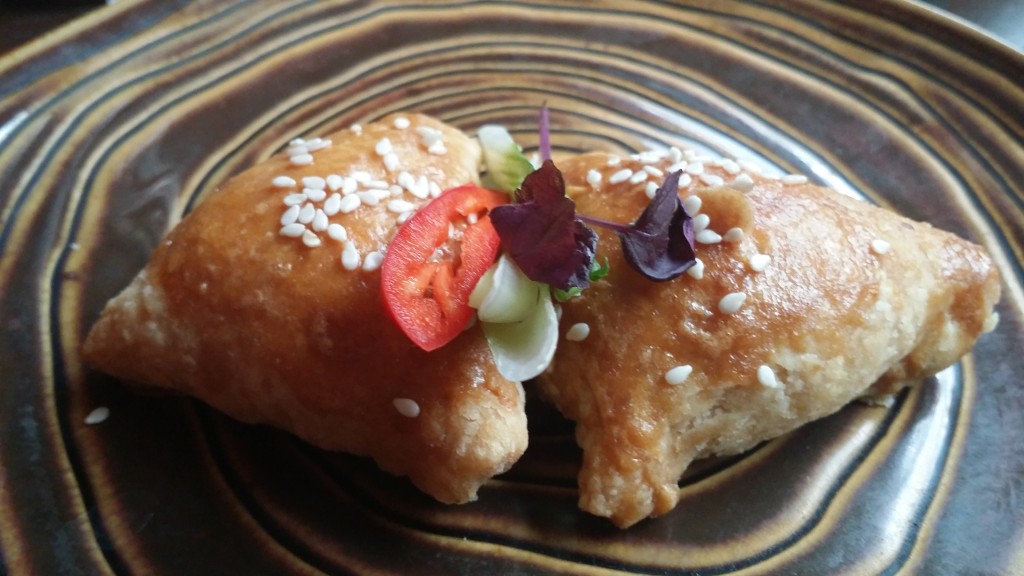 Wai Fa Chi Mar Har – Continuing with a theme we ordered one more fried dish, this time slightly crunchier in texture due to us moving away from puff pastry and choosing a sophisticated and top grade paper wrapped prawn, water chestnut and sesame combo.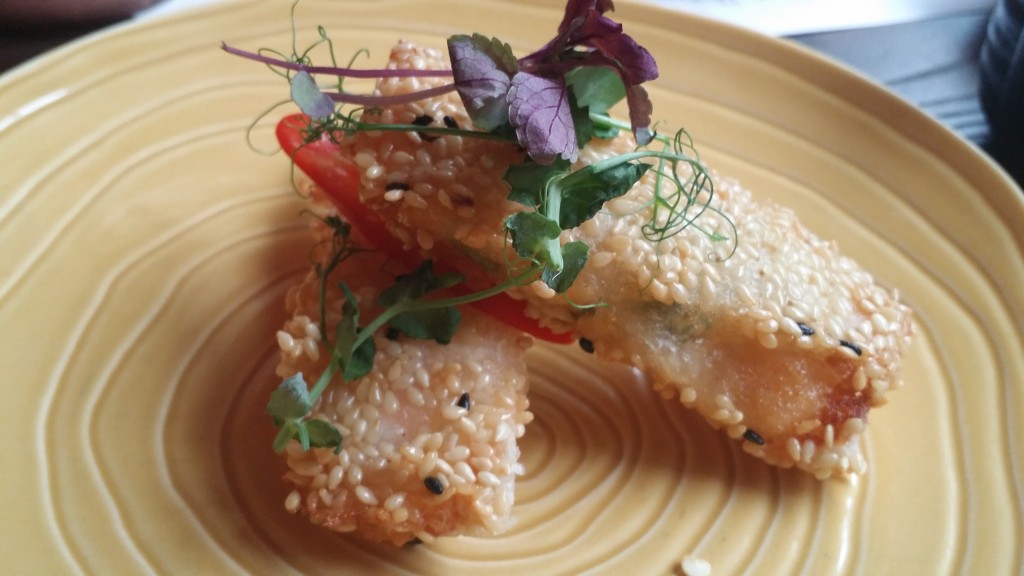 Monkfish Fung Yan Gow – An elegant and well thought out Fu Manchu special then graced our table. The Monkfish with lime, phoenix eye dumpling is an extraordinary dish. and is a must to try. The monkfish absorbed the herbs allowing a taste explosion with each bite.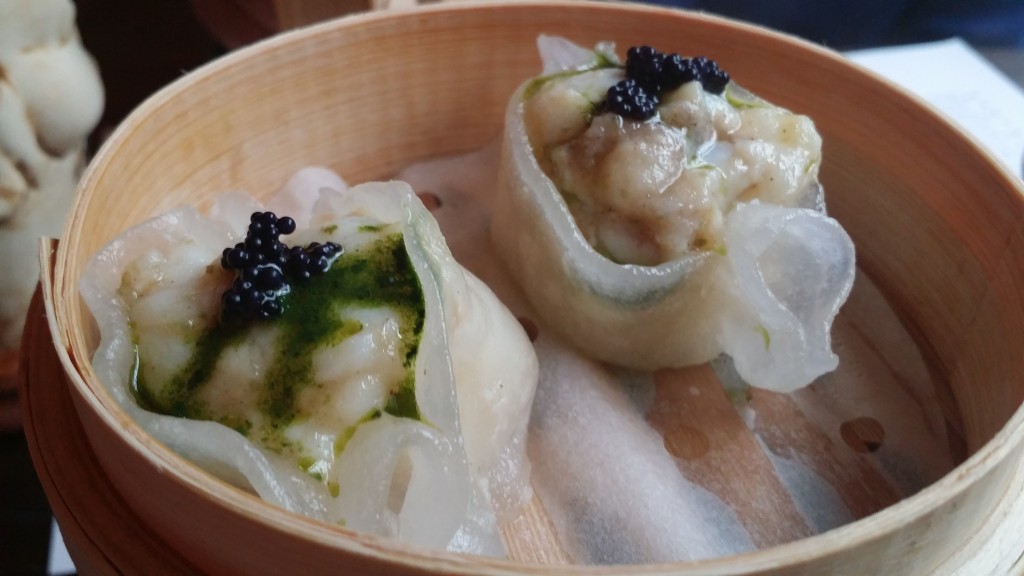 Lung Har Gau – This beautiful steamed Dim Sum was by far our favourite dish on the menu, not  to do the others a disservice but this lobster,prawn and bamboo shoot dumpling in a crystal skin was succulent, fresh and melted in the mouth like no other Har Gau before it. This is the type of dish that has other Dim Sum chefs quaking in their boots as it hits a perfect 10 with every mouthful.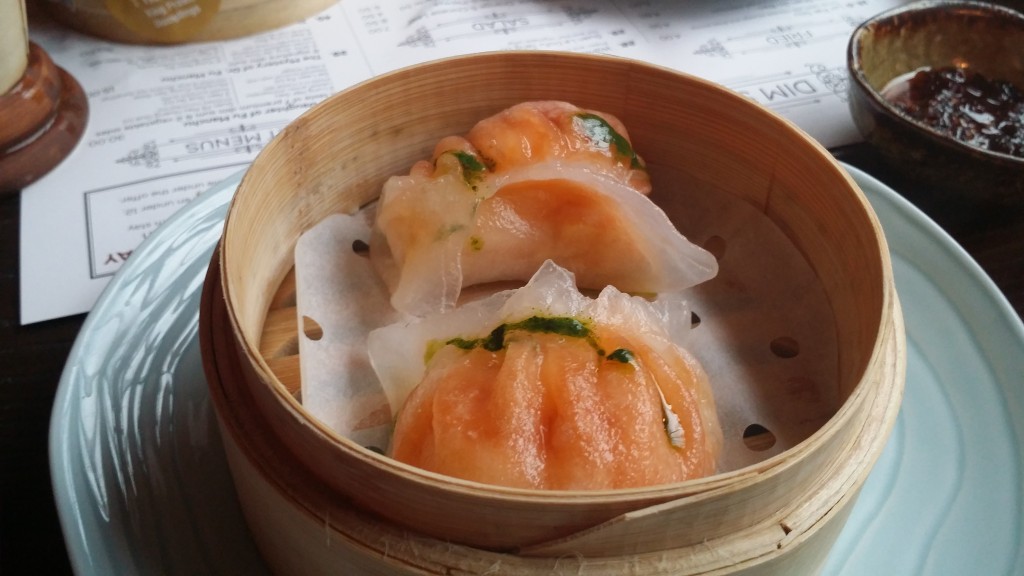 Jiua Yim Sin Yau – This classic salt and pepper chilli squid is a classic dish well done. It was crispy yet succulent with the right hint of chilli, a small but adequate portion.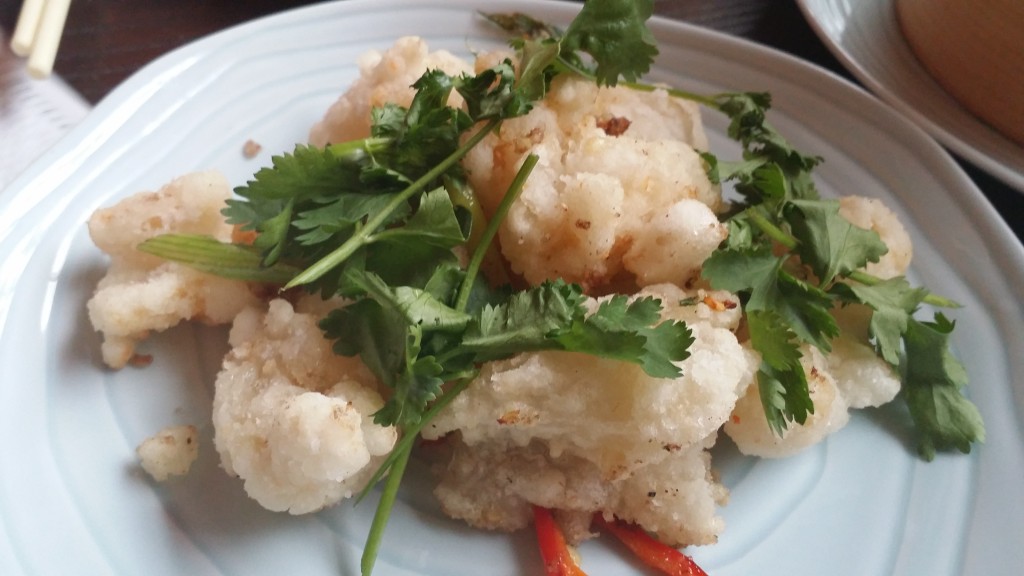 Har Dou Shi – This is sesame prawn on toast like you have never had before. This classic dish is served in a unique manor and is a cut above the rest.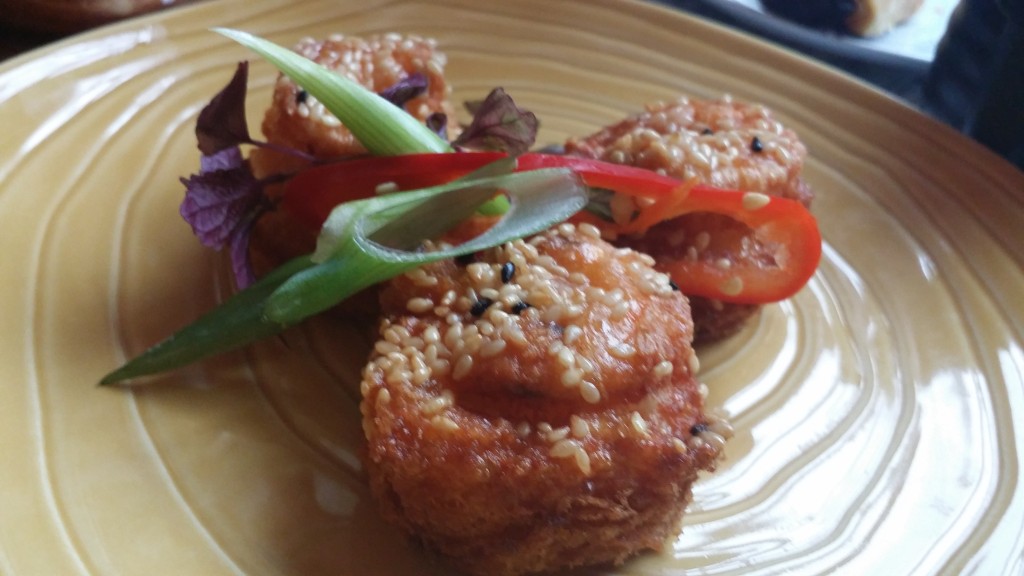 Xiao Long Bao – This prawn and crab filled dumpling is a nice steamed dish that has a classic taste  however there are better dishes on the menu.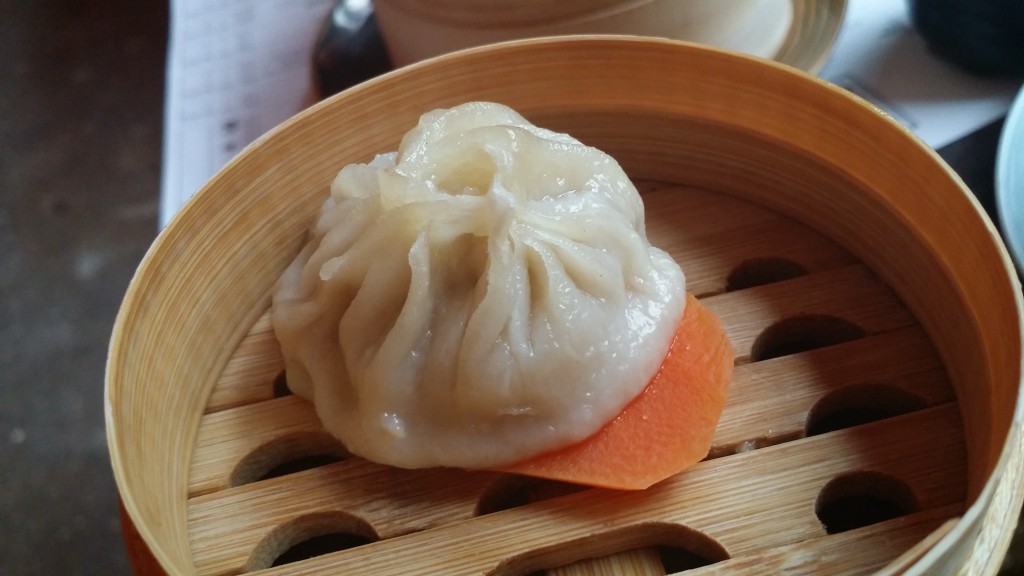 Tai Chi Bo Coy Gow – These scallop and spinach dumplings with a green crystal skin where a perfect way to finish our meal.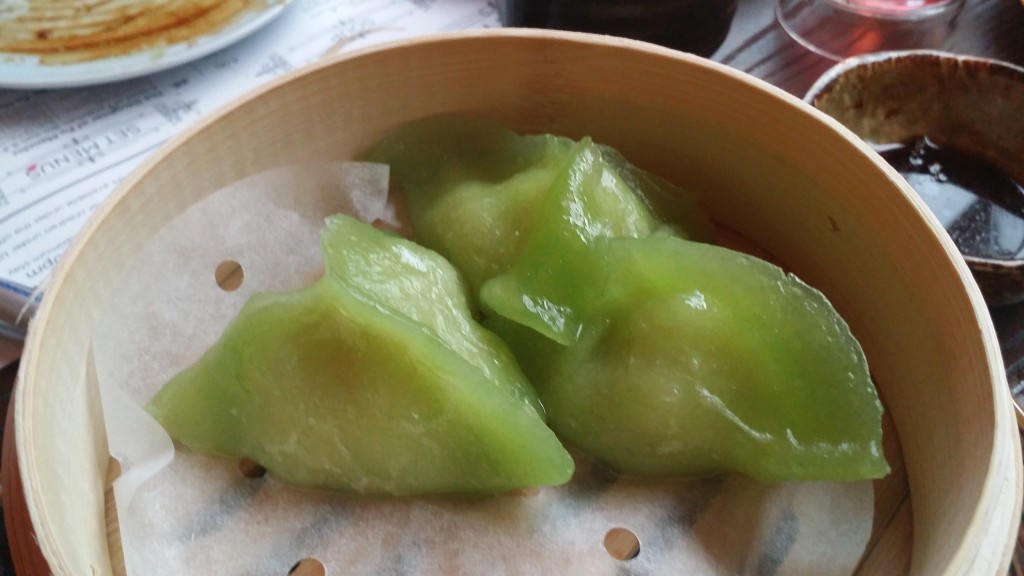 Fu Manchu is open Mon‐Wed 5pm to midnight, Thu 5pm -to 1am, Fri 5pm -to 3am, Sat midday to 3am, and Sun midday to 11pm
Fu Manchu
15-­16 Lendal Terrace, London, SW4 7UX
Tel: 020 3397 8844
www.fumanchu.co.uk