Modern Pan-Asian tapas restaurant Gamma Gamma brings the flavours and colours of the East to the heart of Soho at 6 Greek Street – the former site of Bo Drake. Launched at the end of October 2018, Gamma Gamma serves up a menu of fusion dishes designed for sharing and including show-stopping dishes of exotic meats such as zebra, kangaroo and ostrich, all complemented with bespoke cocktails.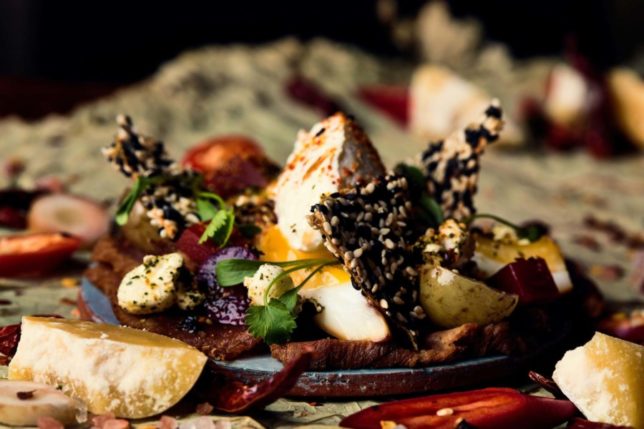 The vibrant menu created by Executive Chef, Jonathan Villar, formerly of MBER and Kopapa, features many gluten and dairy free options. The raw and cured dishes include tiger prawns and coconut Thai ceviche, kaffir lime, chilli and coriander and one of their signature dishes of zebra loin tataki with charred grapes, popcorn, sake cured egg, sriracha jelly and orange blossom labneh. Salads include a unique Asian take on tuna nicoise – seared nori tuna loin with baby gem lettuce, soft boiled egg, truffle potato, green beans, cherry tomatoes and edamame, kalamansi and togarashi vinaigrette.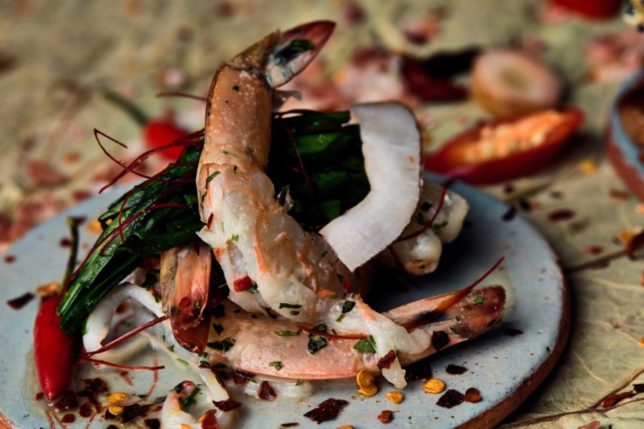 Other areas in the sharing menu feature crispy sesame squid with yuzu mayonnaise and 8 hour braised wagyu beef ribs with beetroot and kizami wasabi siu mai, smoked bone marrow and garlic aioli. The grill section features another exotic meat of kangaroo steak "tagalog", a Filipino style steak marinated in soy with kalamansi, garlic and black pepper, caramelised onion and garlic chips. Curries include jungle curry with minced ostrich loin, lemongrass, galangal, kaffir lime and Thai chillies.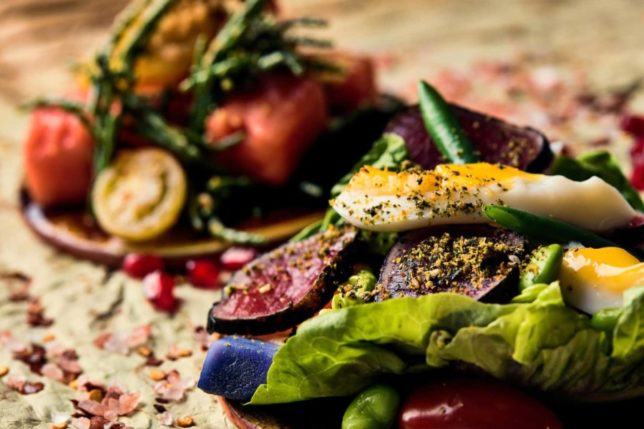 Not to be outdone, the bar team have created a selection of delicious libations to complement the menu and aims to highlight the diverse produce of Asia. The Pink Lady features vodka, lychee liqueur, almond syrup, aloe vera juice, yuzu syrup and raspberry juice whilst the Struck by Lychee comprises of vodka, hibiscus liqueur, lychee juice, shisho leaf, sugar and lime juice. A selection of sakes, wines and beers is also available.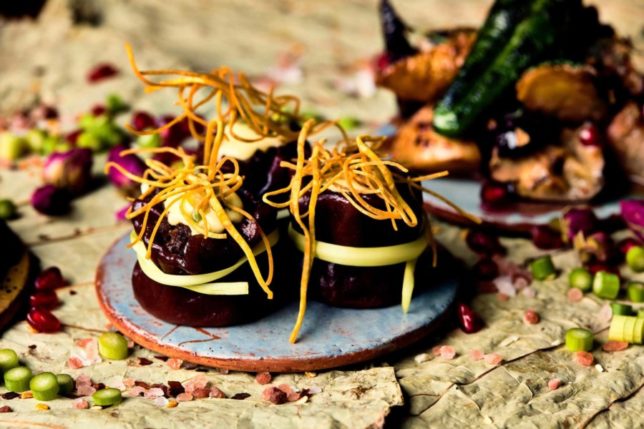 Spanning the ground floor and basement the restaurant's interior is sophisticated, industrial and minimal in style with a large double-sided bar being the focal point of the restaurant. Dim lighting and deep house music create a perfect ambience for diners, be that for a first date, a meal with friends or business lunch.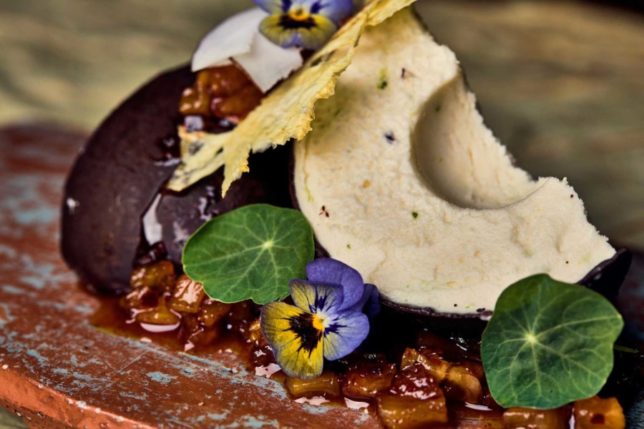 To start our gastronomic journey at Gamma Gamma, we were offered an amuse bouche made of black sesame and fermented soya with a pineapple juice shot. This was a great way to introduce our taste buds to the Pan-Asian experience that lay ahead.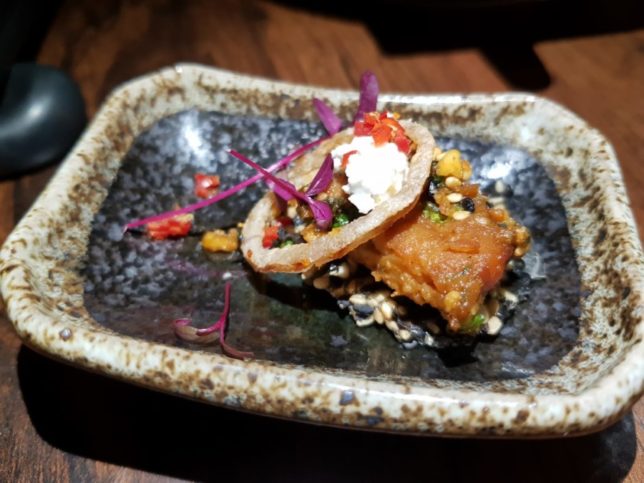 Gamma Gamma takes great pride in their cocktail menu and for good reason. l had the Nut Fashioned – a cashew nut whiskey which is made from combining cashew with Four Roses Bourbon, and Peychaud's bitters. The bar is also very flexible in its approach and was able to make a non-alcoholic cocktail from scratch. It was an impressive fusion of raspberry, grapefruit and lemongrass.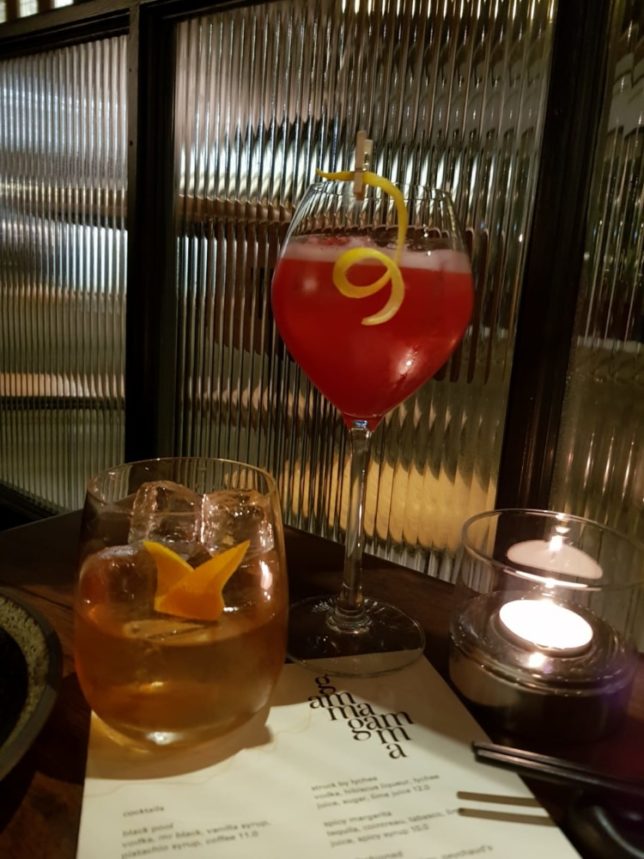 The great thing about the menu at Gamma Gamma is that it is perfect for sharing. We couldn't resist the crispy sesame squid with yuzu mayonnaise. The batter was light and fluffy and the squid itself was soft but firm. The yuzu adds an extra dimension and with a slight chilli kick this dish is one you will keep coming back for.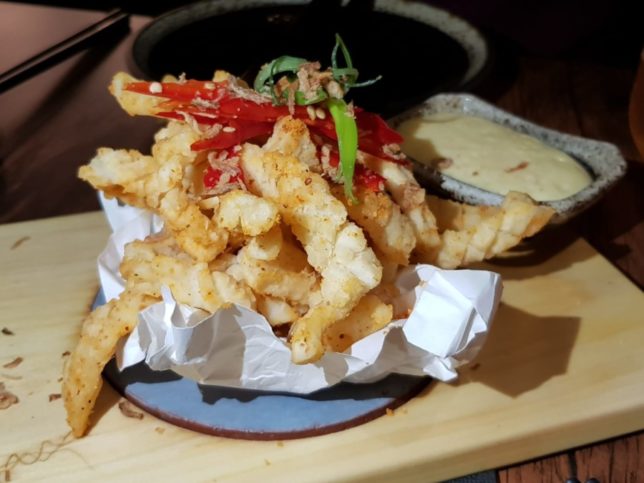 Gamma Gamma's chicken satay is a generous portion which comes with an Asian style spicy peanut sauce infused with lemongrass. The flavours are slightly spicy but all work together in unison bringing a fresh take on the traditional satay dish.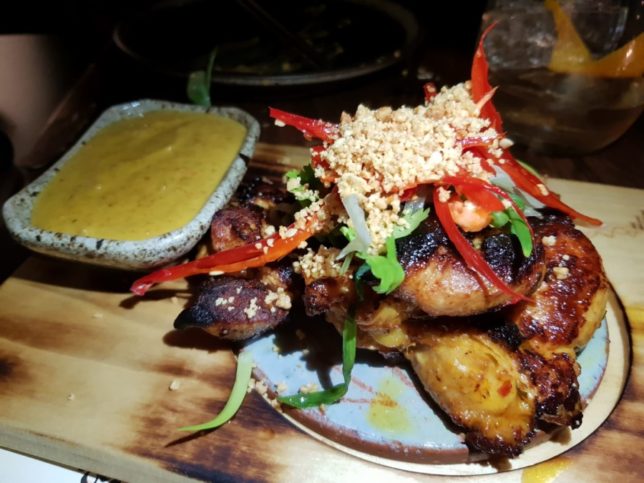 The Cornish crab dumplings are a delight. It comes with 3 crab dumplings beautifully presented. The laksa broth, bean sprouts, crushed peanuts, coconut, chilli, tofu and coriander all combine to add great flavour and texture to the dumpling itself which is soft and generously filled with crab.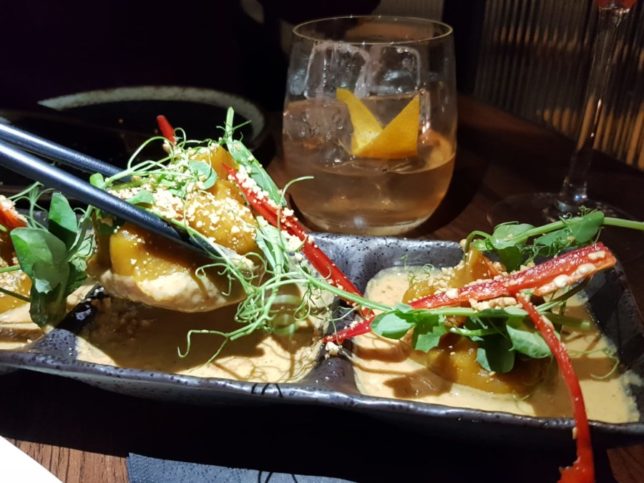 The slow cooked venison & hoisin puff is a single pastry with roasted loin of venison, haggis crisp, glazed figs, nikka whiskey and wasabi cream. The loin of venison comes medium rare and contrasts well with the haggis but the real treat here is the light flaky pastry with a tender centre of venison.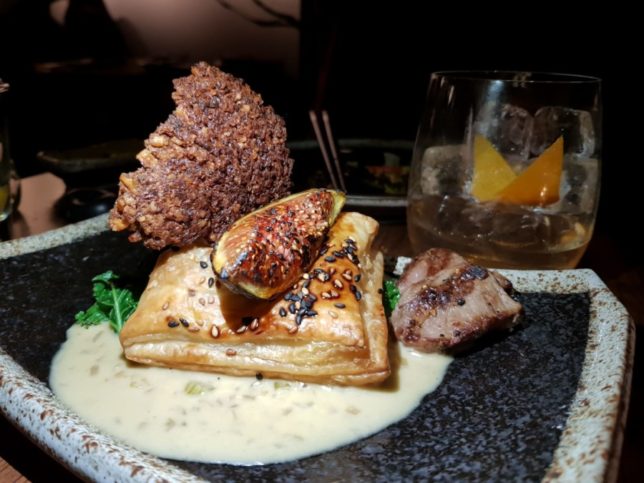 A must-try dish is the kangaroo steak "tagalog" which is Filipino style steak marinated in soy, kalamansi, garlic and black pepper, caramelised onion and garlic chips. A great alternative to traditional steak that doesn't disappoint with wonderful gamey flavours which adds umami taste without being overpowering. The garlic chips are a nice complement to the dish.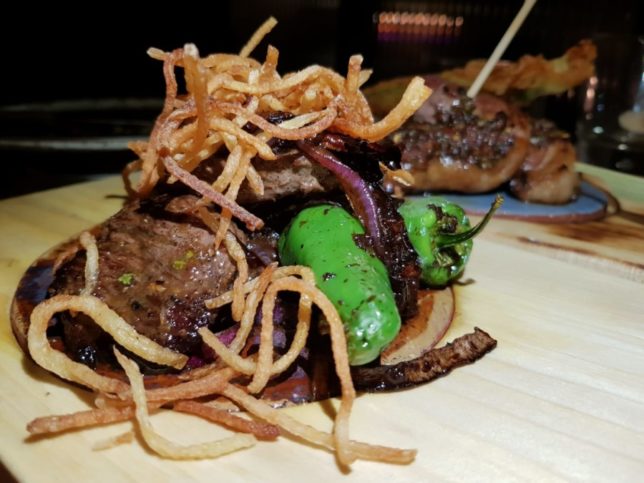 Grilled lamb chops are a favourite here at SLOAN! These were perfectly cooked with spices for a flavoursome lamb dish that packs a punch!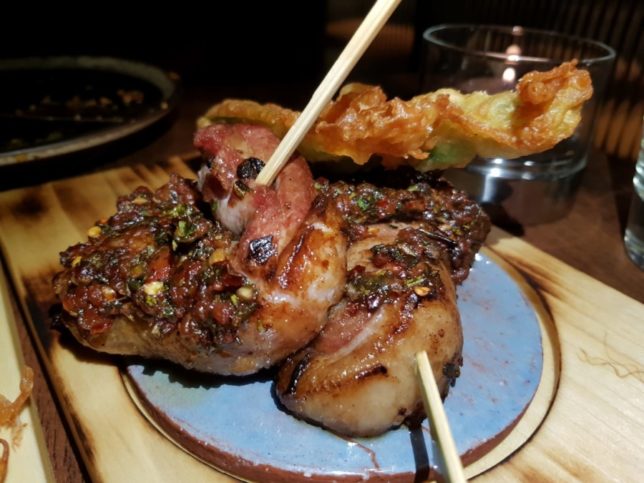 A healthy main to look out for is the jungle curry made from minced ostrich loin, aromatic lemongrass, galangal, kaffir lime and thai chillis. This dish is full-bodied but the subtle meaty flavours of the ostrich make this a must try for any curry lover. You won't be disappointed in the depth of flavour and the different textures that keep your palate guessing.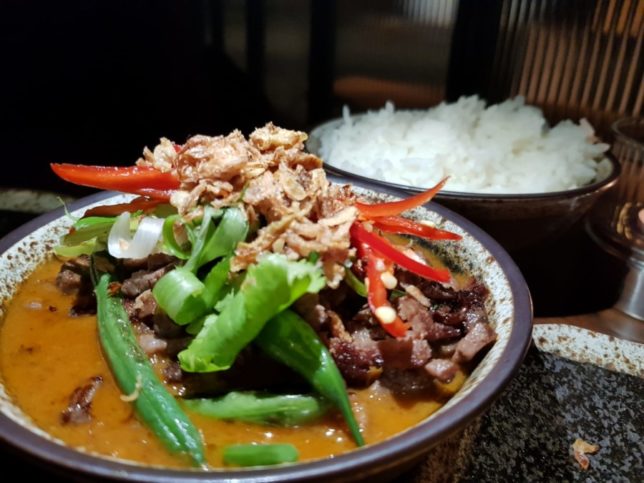 A different take on traditional lobster is Gamma Gamma's Singapore chilli lobster with birds eye chilli, palm sugar, lemongrass, coriander and ginger. The lobster is served with fried in batter for a soft and succulent bite with spicy flavours complementing the dish yet still subtle enough to maintain the fresh seafood taste from the lobster.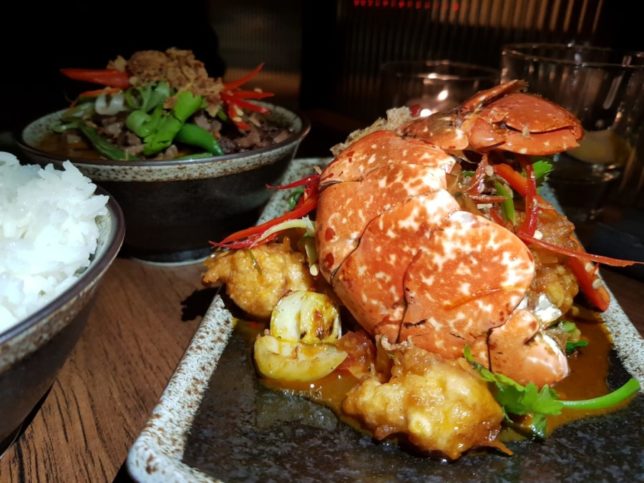 For those with a sweet tooth, polish off your meal at Gamma Gamma with one of a selection of desserts including dark chocolate with a coconut and pineapple parfait and banana toffee spring roll with miso ice cream and toasted peanuts.
Gamma Gamma brings the diverse and unexpected flavours of Asia to Soho through unique flavour combinations using unusual ingredients in a sophisticated environment. Highly recommended.
Gamma Gamma
6 Greek St, Soho, London W1D 4DE
020 7287 3033
gammagamma.co.uk
​@gammagammasoho