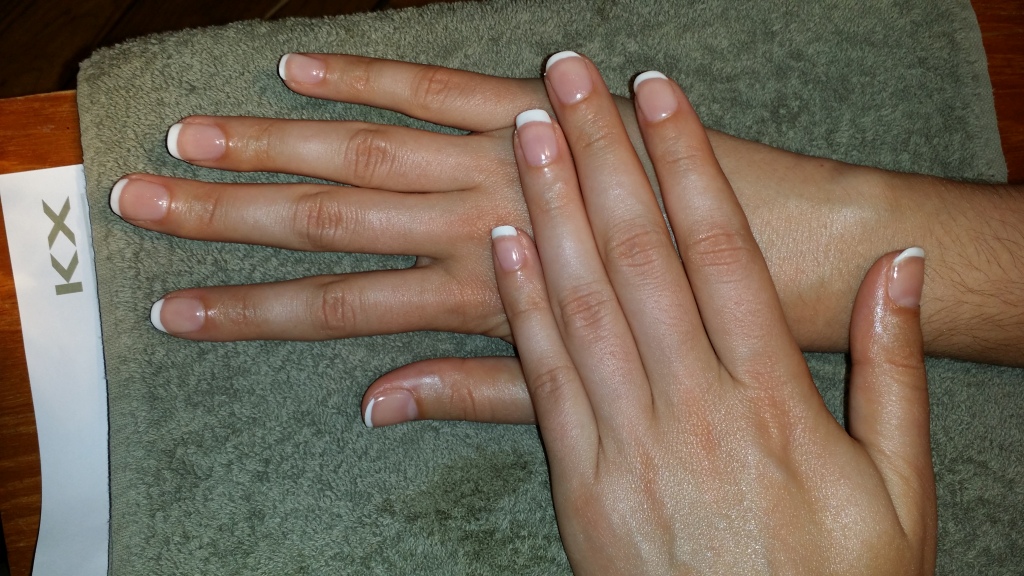 We were invited to try out the well-known Gelish manicure at KX Nail Lounge in the KX Spa on Draycott Avenue in Chelsea. The KX Nail Lounge is a discreet and private space which is a far cry from the glass fronted nail bars you find on every high street up and down the country where you can feel like the whole world is watching. Although these nail bars with their ubiquitous foot spa chairs are considerably cheaper than the KX Nail Lounge, the ambience in this haven of relaxation makes the extra cost worth it.
Our reviewer went for the classic and understated KX gel French manicure. Gelish website states: "Gelish® Soak-Off Gel Polish applies like polish and cures in a LED lamp in 30 seconds, or 2 minutes in traditional UV lamps. Gelish stays on nails for up to 3 weeks with no chipping or peeling, and soaks completely off in only 10 – 15 minutes."
Looking around the Nail Lounge, with its large TV screens and tasteful decor, it is clear why certain ladies choose this particular Chelsea spa to have their nails done. Comfort, privacy and discretion are paramount at KX and the friendly experienced staff quickly put you at ease and immediately display their manicure skills using simple specialised tools rather than the motorised files and buffers you find in those high street nail bars.
The manicure takes about 60 minutes from start to finish and the end result are beautiful perfectly manicured nails with French tips of a corresponding thickness to your natural nail length which makes them look much better than the too-perfect uniform acrylic nails you see on customers of cheaper nail bars.
The main difference with Gelish nails compared to the more hardwearing acrylic nails is that although the promise is for up to 3 weeks wear, in reality the longevity of your manicure really depends on how strong your nail was to begin with so if you have brittle nails this manicure may not be the best for you.
Our reviewer commented that her manicure lasted 10 days before it started to chip. During that time she had not engaged in any rough work such as gardening or washing dishes in bare hands so was left feeling slightly disappointed with the short-lived manicure.
There are cheaper alternatives available if you are looking for a Gelish manicure without the Chelsea price tag however, the 10 days worth of Gelish wear aside, what clients are really paying for at KX Nail Lounge is the experience and discretion.