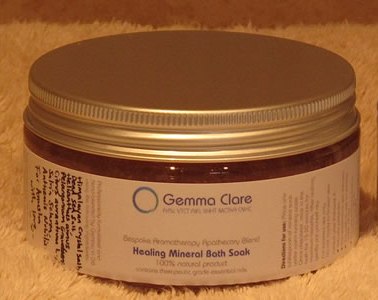 SLOAN! Magazine was sent a sample of Gemma Clare's Healing Mineral Bath Soak that was specially blended for us. Since 2004 Gemma has gained a reputation for excellence as one of London's leading holistic health specialists and skin care experts. She has successfully treated countless individuals who seek natural treatment to feel and look their best and has become a "go-to" therapist for her bespoke holistic approach, which treats the whole person to restore the body's natural balance and optimise wellbeing.
The Healing Mineral Bath Soak contains Himalayan crystal salts which are submerged in coconut oil and hand blended with expertly selected therapeutic grade essential oils. This healing blend delivers the ultimate bathing experience.
Himalayan crystal salts
Said to contain 84 essential minerals that support optimum health, Himalayan crystal salts are renowned for detoxifying the body
Coconut (cocos nuciferus) oil
Quick absorbing, coconut oil is free from chemicals and additives. It is rich in capric, caprylic, lauric acid, vitamin E and proteins to smooth and soften the skin, leaving it with a healthy glow.
Rose absolute (rosa damascena) oil
Considered the "queen of flowers", rose has a delicious fragrance and is a tonic for the physical heart and female reproductive organs. A nurturing oil, rose is associated with the heart chakra and it encourages confident sensuality.
Mandarin (citrus nobilis) oil
An uplifting and soothing oil, mandarin calms the nervous system and promotes sleep. It strengths the digestive system, stimulates the lymphatic system and tones the skin.
Benzoin (styrax styacaceae) oil
With its sweet vanilla aroma, benzoin is a comforting essential oil, protecting against other people's negative energy. It has a calming effect on the nervous and digestive systems, a warming effect on the circulation and eases general aches and pain and muscular tension as well as improving skin elasticity.
Gemma has practiced in a range of settings including: The Food Doctor Clinic, Triyoga, Grayshott Spa, The Dorchester Spa, Como Shambhala Urban Escape Spa, Bodhimaya, Kensington Physiotherapy & Sports Medicine, Lloyds & Practical Law.
She is highly experienced, specialising in: stress, musculoskeletal, digestive, neurological, skin and Women's health.
Besides one-to-one appointments, Gemma regularly runs health and wellbeing events as well as contributing to popular media on various aspects of health and wellbeing.
Having spent years working with patients as a clinical aromatherapist, Gemma witnessed the physical, mental and emotional benefits with those using aromatherapy, so in 2009 Gemma set up her Aromatherapy Apothecary product range, which incorporate therapeutic grade essential oils and natural base oils. Her hand-blended Healing Mineral Bath Soak incorporates Himalayan crystal salts to cleanse and detoxify, nutrient rich coconut oil to smooth and soften the skin and therapeutic grade essential and base oils to meet specific individual needs.
For further information please visit: www.gemmaclare.com