I am often asked how I became passionate about drawing. From a very young age I always loved to pick up a pencil and just draw, whether it be sat on top of the stairs or in Cornwall on top of some rocks where we used to go on holiday.
I attended Art Foundation at Cheltenham in 2006, which I believe shaped where I am today. Even though drawing was a big part of my creativity, I also had a love for layering paint and different materials together. When I began to experiment with textiles, I knew I had to take this further, and so I went on to Loughborough University to study Woven Textiles in 2007.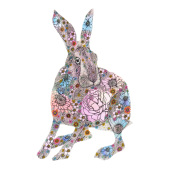 To create pieces of fabric from scratch was an amazing experience. From counting the threads, hand dyeing them and then setting up the loom was all part of the process.
After graduating in 2010, a fantastic opportunity arose to spend three months on a design placement for an interiors company in Mumbai, India. I made no hesitation and applied straight away. I went through the interview process and to my excitement got one of the two places. To this day, it was one of the most incredible experiences I have had. I produced hand drawn designs in repeat, for drapery, upholstery and embroidery and got my designs into the company's catalogue.
India sparked my love for travelling without question. Just walking through the streets and soaking up the atmosphere and smells was a great inspiration to me. I went on to travel around South East Asia, Australia, Singapore and New Zealand.
On my return I was inspired, and so I began to draw. Up until that point I only ever really picked up a pencil, and so when I started to draw with black fine liner, pro marker pens and watercolour, I knew that my style was about to evolve. I began working with flowers and intricate details involving paisley shapes and other patterns inspired by India. Eventually I wanted to translate these patterns into something else. I immediately turned to birds and now today, they have become one of my biggest inspirations. Gradually I started to draw animals in the same style and I loved the results.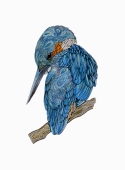 I mostly identify with art that is visually beautiful and that involves the natural world. It doesn't have to have a meaning behind it, just something that captures the movement and vibrancy of colour especially. I want to uplift birds and animals to a level where they become increasingly more beautiful. The compositions of my drawings are very important to me too, and although they appear simple, the complexity is within the drawing itself.
When I am asked about how I manage to create these painstakingly detailed drawings, sometimes I am not sure how to answer it. I think it really comes down to my love and commitment for drawing and my desire to always be unique. I am in awe of colour and pattern and I will continue to create and evolve.