London Marriott Hotel County Hall
Gillray's is located in the luxury 5* London Marriott Hotel County Hall which is centrally located on London's South Bank and is traditionally elegant with views overlooking Big Ben, the Houses of Parliament and the River Thames. The hotel, the former home of the Greater London Council, has 200 spacious guest bedrooms and suites, all of which are air-conditioned and many offering river views and balconies. The rooms feature a dedicated work area, Internet access and luxury bedding. The hotel boasts a traditional bar – The Leader's Bar – steeped in history and covered with political cartoons; Gillray's Steakhouse and Bar plus The Library offering scrumptious afternoon teas in a delightful and tranquil setting – also looking out on to the River. Guests can enjoy complimentary use of the leisure club at County Hall, featuring the largest hotel pool in London and a fully equipped gym. There is also a spa offering a wide range of treatments. With 11 dedicated meeting rooms, the hotel can also create bespoke events and first-class catering.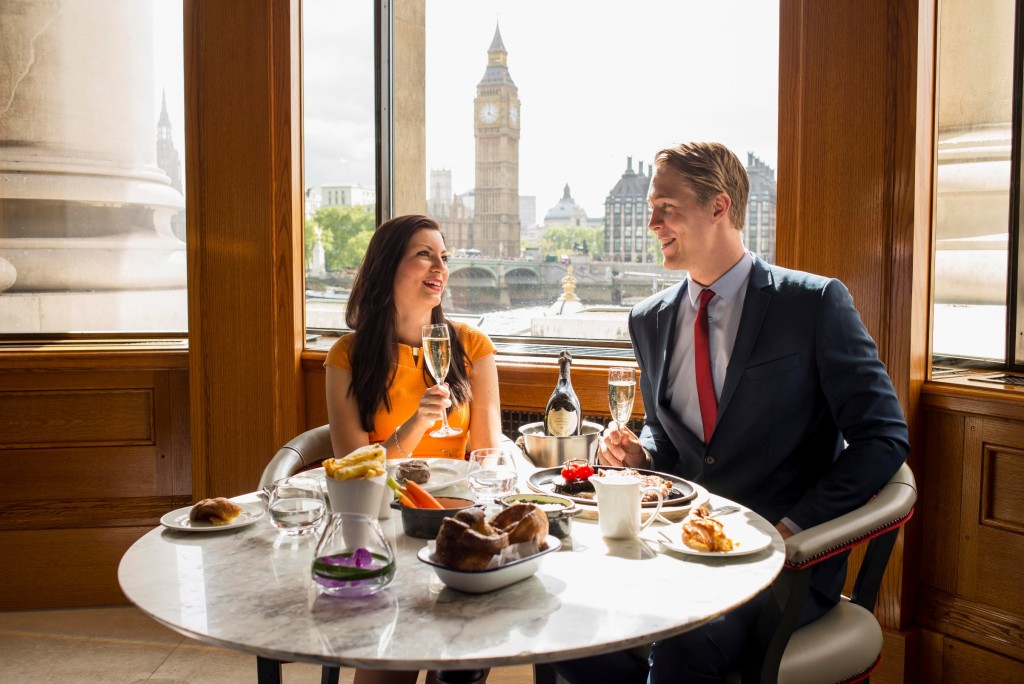 The SLOAN! Review
"Every single choice without exception surpassed our expectations. Attention to detail. Passion. Knowledge. Exceptional service delivery, Gillrays has it all. We began our meal with a novel replacement for bread. We were served a Yorkshire pudding  the centre of which was melted cheddar served with a horse radish and sour cream dip. The starters or Scallops and Oysters proved fresh and delightful was to continue our dining experience.  We paired our food with wines from Digby vineyards near Essex. Often thought of as not having enough sun English sparkling wines are in fact some of the best available outside of champagne. Options include a white sparkling wine and rosé sparkling wine both of which we tried price are middle range and well worth considering even for the most experienced of wine connoisseurs.
We chose the Lamb chop generous cut and Prime rib cooked medium rare on the bone which was juicy and succulent, cooked medium rare. We also received a over generous side portion of homemade black pudding with deliciously rich flavours and seasoned to perfection and bone marrow not to everyone's taste but probably some of the best bone marrow in London. The steaks were complimented  with triple cooked chips not too crispy. Fluffy inside. Crisp golden outside, just the way you would wish. All the sauces are made without any flour whatsoever, reduction which takes for some of them 48 hours.
Although I was pleasantly full at this juncture, after a short break I managed to partake in dessert. We ordered the Valrhona caramels served with rhubarb ice cream, such a  crisp clean taste of rhubarb with a sharp kick of black pepper a well thought out combination. My dining companion ordered a seasonal passion fruit meringue pie which was a delightful culinary twist on a classic dish. The staff were some of the most knowledgeable we have met. Our waiter Gabor who knew everything from the timings of the preparation of the food and demonstrated on his back whether lamb chop without you come from our lovely to see. Informative and entertaining sparking off interesting to the conversation.  Our friendly head barman Juraj who knew his gins (and no doubt other spirits) to a level that entertained and dazzled us. Juraj chose Sipsmith sloe gin described as a dessert gin and a Chocolate hazelnut martini artistically presented to accompany our desserts.
This restaurant is perfect whether you are catching up with friends, having a first date, celebrating an anniversary or just wanting to enjoy breathtaking views of the Thames."
See the gallery below for the choices we made:
If you're busy in the evening but have time for afternoon tea they Marriot has been voted as one of the best places in London for afternoon tea with free-flowing Champagne and a choice of delectable home made creations six choices of sandwiches seven choice of sandwiches three flavours of scones surrounded by 4000 books with beautiful views across the river towards the house Parliament. Afternoon tea is served from 12 till four in the library.
Gillray's Steakhouse & Bar
London Marriott Hotel County Hall

Westminster Bridge Road
London
SE1 7PB
Tel: 020 7902 8000
http://gillrays.com/