Having recently opened its doors on Bury Street in St James's, Ginza Onodera much anticipated London restaurant fuses traditional Japanese minimalism with modern detailing, courtesy of renowned Japanese design house Yosai Kiyono. Wall-fitted mirroring, wooden partitions and polished concrete flooring echo the clean, chic precision of Onodera's dishes.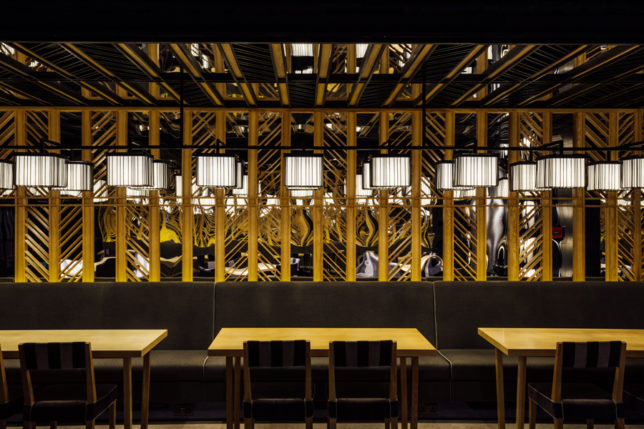 Ginza Onodera's Head Sommelier Angelo Lorea has carefully curated a wine and extensive sake list. Select a vintage from the 450-strong menu, or allow Angelo to recommend a perfectly paired sake – flavour notes such as fruit, flowers, herbs and spices will be considered, and all sakes are served at optimum temperature to complement your food. They also serve a great range of cocktails.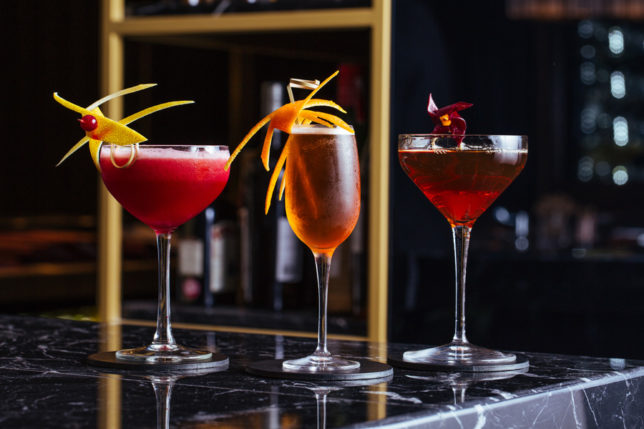 Ginza Onodera's Head Chef Ryosuke Kishi has perfectly curated the à la carte menu which spans kobachi (rarely seen in London), tataki, tartare, sushi and sashimi as well as teppan-yaki and robata grill dishes. A range of tasting and set menus are also available at lunch and dinner.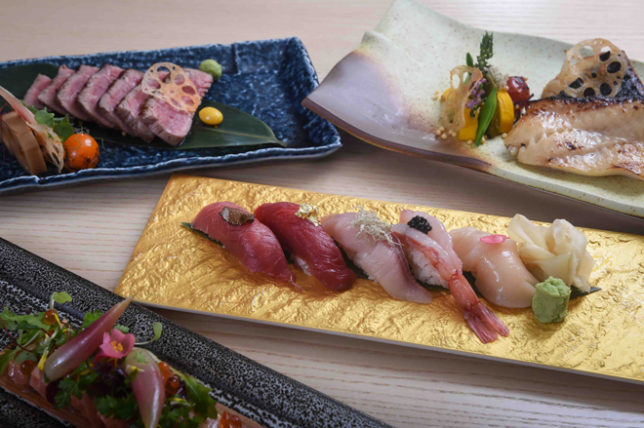 As you would expect, the quality of the sushi and sashimi at Onodera is unrivalled. For a truly interactive experience, take a seat at the counter and watch as sensational sashimi is sliced, the freshest sea food is shelled and individual pieces are expertly made to order. Allow the itamae (specialist sushi chefs) to prepare a set tasting menu (from £65.00) for lunch only, or hand pick from delicate, seasonal choices including octopus, snow crab and salmon roe or rich marbled tuna and sea urchin (from £3.00 per piece).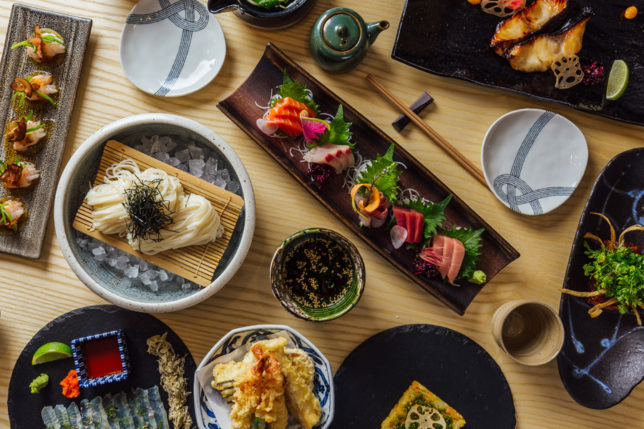 Delicious teppan-yaki dishes can be enjoyed direct from the counter, in a private room or the main restaurant. Watch as only the highest quality ingredients such as lobster (Canadian or spiny), black cod, marbled tuna and miyazaki-gyu sirloin are expertly prepared, cooked and sliced for service according to the ancient art of teppan-yaki.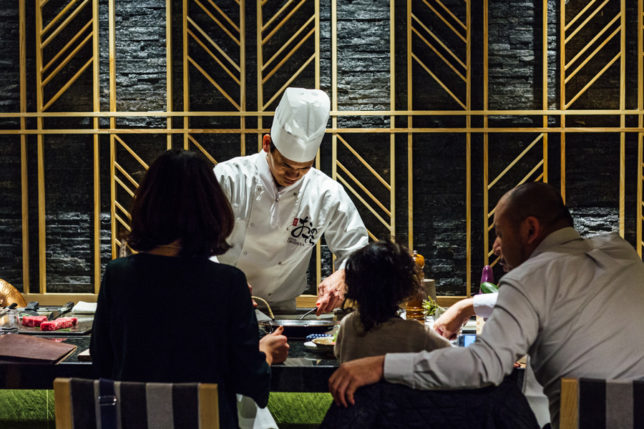 Onodera signatures come in the form of cactus-fed turbot kobujime usuzukuri (£20.00), Japanese wagyu dumplings (£25.00) and Japanese wagyu nikujyaga (£16), whilst Scottish scallops (£12), Canadian black cod saikyo-yaki (£42) and Black Angus beef sirloin (£33) come direct from the Robata.
So it was that we sat down with a couple oof cocktails one evening at Ginza Onodera looking forward to the Japanese delectable delights that awaited us.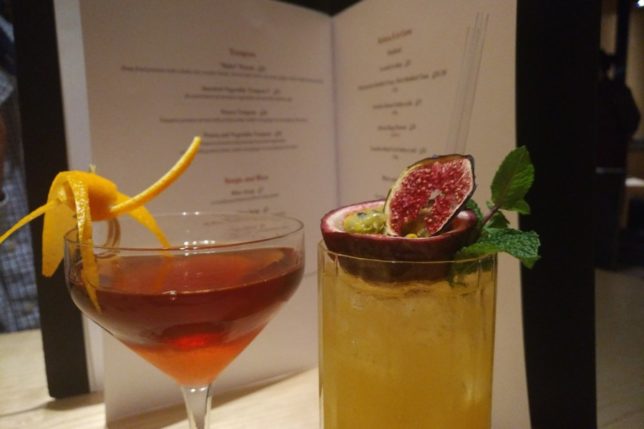 After the delicious aperitifs, it was time to try our first dish on the tasting menu. The Black Kanpachi Carpaccio starter was slices of Cobia served with a truffle and citrus sauce and finished with pomegranate seeds, sliced truffles and seasonal herbs with edible flowers.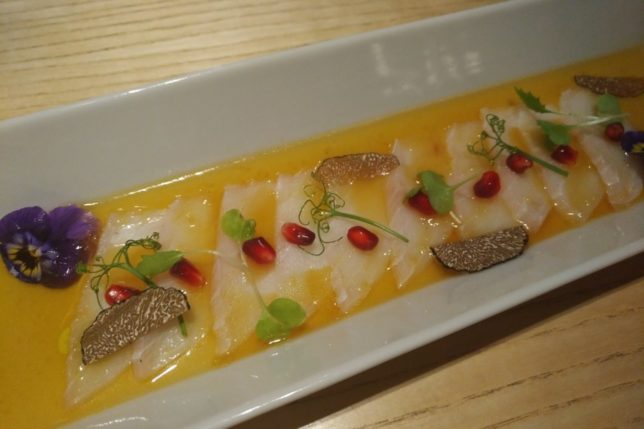 Next up was the Sweet Shrimp wrapped in Squid, topped with Chirizu. This had a hint of chilli and was mixed with citrus sauce with delightful layered textures.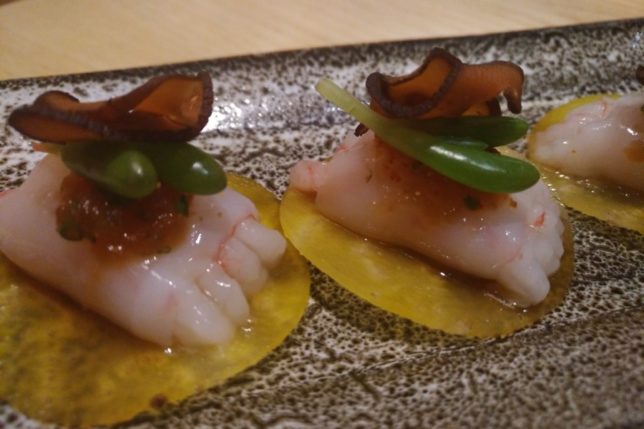 From we exclusive kobachi selection, we sampled the Scottish Scallop and Caviar with Ponzu Jelly. The freshly diced scallop was served with an accompaniment of caviar and citrus soy sauce.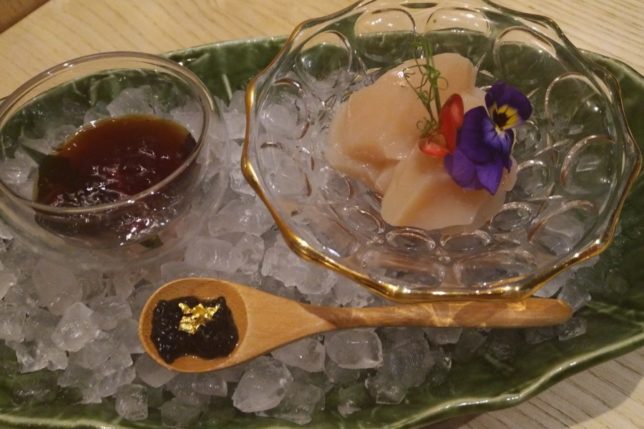 The next dish we tried was the Cornish Crab Cream Croquette.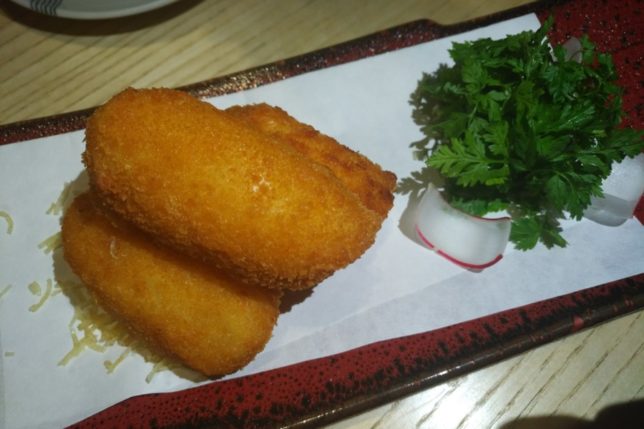 Made with fresh Cornish crab meat deep fried with parmesan cheese and béchamel sauce, the croquette had a rich creamy interior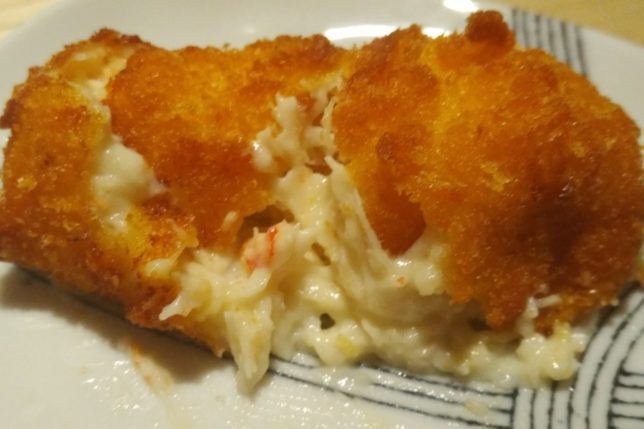 From the sushi menu we sampled the Spider Roll – deep fried softshell crab with pickled baby carrots and wasabi mayonnaise. The sushi roll was coated with sun dried green laver.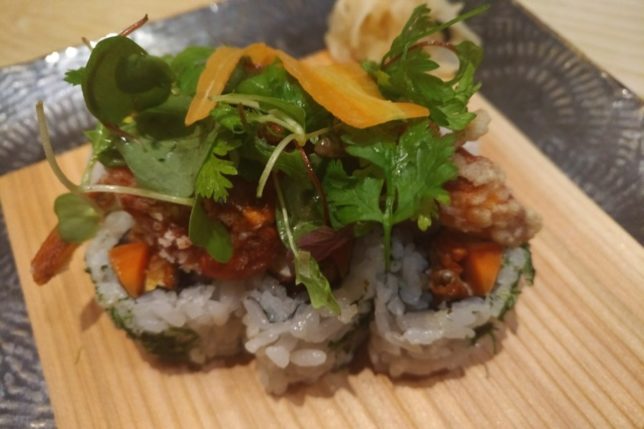 Then it was time to try the chilled Inaniwa udon served with traditional dipping sauce. Cold noodles might not be everyone's cup of tea but it was certainly an interesting dish and was served alongside an assortment of tempura.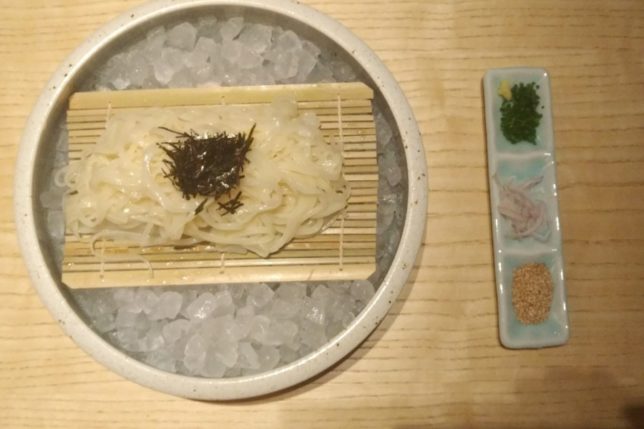 Tempura is one of our favourite Japanese dishes so we enjoyed the Prawn and Vegetable Tempura. We loved the prawns and the assorted seasonal vegetables were very good too served with grated white radish and ginger to accompany the sauce which was delicious.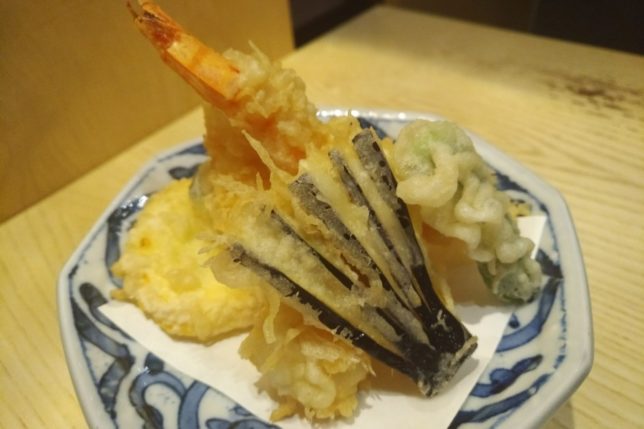 From the Robata Grill, we had the Canadian Black Cod Saikyo-yaki as a tasting dish. What's not to like about Black Cod – especially when it looks and tastes this good thanks to the culinary expertise of the Onodera chefs.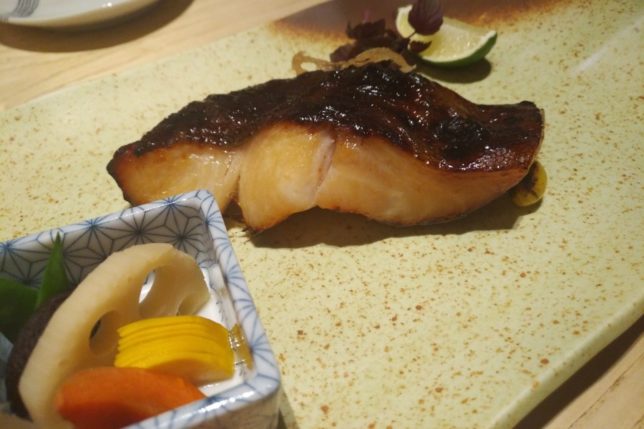 Dessert was Mochi Ice Cream and Sorbet which was a refreshing way to finish the wonderful tasting experience enjoying Ginza Onodera's exquisitely crafted menu. From the bustling streets of Tokyo to the heart of London, Ginza Onodera bring an elevated and authentic Japanese dining experience to the capital with its private suites dedicated to sushi and teppan-yaki plus a robata grill and stunning cocktail bar. Definitely one for your must-try list!
Ginza Onodera London
15 Bury St, St. James's, London SW1Y 6AL
020 7839 1101
onodera-group.com/uk
T: @onodera_london
I: @onoderalondon