It's no secret that Benefit Cosmetics does things differently. With the launch of Good Ship Benefit this spring/summer, visitors have been transported from Benefit's home of San Francisco, to tropical beaches via the secret lair of spy gal. With three decks of fun, glamour and pampering, we looked forward to setting sail on Good Ship Benefit for lunch.
The Good Ship Benefit at the R.S Hispaniola and located at Victoria Embankment, is a place for girls to discover different worlds celebrating some of Benefit's hero products and services with cocktails, afternoon tea and culinary experiences thrown in for good measure! As the number one eyebrow brand in the UK, Good Ship Benefit pays homage to all things brows alongside rooms dedicated to the award winning bronzing powder Hoola, the UK's number one selling primer, POREfessional and Benefit's best-selling mascara, they're Real!.
Lashitude at the Upper Deck is the place to be to enjoy dining on the River Thames. With the London Eye and the Houses of Parliament in full view of Good Ship Benefit's leading restaurant, it may be London outside but on deck three, girls are transported into a world inspired by Benefit's award winning mascara, they're Real!, which gives bigger and bolder lashes – with attitude! The Lashitude at the Upper Deck is a restaurant packed with glitz and glamour with a stylish black and orange decor. Providing a la carte dining for lunch and dinner, and accommodating both small and large groups, Lashitude on the Upper Deck won't disappoint. The menu takes its inspiration from classic San Francisco delights such as Clam Chowder and the ice cream biscuit dessert It's It.
Our lovely friendly hostess Susie mentioned it was International Best Friend Day the weekend just gone so we thought what better way to start our Ladies Who Lunch experience than to say a toast to besties with a bubbly champagne saucer filled with a really decent prosecco.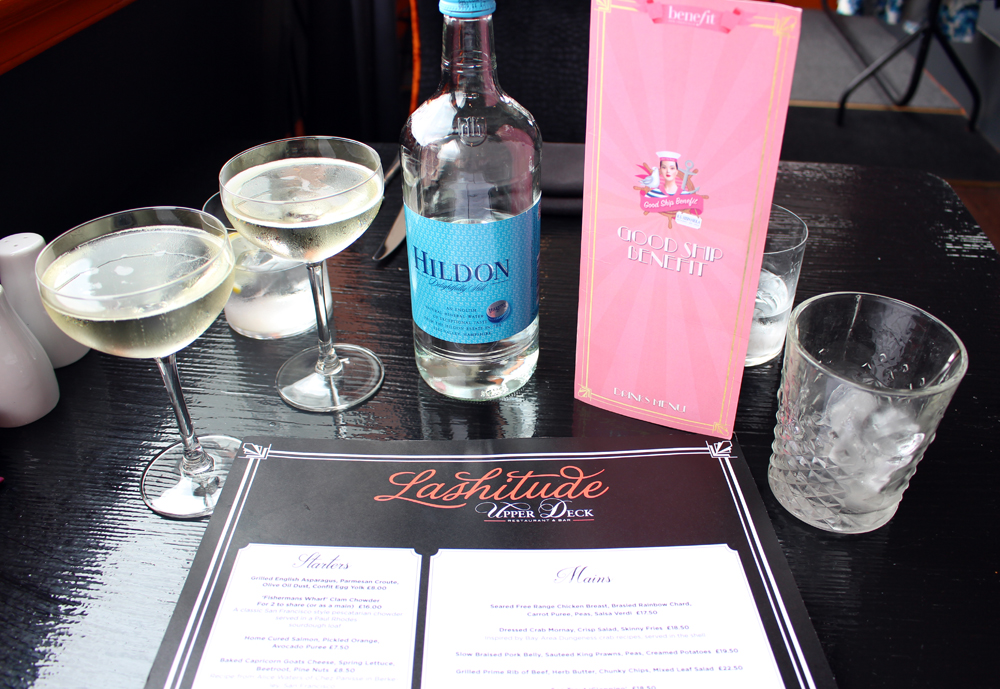 The Set Menu is a popular choice for lunch but we wanted to push the boat out (pun intended) and went for the A La Carte menu instead. To start I chose the Smoked Gressingham Duck Breast with Textures of Raspberries. The fruity flavour of the berry accompaniment paired well with the smoky game flavour of the duck.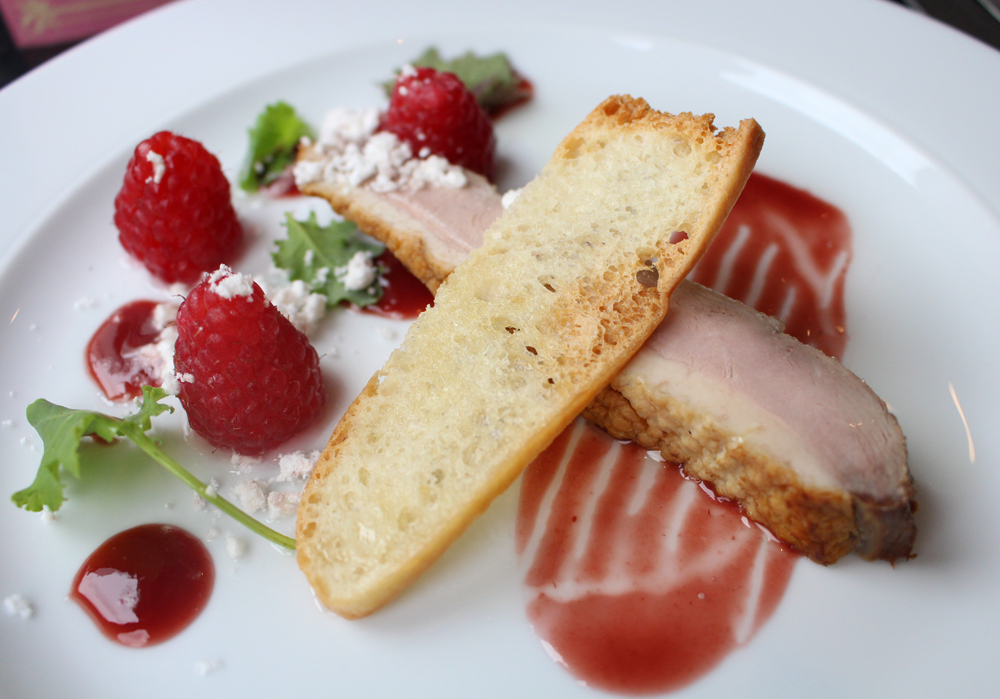 My girl friend chose the rather more heartier dish of Hangtown Fry which could easily be served as a yummy brunch dish. This classic California gold-rush dish from the 1850s was a generous serving of scrambled eggs with bacon and potato topped with three deep fried oysters in a Panko breading served in a cute cast iron skillet.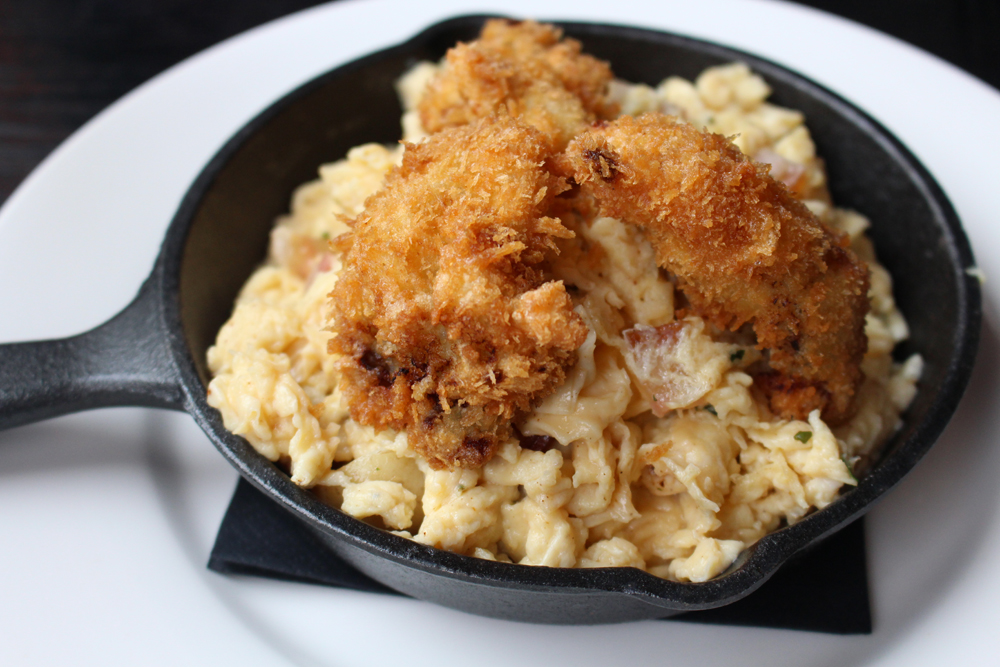 Moving on to mains I ordered the Dressed Crab Mornay which was served warm as the name suggests which really made this dish stand out for me. It was scrumptious taking its inspiration from Bay Area Dungeness crab recipes, served in the shell. The tasty crab came with skinny fries and salad. Where there are fries there is mustard & mayo on the side – my all-time favourite chip dip.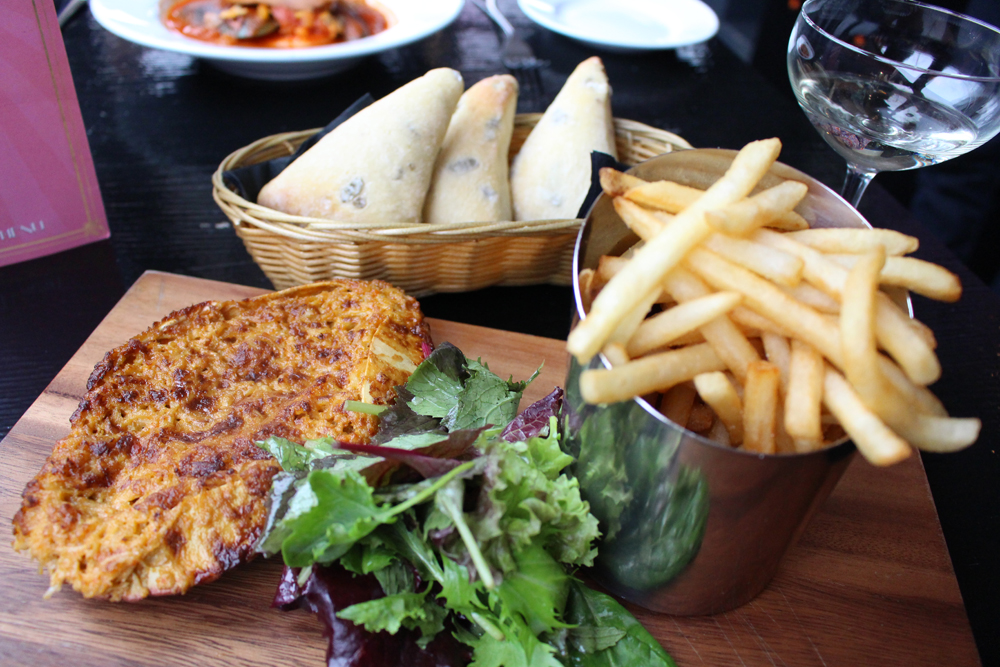 My friend chose another traditional Californian dish from the late 19th century called Cioppino which is basically a fish stew originating from Genoese settlers in San Fransisco in the late 1800s. Here it is made with a succulent sea trout fillet atop three large mussels in half shell and two fat juicy prawns heads intact in a flavourful tomato sauce. She asked for plenty of the restaurant's signature green olive bread rolls for dipping as she said the sauce was worth the extra carbs!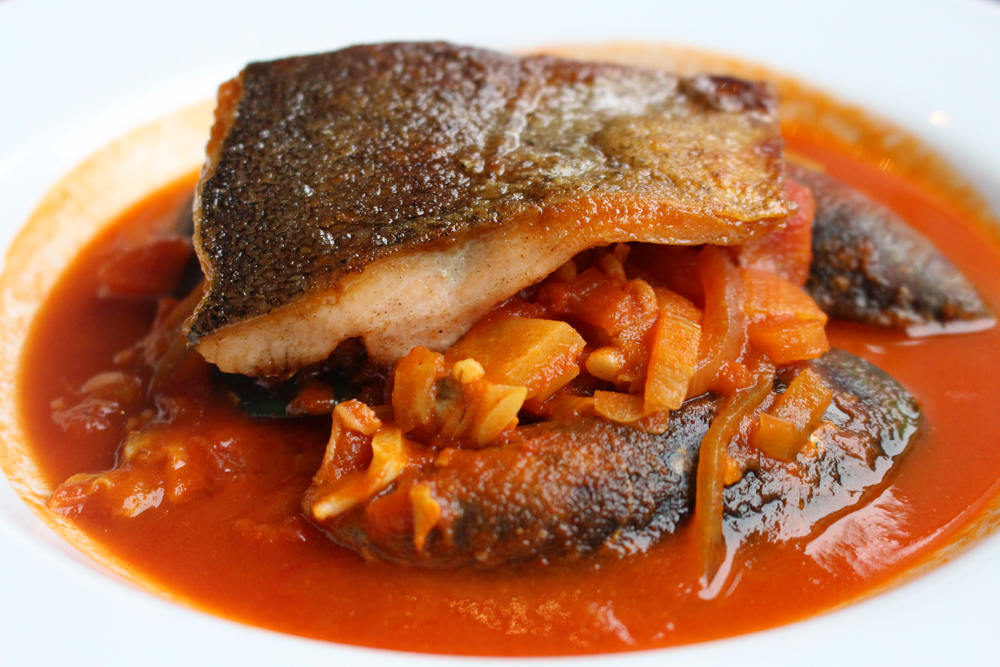 To accompany these delightful and generous dishes we ordered a couple of cocktails. My friend ordered Gabbi's Garden which she described as "summer in a glass" – a refreshing non-alcoholic concoction of elderflower, cucumber, mint and soda. I went for a very girly rosy hued drink called The Pink Lady made with Pinkster Gin, Blackberries, Elderflower, Sugar, Lemon and Prosecco served in a champagne saucer.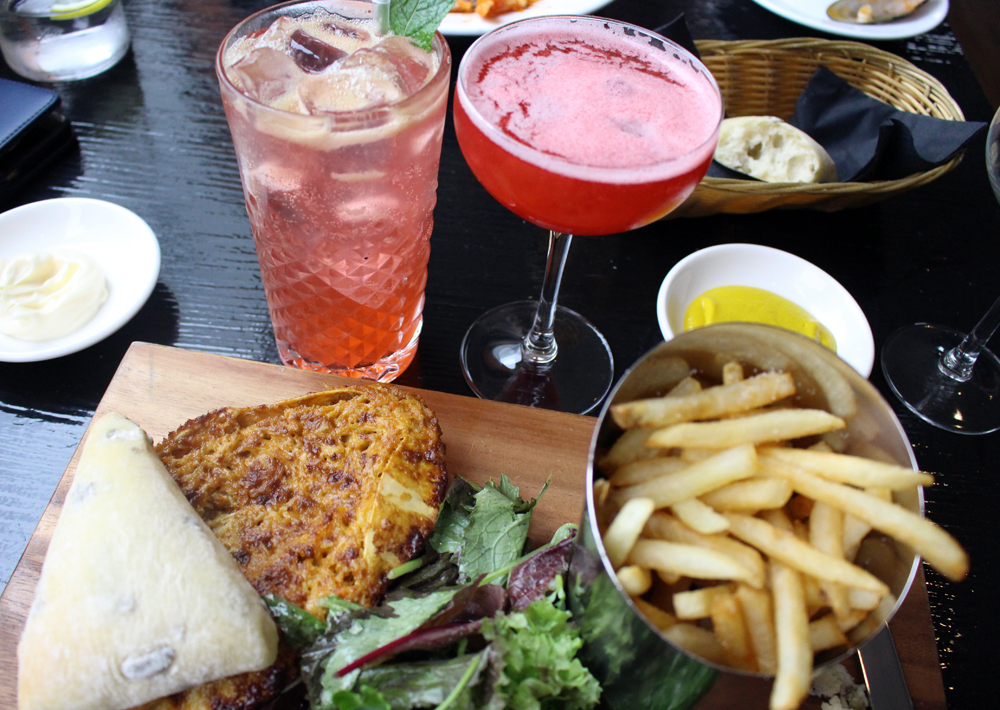 Then it was time for dessert. My friend chose the impressive looking Benefit Sundae which was layers of strawberry ice-cream, oat biscuit crumbled with strawberry sponge cake and topped with raspberry sauce and a creamy whipped topping made from dragonfruit called pitaya. Again, a large enough portion to share between two if you so chose.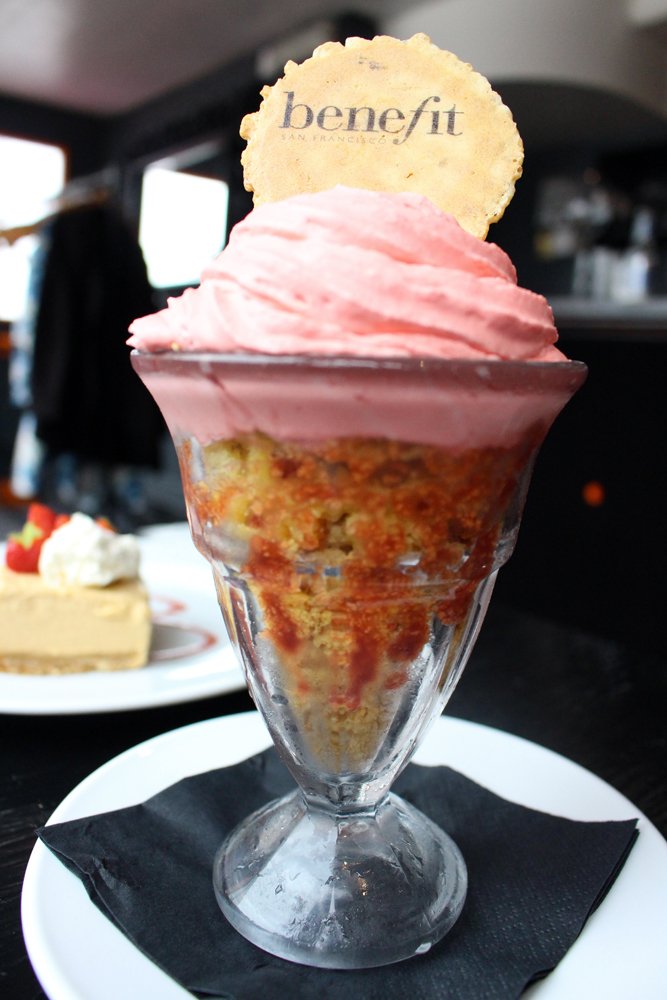 I went for a decadent California Cheesecake flavoured with Jack Daniels reduction and caramel topped with whipped cream and fresh strawberries. It was delicious and very rich. Perhaps one to share between two as I found it very filling due to all the richness. Notice the clever use of sauce on the plate in the shape of a B.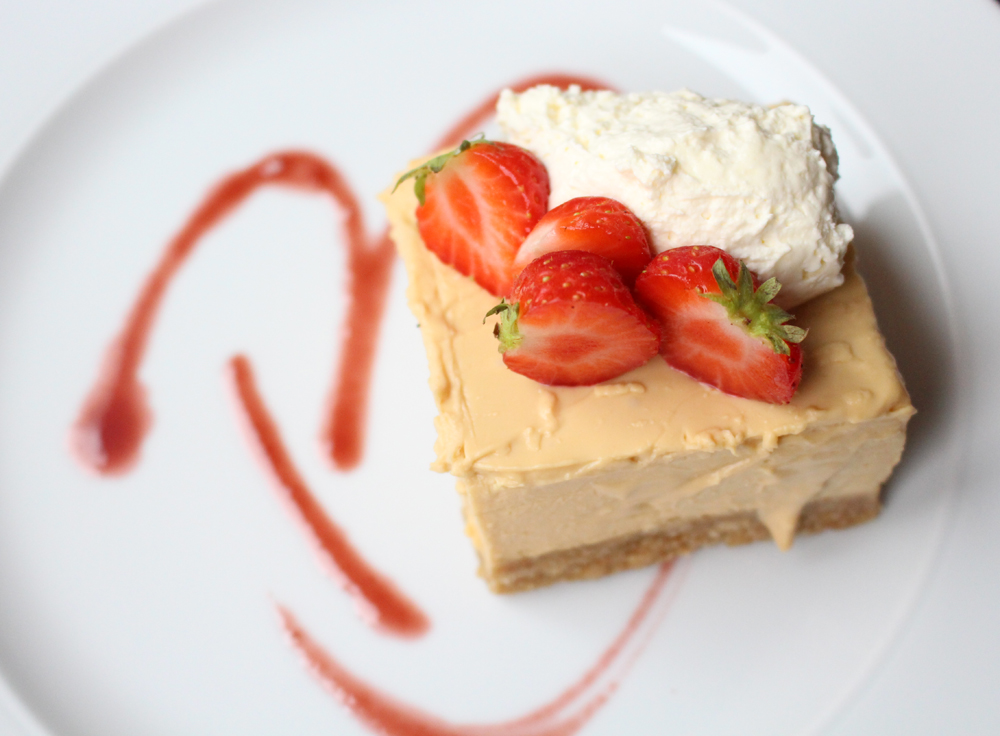 Susie then took us for a little tour around the boat and pointed out the specially created rooms that form the Good Ship Benefit. The Brow Lounge celebrates the fact that Benefit has been magically transforming brows since 1976 and 2016 is the Year of the Brow. The lounge has funky brow shaped sofas and serves a luxurious afternoon tea, rounded off with a glass of bubbles. The POREfessional Vault is a 1960s, spy-chic space with fun egg chairs and delicious Belvedere Vodka martinis. This vault room is a great private space for small corporate events.
The Hawaii-inspired Hoola Deck comes complete with Tiki huts, cabanas and bright pink artificial grass where girls can enjoy sipping cocktails from the beach bar served from one of Benefit's Hoola hunks. We also hear that some fun fitness classes take place on the Hoola decks… with Hoola Hoops of course! And then there is the very pink Pinkton Parlour serving Pinkster Gin in an environment of laidback fabulousness where girls can watch the world go by on the River Thames.
All five rooms will be open until the end of August so catch a cocktail or launch a lunch on board while there's still time to benefit from Benefit's fabulous girly takeover of the R.S Hispaniola. The menu at Lashitude is definitely worth the journey to Victoria Embankment whatever the weather/
For more information visit www.goodshipbenefit.com and join the conversation at #GoodShipBenefit
The Good Ship Benefit at R.S Hispaniola
Victoria Embankment, London WC2N 5DJ
From 9th April – 31st August 2016
Open 11am – 11pm on Sunday – Thursday, and from 11am – 12am on Friday and Saturday
Bookings: goodshipbenefit@benefitcosmetics.com