Goode & Wright, the popular brasserie on Portobello Road, is celebrating their third magnificent year in business and has a brilliant new Director Alex Herb, who joins Head Chef Finlay Logan in the day-to-day running of this classic Notting Hill bistro.
Having decided to drive to Goode & Wright I was pleasantly surprised to find quite a number of parking places outside enabling us to be fifteen minutes early for our reservation. The friendly manager Alex Herb greeted us on arrival and accommodatingly showed us to our table even though we were early.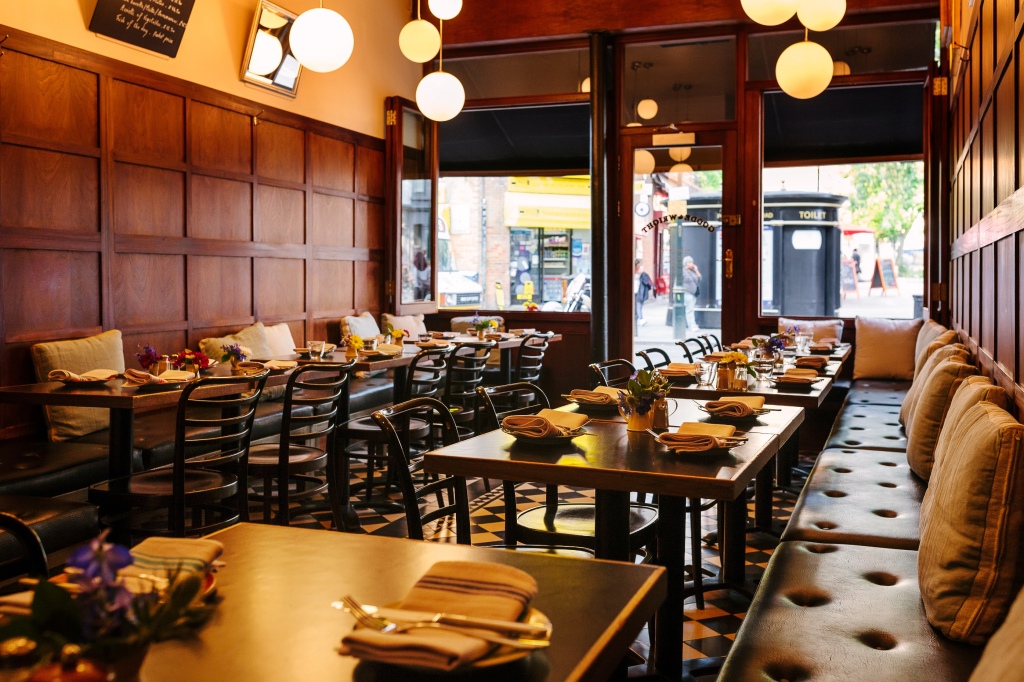 The restaurant seats at least 40 and has beautiful wood panelling throughout enabling myself and my dining companion to sit on the same side of the table to explore and enjoy the menu. Before we had even started, still water arrived at our table and we were presented with some beautiful bread accompanied by a flavoured salted butter garnished with truffle shavings on top and we were asked for our drinks order. Although the bread wasn't served warm, it was extremely tasty and whet our appetites for the main event.
The menu comes in a variety of forms depending on what day you go with Saturday and Sunday having a different menu to their weekday menu which is definitely worth a look at however we attended on a weekday and decided to go for a few smaller plates and one larger plate.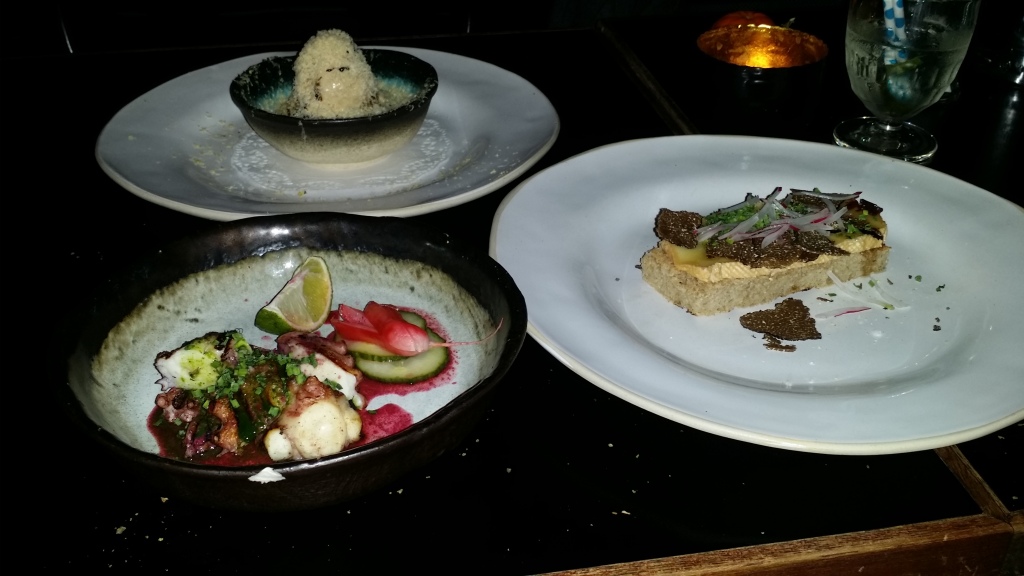 In all honesty although the starter small plates look light I would suggest erring on the side of caution and only ordering a couple as they are actually quite filling. We decided on trying the unusual pairing of Foie Gras with Salt Caramel Ice Cream which was absolutely divine and the definite dish of the day and was something I would make a special trip to go and have just that as a snack. The salted caramel reflected the flavour in the foie gras and although some may say it is an unusual combination and may be too sweet, I actually found that by pairing it with a luscious dessert wine which was Alex's wonderful suggestion as it brought the flavours out even more. This dish is definitely one I would recommend.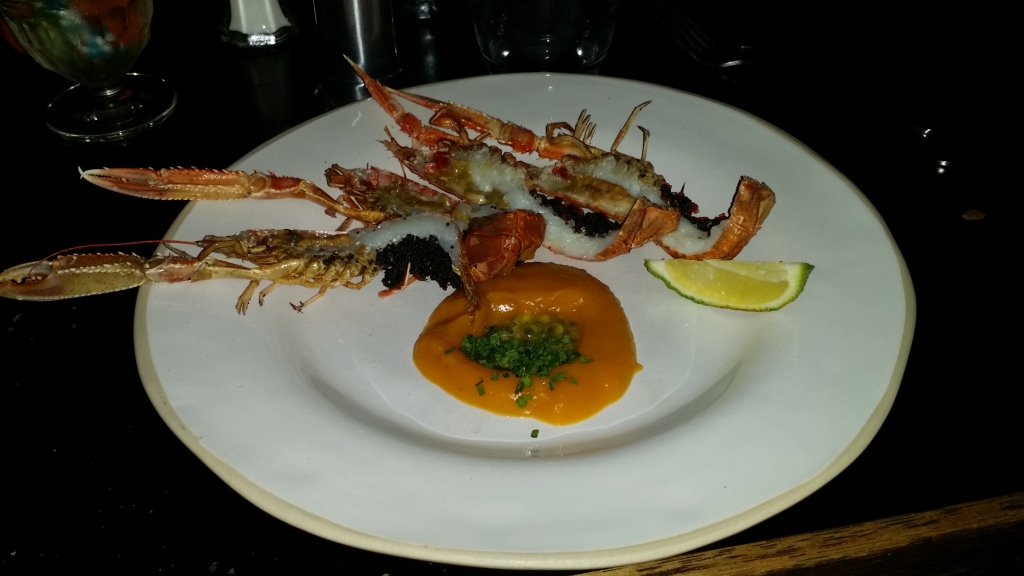 On the other end of the scale we had the Soft Cheese Toast with London Honey and Fresh Grated Truffle which was extremely filling , very moreish and had an air of comfort. My second favourite small plate was the Charred Langoustines with Pumpkin and Passion Fruit not only because the langoustines were freshly cooked to succulent goodness allowing all the flavours to come to the surface but because again Chef Finlay had combined the langoustines with a passion fruit puree complete with passion fruit seeds which really brought my tastebuds to life. We also ordered the Charred Octopus which although was a lovely dish did not stand out as much as the other dishes.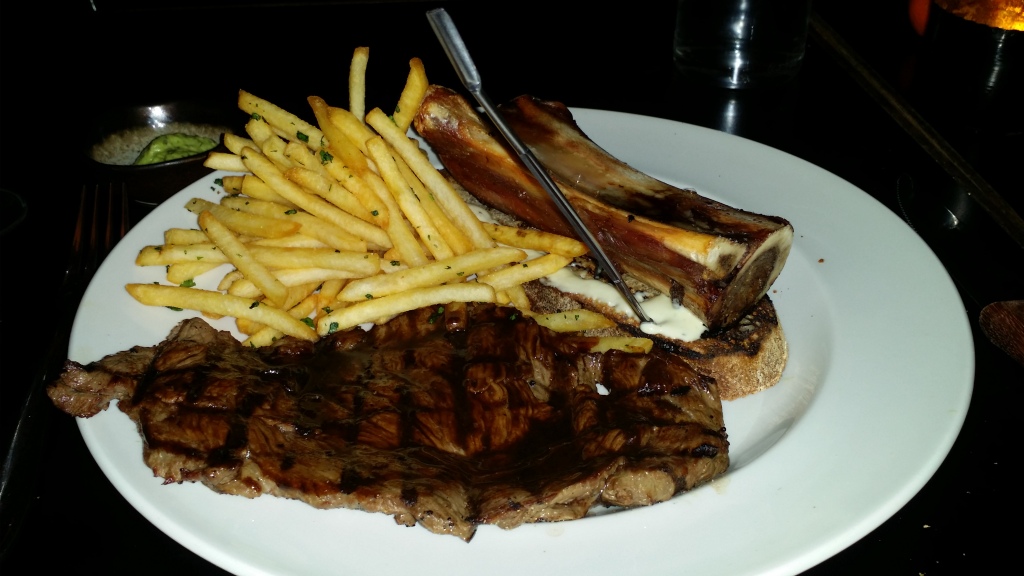 For mains I ordered the Bavette Steak with Roast Marrowbones and Sourdough Toast and I asked for a separate serving of Tarragon Mustard. Marrowbones definitely are like Marmite, you either love them or you hate them, but I really like the texture of marrowbone and this version was served to perfection with a thin spread of garlic aioli over the sourdough toast which complemented the steak perfectly. The steak was seasoned with pepper and cooked medium rare exactly as I asked for it and was a very generous portion of meat accompanied by a serving of fries which prevented me from trying the triple cooked chips which Goode & Wright also do. These are chunky chips cooked three times including a final frying in duck fat and these are definitely on my list to try next time.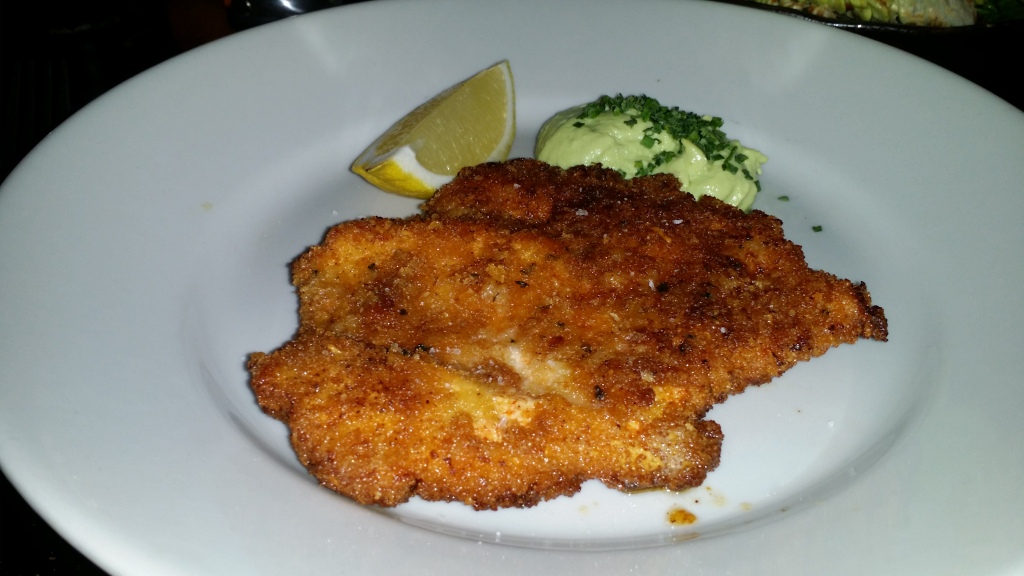 My dining companion had the Buttermilk Chicken Schnitzel which on first hearing sounds quite ordinary but was far from it. It was served with a unique avocado mousse and salad but I would recommend ordering a side of chips not because the portion is not generous but because the chunky chips are so delicious here and would be a perfect accompaniment to the schnitzel.
Unfortunately by the time it came for dessert I had eaten way too much to be able to order any of the dishes I actually wanted to try so I opted for a very light Honeycomb Ice Cream with Toasted Vanilla Marshmallow. This confection tasted of the flavour of a slightly burnt caramel crème brulee as the chef had blow torched the edges and it was absolutely divine. Overall this was a pleasingly light dessert which normally comes with affogato.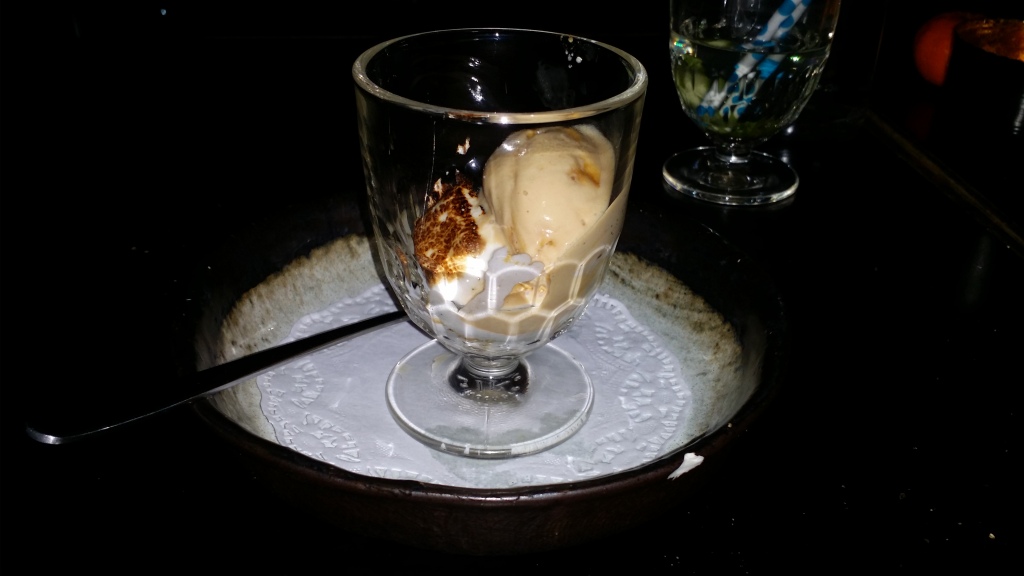 My dining companion still had room for his final dish of the evening and went for the Crunchy Nut Cornflake Crème Brulee with Milk Ice Cream. This reminds the diner of the comforting moments from childhood breakfasts when one was younger. The caramel topping had not been fully caramelised  underneath the crisp outer surface which was a disappointment and the cream below could have been set a little thicker but the concept of the dessert was spot on.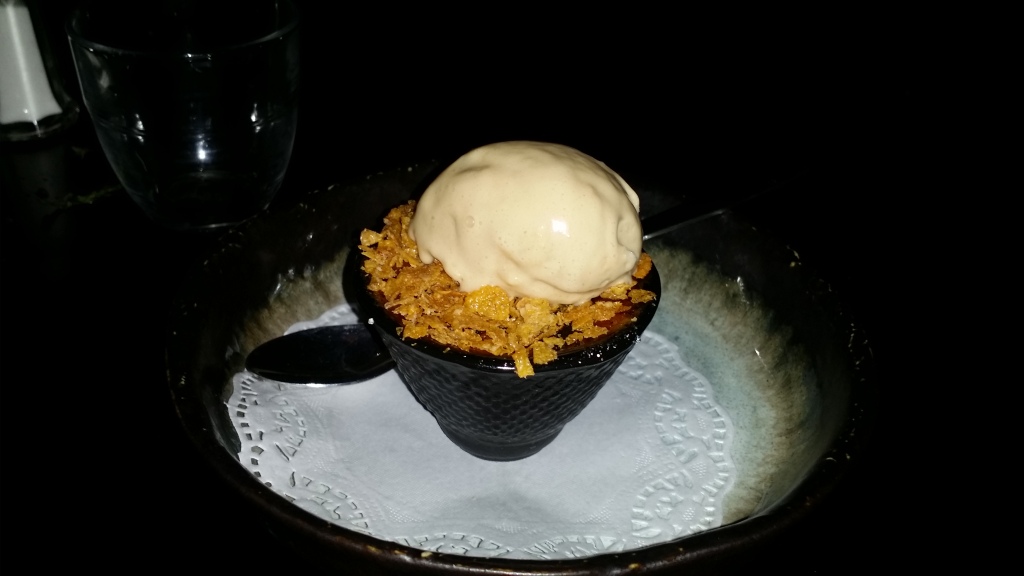 Looking across the menu, I would recommend trying the Queen Cox Apple and Pistachio Tartlet which is a pre-order dish upon arrival and takes just over 15 minutes to prepare. It looked to be worth the wait as we saw a fellow diner enjoying this and it seems like something that would appeal to most tastes.
The cocktails are extremely interesting because the innovative cocktail list has been carefully crafted by Matt Whiley of Talented Mr Fox whose combination of classic expertise and cosmopolitan edge means the drinks menu is bound to impress. For example the 4466 Miles From Delhi is a cocktail made with Peanut Butter Gin but arrives to your table as a confusingly clear drink when one expects something more nutty coloured and cloudy. The reason behind this is that the actual spirits have all been infused with flavours as opposed to being mixed with these flavoursome ingredients. This also made quite an impact on another cocktail, Granny's Cosmo which had subtle flavours come through the fruity cranberry and burnt orange notes, although I can't say what my grandmother would make of it, I would certainly say that this was the nicest take on a classic Cosmopolitan that I have tried to date.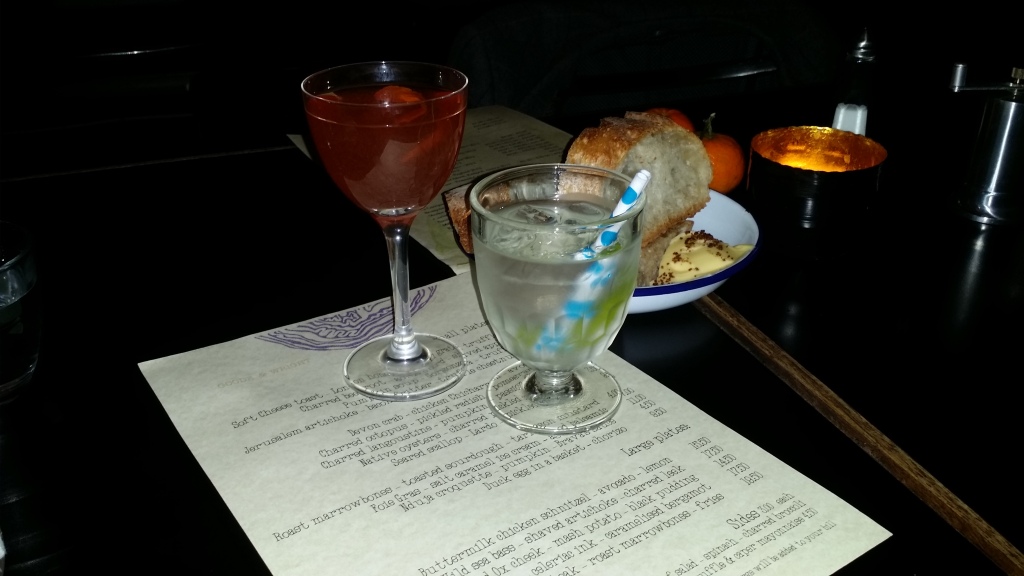 The only slight word of warning I would give after experiencing the strength of some of the cocoktails is that some can be quite stronger than one would expect so caution is advisable as to how heavily you choose to partake in them.
During our meal I noted that the restaurant never reached full capacity which meant it wasn't too noisy but managed to have a lovely buzz to it. This is definitely a place which you would need to book on weekends and it's not the place to go for a quiet tête-a-tête although it never gets too loud for comfort. It's a great place for a first date, catching up with friends or even an informal meeting with clients as you can easily fit in whether you are dressed up or down. Although only one waiter serves the entire restaurant, all diners seemed well catered for and we certainly received a very good level of service.
Goode & Wright are in the process of updating their decor although we would say it does not need redecoration in any major way and the minor changes they have planned sound very exciting and I can't wait to see them although I am sure the unpretentious nostalgic feel of this Notting Hill bistro will remain. The relaxed British-French ambience of the restaurant would suit most age groups but would appeal most to the thirty-something crowd and those younger at heart who are looking for something more than textbook bistro dining.
Goode & Wright
271 Portobello Road
London
W11 1LR
Tel: 020 7727 5552
Web: www.goodeandwright.co.uk