This month, GREY GOOSE vodka is hosting 'Pour L'amour du Chocolat' – a unique and immersive dining, cocktail and cinematic experience inspired by the film Chocolat in partnership with Rootop Film Club open air cinema.
Taking place on Wednesday 27th September at The Roof Gardens – guests will enjoy bespoke GREY GOOSE cocktails created by UK Brand Ambassador Myles Donneky, bringing out the naturally rich and full bodied taste of GREY GOOSE. The cocktails have been paired with a 'Chocolat' inspired menu devised specially for the occasion by Master Chocolatier Paul A. Young. This will be followed by an open-air screening from Rooftop Film Club of the romantic comedy-drama, Chocolat, featuring Jonny Depp, Juliet Binoche and Judi Dench.
The event will celebrate the launch of the brand's latest serve, GREY GOOSE Café Gourmand, an expression of a quintessentially French dining ritual made in partnership with experts in the art of coffee and patisserie, elevating the classic Espresso Martini serve into the new third course by combining cocktails and pastries.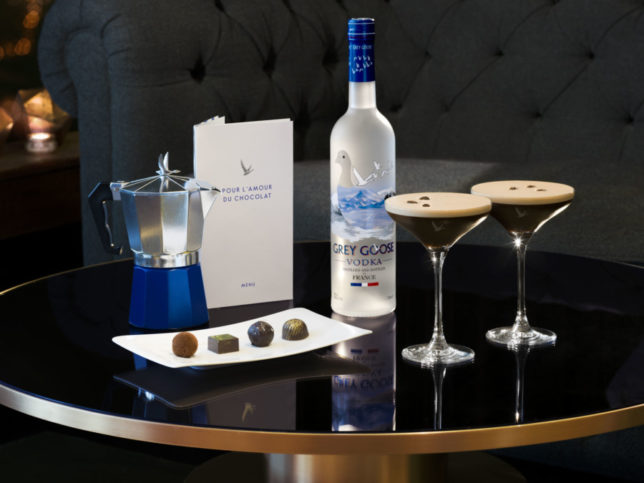 Upon arrival guests will be welcomed with a cocktail reception serving the classic GREY GOOSE Le Fizz cocktail and the opportunity to watch the Atelier Experience, a chocolate based masterclass where guests can observe as the chocolates, inspired by the movie, are tempered, rolled and decorated, and learn about the bean-to-bar story from Master Chocolatier Paul A. Young.
From 7.45pm guests will enjoy a menu comprised entirely of chocolate based dishes in the Tudor Garden, designed by Paul A. Young and inspired by key moments in the film. A ground-breaking chocolatier; Paul's passion for his craft and cutting edge creativity has won him numerous awards. His famous flavour combinations are original, experimental and daring, yet always delicious and perfectly balanced. Prepare to be wowed with chocolate starters as well as a main course of the traditional Basque dish – quails in chocolate sauce.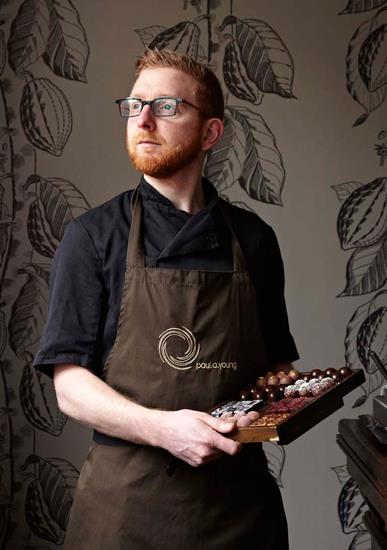 Paul A. Young, Master Chocolatier, told us: "I'm always eager to use my skills as a chef, patissier and chocolatier and working with Grey Goose has allowed me to share all three with a one off chocolate menu like no other. The experiential element of the evening delivers sweet and savoury dishes all inspired by the film chocolat and sweet treats paired with Grey Goose espresso martinis in 4 flavours."
For the third course, guests will be invited to experience the GREY GOOSE Café Gourmand, with the option to choose from a selection of four GREY GOOSE Espresso Martinis accompanied by bite-sized pastries developed by London's leading Master Chocolatier, Paul A. Young.
GREY GOOSE Café Gourmand elevates the classic Espresso Martini serve which is seeing a huge growth in popularity as the new alternative dessert course to end your dining experience but not your evening.
GREY GOOSE Café Gourmand is the new expression of a quintessentially French ritual made in partnership with experts in the art of coffee and patisserie. It consists of the perfect Espresso Martini, carefully crafted in collaboration with Parisian baristas la Brûlerie de Bellevilleand.
Myles Donneky, Grey Goose UK Brand Ambassador, told us: "We see the Café Gourmand taking centre stage, the rich, full bodied taste of Grey Goose in the Espresso Martini cocktail paired with delicate patisserie is the perfect alternative for a dessert."
Whilst the GREY GOOSE Café Gourmand will end guests dining experience it will hail the start of the next part of their evening, as they will be seated with their Espresso Martinis and pastries ready for the film to start.
It doesn't end there, with further cocktails and surprises throughout the film, this will most definitely be your most indulgent event of the year.
EVENT DETAILS
Where: The Roof Gardens, 99 Kensington High St, London W8 5SA
When: Wednesday 27th September, 7pm – 11.30pm
Buy Tickets: Follow the link https://www.designmynight.com/london/bars/kensington/the-roof-gardens/pour-lamour-du-chocolat?t=tickets
If you can't make it to this indulgently immersive event, here the cocktail recipe for GREY GOOSE Espresso Martini for you to savour chez vous!
GREY GOOSE Espresso Martini
40ml GREY GOOSE
10ml coffee liqueur
30ml espresso
Pinch of fleur de sel
Add all ingredients to a shaker and shake vigorously. Strain into a martini glass, and garnish with three coffee beans.