The popular and high-performance Couloir jacket from Haglöfs is now made with GORE-TEX® Softshell and a flannel backer throughout the whole thing. This makes it durable, comfortable, and great for colder days on the mountain. It's an ideal garment for skiing but also suitable for trekking and mountaineering – and it won't look out of place in the city either. Born in the Nordic climates, we wanted to take the Couloir Jacket, and its colour and fabric matching Couloir Pants, back to their birthplace, and really put them to the test.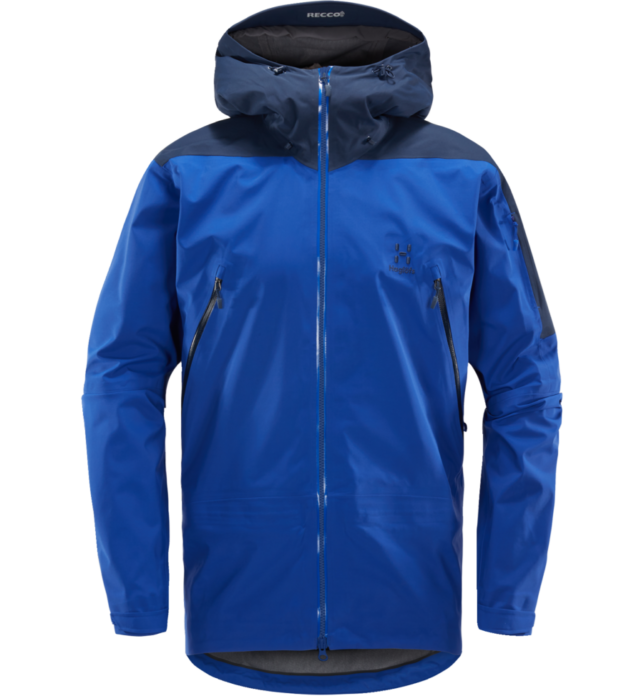 Founder Wiktor Haglöf was born and raised in the harsh Nordic climate. Haglöfs strive to make the outdoors a little more enjoyable and a little less tiresome, especially when the elements have turned against you.
The Couloir Jacket is designed for Ski & Snowboarding with GORE-TEX® 3 layer Softshell, 100% Polyamide, 70D, ePTFE membrane and a flannel backer, 174 g/m² Hydrostatic head: >28,000 mm, RET: <13.
Guaranteed to keep you dry, if you are not completely satisfied with the waterproofness, windproofness or breathability of your GORE-TEX® outerwear, GORE-TEX® will repair it, replace it or refund the purchase price. Leaving a very good peace of mind that you can purchase an item without concern of 'will it perform as advertised'.
The 70D fabric is a good thickness for durability and weight balance. The jacket works hard for you and keeping you dry, while you enjoy the many outdoor pursuits the harsh environments have to offer.
At the end of the outdoors pursuits, your life is made easy, with the easy to care for fabric which is machine washable and then tumble dryable!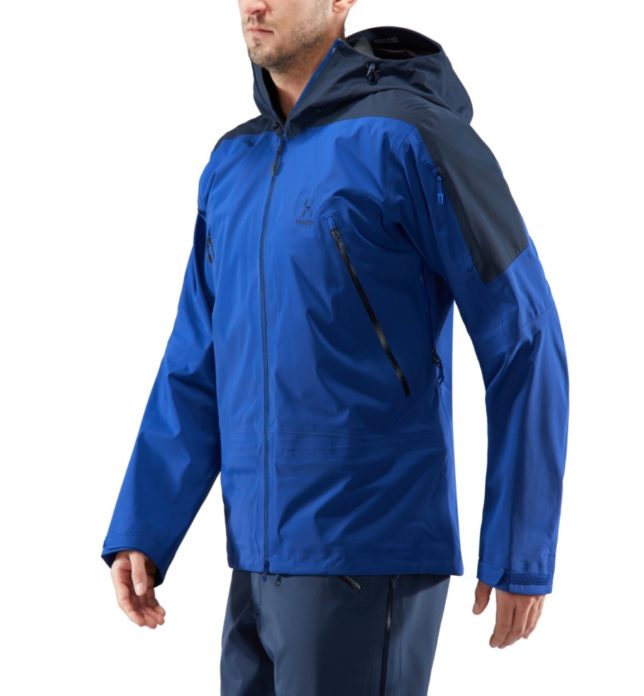 Our Testing Experience
Warmth: Surprisingly warm, on the warmer days of just pushing into the minus's, only a simple thermal base layer and this will be all that is needed in the sun. The backer clearly worked, and more than expected. The temperature heated up fast, and within the second run, the reviewer started to need to open the ventilation under arm zippers. Then when the wind came in and the weather cooled, the work load reduced, a mid layer below was required.
The jacket and a mid layer and thermal top was all that was needed for hours on end of sitting in the cold, long walks, and more cool active adventures. It was only when then the real cold winds and arctic nature showed its head, that we needed to add a more insulating item.
This meant that this jacket alone and with a mid layer, could tackle nearly all warm weather skiing, back country pursuits, walks, and cold weather adventures. Until the -10 range when very active and/or -5 when less active. Impressive for its compact nature.
Weather Resistance: Soft shells are commonly seen as a little more likely to wet out. However the waterproof nature of Goretex will still keep you dry, with the windproof, waterproof technology. Our reviewer kept dry throughout the active adventures.
The DWR-treated surface meant that the fabric beaded off water and any snow. A few falls into the hard ice and wet snow, and a few too many times the jacket got covered in wet snow, the jacket kept its clean look, and didn't allow any of the water to ingress.
Comfort: The backer of the three layer fabric allowed for warm weather protection. Warmer than expected. The backer is incredibly effective.
Along with a nice fitting cut, the jacket was very comfortable. Although the under arm zips feel a little stiff initially, however, they soften over time, and became less noticeable.
The general material feel is smooth, soft, and firm, with less noise than the hard shells.
Over time the firm feel in the jacket eases, and the more it is used, the more mobile, giving and malleable it feels.
The hairy stubble and beard faced reviewer would have liked to have seen a beard guard at the top of the main zipper for a touch more comfort.
The jacket has a slight weight to it, however bearing in mind this is a soft shell, and a considerable weight reduction from the older versions, the design does well to remove excess weight, and easing the jacket into the common ski jacket weight range nicely.
Ventilation: When the temperatures got a little much in the jacket as the sun warmed, and the activity levels increased. The underarm zips opened, for maximum ventilation, letting in cooler air, letting out warmer air. Swiftly balancing the temperature out. Balancing out the issue swiftly.
Style: We had the Cobalt Blue / Tarn Blue coloured jacket. The colours are good for on slope and mountain use. The look is good in the snow and on walks. The colour scheme with the matching Tarn Blue softshell pants, works very well.
The style and looks of this jacket is of minimalism. Haglöfs as always kept the jackets style sleek and minimalist in nature, this works well. Haglöfs design and style teams are great at making their items look better than many of the normal outdoor offerings.
The two-tone style of the shoulders matching the soft shell trousers, clean lines of stitch fabrics, seam taped, and crisp clean looks. It would make it hard to look dirty or ill kept in this jacket. It's just too smart and clean cut.
The short-ish body of the jacket kept up with all the ski protection needs, however is felt to assist with and not interfering with harness use, making this suitable for other uses beyond skiing.
Features: Developed with free-skiing in mind, suitable for Ski & Snowboarding, Trekking and Mountaineering. The Two mid-mounted hand pockets are higher placed and angled pockets, would allow for waist bands and harnesses to be used without obstruction of the pockets.
The zip removable snow skirt, internally placed and elasticated to keep out snow, for when you want to get into the powder. When you are looking to have the jacket as more a casual item, an item for wearing or walking in during cold days where you need good weather protection, you could perhaps remove the skirt, and leave it at home.
The offering of a three-way adjustable helmet compatible hood was easily adjusted when not over a helmet to allow for protection from the elements, without loss of peripheral vision.
A left arm lift pass zipped sleeve pocket, worked perfectly, and meant less need to fiddle at the lift access gates.
An inner mesh pocket, would accept a pair of small light ski gloves, or a fresh pair of liners easily. Which is in keeping with the temperatures the jacket is designed for when worn alone.
The underarm zips offer maximum ventilation, letting in cooler air, letting out warmer air, were found to be very useful, and as long as you popped your top glove off, easily opened and closed.
The jacket comes with Velcro brand adjustable cuffs to keep the elements out, which actually worked nicely when needed, remained soft like the rest of the shell, so less scratchy feel than most cuff experiences. Even better, they match the colour of the jacket, making them almost invisible at first glance.
A RECCO® Rescue System Reflector in the hood, for searchability and improved safety, is always a very appreciated addition.
After use, a swift wipe down with a wet cloth was all that was needed and the jacket looks new and unused.
Features, Components and Benefits
Developed with free-skiing in mind, suitable for Ski & Snowboarding, trekking and mountaineering
Three-way adjustable Helmet compatible hood
Lift Pass Zipped Sleeve Pocket
Removable Snow Skirt, internally placed and elasticated to keep out snow
Two mid-mounted hand pockets
Inner mesh pocket
Underarm Zips for maximum ventilation, letting in cooler air, letting out warmer air
Velcro brand adjustable cuffs to keep the elements out
DWR-treated surface
RECCO® Recue System Reflector for search ability and improved safety
GORE-TEX® 3 layer Softshell, 100% Polyamide, 70D, ePTFE membrane and a flannel backer
Flannel Backer, for extra warmth and comfort
70D polyamide plain weave face
174 g/m² Hydrostatic head: >28,000 mm, RET: <13
Comes in Slate or Cobalt Blue / Tarn Blue
Centre back length 78cm (men's size L)
Regular fit
Weight : 775 G (SIZE L)
The Couloir Jacket by Haglöfs is a nice mix of a Softshell flannel backer material, with GORE-TEX® assurances, providing a comfortable, warm, well fitting, breathable and vendible high performance jacket. The applications of this multi-use jacket include Ski, Snowboarding, Outdoor Walking, Mountaineering, any Back Country and Outdoor pursuits.
The Haglöfs Couloir Jacket Men is £480 available from www.haglofs.com