The new Haglöfs L.I.M III shell pants (shell trousers for us Brits!) are a really good fit for the Active Affluent who follow an always minimalistic yet always prepared active healthy lifestyle, wanting modern stylish looks which work effortlessly when performing high demand energetic daily activities and adventures. The modern cut of the trousers and the adjustable tapered lower leg avoids excess material for a perfect fit, hides the articulated knees and seat well, allowing for effortless fluid motion, and the real freedom to be active at any time. This combines with the 'true black' colouring, meaning these could be pulled over you trousers at any time, instantly adding waterproofing and wind proofing whatever weather you are caught up in, without detracting from your city look.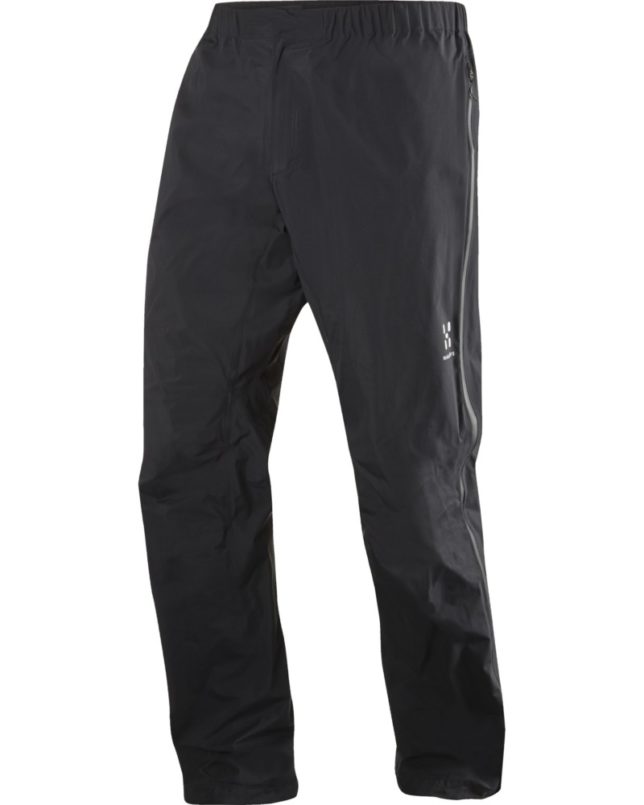 The lightweight and very durable 30D GORE-TEX Paclite trouser has a waterproof as well as wind proof fabric. In addition to a DWR-treated surface, It has a ePTFE membrane with a carbon reinforcement instead of a backer. Which has allowed for a 225g shell trouser. Lighter than many GORE-TEX shell trousers which provides all these offerings and features. You can travel light with these rolled up and packed away in your bag for when you really need them, and with only a carry on luggage capacity, you don't feel like the space is being lost. It is wonderful how easily they can dress stylishly, pack easily, always ready.
I wouldn't expect less from a product where the company are willing to add the name 'L.I.M' which means 'Less Is More' to the product title. This is a good way to look at production.
Haglöfs gets a thumbs up, as they are actively displaying their sustainability, the materials and chemicals used, the DWR methods, and their own sustainable choices. The bluesign system, with reduced chemical use and controlled consumption of raw material. Ensuring the company has a responsible approach to minimizing negative environment impacts from production of active clothing. Haglöfs I hope are proud that they signed up to this voluntary initiative, and are taking all these aspects as seriously as we do. This all helps you make a conscious choice.I am sure you know what choices we would make.
We loved the water-resistant side leg zippers, which only stop a little below the elasticated waist allowing for great ventilation when required, easy trouser pocket access, and making them easy to get on and off, even pulling them over hiking boots, wellies, snow boots, ski boot, or even crampon adorned B1-B3 boots. This makes stepping up into the snow line, a far simpler process. Saving time, and faff, which is often felt when preparing for the on the mountain side transition into the snowed peaks.
At the end of the day, hang them up with their very own rear hanging loop, allowing them to dry off swiftly. Ready for easy repacking, or returning to use again the next time you venture into the wild. Whether you are dog walking, hiking, climbing and mountaineering, trail walking, or city slicking. The L.I.M III pants have you covered!
Features
Made of a lightweight and durable 30D GORE-TEX® Paclite® fabric
DWR-treated surface
Elasticated waist
Water-resistant side zippers for great ventilation, making it easy to get on and off
Zip fly
Articulated knees and seat
Adjustable tapered lower leg to avoid excess material and for a perfect fit
Rear hanging loop
All black
ePTFE membrane with a carbon reinforcement instead of a backer
85 g/m²
Bluesign® approved
Hydrostatic head: >28 000 mm
RET: <4
Haglöfs L.I.M III shell pants are € 229 available from www.haglofs.com