With the British social season upon us, we speak to Limoz Logli, founder & style director of his eponymous Chelsea salon, on how to create super-chic and befitting styles for every type of social engagement. From Royal Ascot and Wimbledon to summer soirées and beach parties, his easy to follow step-by-step tips will help you create head-turning hairstyles at home.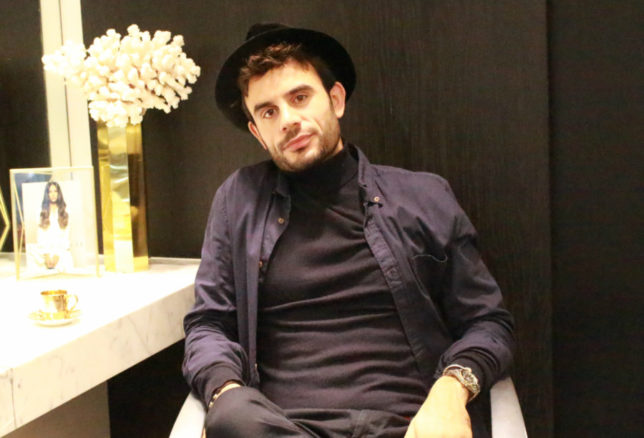 Henley /Ascot – Knotted Chignon
A knotted chignon is an incredibly elegant style that works perfectly when paired with both fascinators and hats alike. This particular knotted chignon is a unique take on a classic look:
First, use a comb to create a clean centre parting, smooth it behind your ears and gather at the nape of your neck.
Create two ponytails, one in each hand, and create a knot (like you would with your shoelaces)
Wrap one side around to the right and use a hair pin to hold in place. Repeat on the other side.
You now have a choice between having an undone, slightly boho chignon or a smoother classic chignon. I tend to choose a simple smooth chignon for clients with more dramatic hats/hair pieces and for this I make sure to pin each ponytail very securely.
If you prefer smaller fascinators, I would recommend playing with the texture in order to create a looser chignon, even leaving the ends of each ponytail out slightly. To create texture use a tail comb to shape and loosen the bun by slipping the end through the hair and gently pulling outwards.
This technique can also be used to create volume and dimension at the crown, slide the tail comb into the top of your hair and give a little lift.
Now you have the perfect hair to compliment your hat or headpiece.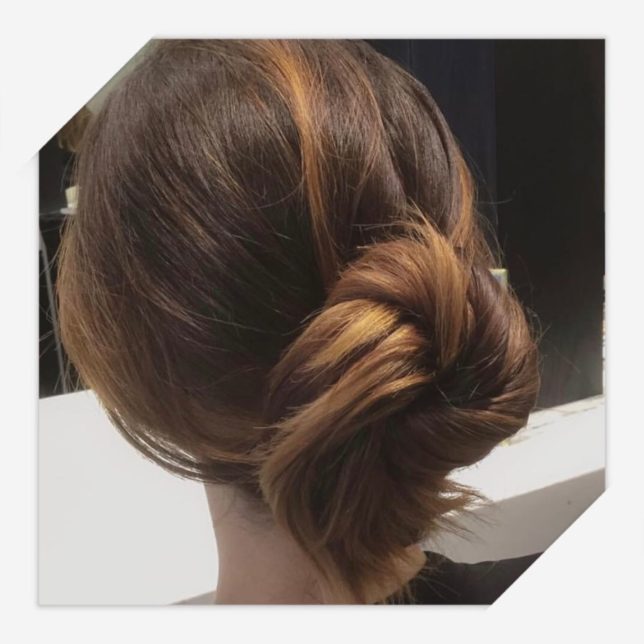 Beach Party – Embellish!
Beach parties are the perfect summer engagement where you can be slightly more adventurous with your usual hairstyle by adding some sparkle!
This style requires very little prep, however if your hair is a little greasy or too salty from seawater, it may be beneficial to wash it prior, however be careful not to use too much conditioner.
If you do choose to wash your hair, towel dry it before generously spritzing your chosen salt spray all over the ends. Avoiding the roots will ensure your hair doesn't get weighed down.
If you want a very natural, tousled look – just let your hair dry naturally.
However if you want more of a voluminous look, blow dry your hair using your finger tips to create volume in the direction of the air.
Once your hair is completely dry, take sections of your hair, varying in size, and wrap around the tong holding for around 3-5 seconds.
Once you've finished tonging your hair and it has cooled down, run your fingers through to break up the curls.
To finish, find a statement necklace or a chain and clip it into your hair with grips.  Even something simple will shine under the night sky!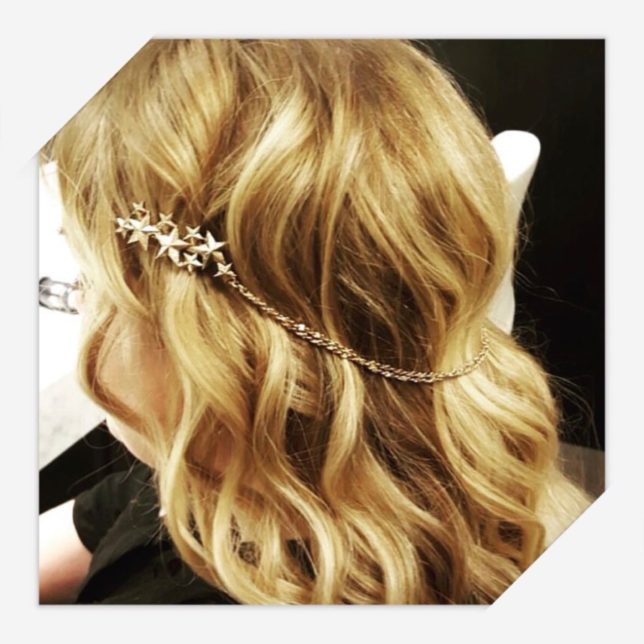 Wimbledon – High Ponytail
The ultimate in sporty glamour, I adore the high ponytail for spectating as it's incredibly glamorous, practical and very easy to do yourself.
For my clients, I often suggest a 'clip in' ponytail akin to the Balmain version as this can create length even when the ponytail is nice and high.
A bristle brush is best in order to smooth hair whilst preventing static. To ensure you get this look as sleek as possible you'll need to pull the hair towards the crown of the head whilst brushing all the time.
Keep hold of this high ponytail with your hand and add some shine educing product like Oribe Gel Serum in order to give it sheen.
Add your hair tie and ensure it's secured tightly.
For a strong look, I suggest adding your ponytail extensions following their simple instructions. However if you prefer to keep it natural, take a cm of hair from the underneath of your ponytail and wrap it around your hair tie, pinning with bobby pins discreetly underneath.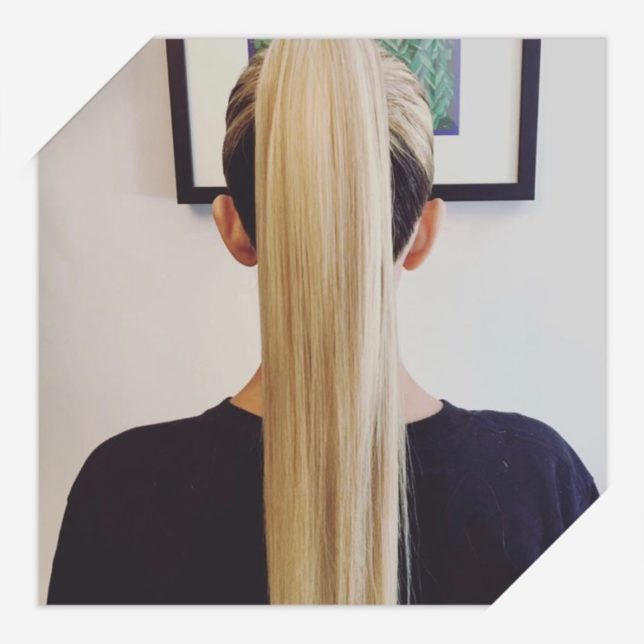 Casual Summer Soirée – Double Dutch Halo Plait
Plaits are the easiest and chicest choice for that casual summer event. When the temperature's high, my go-to style is the Double Dutch halo plait, perfect for keeping hair off the face and emanating a relaxed yet stylish vibe.
Create a clean centre parting from the front hairline down to the nape of the neck and clip one side away.
Take a small section at the front of the unclipped section of hair and begin a backwards three-strand braid (a dutch braid is created by looping the hair under each section instead of over).
Turn the braid into an inside out french braid by adding a small piece of hair each time you loop the hair under.
Continue adding pieces of hair until all the hair from the section is attached, then finish the three-strand braid all the way to the bottom, securing with a hair tie or elastic band.
Repeat on the other side.
Instead of leaving your plait ends down in pigtails, pin them up in to a U shape to create the ultimate halo!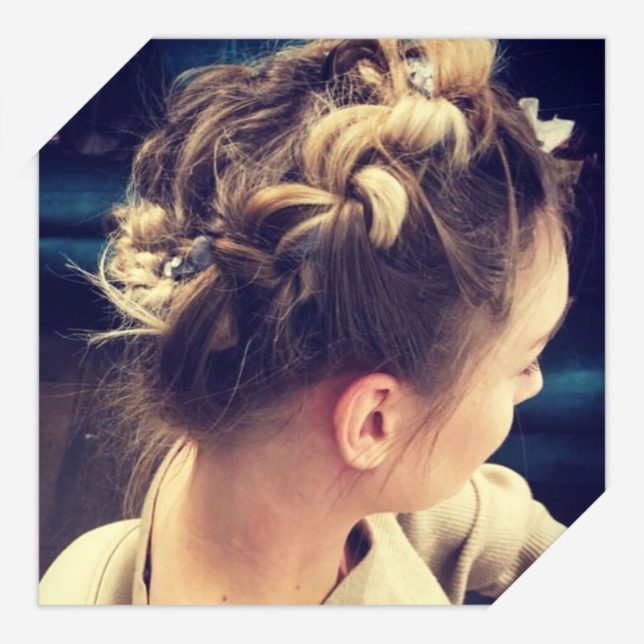 About Limoz Logli
Limoz Logli is a name adorned in the little black book of London's elite. Situated in the exclusive borough of Kensington & Chelsea, the two storey salon is a hub of pure and unadulterated glamour, which has the power to transport all those who enter it back to the golden age.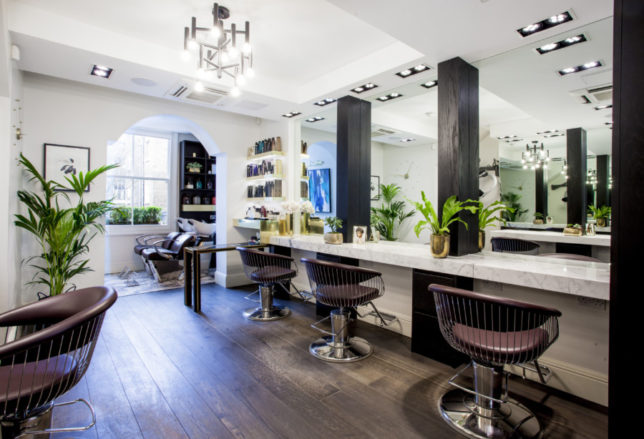 With decades of industry experience under his belt and a client list containing the capital's most renowned names and hottest faces, the salon opened its doors in early 2015. The salon's clients range from aristocracy to renowned models and actresses who adore this luxury haven in the heart of the city.
For more hair inspiration, please visit limozlogli.com