Bournemouth has seen a huge surge in regeneration over the last couple of years, including the creation of a re-landscaped public area on the approach to the pier, complete with a new Tourist Information Centre and waterplay area. Not forgetting the resort's iconic beach huts which have had a makeover over the last few years in a spectrum of pastel colours which appear on Instagram accounts the world over! There are 2,000 beach huts along the promenade – including the country's first – available to rent on a daily or weekly basis.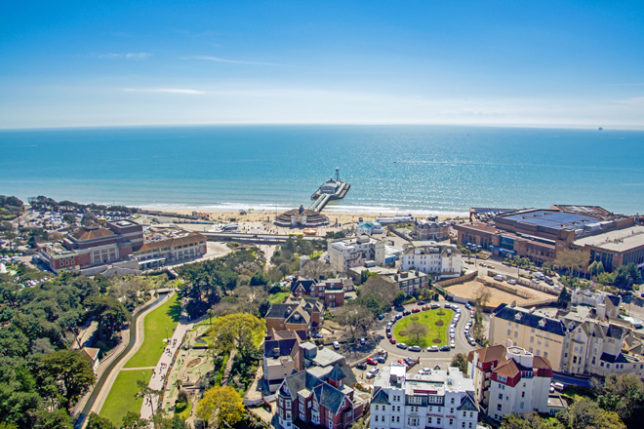 We began our discovery tour of Hidden Bournemouth with a stay at Hallmark Hotel Bournemouth West Cliff which is part of the Hallmark Hotels portfolio – 28 hotels strong with a growing portfolio of properties located across the UK. The hotel is a lovely spacious red brick building in a fabulous location within easy reach of sandy beaches and the vibrant town centre of Bournemouth.
Hallmark Hotel Bournemouth West Cliff benefits from a superb health club, spa and pool, as well as an array of excellent banqueting suites and friendly yet professional staff. It's not hard to see why the this Bournemouth hotel proves to be so popular.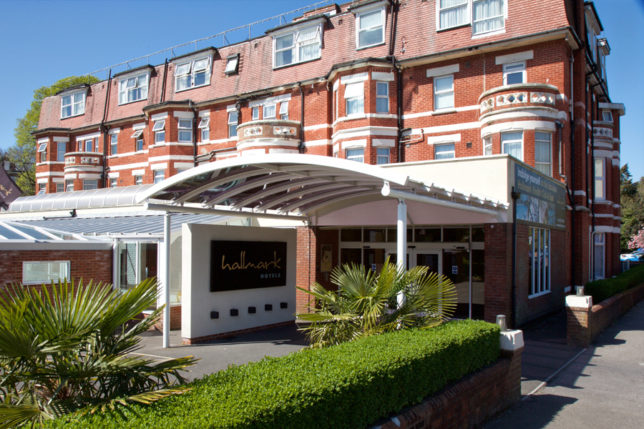 The hotel offers business and leisure guests good quality accommodation, award winning dining and modern leisure facilities including in the spa which was the main reason we visited Hallmark Hotel Bournemouth West Cliff as part of our discovery tour of #HiddenBournemouth and #SpaBournemouth.
Within Bournemouth, Hallmark Hotels has two other locations – Hallmark Hotel Bournemouth East Cliff and Hallmark Hotel Bournemouth Carlton which are located next door to each other overlooking the stunning site of Bournemouth beach. Hallmark Hotel Bournemouth West Cliff is more city centric, conveniently located just 2 miles from Bournemouth train station and 8 miles from Bournemouth Airport.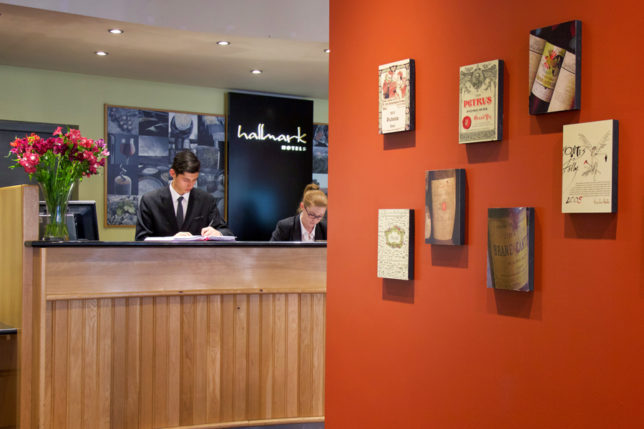 It has excellent facilities for the business or leisure traveller including a spa, leisure club indoor pool and spa treatment rooms. The hotel also features 5 meeting rooms with capacity for up to 200 delegates and can host weddings for up to 200 guests.
One can experience the best of both worlds at Hallmark Hotel Bournemouth West Cliff – both a relaxing spa break from everyday life and plenty of exciting attractions to enjoy. The hotel's extensive beauty and leisure facilities in addition to it's beautiful landscaped gardens means you and your other half can enjoy total relaxation and get away from it all.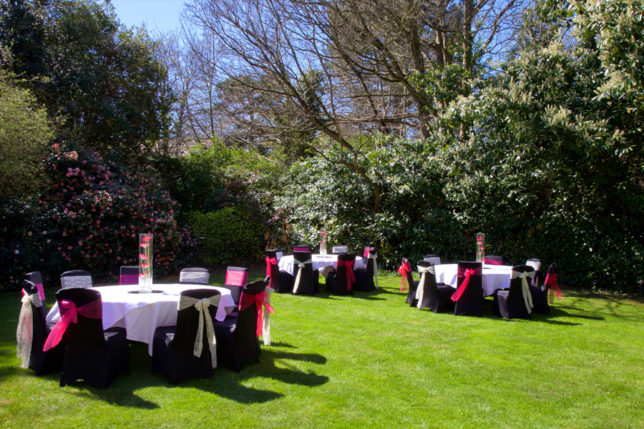 During the school holidays, the hotel is unsurprisingly very popular with families. Is it any wonder when you realise that really close to the town centre and attractions such as Bournemouth Oceanarium. There are few places in the UK with such a rich array of days out and attractions within an easy drive. Dorset and Hampshire are full of romantic villages, National Trust properties and coastal walks. Whereas Bournemouth has great beaches and every type of watersport you can think of to satisfy the adventurous and active visitor including great surfing on the South Coast waves.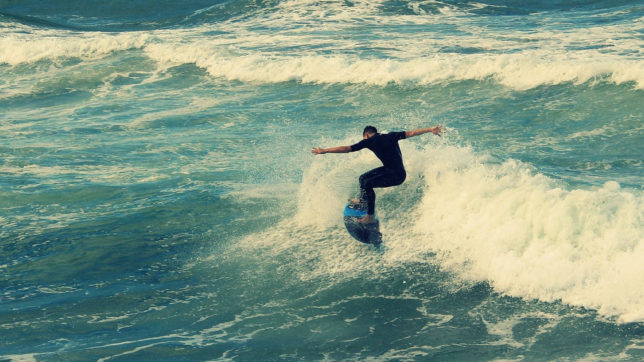 If beaches are more your thing, Hallmark Hotel Bournemouth West Cliff is within easy reach of the miles of sandy shores Bournemouth and the south coast has to offer, making it the perfect place to base your next UK seaside resort holiday with pleasant beach walks and plenty of opportunity to  lie back and soak up the atmosphere with friends and loved ones.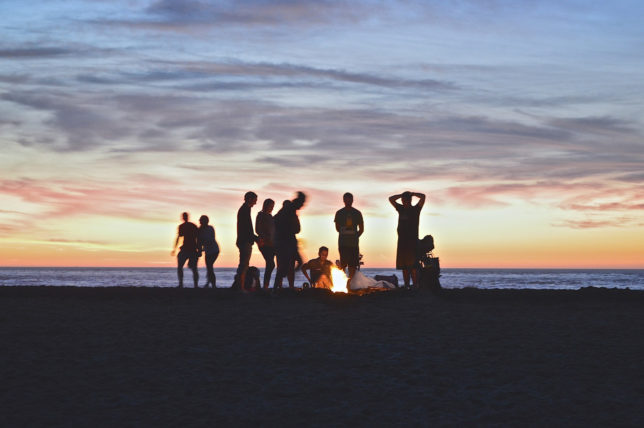 Hallmark Hotel Bournemouth West Cliff boasts free super fast WiFi throughout, with 83 bedrooms including 9 family bedrooms and a contemporary, informal brasserie style restaurant and bar…. more on that in a moment.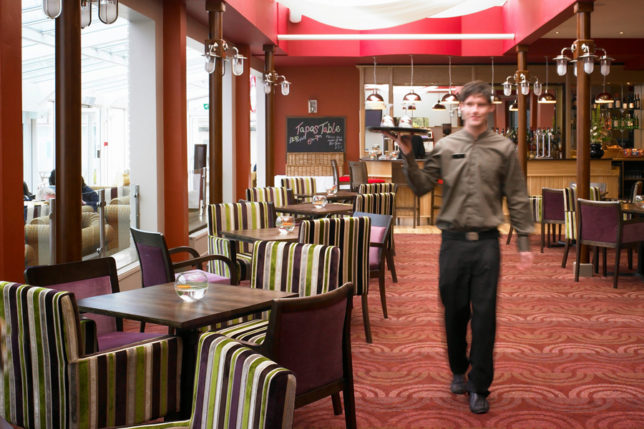 Our double room like all the bedrooms in the hotel had a light uplifting interior combining pastels and bold splashes of colour with a wonderfully comfortable bed for the perfect night's sleep, beautifully crisp linen, perfectly plump pillows and luxurious chenille throws.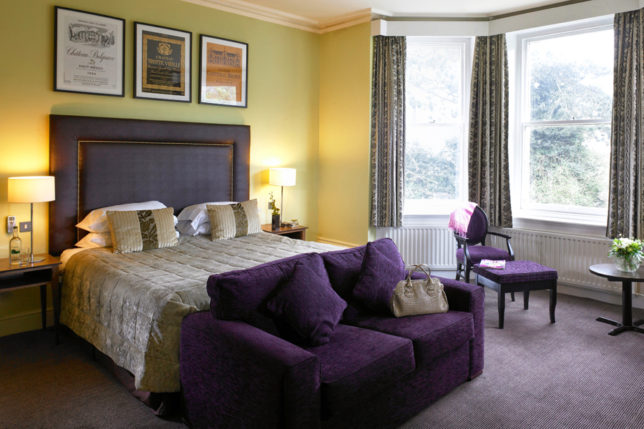 After a relaxing spa treatment and ample time to enjoy the pleasures of the leisure facilities, it was time to say goodbye to the lovely spa and get ready for dinner.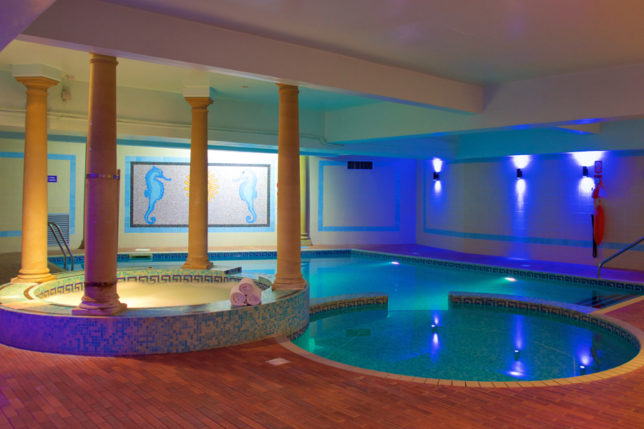 In the stylish brasserie style hotel restaurant, the talented chef  has created a crowd-pleasing menu of modern British and European classics with a few international favourites added to the mix.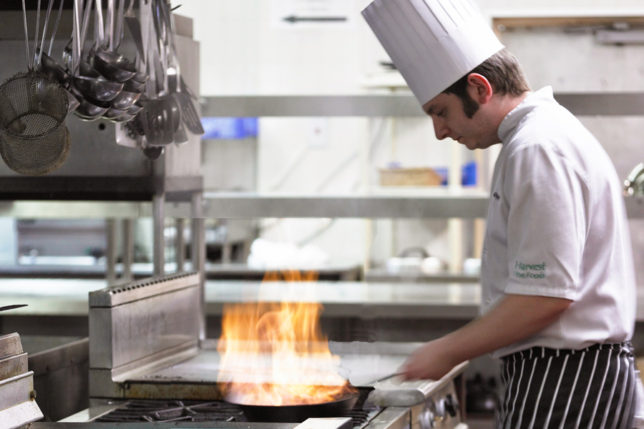 All dishes are made with the freshest seasonal ingredients and you'll find everything from Moroccan influenced dishes to good old English fish and chips. It's plain to see why so many locals as well as hotel guest choose to dine here and service is always with a smile.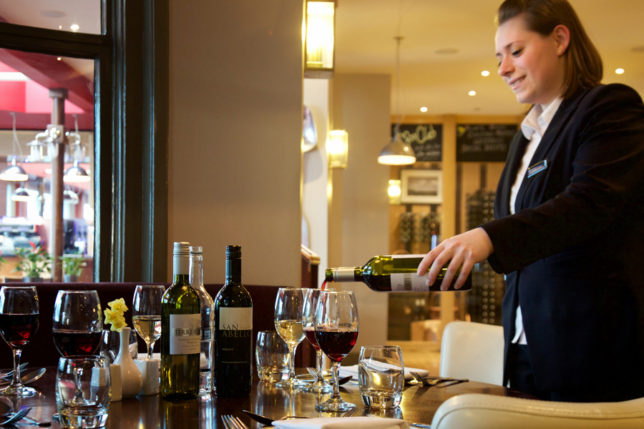 The stylish contemporary brasserie at the Hallmark Hotel Bournemouth West Cliff boasts interiors decorated in a warm palette with flickering fireplaces, tasteful artworks and elegant modern furniture.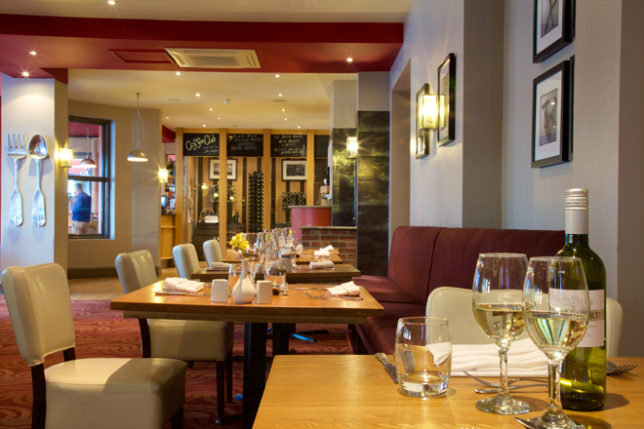 We began our meal with something to nibble on while looking over the menu… the warmed rosemary and sea salt focaccia with Spanish extra virgin olive oil and balsamic vinegar…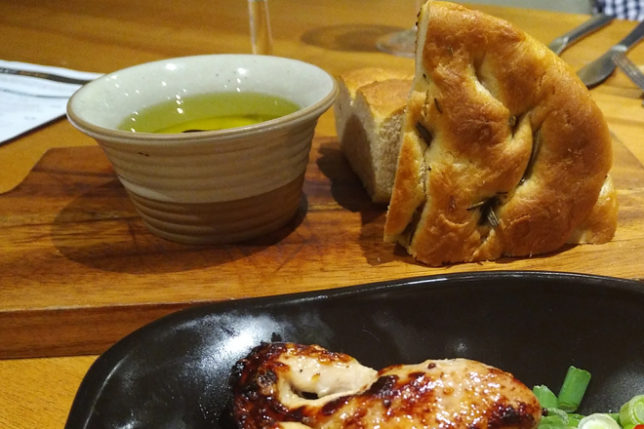 To start we chose the sticky honey and mustard chicken served with a sesame soy rice wine dip…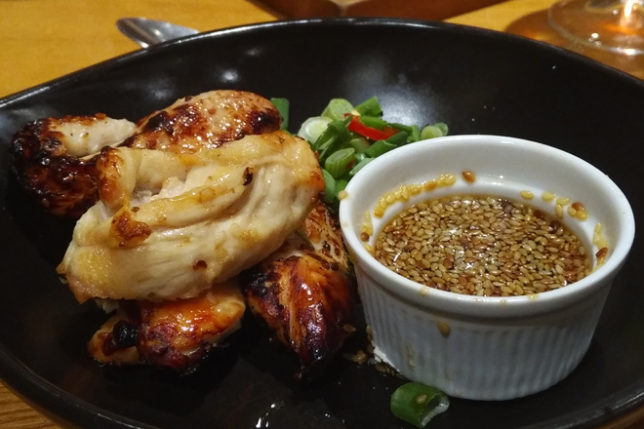 And a Mexican influenced BBQ pork belly with maple roasted sweet potato, charred greens and sour cream on a warm tortilla…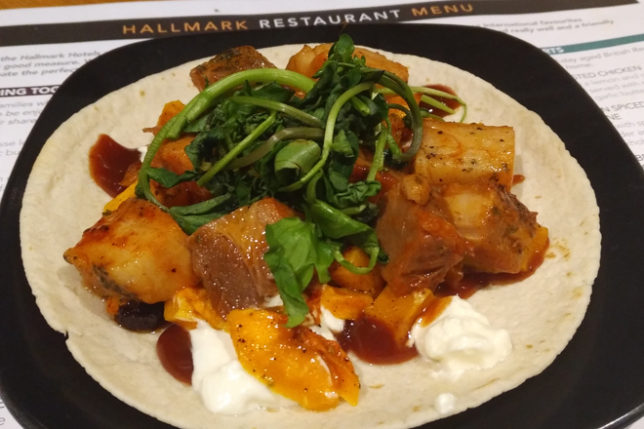 Moving on to mains, we couldn't resist to Moroccan spiced lamb tagine with all the flavours of the souk… slow cooked lamb with spices, fruit cous cous, coriander and natural yoghurt all served with khobez fatbread…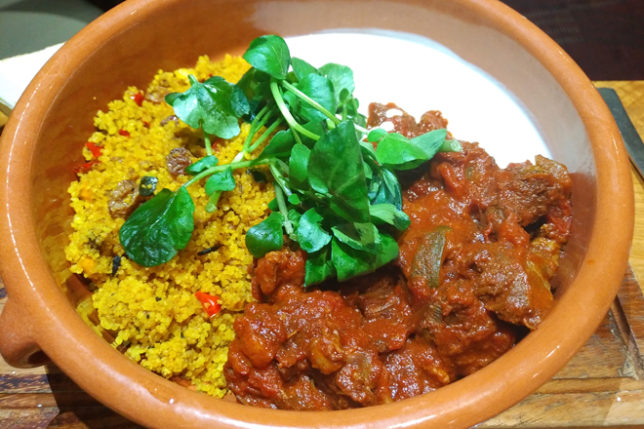 And an American classic of bourbon BBQ glazed beef short rib served with tiger fries – a mix of seasoned sweet potato and regular fries…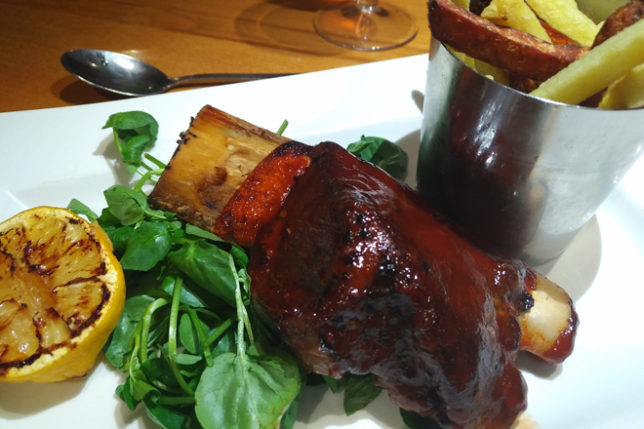 Accompanying the meal, we chose the Jack and Gina Zinfandel Rosé which was affordable, sweet and easy drinking. Bringing our meal to a sweet ending, we enjoyed the tangy lemon tart to share…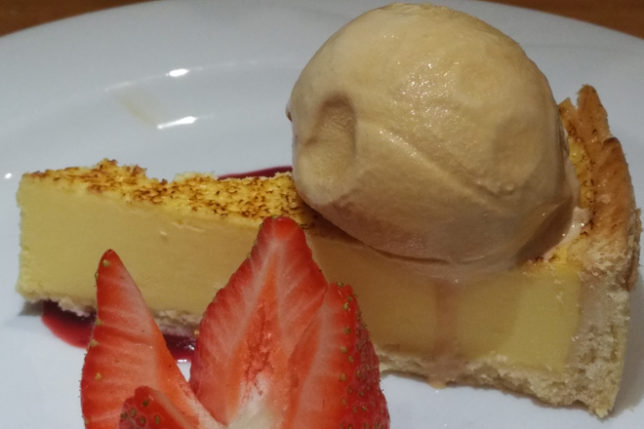 Hallmark Hotel Bournemouth West Cliff offers guests ample on site parking for only £10 per night. What's more, whilst check-out at the hotel is 11am on the day of departure, you can keep your car in the car park until 11pm that night at no extra cost which gives you a full extra day to explore wonderful Hidden Bournemouth.
Hallmark Hotel Bournemouth West Cliff
Durley Chine Road, Bournemouth, Dorset, BH2 5JS
www.hallmarkhotels.co.uk
@hallmarkhotels