Royal Lancaster London invited us to sample their forthcoming Halloween Afternoon Tea, available from 17-31 October 2017. The hotel is well known for it's seasonal themed afternoon teas and this year's Halloween offering is special in that everything is black and white. Built in 1967, Royal Lancaster London is going back to the 1960s this Halloween to celebrate its 50th Birthday.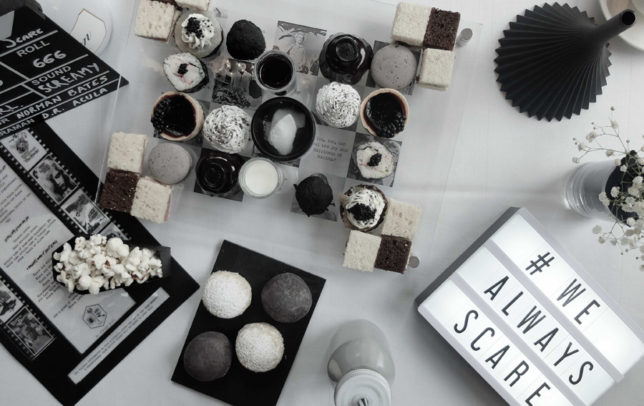 Re-launching in October 2017 following a massive £80 million renovation, what was Lancaster London has revisited the Swinging Sixties of its inception to hospitality royalty and reinstated its Royal title. Back in 1967, the hotel's original name was The Royal Lancaster and following its spectacular refurbishment, the hotel will now be known as Royal Lancaster London.
All areas of the hotel have been given a new look as part of the £80 million renovations including the 411 guestrooms and suites in addition to the 16 meetings and banqueting spaces.  The reception and lobby area of the hotel has also been completely refurbished and includes an impressive sweeping Carrara marble staircase whilst the exterior frontage of the hotel has been completely remodelled.
The first floor Lounge Bar, where afternoon tea is served, is the last piece of the jigsaw to be refurbished, and this will be complete by Spring 2018. Royal Lancaster London's theatrical Halloween Afternoon Tea takes its main inspiration from 1960s classic horror movies – with quotes and still images featured on the specially designed platter and ArTea menu.
Head Pastry Chef Steven Penny has worked in conjunction with Executive Head Chef Ben Purton and the incredibly creative Food & Beverage department to create a visually arresting display of sweet and savoury delights for the Halloween Afternoon Tea using carefully considered flavour combinations and inventive ingredients to create everything in black and white to represent the black and white movies of the Sixties.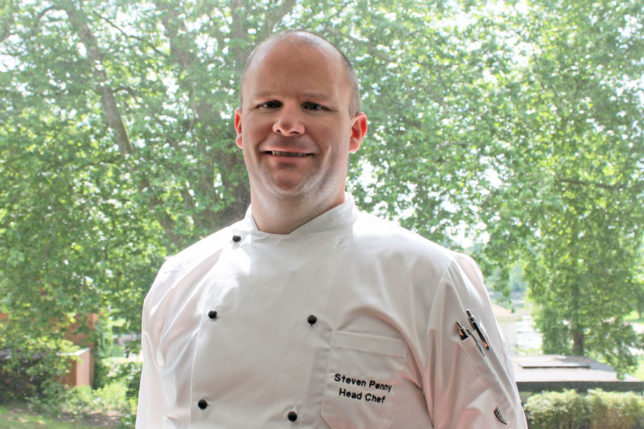 This monochromatic masterpiece of moreish marvels also sees influences from  the era's Op Art Movement with its monochrome geometric patterns and the edgy, sharp, clean lines of the Sixties monochrome fashion trend – think Mary Quant prints and Vidal Sassoon's iconic bob cut. The afternoon tea is presented with theatrical flair from a little cauldron of spooky dry ice shrouding the tasty savoury and sweet treats below.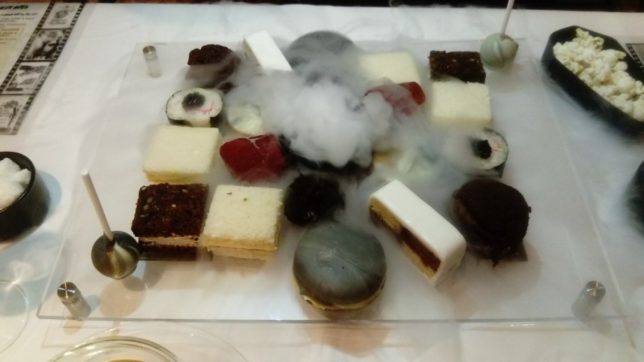 Steven Penny continues to tweak the menu so we had a slightly different mennu to the one advertised but the savoury delights were still there like Axe-Carved Beef with Horseradish and the Ominous Crab Sushi.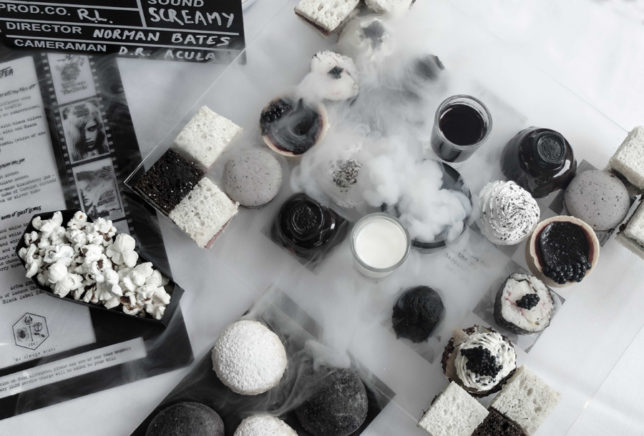 Savouries include Smoked halibut, white cream cheese & black caviar on pumpernickel; Axe carved bresaola beef, horseradish, charcoal shell; and Massacred egg, curried mayonnaise.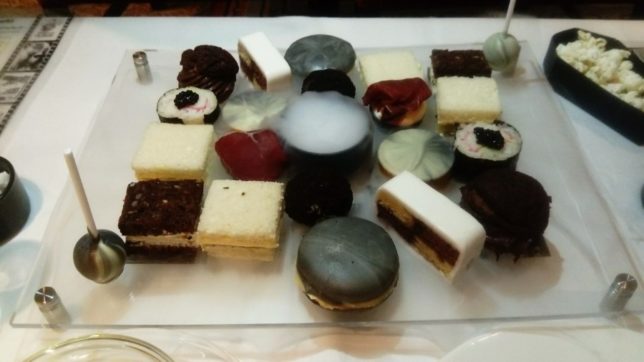 Savouries continued with Cucumber, cracked black pepper & tapenade in white coffins – aka a rather less gruesome white bread finger sandwich – and Sushi roll with blackened seaweed & crabstick topped with black fish roe. This was definitely one for wasabi lovers! Followed by a tasty Mini Scotch egg with black crust that contained a quails egg. Almost too good looking to eat!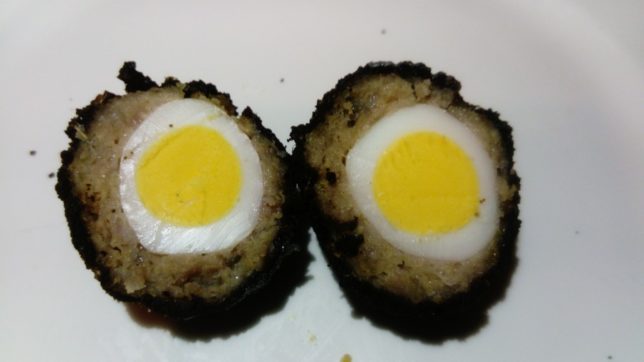 The savoury elements of the Halloween Afternoon Tea were delicious but perhaps a little too generously stuffed with filling, given that our napkin looked equally as horrific as the horror theme!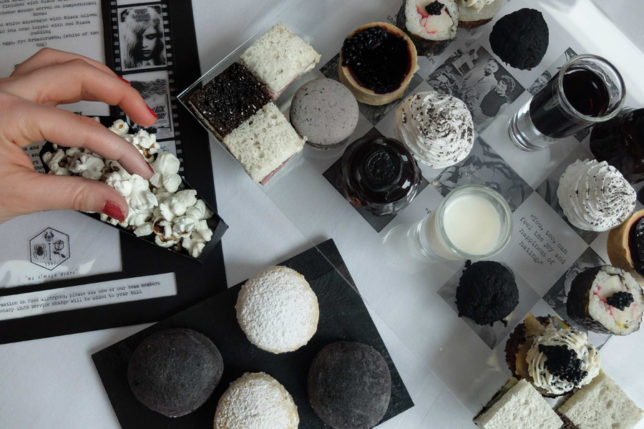 An array of very sweet confections is presented on the same platter as the savouries and it's easy to mix and match courses as the items are not divided into separate areas.
The chocolate coated Blackbird macaron had an orange and white chocolate flavoured filling – classic Christmas flavours but perhaps a little too sweet. The Psycho marbled lollipops with honey and milk chocolate interiors were scrumptious as were the Night of the living tart with its blackberry jam flavours.
The Black Sunday Battenberg was a messy affair as it was coated in a sticky royal icing rather than white marzipan which perhaps would have been a better choice. It was so messy in fact that a cake fork was definitely in order though missing from our table.
Another messy sweet was the Haunted Black Forest mousse which was so impossible to eat delicately that even the characters on Downton Abbey would struggle. However the overly sweet treat was made better with real pieces of cherry awaiting discovery beneath the generous chocolate mousse and sponge.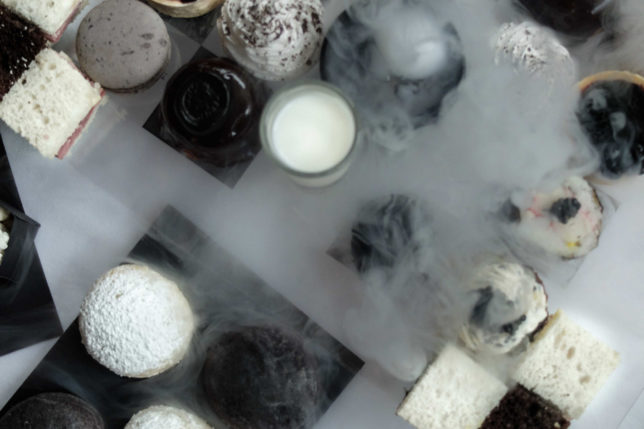 The final course of Afternoon Tea is the quintessential scones served fresh from the oven, and again following the Black & White theme with Dark Chocolate Scones juxtaposed with the Coconut Scones and Plain Scones. The scones are served with Homemade Blackberry Jam and  Clotted Cream. Strangely our coconut scones were not very coconutty which was a tad disappointing. However in terms of size and texture they were very good.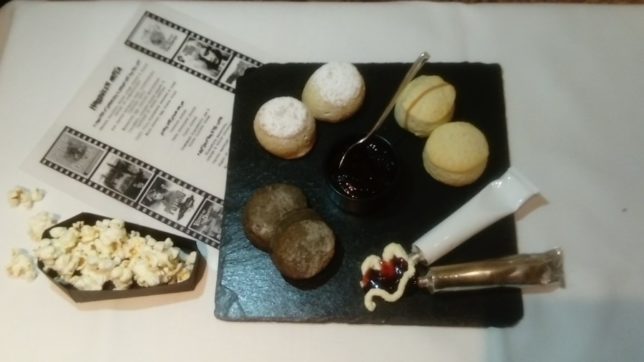 The Halloween Afternoon Tea is accompanied by a selection of fresh loose leaf teas and a glass of Lanson Black Label or the slightly sweeter Lanson White Label.
Royal Lancaster London invites you to embrace your inner Hitchcock and capture a chilling photograph of the Halloween Afternoon Tea. To enter, all photos must be in black and white and use the hashtag #WeAlwaysScare to win a complimentary Christmas Afternoon Tea.
The 1960s Halloween Afternoon Tea is priced at £35 per person and is served from 2pm until 5.30pm and is available from 17-31 October 2017 served in the hotel's Lounge Bar.
Royal Lancaster London
Lancaster Terrace, London W2 2TY
020 7551 6000
www.royallancasterlondon.com
Twitter: @royallancaster
Instagram: @royallancasterlondon
#lancasterhappiness