Hambledon Vineyard is set to become one of the biggest and most successful sparkling wine producers in the UK. The company has just launched its first branded sparkling wine, Hambledon Classic Cuvée, which is now available from Berry Brothers and Rudd and in some of London's best restaurants.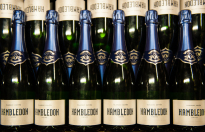 Hambledon is the oldest commercial vineyard in England, founded in 1952 when Major General Sir Guy Salisbury-Jones planted the first vineyards. However, the current managing director of Hambledon Vineyards, Ian Kellett, did not acquire the estate until 1999. Excited by the potential for winemaking, he soon enrolled to study oenology at Plumpton College in Sussex with a view to restoring Hambledon to its former glory.
Research convinced Ian that sparkling wines were the future when he discovered that the geology and climate of the chalky slopes in front of the house were almost identical to the best Chardonnay areas of Champagne. In 2011 the final piece of the jigsaw slotted into place with the appointment of one of Champagne's leading Chef de Caves. A renowned expert in minimal-intervention winemaking, Hervé Jestin now directs all winemaking at the Estate.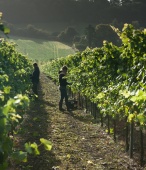 Today Hambledon comprises over 60 acres of vineyards and a new state-of-the-art, fully gravity-fed winery that was opened last summer by HRH Duchess of Cornwall. The new Hambledon Classic Cuvée is an exquisite blend of 70% Chardonnay, 20% Pinot Meuinier and 10% Pinot Noir. The estate also produces a flagship Premiere Cuvée that will be launched in 2015.
Aside from the onsite winemaking activities, Hambledon Vineyard regularly opens its doors to wine lovers, local companies and local groups. Visitors can experience 'behind the scenes' tours, special events and even get married in the vineyard's beautiful setting in the South Downs.
Tours are available on Tuesdays, Thursdays and Saturdays, must be booked in advance by calling 023 9263 2358 and costs £10 per person, with the ticket price redeemable against any wine purchases. Guests experience an in-depth and fascinating journey from grape to glass with one of the specialised Hambledon team.                                                                                     Hambledon also hosts regular events including a quarterly sparkling wine workshop evening. Workshop guests enjoy a tutored tasting of European sparkling wines and Champagne by leading wine expert Joe Wadsack, before creating their own bespoke bottle of Hambledon fizz to take home.