Hanbury Manor Hotel and Country Club is described as a five-star country retreat with 161 bedrooms and suites, plus comprehensive dining, fitness, leisure, event, conference and business facilities. Its location near Ware in Hertfordshire, 15km south of London Stansted airport, 40km north of London City centre and well connected to major road and rail routes, makes it a convenient location for visitors travelling from the UK and overseas. In addition to its leisure and wedding facilities, it offers a complete range of services for business events and conferences including 14 meeting rooms, state-of-the-art audio-visual equipment and 1300 square meters of flexible event space.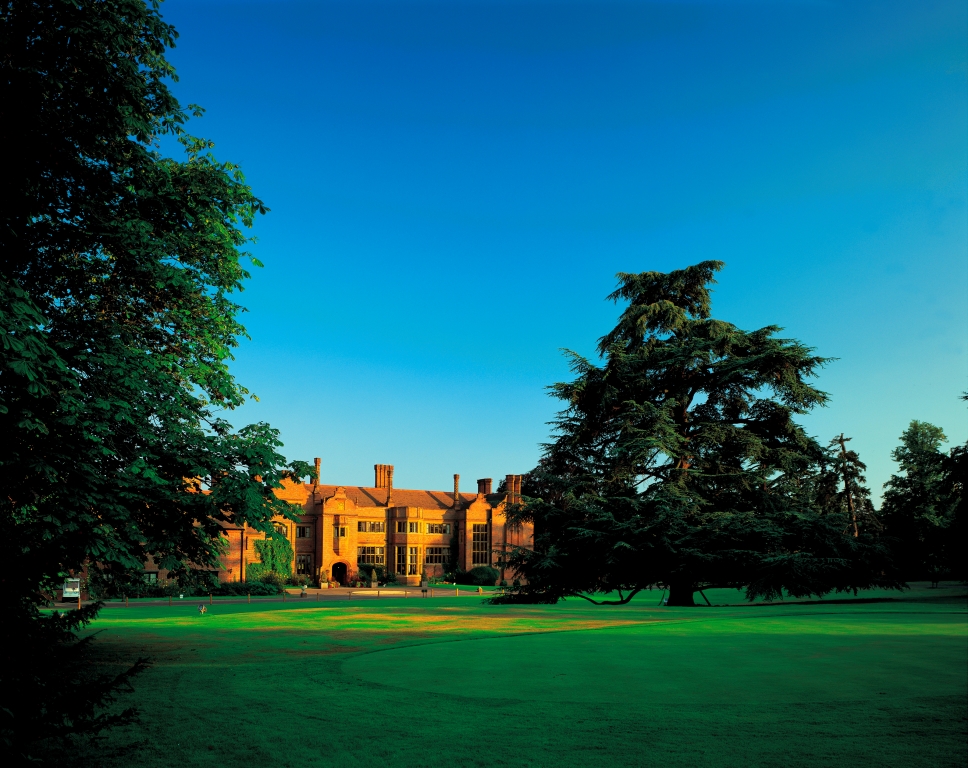 Hanbury Manor is said to offer a superb choice of function rooms, first-class catering and a comprehensive range of on-site amenities. These include a fully equipped spa, beauty salon and leisure club for top-to-toe pampering, tennis courts and of course the PGA championship 18-hole golf course, redesigned by Jack Nicklaus II, which has hosted the English Open several times. The hotel even brews its own Hanbury Ale from an original family recipe which is available in the restaurants and bars. Bedrooms offer luxurious accommodation with rainwater showers, L'Occitane toiletries and stunning views of the golf course.
The Hotel & Room
Hanbury Manor has 161 traditionally elegant, spacious hotel rooms and suites which showcase many period features. We stayed in the Vardon Suite which had a beautiful four poster beds. The suite had attractive views of the golf course and the gardens with an LCD flat-screen TV and Egyptian cotton bedlinen in addition to a beautifully soft down duvet. The L'Occitane toiletries in the bathroom were an elegant touch.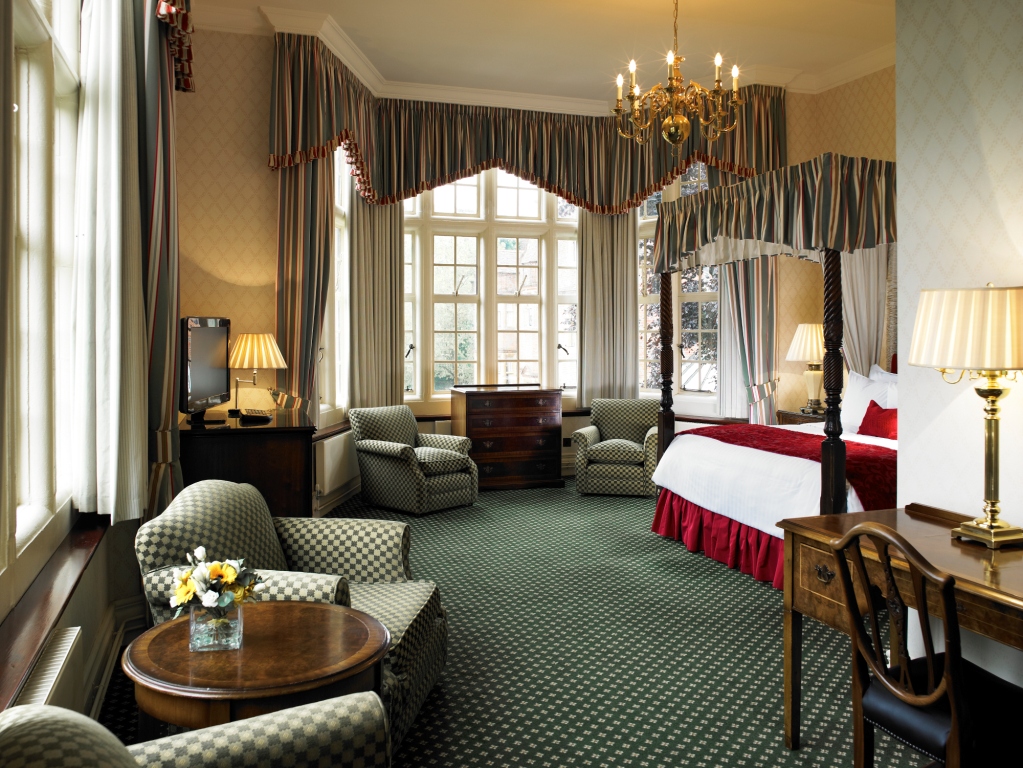 Hanbury Manor is described as a stunning Jacobean style manor set in 200 acres of charming country grounds, and full of impressive original features providing you with a completely unique setting for your relaxing country break. The drive up to the mansion winds its way through the golf course and allows you time to relax and take in the beautiful setting. Steeped in history and oozing with charisma– including an impressive vaulted chapel – Hanbury Manor combines sumptuous comfort with every convenience you need to create an idyllic, quintessentially English experience.
The breakfast after a delightful night's stay is not something to be missed, with so much choice there is a yummy option for each member of your party. As with most buffets the scrambled eggs can be hit and miss, but with a chef on hand to cook you a bespoke omlette with ham, smoked salmon or a variety of delightful alternatives the eggs were high up on the list at this venue. They also outdo themsleves on the continental aspect with the chocolate twists taking up pride of place on my plate.
Afternoon Tea
Afternoon Tea is served every day in Oak Hall which has rich wood panelling, bookshelves covered in rows of vintage hardback volumes and elaborately carved stone fireplaces. The delightful afternoon tea at Hanbury Manor includes smoked salmon and cream cheese pinwheel sandwiches, warm scones with strawberry jam and clotted cream, and a delicious selection of beautifully crafted cakes, pastries and treats.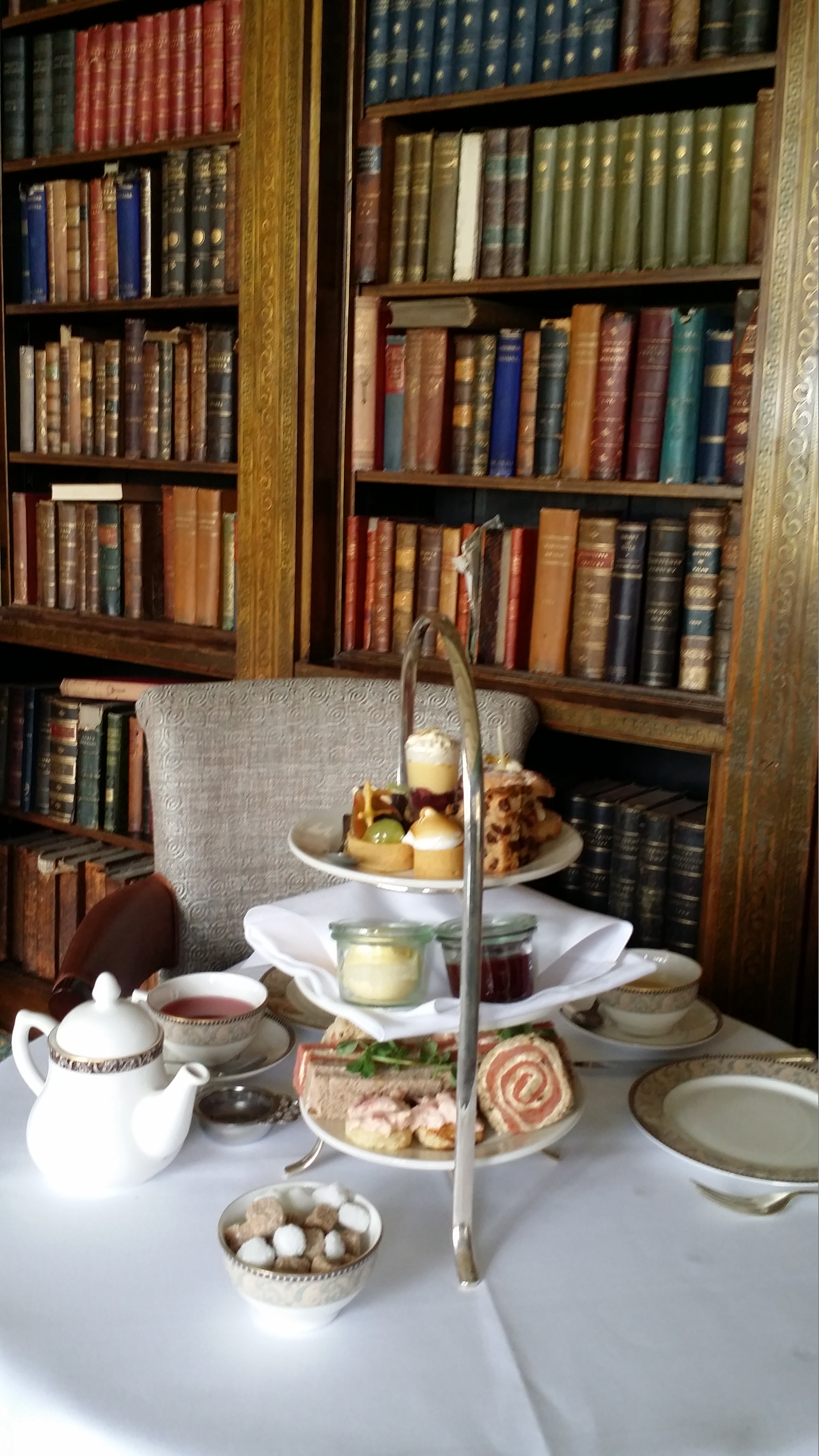 The wide selection of teas on offer are served in generously proportioned teapots and include the usual English Breakfast, Earl Grey, Darjeeling, Assam and Ceylon as well as more unusual choices such as Japanese Sencha, Chinese Pai Mu Tan and Rose Congou Superior.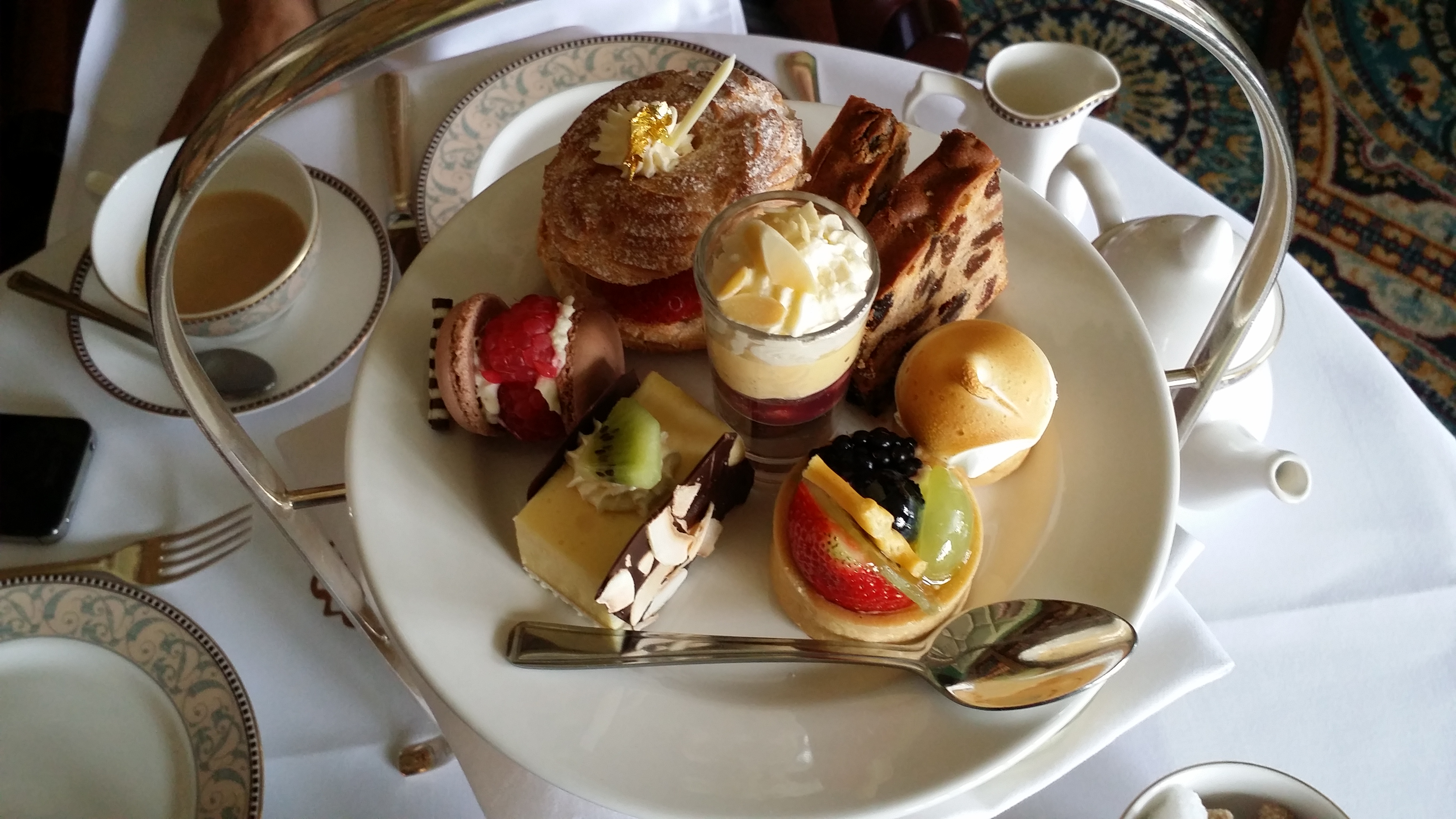 Dinner
We had dinner at the Zodiac Restaurant which serves a continental menu in an elegant luxurious setting. The 2-AA Rosette restaurant is located in the Manor House. The cocktails on offer were absolutely superb, and I have now added a new favourite to my repitoire the Drangonfly, one measure amaretto, one shot tequilla, dash of almond syrup, 4 drops of tabasco and orange juice to taste served in a martini glass.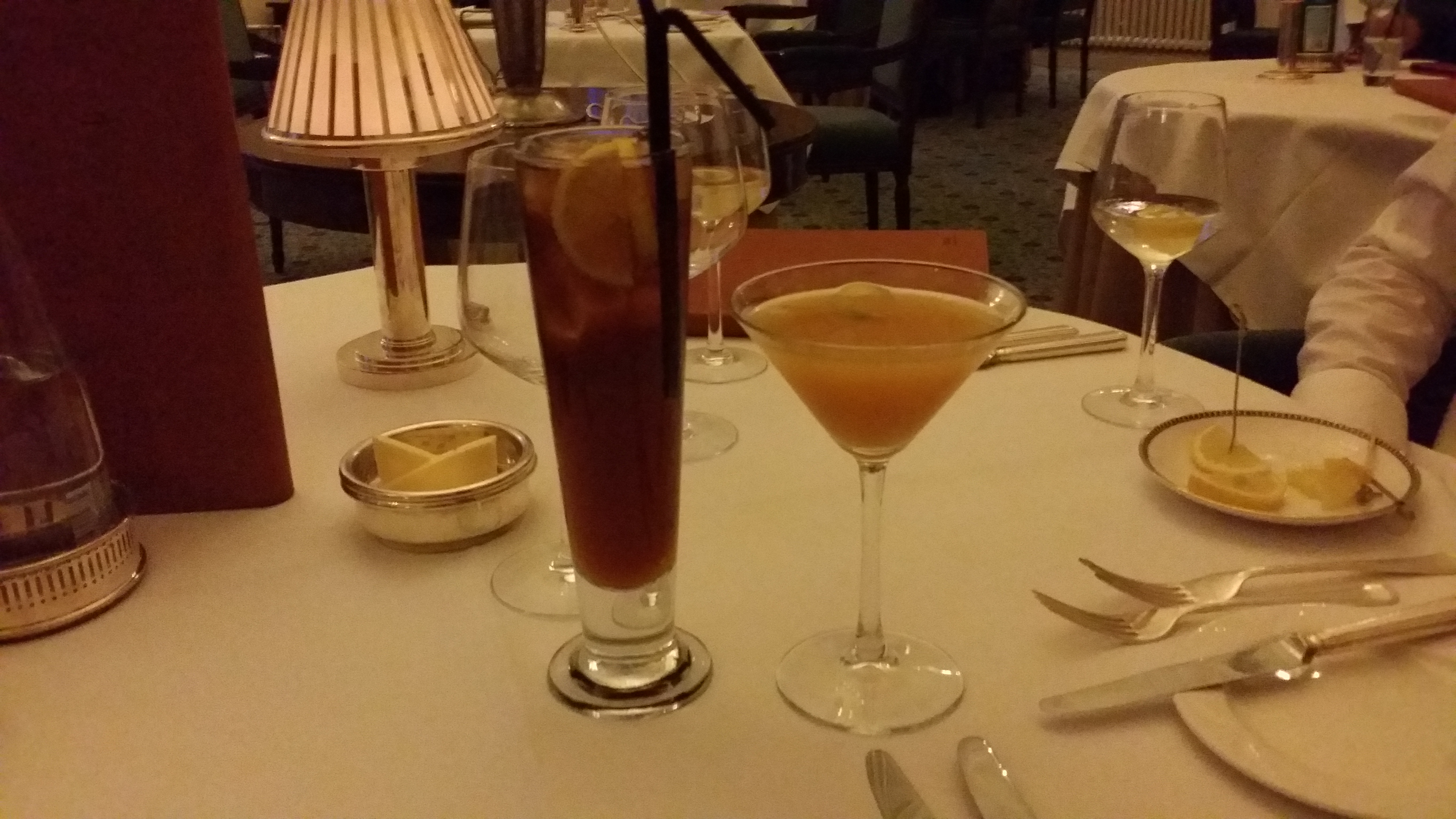 For starters I chose the Confit Chicken Terrine served with Carrot, Radish, Beetroot, and Foie Gras. My partner had the Vanilla Poached Var Salmon Boudin served with Beetroot and Potato Croquette which was an absolute work of culinary artistry.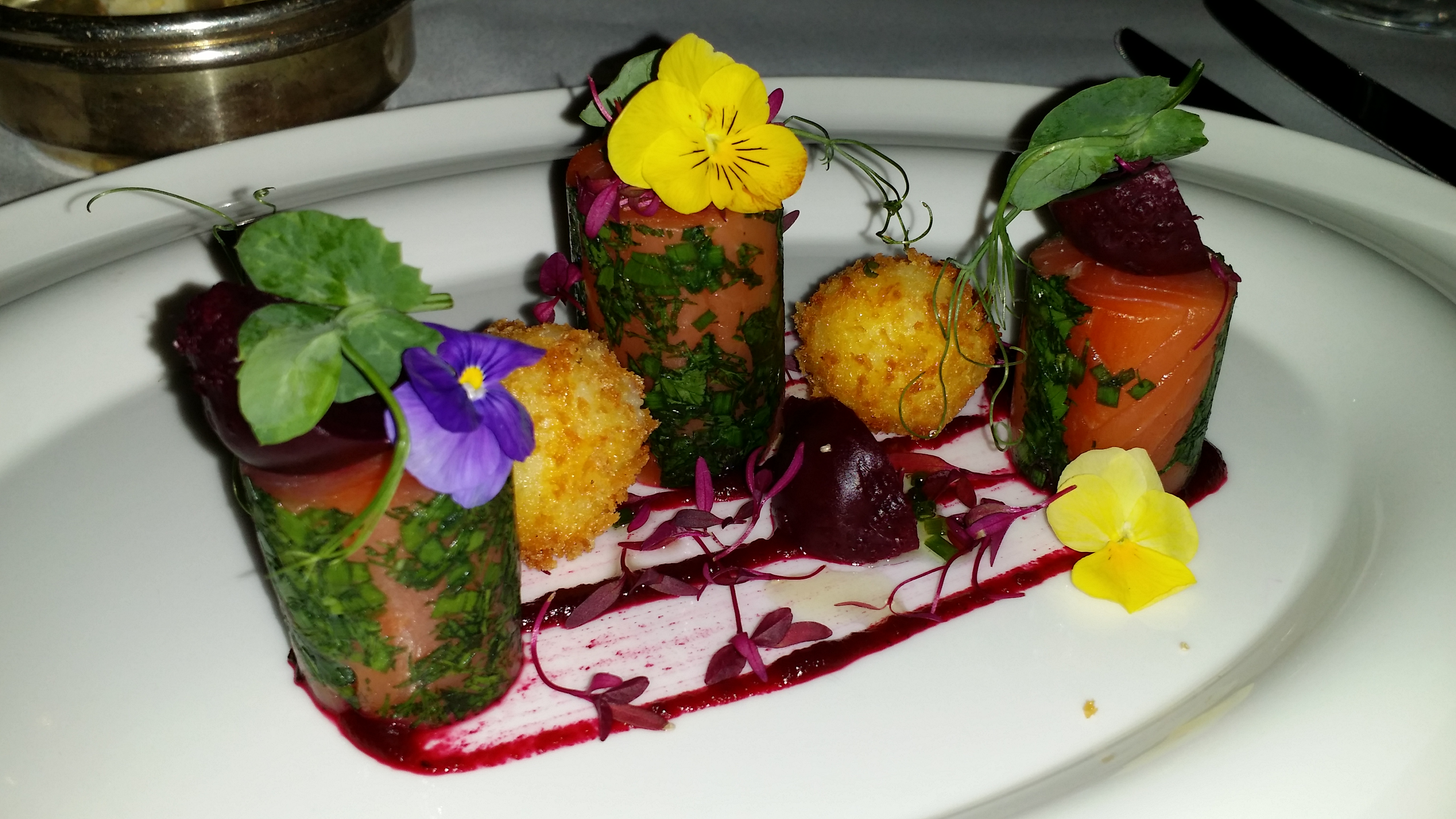 For our mains, I chose the Fillet of Premium Black Angus Beef served with Dauphinoise Potato and my partner chose the Salt Marsh Lamb Cannon served with Carrot, Jersey Royals, Apple Puree which was cooked to rare perfection.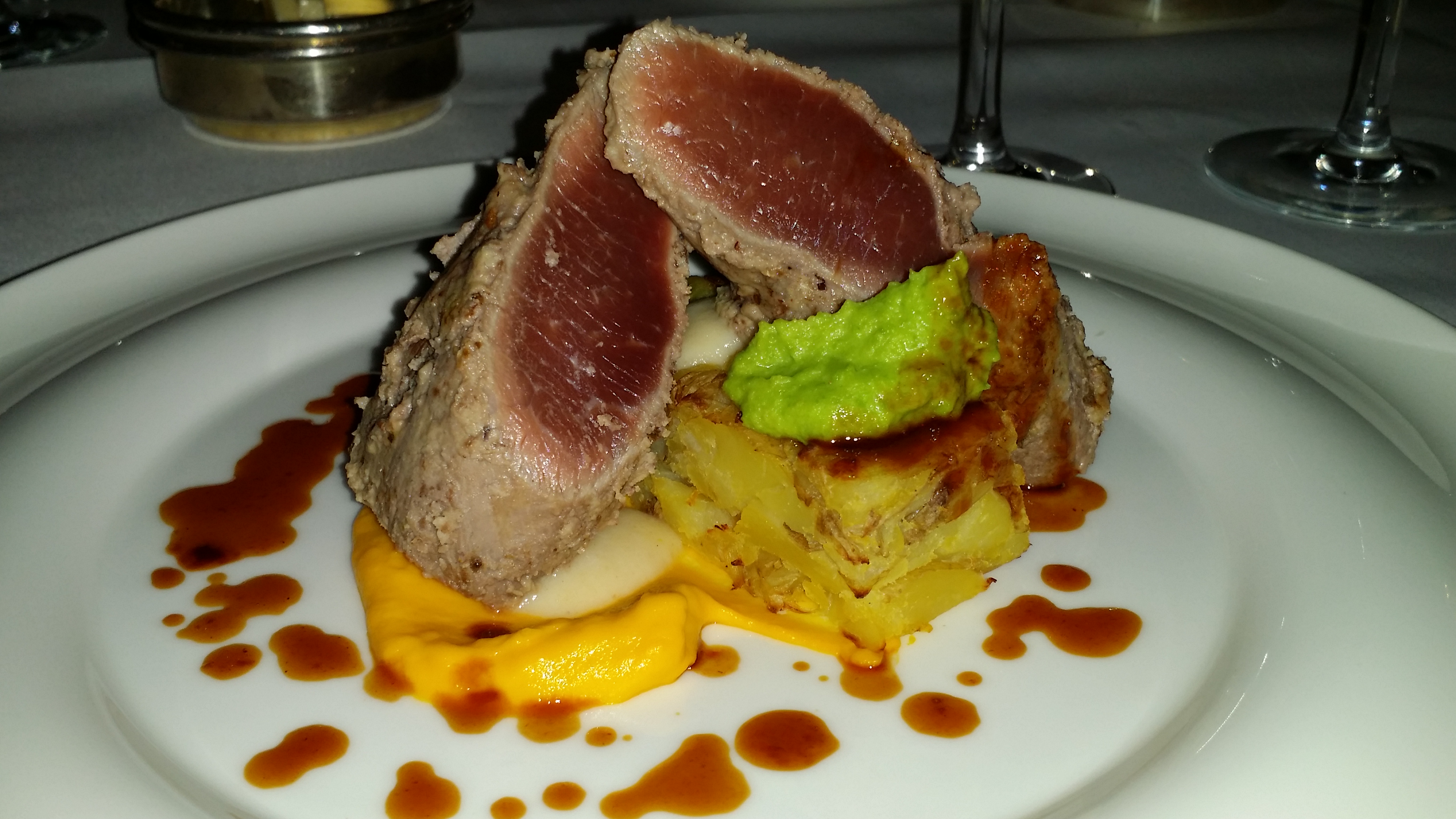 For dessert my partner chose "The Cellar" cheeseboard which included Somerset Brie, Cornish Yarg, Golden Cross Sussex, Godminster Vintage Cheddar and Cropwell Bishop English Stilton served with apples and grapes. I selected the Iced Coconut Parfait served with Pineapple and Mango, White Rum Salsa, Sesame Tuile.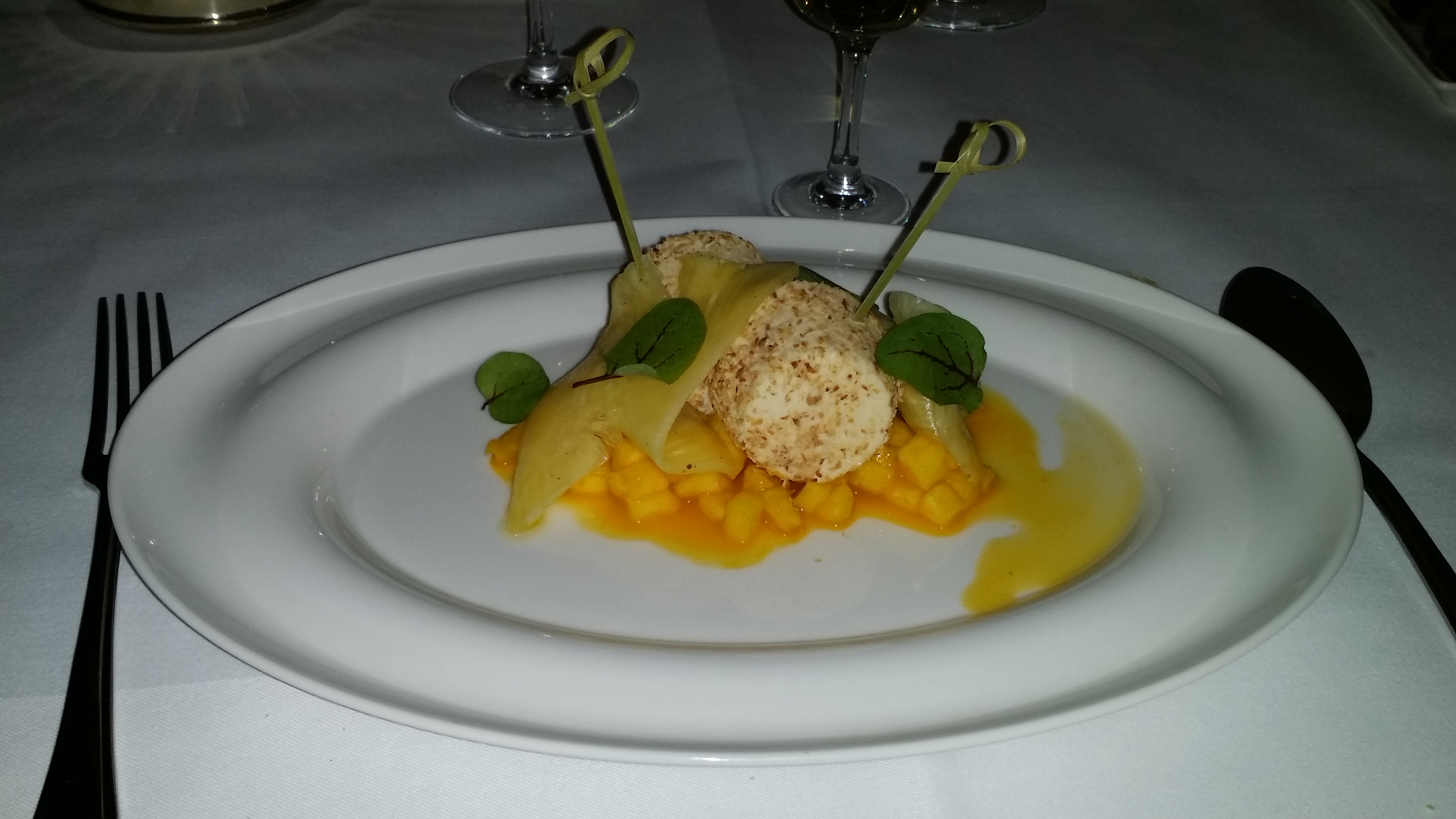 The Zodiac restuarant is definitely one to try out during your stay at Hanbury Manor.
Spa
The spa has a Romanesque pool, sauna, steam rooms and gym. The products used are Decleor, and although superficial cosmetic beauty products the smells are so delightful it is hard not ot buy at least one product. I often have Neroli Oil in my bathroom cabinet but after feeling the texture of the PhytoPeel exfoliator I have now added that to my collection too. The beauticians are extrememly friendly and time just slips away as you are being pampered. My partner who experienced a massage, said although just a taster he definitely felt a few knots unwind helping prepare him from the working week ahead.  The guests are friendly too however this hotel seemed less chatty in the jacuzzi and spa area between guests even though there were 3 weddings taking place that weekend.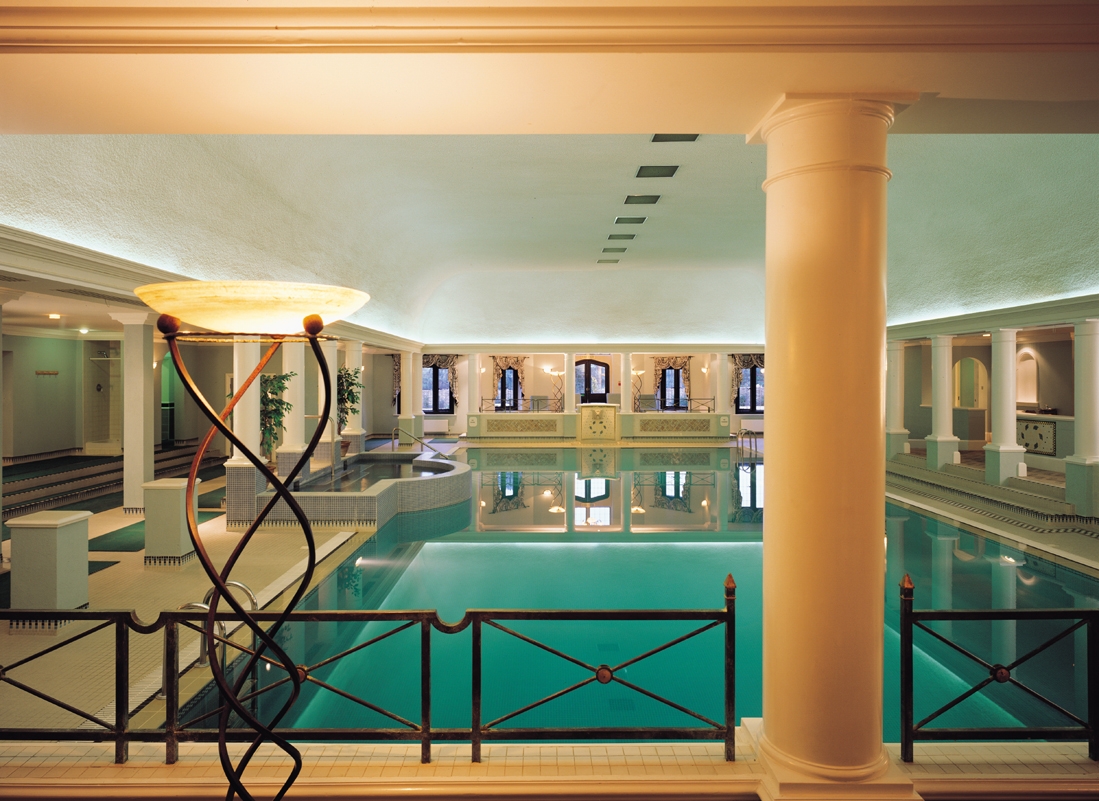 Golf Course
Although we did not partake in the Golf, we were delighted to be given a tour around the hotels somewhat extensive grounds and were much appreciative of use of the golf cart to do such. The 18 hole course is somewhat challenging and you could easily lose most of your day on such a course. For golf Pros and amatuers alike, if you have an interest in golf Hanbury Manor is a must but do not get so carried away that you miss all the other delights it has to offer. One night here is not enough, a two night stay would be perfection.