This summer, a cutting edge steak and liquor bar concept that champions the unsung hero of the meat world, the hanger steak, opened in south-west London. On a mission to bring steak 'stripped back' at affordable prices with simple, seasonal and locally sourced ingredients. Located in the heart of Fulham Broadway, Hanger sw6 offers a warm and stylish place to escape the hustle outside. Set over two floors, the 60-cover restaurant and downstairs liquor bar is the perfect setting for any social occasion, with a natural progression downstairs over the course of the evening where guests can enjoy the simple but carefully curated cocktail menu. Hanger sw6 serves lunch and dinner, with an American-inspired brunch at weekends with the signature dish of Steak & Eggs.
The first solo venture from restaurateur Patrick Falla, the Hanger project is the culmination of over ten years' work and research in the hospitality industry. Patrick has worked with several of the biggest names in the industry, including D&D and JW Marriott, and his experience of large-scale outdoor bars and events with Live Nation & AEG Europe has made him as equally passionate about drinks, hence the liquor bar concept. The space has a relaxed New York Tribeca feel which is reflected in the presentation and menu.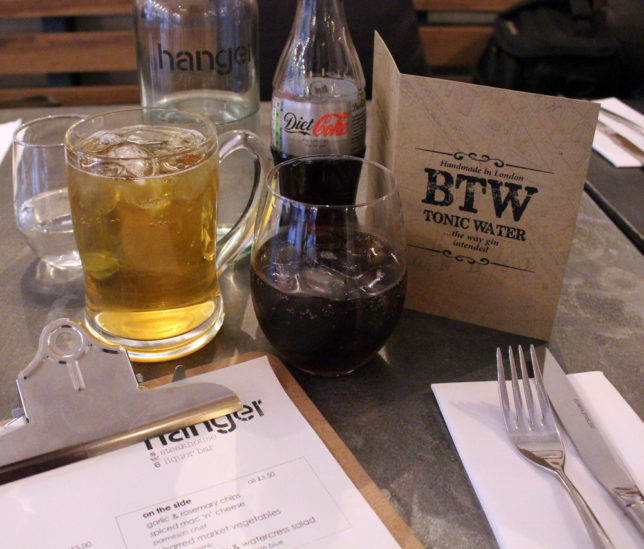 The downstairs liquor bar offers a hidden glimpse of a good old fashioned cocktail bar – it has so much potential and we can't wait to see how Patrick develops it over the coming months. We felt it was the perfect spot to chill out with friends or go for a relaxed first date before heading upstairs for dinner if all goes well! Serving cocktails such as the Chelsea Sidecar created using Sipsmith gin infusions, Hanger sw6 champions local and independent suppliers, Sipsmith for example is also based in Hammersmith & Fulham abd the coffee comes from a neighbouring cafe that roasts and grinds their own beans. The drinks list has been meticulously created with an emphasis on cocktails and a short, but innovative wine list and there is also a well-crafted bar food menu to match.
The décor at Hanger sw6 is a collaboration between Patrick and Nicola Harding Design. The space is stylish and relaxed, featuring distressed walls, retro wood and a partially open kitchen offering a touch of theatre to the restaurant. The venue makes guests feel relaxed from the moment they enter, giving them a real sense of being in a 'home away from home'. The interior and lighting of Hanger is adaptable, enabling a gradual transformation from casual, relaxing brunch and lunch spot by day into a chic and playful evening space by night.
As we perused the menu with plenty of choice, we enjoyed an aperitif cocktail made from rhubarb infused gin topped with prosecco. The rose gold colour is so on trend!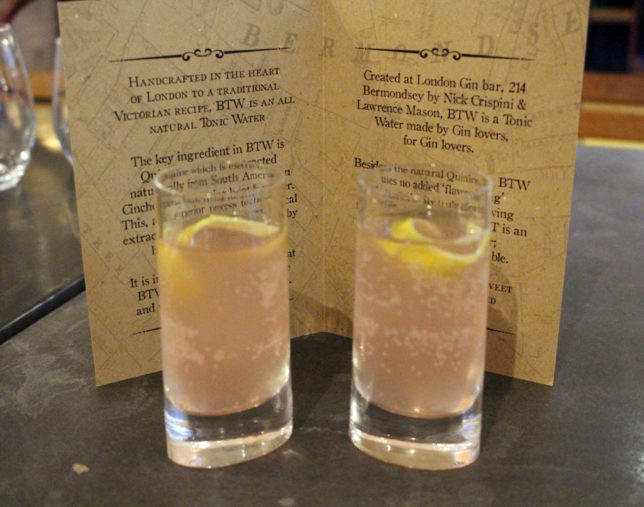 The kitchen at Hanger sw6 is headed up by chef, James Burton, who trained at acclaimed establishments such as Stoke Park Country Club, Gleneagles and L'Enclume before settling at Searcy's at The Gherkin. James' style is modern and experimental, but he also strives to create menus that have an inclusive bistro feel to them.
To start we choose the salt & vinegar squid – just one of a variety of small plates ideal as a starter or to share as part of a selection of small plates. We are always pleased to find a squid dish which serves the tentacles too… our favourite part. Succulent and flavourful!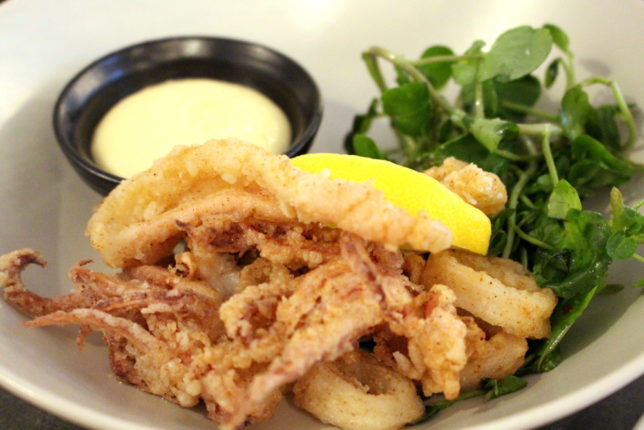 We also enjoyed some delightful salt beef croquettes laced with wholegrain mustard which are a deconstruction of the classic New York staple of the salt beef bagel… here served with Dijon mustard and pickles. Perfect starters to share which left us in anticipation of the next course.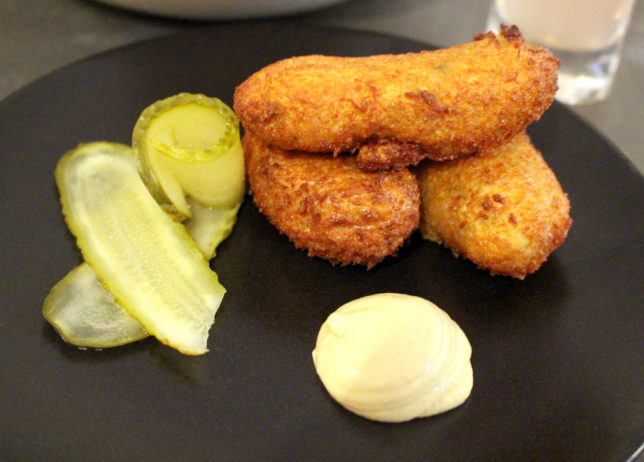 A keen forager in his spare time, James' menu evolve according to the seasons, and the star of the show is the hanger steak, a relatively overlooked cut of beef. Also known traditionally as the 'butcher's cut,' since butchers liked it so much that they often kept it for themselves instead of selling it, hanger steak packs a huge amount of savoury flavour akin to a rib-eye, but without the wallet-emptying price tag. Just look at how juicy is is served with peppery watercress and a choice of sauce… we went for the horseradish aioli, an interesting fusion of British and Continental flavours that works perfectly with the meat.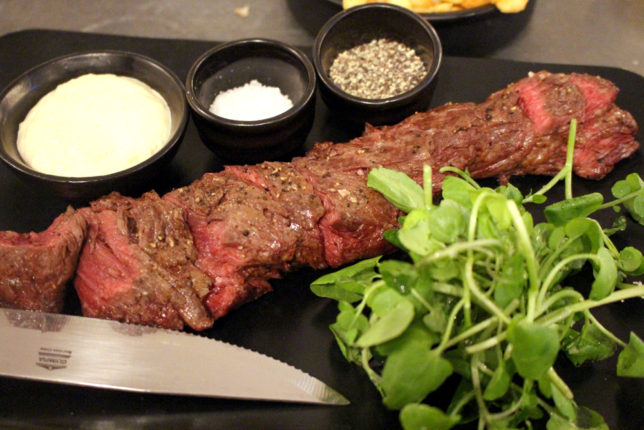 Supplied daily by Hixson's of Smithfield, steak is around £10 per person or £20 to share (orxture for those with larger appetites). One word that sums up the hanger steak is texture… it has a beautifully soft texture even when served towards the rare side… not chewy at all. My dining companion strayed from the signature cut and instead chose the rump steak from the Specials board with her choice of a thick Bearnaise sauce flavoured with vibrant tarragon.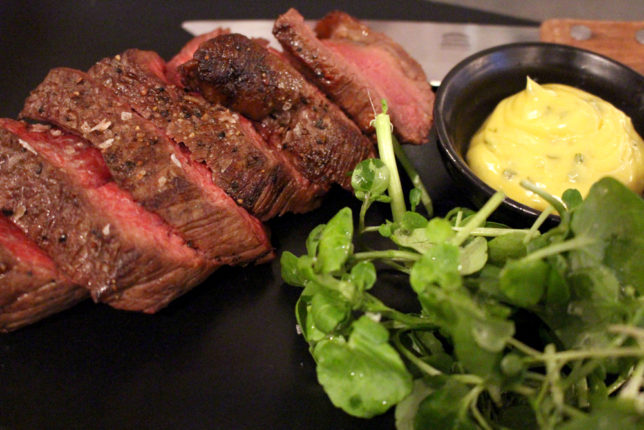 The menu also features some great sides including greens and salad but we chose the Mac 'n' Cheese… a comfort food favourite. The crumbly parmesan topping includes paprika and cayenne pepper for a spicy kick which counterbalances the rich creaminess of the cheese sauce. An interesting touch from the chef which takes this from traditional to an exciting new level of taste sensation! If you're a fan of spicy and have grown tired of truffle in your Mac 'n' Cheese then you have to go for this beauty!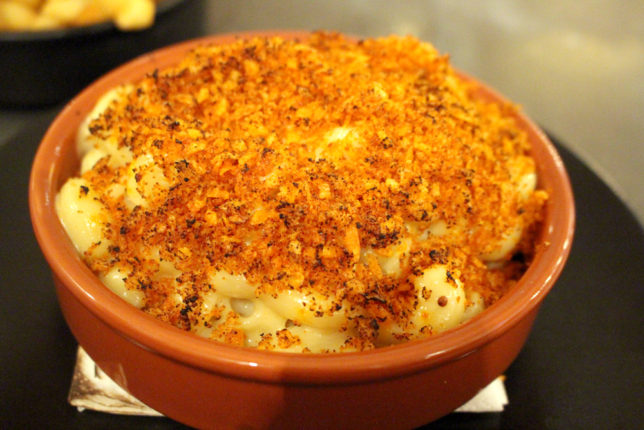 Another popular side are the Triple Cooked Fries which were generously seasoned with garlic & rosemary salt… the strong aromatics that paired well with the meaty flavours of the steak and our appetites were stimulated with these moreish chips.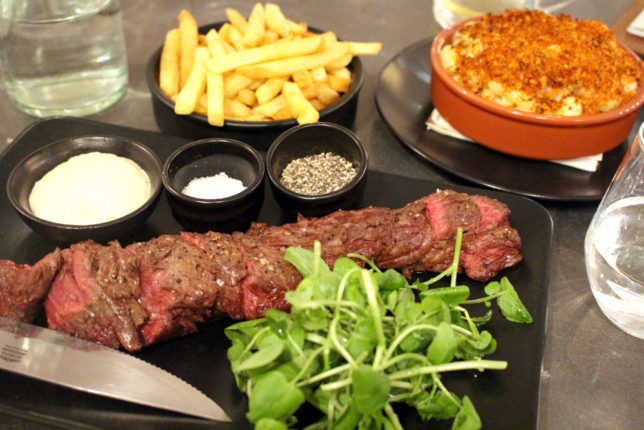 Hanger sw6 also serves up delicious sweet treats such as Hanger Sundae made with Meringue, Fruit Curd, Vanilla & Lemon Pie Ice Cream and a delightful Chocolate Orange Brownie & Cornflake Ice Cream. We didn't have room for dessert so will definitely be coming back to sample the sweet offerings of Hanger sw6 and enjoy the relaxed Greenwich Village vibe of Patrick's wonderful restaurant and liquor bar.
Hanger sw6 is set to become a worthy rival to Orange Elephant, Fulham's other up and coming steakhouse. The vibe at Hanger sw6 is more relaxed with a trendier feel compared to the more sophisticated surrounds of Jai Parkinson's no-menu concept restaurant on Fulham Road. Although Orange Elephant is a great place to eat perfect steak, Hanger sw6 offers something more, not just in the unique cut of hanger steak but also the varied choice of starters and sides in addition to the hidden gem of Patrick's basement liquor bar – soon to be the neighbourhood's hottest hang-out as Patrick's plans for this cosy new space come to fruition.
Hanger sw6
461 North End Road, London SW6 1NZ
020 7386 9739
www.hangersteak.co.uk
@hanger_sw6 #freesteak
[mappress mapid="44″]