Hawthorn's London Dry Gin has already become one of the world's most superior gin brands since being founded by Will Turnage in July 2015 and initially launched in the United States. Hawthorn's is produced to a recipe formulated by his late grandfather, Royal Navy Commander Michael Wallrock, during the Second World War and was awarded a Gold Medal at the 2016 San Francisco World Spirits Competition earlier this year.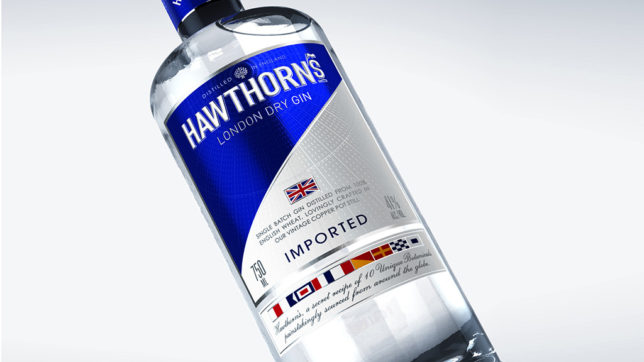 Decorated many times for his bravery, Wallrock used to distil his own gin and take it to sea to help boost morale; his maritime boast of being sunk three times and never getting his feet wet was always proudly toasted at each port with what became his legendary on the rocks measure. Will said: "I found the recipe in his secret wartime diaries containing detailed battle plans and analysis of previous confrontations, along with the invitation from his 'first dance' with my grandmother. I had no idea that he used to distil his own gin and finding his recipe was a great surprise."
Hawthorn's is a single batch award-winning gin and the botanicals are sourced from the same four corners of the globe in which Will's grandfather laid anchor. Staying true to traditional hand-crafted methods, Hawthorn's is distilled from 100% English wheat in a vintage copper pot still. Many of the stills are over a hundred years old and have been passed down through generations of Master Distillers along with their knowledge, techniques and expertise.
Whilst the exact recipe remains a secret, some of the botanicals included are:
Juniper from Macedonia
Orange and lemon peel from Seville
Orris Root
Angelica Root
Cassia bark from Indonesia
Taking the Gold Medal at the 2016 San Francisco World Spirits Competition over competitors including Hendricks and Sipsmith's, Hawthorn's Gin is becoming recognised as one of the world's superior gin brands.
Hawthorn's London Dry Gin is available to purchase online: http://hawthornsgin.com/shop/ and at speciality stockists across the UK and internationally. RRP £20 a bottle.
Hawthorn's London Dry Gin can be found on social media @hawthornsgin